You Should Watch 'My Hero Academia,' The Anime Series Everyone's Talking About
Can it be better than 'Dragonball Z,' 'Attack on Titan,' or 'One Punch Man?'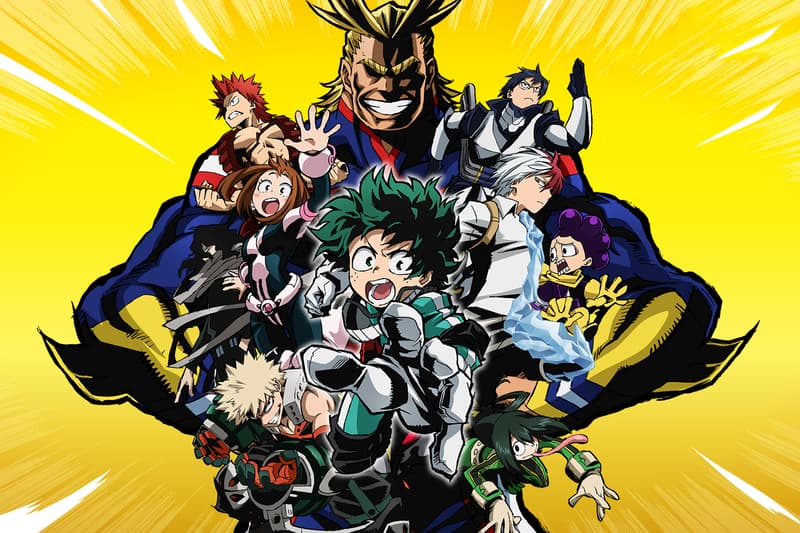 The shonen genre continues to build a massive following amongst anime fans in America. With titles like Dragonball Z and Attack on Titan, shonen shows have already reached audiences far beyond its teenage male-targeted demographic. But now, the genre is breaking new grounds thanks to a show called My Hero Academia. With the series's overwhelming rise in popularity, fresh approach to storytelling, and ultra-engaging characters, anime fans are placing My Hero amongst the great shonen series of the past and present.
My Hero Academia is an adventure anime based on creator Kōhei Horikoshi's hit manga. The manga has been serialized in Japan's highly-popular Weekly Shōnen Jump publication since July 2014, where until recently, it occupied the top 5 spots of the magazine's fan-based popularity rankings for roughly 150 weeks. Even before the anime adaptation premiered in April 2016, Masashi Kishimoto — creator of the anime hit Naruto — officially praised Horikoshi's work, believing it would be a success overseas just as his series was.
According to the anime streaming service Crunchyroll, My Hero Academia outperformed more popular tentpole titles such as One Piece, Dragon Ball Super, and Attack on Titan in terms of viewership on a per-episode basis during the month it premiered in April 2017. VRV, a fan-focused aggregation platform featuring premium streaming services like Crunchyroll, Funimation, Rooster Teeth, and Shudder, grew in viewership significantly after My Hero premiered. Not only does this signal the rising demand for the show, it also demonstrates the wide range of demographics the series continues to attract.
The story of My Hero Academia takes place in an Earth-like world where everyone has various superpowers known as "quirks" and government-sanctioned heroes are the social norm. The main character Izuku Midoriya is a quirkless high school student who dreams of becoming a "Pro Hero." Midoriya is inspired by his role model, the world's greatest hero named All Might. Fortunately, after Midoriya commits a courageous act, All Might passes down his own powers to him. For the audience, as they witness the story progress, they'll start to notice similar plotlines to shows like Naruto, One Punch Man, One Piece and Dragon Ball Z but revamped in a more refreshing way.
Dragon Ball Z introduced anime to a newer generation of animation fans which helped the show become a pop culture phenomenon. The franchise is currently in the middle of a renaissance 20 years later with Dragon Ball Super and an upcoming theatrical movie. With DBZ's popularity and longevity, other shows like One Piece, Naruto, Attack on Titan, just to name a few followed suit. These new titles mirrored shonen tropes found in Dragon Ball Z and after so many decades and countless episodes following a widely-recognizable formula, plotlines have become all too familiar to audiences. Some typical tropes of the shonen world include simple-minded heroes striving to be the master of an established goal, main characters with a heavily lopsided win/lose streak, obligatory training/tournament arcs, extensive secondary characters with distinctive idiosyncrasies, people shouting the name of unique, over-the-top attacks, and excessive power-ups spurred from the determination of the main hero.
My Hero Academia and One Punch Man have a lot in common in terms of straying away from familiar shonen character tropes. In a way, they both subvert the idea of the "strong man" protagonist and present them in their own unique, yet still identifiable way. For one, OPM's hero is seen through a comedic lens — he possesses powers so strong that it ends up boring him. The premise is quite the head-scratcher because, who in their right mind would be bored of being the most powerful person in the world? Through his boredom, depression and internalization of being way "too powerful," the audience sees his plight as a humorous vehicle that captivatingly drives the story.
As for Midoriya in My Hero Academia, we get a character that, according to the My Hero Academia Wiki page, "externalizes his observations through endless mumbling, a habit which annoys or scares his peers." In addition, Midoriya also acts on a "whim" when it comes to rescuing those in danger. He is keen on "taking a more careless approach than the usual overthinking he goes through" when it comes to saving others. Here, we also see a complex character presented in both a comical and serious tone but despite his shortcomings, we see that his true intentions are ultimately for good. Midoriya definitely isn't your typical "strong man" character similar to One Punch Man's hero, hence, both shows are putting more interesting twists on shonen protagonist tropes.
My Hero Academia is also keen on keeping the audience on its toes — it will either give a perfected version of a shonen trope or forego it completely when storylines become too familiar. Naruto, for instance, is adept at well-developed secondary characters, and as a result, My Hero's supporting cast are developed similarly. In fact, Horikoshi has cited Kishimoto's Naruto series as a primary source of inspiration.
Like Naruto's Konoha, the high school Midoriya attends in My Hero is divided by young rookie disciples and adult mentors who are in charge. Characters like Naruto's Gaara and My Hero's Shoto follow the same archetype of damaged individuals on an arc to overcome a harsh childhood. They share similar designs, possess elemental abilities (Gaara sand, Shoto fire/ice), and develop as people through a newfound friendship after a fight with the main character during a tournament storyline.
What makes them distinctively different is how fast Shoto's character development progresses, where for Garra, it meanders for 60 filler-free episodes. Shoto was introduced in episode 5, and by episode 25, his story has been established, fleshed out, and already set for the upswing tale of redemption. Shoto's path — and by virtue the tournament arc itself — is better paced which inadvertently allows the story to utilize him more during the prime of his character development, and thus, provides a better trajectory for his arc's endgame. Most My Hero characters share similar archetypes, paths, and arcs that could easily parallel Naruto's, however, My Hero avoids the pacing pitfalls its predecessor fall into.
Another related show, One Piece, is known for having a nearly limitless potential for exciting and new abilities, as creator Oda Eiichiro has gone to establish some of the most absurd powers. One of these strengths, the ability to stretch like rubber, has been demonstrated to be a useful, deadly, and creative source of power. That's just the tip of the iceberg in the world of One Piece. The characters of the series do battle by turning into lava or by turning someone to stone. But even a character's ability to turn into a giraffe proves to be just as useful in combat as those two examples when used creatively.
The same can be said for My Hero characters such as Midoriya's perverted classmate Minoru Mineta and his "pop off" ability. It's an ability that allows him to produce and pull adhesive, ball-shaped objects from his head. Another classmate, Tsuyu Asui, possesses all the abilities and features of a frog, down to the long tongue, jumping ability and round eyes. But the series finds greatness in every off-kilter power introduced, just like One Piece but with an extra layer of complexity by placing a modern social structure around having superpowers.
Getting powers in One Piece means you ate one of the rare Devil Fruits around the world which makes superpowered people in that world special. Everyone in My Hero already has powers, and society treats people who have freakishly physical abnormalities due to their powers or people who have no powers at all, as outcasts. Paralleling these powers as socially unacceptable and having these people triumph anyway, reaffirms that personal quirks make individuals special, no matter how weird they are. Eventually turning the stigma into something of a point of pride instead of something they should be ashamed of. What makes characters special in One Piece is having Devil Fruit powers. What makes the characters special in My Hero Academia is how they make use of their abilities despite how unconventional and freakish they are.
Dragonball Z has established the art of power-ups. Whether by way of a technique or full-on transformation, almost every shonen series has power levels because of it. Alongside its action, transformations are the best thing the series does. But how My Hero steps out of that commonality is by establishing Midoriya as being someone already at the height of his power. Any sort of power-up he receives in the story is a means to control the absurd level of power he already has, with no mastery to control it outright on his own. What little he's been able to control comes from his own relentless effort to improve. As a quirkless, scrawny coward, audiences watch as All Might pushes him to improve through vigorous training and various circumstances, making all of his future feats feel earned, instead of being something sporadically achieved during moments of crisis.
My Hero Academia uses the tropes of its genre to parallel themes of courage, self-acceptance, and diligence, which are all universally relatable issues people deal with in real life. When characters develop, it's usually via these relatable themes, which makes the process rewarding to see, especially since the show paces these revelations far better than its predecessor Naruto. My Hero Academia showcases an assortment of different abilities like One Piece, but ties those abilities to these three themes, giving superpowers personal substance instead of something of a given due to the nature of the genre. Even in the case of our main character Izuku Midoriya and his power-ups later in the series, all of his power is already within, unlike Goku, the king of power-ups, but only through diligence, hard work, and a little optimism will he unlock his full potential as a superhero and a person.
My Hero Academia is only in its third season but the traction it's gaining amongst worldwide audiences is vigorously surging. There's a new game based on the series called My Hero Academia: One's Justice releasing on all major consoles (a first for the franchise) from Dragonball FighterZ Bandai Namco. The show will also pioneer same-day SimulDubs for Funimation, airing English dubbed episodes at the same time new episodes broadcast in Japan. Before, SimulDubs were usually on a two-week delay, which only speaks for the show's rising popularity and groundbreaking potential. With this level of exposure, it could have the impact Attack on Titan had in America, but this time with much more staying power.
There are even rumors that My Hero Academia will have another series after a time skip in the original, similarly to Naruto Shippuden which spanned for a decade, four years longer than the original Naruto series aired. Because of its superb storytelling and accessibility, the show could potentially introduce anime to this generation the way Dragon Ball did for older fans decades ago.