These Are the Best Artworks Releasing This Week
KAWS' 'SHARE' Companion figures lead this week's drops.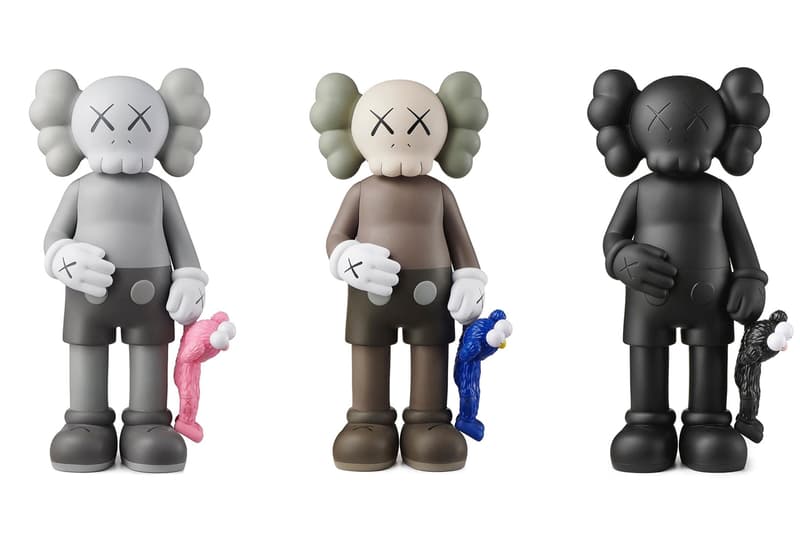 Every week we spotlight the best art releases weekly by notable artists, galleries, museums and contemporary art platforms across the globe. Listed items typically encompass limited edition artworks, prints, collectible figures, collaborative merchandise and more.
For this week's installment: KAWS will release his all-new SHARE Companion vinyl figures, Giant Robot releases archival prints by Takashi Murakami, Ron English launches Mona Lisa Grin prints on 1xRUN, Mooncrane Studios purveys two limited edition prints by Miles Johnston, and Tom Yoo shares step-by-step instructions and parts list for 12 of his most popular LEGO sneaker sculptures.
View the full list below.
KAWS SHARE Companion Vinyl Figures
Release Date: 12 p.m. EST on KAWSONE.com
Release Price: TBD
KAWS recently unveiled his latest Companion figures titled SHARE. The collectibles will arrive in the artist's three signature variants: brown, grey, and black. Each piece features the unmissable Companion character holding a miniature BFF on his left hand. Apart from the black variant, the other editions feature contrasting colors of the BFF subject in blue for the brown edition and pink for the grey option.
Takashi Murakami Prints on Giant Robot
Release Date: Available now on Giant Robot's website
Release Price: $1,520 USD to $5,520 USD
Giant Robot is purveying a selection of rare Takashi Murakami prints. One of the highlighted pieces is an offset lithograph portraying Murakami's large-scale triptych entitled 727999. Measuring 25.9 x 38.5 inches, the artwork features the Japanese artist's signature Mr. DOB character in a spray-painted backdrop with drippy motifs and psychedelic visual elements for good measure.
Ron English Mona Lisa Grin Prints on 1xRUN
Release Date: Available on 1xRUN's website
Release Price: $250 USD
1xRUN teamed up with acclaimed American artist Ron English on an edition series titled WELCOME WALLS. The works consist of freestanding metal and paper editions that satirize Donald Trump's campaign promise to "build a wall" at the U.S.-Mexico border, as per the art website. One of the highlighted pieces is a print entitled Mona Lisa Grin. Released in an edition of 100, the work measures 18 x 27 inches and portrays the artist's psychedelic reimagining of da Vinci's famous portrait.
Miles Johnston Boundaries & Shelter Limited Edition Prints
Release Date: February 27 on Mooncrane Studio's website
Release Price: TBD
Mooncrane Studio is launching two limited edition prints by Sweden-based visual artist, Miles Johnston. Titled Boundaries and Shelter, both monochromatic prints feature their own unique surrealist compositions revolving a male and female subject while set against natural backdrops. Each print measures 33 centimeters in diameter and will be available for only 72 hours.
Tom Yoo's LEGO Sneaker Sculptures
Release Date: Available to download on Tom Yoo's website
Release Price: Free
From the Air Jordan 1 to the Nike Dunk Low, Tom Yoo has launched step-by-step instructions to create his signature LEGO sneaker sculptures. Once the files are downloaded, they can be opened in LEGO's free digital designer program. "Too many people have copied my designs and sold sets for their own profit without giving proper credit – that's not cool with me so now I'm giving all of you access to the original designs for free," said Yoo on Instagram.