2020 Was Pivotal for the Fashion Industry, But Not All That "Unprecedented"
From the rise of TikTok to calls for social equity, industry leaders speak on five takeaways for 2021.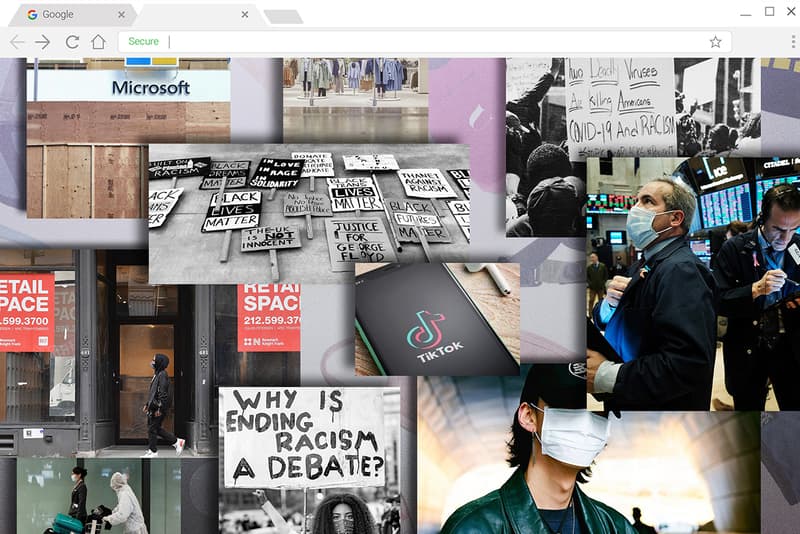 With almost a year of hindsight, there's a dark irony to fashion's relatively "normal" start to 2020, just before the industry as we knew it came to a screeching halt. Take the Fall/Winter 2020 fashion weeks, where Philipp Plein faced yet another round of criticism, North West soundtracked the Yeezy Season 8 presentation, and Balenciaga delivered a prescient collection inspired by end times. But these memories of trend-spotting, controversy and eager 2020 planning have been all but supplanted; fashion month, which stretched over late February into early March, was near-perfectly aligned with the rapid global spread of COVID-19.
Joshua Glass, an editorial strategist and director, recalls the initial shock."I was literally at a party in Milan when I first heard that COVID-19 was going to become something larger than a contained issue in China. I was there for fashion week and my first thought was, 'Sh*t, is this going to delay my flight to Seoul?'"
"In a way it was easy to ignore it, because it was fashion month and we were so hyper-focused on the fashion calendar and the new collections," he continues. "Returning home to New York, was almost like an atonement. Suddenly the last 15 days seemed not only pointless but also ridiculous. Who cared about fashion at a time like that?"
And truly, negotiating fashion's present and future on this new terrain has been — in a word — overwhelming. The usual fare of new collections and drops was punctuated with virtual fashion weeks, news of retail closures, and well-intended, if cloying, ad campaigns offering condolences and strength in "unprecedented times."
But amidst the mire, there are still valuable insights to glean heading in 2021. HYPEBEAST spoke with a few U.S. fashion industry experts across merchandising, publishing, events and tech, who recap the highlights and lowlights of 2020 and the lessons they're carrying into next year.
The (Continued) Rise of Menswear
Reporting on the rise of menswear in retail goes back several years, but the demand for menswear this year still caught some off guard. Jaron Ross, a luxury menswear executive, recalls how the first few months of the pandemic's height were met with caution, by brands and customers alike.
But in June, he says, "there was an explosion of business in luxury menswear that no one had anticipated. Everybody who was conservative in their business plans were actually in a position where they were needing a lot of product because the consumer demand did not go down," adding that in his 15 years of experience he's "never seen a period where the men's business has led a lot of stores."
Why the boon? That's quite literally a million-dollar question, and still largely unanswered, but Ross shared a few hypotheses.
First, fashion has a captive menswear audience. "They have a fairly undistracted customer that is paying attention, maybe more attention, more hours, more minutes in their day to things like products and brand message," Ross says. "If I am a customer, and I have disposable income, you might get me to buy a product that perhaps you wouldn't have gotten me to notice if I was busy conducting my normal daily life."
Second, brands are getting this customer on items with relatively more accessible price tags such as robes, socks and underwear. Much like face masks, these categories are a points-of-entry for this customer, and Ross anticipates luxury houses may expand their selections in turn. "Before, we wouldn't think to develop these categories, because the business wasn't really as big for us," he explains.
"There was an explosion of business in luxury menswear that no one had anticipated."
And lastly, this menswear customer is a new client, one who's revising the guiding in-store luxury retail philosophy that "men don't like shopping" and instead maintain a cadence of seasonal purchases a few times per year. In Ross's experience, this recent explosion in menswear hasn't necessarily been driven by men shopping more frequently, but rather that they're spending more money when they do.
"It is items per purchase. One of the things that some of the floor staff sometimes tell me is, 'even if we don't have exactly what they want, they want the next thing.' So, if they don't have the latest release of our newest sneaker, too bad, but they'll still wind up getting something else. They're not holding out for the item they were there searching for. They're just ready to get something and take it back with them."
And looking ahead from a relatively cozy past year, Ross says he foresees menswear "smartening up a bit" into 2021.
"I think there's going to be a nostalgia for people to feel like they want to get dressed up again, to feel like they want to create a moment," Ross says. "I go back to Zegna x Fear of God because it was the most interesting way I've seen that dressier look sort of impose itself."
He adds that especially now, with a vaccine in play, some brands want to ensure there's enough suiting and evening in their 2021 collections to satisfy customers who may be newly out-and-about. "The company I represent is also taking a renewed stance in cleaner, more menswear-driven items, which we look forward to delivering in Fall."
Maybe the second time will be the charm; Spring 2020 runways, and industry trendspotters, anticipated a "return of the suit" for this year which for obvious, COVID-19 related reasons did not come to pass.
Welcome to FashionWeek.com
Fashion weeks were an obvious and near-immediate candidate for reinvention; Fall/Winter 2020 fashion weeks in Seoul and Tokyo and Spring/Summer 2021 events in Paris and London were all cancelled by the end of March. Fashion councils and brands were quick to adapt to the new landscape and embrace digital platforms — though some were more successful than others.
Pitti Uomo, a trade fair in Florence held from July 16 to 9 October 9, took place entirely on a digital platform: Pitti Connect. Lapo Cianchi, the Vice General Director and Head of Communications & Special Events for Pitti Immagine, says reception from buyers, participants and journalists was strong; 47,761 garments and accessories showcased in catalogues, 4,571 buyers interacting with the brands and 455,000 page views.
"We are ready for a new step – digital and physical together – encouraged by the results achieved with the last edition of Pitti Uomo," he says.
"The fashion industry has long been saying we need to rethink fashion shows and yet the calendar remains as active as ever."
In the months since, Pitti Immagine has worked to improve its platform, from enhancing the ordering process and improving navigation. This advanced version of Pitti Connect will return to accompany the newly consolidated Florence shows from February 21 to 23 covering all three fairs: Pitti Immagine Uomo, Bimbo and Filati.
Cianchi anticipates we'll be seeing URL-IRL fashion week hybrids for a while to come, even after it's safe to gather once more. "Everything will not immediately change and go back to normal. It will be gradual, adapting to the conditions and recognizing how much this situation has affected our behavior and psychologies," he predicts.
But discussions of bloated fashion week schedules, and their environmental implications, have been swirling since before COVID-19 hit (Gucci's Alessandro Michele even called seasonal collections "stale"), and whether this change in routine has done enough to break the habit is up for debate.
"To be honest I'm not sure if the bubbles have indeed burst. As it stands today, couture is still happening in a few weeks despite the fact that Paris is still in confinement. Did we learn anything from the September shows that occurred months after total lockdown?," Glass says of fashion week scheduling. "The fashion industry has long been saying we need to rethink fashion shows and yet the calendar remains as active as ever."
The bubble has surely not popped for all; Jacquemus, for instance, hosted a Spring/Summer 2021 runway show in July to fleeting controversy. So fashion week set designers, don't hang up your hats yet.
The TikTok-ification of Fashion
You can't "talk 2020" without considering TikTok's rise from quarantine pastime to trend-setting phenomenon. Despite a rocky few months of ban-related news, TikTok catalyzed revivals and innovations across music, food and beauty — and gave Instagram a run for its money as fashion's app of choice.
"Social media behavior has changed in a way that no one could have predicted," Glass says. "The idea that an app like TikTok could have the power to revive sleepy brands or completely alter other's strategies is something I would have never guessed."
Luxury brands have engaged in TikTok's platform in a myriad of ways. Gucci, one of the fastest trending brands on the platform, embraced user-generated content with the viral #GucciModelChallenge and posting creator's videos to its feed. JW Anderson cashed in on its own hype, releasing a TikTok tutorial and pattern for its viral color-blocked cardigan worn by Harry Styles. Fashion week livestreams of Prada, Louis Vuitton and Saint Laurent Spring/Summer 2021 shows garnered a collective three million views in September; CELINE HOMME even tapped a fleet of E-boys to promote the show for its TikTok-inspired Spring/Summer 2021 collection, "THE DANCING KID," which also streamed on the app.
TikTok believes these brands are warming up to more inclusive and accessible means of engaging a broader audience — even if by necessity, with polished video productions and exclusive events out of the picture for the bulk of the year.
"They're becoming more comfortable showing their real personality and voice as opposed to a polished aesthetic or idea of what "luxury" fashion is supposed to look like," the company said in a statement to HYPEBEAST.
And creative adaptability has been the name of the game even in more traditional modes of fashion tastemaking.
"Logistically, I do think we've seen that people are more capable and resilient then we've thought," Glass says of his experience in digital and print publishing. "You can do a photoshoot anywhere, anytime, with any amount of people. Gone are the days where you need a 20 person crew, a private studio, and $50,000. Talent is more open to trying new things, too—doing smaller, more personal projects instead of the dreaded 'cover only' bracket."
Goodbye to Retail's "Old Normal"… Maybe
As with fashion weeks, fashion retail models were perhaps due for an upgrade prior to 2020, signalled by sweeping store closures and rising digital sales. PredictSpring, a commerce platform catering to in-store and online shopping experiences, has been on the front lines of these changes since 2013, and co-founder Nitin Mangtani believes the pandemic lent new urgency to innovation.
"COVID-19 fundamentally shifted the timeline for modernization of in-store technology from five years to 12 weeks," Mangtani says. Put simply, "consumers are demanding convenience and contactless checkout," he continues.
And these demands have been met with changes like an increase in curbside pick-up options and retail stores-turned-fulfillment centers to expedite shipping times. But it's also made the synchronization of online and in-person shopping experiences more important than ever. It's no longer news that e-commerce sales are markedly on the rise, but Mangtani believes that when customers do choose to shop in-person, they're used to certain tools available to them digitally — and they don't want to give them up.
"In order for retailers to be successful with an in-store strategy, they must understand the importance of offering a fully digital experience inside their brick-and-mortar locations. When in-store, customers want access to the same conveniences, variety, products reviews and access to information available to them when they are shopping online."
"Once you're introduced to something that makes your life easier, you don't want to go back to having that annoyance.
So now, with all these social-distanced, expedited conveniences newly available to them, will customers want the "old normal" anymore (ie. "thugging it out" in a Supreme line)? Some brands seem to be betting they won't. Zara's new retail concept in the U.K. features several conveniences along these lines: self-service and refund tills as well as an automated collection point for customers to pick up online orders.
"What we know of human behavior is that once you're introduced to something that makes your life easier, you don't want to go back to having that annoyance," explains Amanda Monteiro, a luxury retail veteran by way of Helmut Lang and Giorgio Armani.
On the other hand, Ross notes that in the months since brick-and-mortar outposts reopened, he hasn't noticed much need to incentivize clients to return. "I think that people are going back into stores because they need an activity," he says. "I truly think it's more about the general human interaction that people were missing during lockdown."
And, if in-store shopping is a way to return to normalcy, maybe we'll find new comfort in the occasional inconvenience and the communal aspects of a less-than-efficient queuing system. Glass, for his part, is looking forward to it. "I want nothing more than to spend a day of monotonous errands around the city," he says.
A Conscious, Educated Consumer
2020 spurred a renewed focus on the #BlackLivesMatter movement and shone a spotlight on fashion brands' ability (or lack thereof) to formulate an honest, enduring response to calls for greater equity and transparency in their business practices.
Often in response to public pressure, companies made their commitments to diversity public, answered for past missteps and outlined plans for change — whether done earnestly or simply as a spot of crisis PR.
""People are going to place value in the message and not just the fancy product.
"We've seen a series of great and well-deserved appointments to many people who may have never been recognized before," Glass says, to how these movements affected the media landscape. "Whether that is an effect of a ceiling being broken or an avoidance of cancel culture, though, I'm not sure."
But even if these companies haven't fully seen the light, Ross believes there will still be a more educated and informed consumer headed into 2021.
"People are going to place value in the message and not just the fancy product," Ross says. "I've said this for as long as I've been in the business: we're selling product no one 'needs.' Whatever it is that you choose to buy, it should say something about you and your beliefs, and the types of values that you want to express as an individual. So I do hope that continues."
Monteiro believes the groundwork for this more reciprocal relationship was laid prior to 2020. She draws a correlation to on-going trends like an increase in direct-to-consumer companies which have established intimate lines of two-way communication with customers.
"We want to feel like we're part of the brand. Every vote that I make with every dollar that I spend with your brand gives me some sort of equity into your company," Monteiro explains. "It's not just delivering a great product. Are you telling a story that I'm on board for? What are you doing for society at large? What are you doing for your employees?"