Fake Dior x AJ1s, Beats and Viagra Seized in $32M USD Customs Bust
"Criminals are exploiting e-commerce platforms to sell counterfeit and often dangerous goods to unwitting holiday shoppers."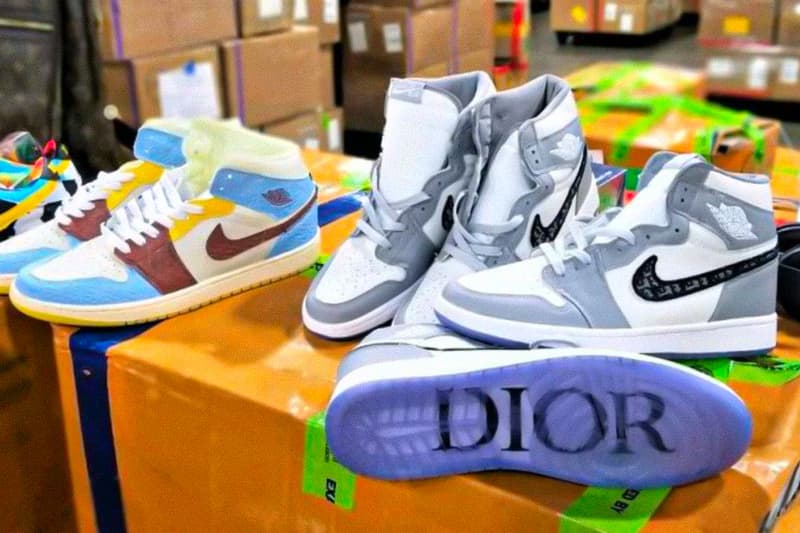 According to the U.S. Customs and Border Protection, the CBP and the U.S. Immigration and Customs Enforcement's Homeland Security Investigations in coordination with The Los Angeles Police Department's Commercial Crimes Division, Illicit Pharmaceutical and Counterfeit Unit recently busted a smuggling operation at the Los Angeles/Long Beach Seaport.
According to a news release, the authorities seized three containerized cargo shipments from China filled with an array of counterfeit goods. Included in the bust were more than one million erectile dysfunction pills, footwear, belts, purses and headphones in violation of registered and recorded trademarks. The CBP notes that if the seized items were genuine they would have an estimated retail value of $32,161,194 USD.
Some more notable counterfeit items found in the illegal shipment were fake Dior x Air Jordan 1s, Ben & Jerry's x Nike SB Dunk Low "Chunky Dunky" and Beats Studio headphones.
"Criminals are exploiting e-commerce platforms to sell counterfeit and often dangerous goods to unwitting holiday shoppers," said Carlos C. Martel, CBP Director of Field Operations in Los Angeles. "CBP's strategic partnership with HSI and LAPD's IPCU is critical in disrupting the transnational criminal organizations behind these smuggling operations."
"Commercial piracy and product counterfeiting undermine the U.S. economy, rob Americans of jobs, stifle American innovation and promote other types of crimes," said David A. Prince, Special Agent in Charge for HSI Los Angeles. "Intellectual property theft amounts to economic sabotage, which is why HSI will aggressively pursue product counterfeiters and those who sell counterfeit products."
In case you missed it, Pornhub has now removed all of its unverified content.