Kyle Kuzma and Rhuigi Villaseñor's New PUMA Hoops Shoe Defies Categorization
The Clyde All-Pro Kuzma Mid shows basketball style's true versatility.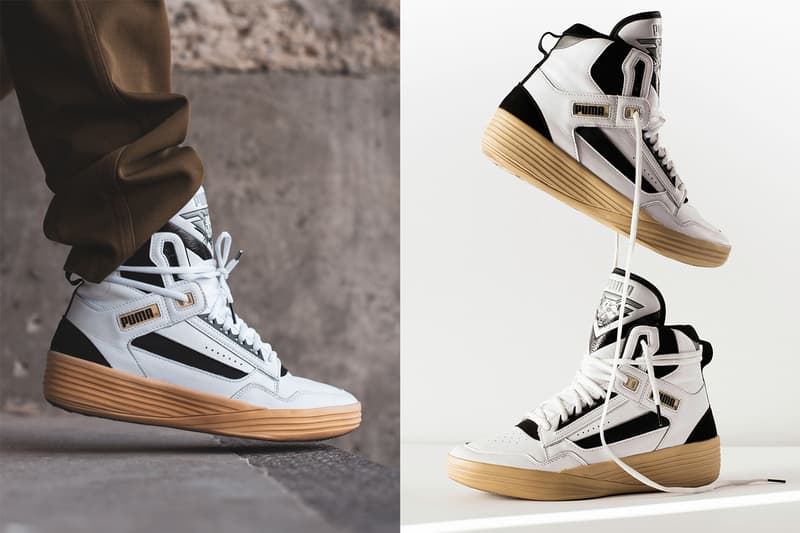 The phrase "habitual line stepper" was first popularized by Charlie Murphy, who used it in reference to Rick James during a classic 2004 Chappelle's Show skit. But in 2020, it's an apt way to describe PUMA's new Clyde All-Pro Kuzma Mid. Created for Los Angeles Lakers forward Kyle Kuzma and designed in tandem by Kuzma himself and RHUDE founder Rhuigi Villaseñor, the Clyde All-Pro Kuzma Mid ignores the lines between performance and casual footwear: its drop-in ProFoam midsole and Pebax heel counter may be core components of a PUMA basketball shoe, but its high-cut upper and aged detailing blend a healthy dose of high-street style in as well.
Of course, this isn't the first time the worlds of high fashion and hoops have been brought together: recent examples include Virgil Abloh's Off-White™ x Nike React Hyperdunk 2017 and Jerry Lorenzo's continued work with Nike on the Air Fear of God 1. Going back even further, the original PUMA Clyde was the inverse — arguably the first performance shoe to intentionally lean into lifestyle when it debuted in the '70s. However, the PUMA Clyde All-Pro Kuzma Mid marks the first time that high fashion stylings have been deliberately added to a shoe whose primary purpose is on-court use.
When reached by phone at his home in Los Angeles, Villaseñor noted a gap in the market: namely that new age performance shoes are often not suitable for casual wear, a key — if unintended — factor in many classic '80s and '90s basketball silhouettes. "I think everyone is focused on these robotic, high-tech styles instead of making something that both looks AND plays great," he says. "Quite frankly there aren't other basketball shoes on the market that you can do that with besides Air Jordans, and you wouldn't want to wear a retro like the Air Jordan 1 on court because of the structure. I want to create our own lane, our own vibe."
"You did, my brother!" trumpeted a second voice right as Villaseñor was finishing his statement. It was Kyle Kuzma, joining the conversation from an undisclosed location while taking a much-deserved break after his Lakers secured the 2020 NBA Championship. This was the first — and certainly not the last — display of the synergy between baller and designer on the call. When asked to describe each other with one word each, Kuzma referred to Villaseñor as a "pioneer" while Villaseñor simply noted that Kuzma was a "champion."
For both Villaseñor and Kuzma, the creation of the Clyde All-Pro Kuzma Mid was a learning experience. Although the design marks Villaseñor's fifth PUMA footwear collaboration following a CELL Endura "Sundry" in March 2019, a four-shoe collection in August 2019, three motorsport-inspired sneakers in March and a supple CELL King in August, it's the 28-year-old designer's first foray into performance-geared product. "You've gotta know the rules to break 'em," he said. "With RHUDE, we have an in-line retro basketball inspired shoe called the RHECESS-HI, which has done really well for us. I wanted to give PUMA Hoops a firm introduction into that retro space." Kuzma finishes "On court, it's all about safety. Off court, it's all about looks. Bringing that RHUDE vibe to hoops is really, really dope,"
Kuzma then expounded on Villaseñor's "market gap" statement, noting the importance of a shoe that both looks and plays well. Though low tops have been the on-court style du jor in the NBA for the better part of the last decade thanks to players like Kobe Bryant and Kevin Durant, the Clyde All-Pro Kuzma Mid boasts a cut that's towering by comparison, rising well above the wearer's ankle. "This shoe brings the best of both worlds out" he says. "You get that classic high top style, but the upper is made of a special mesh and has a unique lacing system. You'd never wear a lot of modern hoop shoes out in public because they don't look right, but these are versatile enough that you can wear them off the court with jeans, sweats, trousers and they don't even appear to be a 'basketball shoe.'"
"You'll either love it or hate it. That's way better than no reaction."
Often noted as one of the NBA's most stylish players and a frequent subject of pre-game tunnel fit photos, a blend of looks and performance is tremendously important to Kuzma, and his creative relationship with Villaseñor enabled the two to craft a shoe that fits multiple aesthetics and fills multiple roles. "When my team started this design process, we were given the Clyde All-Pro sole and worked backwards from that," said Villaseñor. "You've gotta protect the real estate that's the player, so we had to strike that balance between design and comfort. The feeling is most important." Kuzma echoed the importance of this fine balance, stating that the sole was the most important part of the shoe for him, but also noting that it was essential for the shoe to have a polarizing look. "You'll either love it or hate it," he said. "That's way better than no reaction."
The PUMA Clyde All-Pro Kuzma Mid will release via Foot Locker come Black Friday, November 27, then hit the PUMA webstore December 4. It's set to retail at $150 USD.