8 Drops You Don't Want to Miss This Week
Featuring Supreme, Stray Rats, UNDERCOVER, Brain Dead, Awake NY and Palace.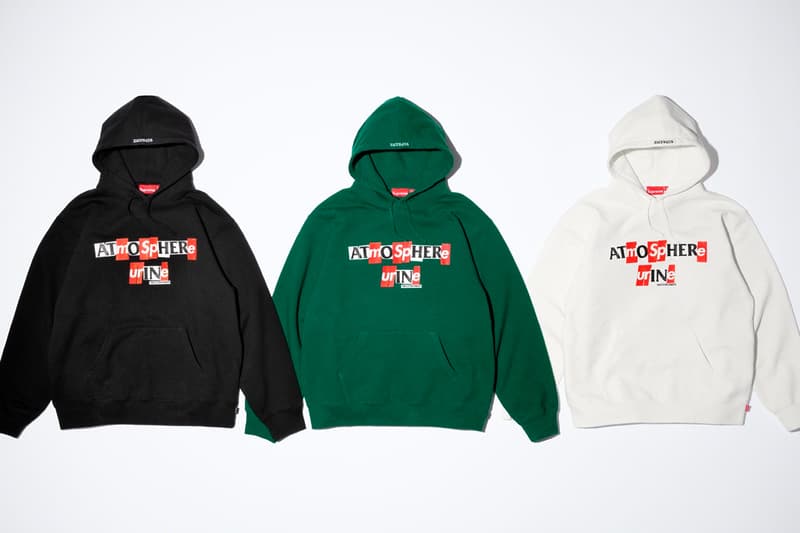 With another week upon us, we have yet another installment of our product drops series. Leading the list is the fourteenth drop from Supreme's Fall/Winter 2020 collection along with Palace's Ultimo Holiday 2020 collection.
For its Week 14 release, Supreme has readied a team-up with past collaborator Antihero. Coming together, the duo put together twill jackets, hooded sweatshirts, T-shirts, beanies and a set of skateboards marked with the flipped design. The letters from Supreme and Antihero's logos have been cut out and rearranged to spell out the phrase in a bold flip on the usual co-branding.
Other standout collaborations include BBC ICECREAM's capsule with Jimmy Gorecki, the Grateful Dead x Chinatown Market "Steal Your Face" capsule and the Awake NY x Levi's FW20 collection. UNDERCOVER and HYSTERIC GLAMOUR have also put together an exclusive release for SENSE's BLACK SENSE MARKET web store. Rounding up this week's drops is Brain Dead's Holiday 2020 collection and Stray Rats's FW20 collection.
Stray Rats Fall/Winter 2020 Collection
Moving through the seasons, Stray Rats has returned with its FW20 collection centered around a new lineup of seasonal wares marked with vibrant graphics.
Comprised of hoodies, crewnecks, T-shirts, sweatpants and beanies, the range comes in a bold array of sharp colors that complements the standout prints. Highlights include a long-sleeve printed with a large silhouette of a rat sandwiched between the emboldened words "Stray" and "Rats," along with a sweater that sports a large satin panel of the letters "S" and "R" at the back.
When: Now
Where: Stray Rats
UNDERCOVER x HYSTERIC Glamour for BLACK SENSE MARKET
Drawing from its seemingly endless relationship with street-adjacent brands, Japanese magazine SENSE has tapped UNDERCOVER and HYSTERIC GLAMOUR for a special release on its BLACK SENSE MARKET web store.
An ode to an original graphic created back in 2007, the trio has put together a special T-shirt release in black and white color options. 13 years ago, this design appeared on a guitar pick necklace that was included as a free gift with an issue of SENSE; now, it's envisioned atop a black and white UNDERCOVER T-shirt and sports logos from both legacy streetwear brands. The design is accompanied by co-branding while "YOU MOTHER FLOWER" riffs off a famous pejorative.
When: Now
Where: BLACK SENSE MARKET
Brain Dead Holiday 2020 Collection
Back with its Holiday 2020 collection, Brain Dead has readied a new delivery of warm staples to elevate your cold-weather wardrobe.
Leading the range is outerwear like a half-zip pullover with minimal branding and paisley patterns, along with a full-zip option that employs a marbled mix of bright teal, white, and black hues. Other options include three asymmetrically-styled sweatshirts, hoodies and simple crewnecks that express the bold tones of the collection. Rounding up the range are graphic heavy T-shirts, a yellow sherpa bucket and a fuzzy beanie.
When: Now
Where: Brain Dead
Awake NY x Levi's Fall/Winter 2020 Collection
Following its FW20 collection, Awake NY has now revealed its previously teased Levi's collaboration.
Aside from the teased take on Levi's signature 501 jeans, the rest of the range is comprised of a reimagination of the classic Type III Trucker. All pieces come altered with a selection of vintage-inspired printed fabrics. The patchwork stripes, polka dots and animal prints help create an offering of traditional-yet-striking pieces.
When: November 24
Where: Awake NY
Grateful Dead x Chinatown Market "Steal Your Face" 2020 Capsule
Building on their collaborative relationship, Chinatown Market and Grateful Dead have come together once again for an expansive capsule.
Comprised of apparel and accessories, the entire range is emblazoned with Chinatown Market's signature smiley face motif and Grateful Dead's skull motif taken from the cover of the band's 1971 album Steal Your Face. Noteworthy pieces include a hoodie that comes with a light purple tie-dye, an intarsia knit sweater showing a large collaborative graphic. The smiley steal your face motif is repeated across hoodies, a key tray, mug, sleeping bag and on sweatpants
When: November 26
Where: Chinatown Market
Supreme Fall/Winter 2020 Week 14 Drop
Continuing its major FW20 collaboration series, Supreme has teamed up with skate label Antihero once again for its Week 14 Drop. This time around the duo has put together a remix of their own logos but this effort is by far the most tongue-in-cheek- to date: introducing "ATMOSPHERE URINE." The letters from Supreme and Antihero's logos have been cut out and rearranged to spell out the phrase in a bold flip on the usual co-branding.
The collaboration features twill jackets, hooded sweatshirts, T-shirts, beanies and a set of skateboards marked with the flipped design. The tees, however, shrink the text and place it on the rear, with front emblazoned with a pair of edited photos. One shows a smiling ICE agent with an inverted Supreme Box Logo across her eyes and the Antihero eagle bursting from her chest, while the other features Michael Jackson dangling his child, Blanket, over a hotel balcony decorated with bold graphics.
The accompanying Week 14 Drop is centered around warmth with the Polartec® Half Zip Pullover, matching Hooded Sweatshirt, Overalls and Beanie. Each set of Polartec® comes in six colorway options and can be worn together as a matching tonal outfit. This week Supreme has not readied any boldly branded accessories.
When: November 27, 11 a.m. EDT & Japan Release November 28, 11 a.m. JST
Where: Supreme Online
JSP Jimmy Gorecki x ICECREAM Capsule
Continuing to deliver collaborations BBC ICECREAM has now put together a special apparel release with one of the original members of its skate team, Jimmy Gorecki.
The capsule focuses on a black/green contrast on a hoodie, T-shirt and sweatpants emblazoned with classic ICECREAM Cone Man and Skatin Cone graphics remixed with a "JSP" banner. Furthermore, you'll find the words 'VOLUME 01" spelled out on each item as a homage to the original Team ICECREAM VOL 1 Skate DVD that dropped 16 years ago.
When: November 27
Where: ICECREAM
Palace Holiday 2020 Collection
Following its final FW20 drop, Palace is now reading its Holiday 2020 offering for release. Its latest Ultimo selection, the range features a selection of bold reworked classic brand staples, alongside two collaborative releases.
For the transitional range, Palace has put together references English playwright William Shakespeare with a number of its garments, most notably on the two variations of its Varsity Jacket, as well as a crew neck sweater that reads "Old England" on the reverse. Other items include fleeces, knitwear and accessories boasting winter-inspired "Palaska" graphics, parkas, hoodies, jackets and overshirts to form a well-rounded collection. Finally, an eye-catching yellow adidas Firebird tracksuit and series of T-shirts, pants, hoodies and accessories alongside Suburban Bliss round up the Holiday 2020 offering.
When: November 27, 11 a.m. EDT & Japan/China Release November 28, 11 a.m. JST/CST
Where: Palace, "Palace_Skateboards" WeChat store