Concepts and Nike SB Cook Up a Tasty SB Dunk High "TurDUNKen"
Concepts creative director Deon Point spoke to HYPEBEAST about the importance of infusing fun into the collaborative process.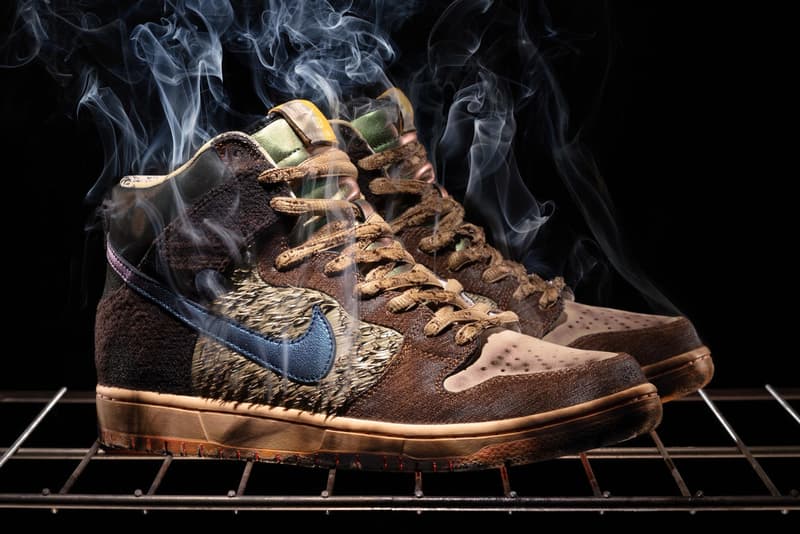 1 of 2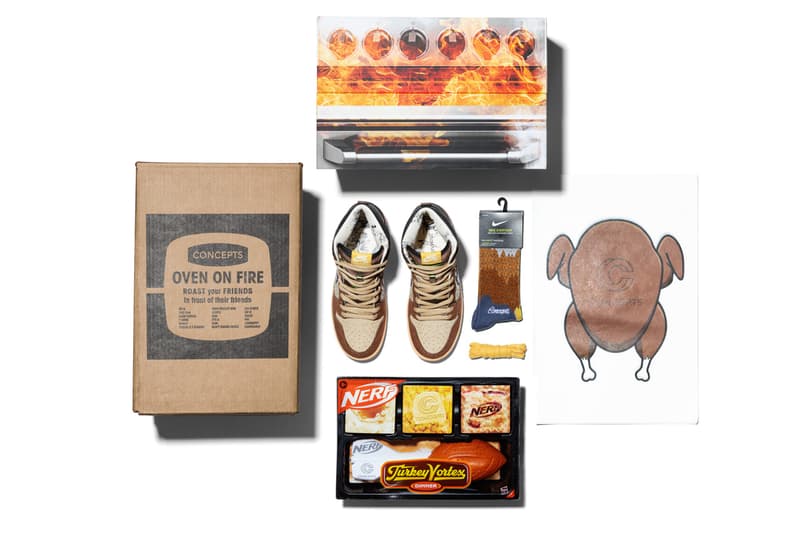 2 of 2
Since first working with Nike SB to create the legendary SB Dunk Low "Lobster" in 2009, Concepts has become one of the Nike skate subdivision's foremost collaborative partners — and now the two have reunited for a tasty SB Dunk High "TurDUNKen." Humorous name aside, the "TurDUNKen" is a natural evolution of the two's past cheeky collaborative efforts, like 2012's SB Dunk High "When Pigs Fly" and 2015's SB Dunk Low "Holy Grail." "We've definitely never taken ourselves too seriously. We're well versed in sport. We come from luxury. But, the thing with us that always gets overlooked is our sense of humor. We love to have fun," says Concepts Creative Director Deon Point.
With a name inspired by the hybrid turducken — a combination of turkey, duck and chicken meat, popularized by American football announcers — Concepts' latest SB collaboration nods to the holiday season's three Fs: food, football and friendship. From a build standpoint, the "TurDUNKen" draws its inspiration from the mallard dunk, mixing shaggy brown suedes with a sandy toebox and laser-cut detailing on the quarter panel. Tongues give off an iridescent sheen and Swooshes alternate between shimmering blue and green, much like a mallard's feathers.
Although the sneaker is striking upon first glance, closer examination reveals the full extent of its details. Tongue tags are altered to read "DUCK High Pro" instead of "Dunk High Pro," and the collar lining is covered a custom toile print. The packaging is just as detailed as the shoe itself, and fully locks in the turducken inspiration: Nike Dri-FIT chicken foot socks are stuffed inside the duck-inspired shoes, which are wrapped in "turkey" paper. All of this is contained inside an oven-inspired box set, and even comes accompanied by a Nerf Vortex football, packaged to look like a TV dinner. Accompanying the artfully-packaged kicks are a flannel jacket, T-shirt and beanie, exclusive to Concepts.
Accompanying the announcement, Deon Point spoke to HYPEBEAST for an exclusive Q&A. See his thoughts on the "TurDUNKen" below.
HYPEBEAST: Collaborations often seem stone-faced and serious, with little room for laughter or humor. Why do you think it's so important to infuse fun into your collaborative footwear?
Deon Point: At Concepts, we really try to start everything we do with a little humor. We can't help it. We don't take ourselves too seriously, and instead like to focus on a tongue-in-cheek approach to our ideas. Our consumers have come to expect that from us, and that approach makes the process much more enjoyable.
From the "When Pigs Fly" to the "Holy Grail" and now the "TurDUNKen," how would you say the Concepts' team's "sneaker humor" has evolved over the years?
I think we've just continued to take things a step further. For "TurDUNKEN," you can see we put so much time and effort into the packaging — this is the first time we've taken packaging this far. For us, "TurDUNKen" was the time to step it up and take the humor just a little bit further. Bringing that tongue-and-cheek humor to the marketing was also a must.
How do you balance this "fun" with the more serious aspects of creating a collaborative silhouette?
When collaborating with a brand like Nike, you have to respect the silhouette that has become a staple in so many closets. We've had fun collaborating with the Nike SB Dunk team because we can use this iconic sneaker and take it for a spin that no one would expect. It's merging a timeless shoe with a humorous idea, and melding those two worlds is really the beauty behind our Nike SB Dunk collaborations.
What's your favorite feature of the TurDUNKen?
I'm not sure I can pick a favorite feature, but I think my favorite thing about it is just how well it came together. From the features of the actual sneaker, to the chicken socks, to the insane packaging we developed, this is just a thoroughly produced product from beginning to end, and we couldn't be happier with how it turned out.
Have you ever eaten a Turducken? If so, did you enjoy it?
Not until about a month ago. HA. I tried to my first turducken when we were creating the content for the collaboration! I don't even meat off the bone, so making it was gnarly.
The Concepts x Nike SB Dunk High "TurDUNKen" is set to release exclusively at Concepts on November 14, then will arrive at skate retailers like The Berrics' Canteen November 20 and Nike SNKRS November 21. The shoe with special packaging retails at $249 USD and the standard edition at $120 USD, with the Concepts-exclusive apparel ranging from $46-$285 USD.
For more Nike SB news, take a look at official images of the SB Dunk Low "Elephant."