Best New Tracks: Young Thug, E-40, Danny Brown, Mick Jenkins & More
What a week.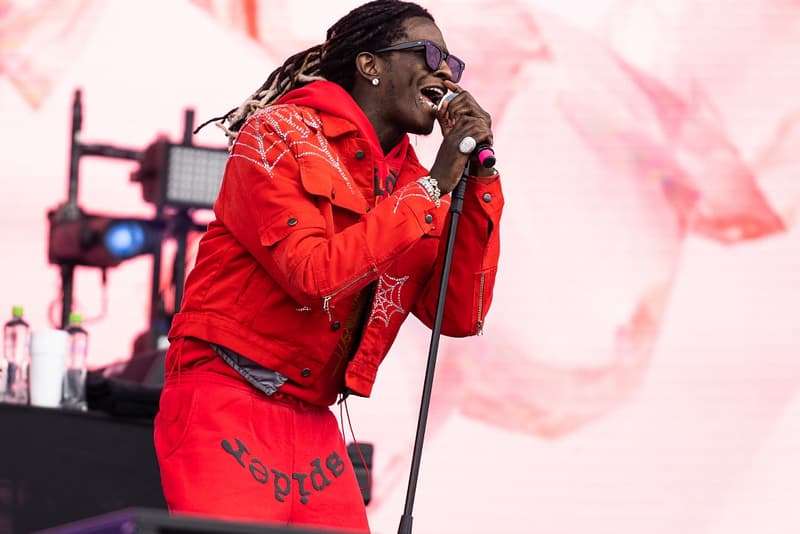 Last week, our Best New Tracks series shined the spotlight on new deliveries from Drego & Beno, Freddie Gibbs, Madlib, SOB X RBE, JPEGMAFIA and more. Now, we're bringing attention to new releases from Danny Brown, Young Thug, E-40, Mick Jenkins, 03 Greedo, Boards of Canada, Sauce Walka, LDN DRGS, Conway the Machine and more.
Mick Jenkins – "Percy"
Following a handful of guest appearances on other artists' studio projects, Mick Jenkins is unveiling his first major single since his 2018 solo LP Pieces of a Man. Specifically, the acclaimed Chicago emcee is teaming up with Qari for a new single produced by his DJ greenSLLIME, "Percy." The video for "Percy" was also directed by Mick Jenkins, making the visual his directorial debut.
"Smoking out the P with my mans in his Chevy waiting on our cue to go / Weed residue all on my cuticles, I been grinding / Paper cuts all on my fingertips, been taking my time," Jenkins raps on "Percy. "Counting the digits, the relationship is strictly platonic though / Couldn't love the money if a young n***a wanted to / Gotta love the struggle, it's the hustle I'm drawn into."
Danny Brown – "Best Life"
For his latest uknowhatimsayin¿ single, Danny Brown links up with the project's iconic executive producer, Q-Tip, for a record titled "Best Life." The song was originally introduced to listeners back in May, and later given a live debut during Brown's Primavera Sound 2019 set. It comes to us just two weeks after the release of the previous uknowhatimsayin¿ single "Dirty Laundry."
"Working with Tip was a real humbling experience you know. It's like a restart — I feel like it's a whole new start again," Danny Brown explained to Zane Lowe for a recent Beats 1 interview. "I just feel like I came full circle. Going back to the beginning, going back to the basics. Dope beats, dope rhymes, not thinking too hard about nothing — just whatever's dope is dope."
Meyhem Lauren & DJ Muggs – "Blue Chinese"
Towards the beginning of this month, Meyhem Lauren and DJ Muggs teamed up for a collaborative EP dubbed Members Only. Made up of four tracks, the lean project paired Meyhem Lauren's acrobatics, slickly-woven bars with DJ Muggs' hard-hitting, grimy beats. Now, revisiting their recent joint drops, Lauren and Muggs are serving up a visual for Blue Chinese highlight "Blue Chinese." This week's clip for "Blue Chinese" comes to us courtesy of director Joshua Durham and is presented by the Classic Car Club.
Boards of Canada – "XYZ"
To promote Warp Records' massive 30th anniversary box-set, the trailblazing label is liberating a previously-unreleased Boards of Canada composition, "XYZ." Notably, Warp's forthcoming box-set compiles a series of radio sessions pulled from the label's storied history, transforming the range of recordings into a 10-part LP collection. Besides Boards of Canada, the new 10-album set will also contain tracks from Aphex Twin, Flying Lotus, Kelly Moran, Seefeel and more.
Teebs & Panda Bear – "Studie"
Brainfeeder sound-sculptor Teebs is revealing plans for his first new studio album in five years. Known as Anicca, the E S T A R A follow-up is being introduced to fans via its Panda Bear-assisted lead single, "Studie." In an official press statement, Teebs says that "everything" that Panda Bear works on "is pure gold or fine wine." Besides Panda Bear, Teebs' upcoming Anicca LP also features contributions from Anna Wise, MNDSGN, Miguel Atwood-Ferguson, Pinki Siifu and Sudan Archives. Teebs also calls his Anicca collaborator Sudan Archives "a scary genius who deserves the world's ears and eyes." Annica will see release on October 25.
03 Greedo – "Bring the Block Outside" & "She's Foreign"
For his latest releases from behind bars, 03 Greedo serves up a pair of new singles. Known as "Bring the Block Outside" and "She's Foreign, this latest run of records from 03 Greedo is just a tiny part of a vast collection of unreleased compositions, all of which were recorded and put together before Greedo turned himself in to serve this current bid.
"[There are] more than 30 albums in the vault," Greedo revealed to Complex. "But the way the music is released now, some of the albums will just be broken down as singles or loosies."
LNDN DRGS & Conway the Machine – "Sideshow"
Following up their previous single with Problem, "All About U," LNDN DRGS continue to support their forthcoming compilation LP by debuting a new music video and track with Griselda Records affiliate Conway the Machine, "Sideshow." The aforementioned cut comes to us alongside its Patroni Films-helmed visual component, and is one of several new high-profile collaborations that makes up LNDN DRGS' upcoming compilation album AFFILIATED. Besides Conway the Machine, AFFILIATED also includes contributions from G Perico, Krayzie Bone, Mac Mall, Iamsu!, Meyhem Lauren, T.F., Aston Matthews, Larry June and more.
Young Thug – "Just How It Is"
For his latest visual, Young Thug dines on mice and plays with snakes for the "Just How It Is" clip. Released as part of his most recent studio project So Much Fun, "Just How It Is" has quickly become one of the LP's highlights. Besides this record, the 19-track So Much Fun also contains collaborations with J. Cole, Travis Scott, Quavo, Juice WRLD, Future, Lil Baby and more.
"I can tell you how to die or how to live in this bitch / I can tell you how to talk the most impeccable sh*t / I can show you how to walk like you got decimals, bitch," Thugger raps on "Just How It Is. "Show you how I can get the top from all the top ten bitches / I got white Adderalls and I have amoxicillin / I got lights on, baby, I got moths in this bitch / No fly zone, caught you like you're Moss in this bitch / Growin' tycoon and I took some losses, you bitch / I'm a boss, but I don't like to take a loss in this bitch."
Bones – "DontLookDown" & "CallMeBackWhenYouGetThis"
Bones' latest full-length project came in the form of last month's KickingTheBucket tape. Revisiting that project, the TeamSESH artist serves up two more notable videos for a pair of KickingTheBucket standouts, "CallMeBackWhenYouGetThis" and "DontLookDown." "CallMeBackWhenYouGetThis" and "DontLookDown" are two of 12 songs that make up KickingTheBucket, which stands as the follow-up to May's UndertheWillowTree.
Rockin Rolla, CashClick Boog & M.A. – Addy
Rockin Rolla and CashClick Boog continue to cook up new heat together. This time around, the pair link up with M.A. for a new single and video, "Addy." Directed by Trap Butters, the "Addy" clip serves as a perfect showcase of Rockin Rolla and CashClick Boog's street-seasoned Bay Area style and straightforward bars.
Rio Da Yung OG – "Legendary" & "Sit Down" with RiskTaker D-Boy
At this rate, considering the quality of the songs that are part of his prolific output, Rio Da Yung OG is going to be featured in our Best New Tracks series every week. For his latest notable releases, the Flint star-in-the-making links up with Detroit's RiskTaker D-Boy for "Sit Down" and serves up as a solo cut dubbed "Legendary." Both tracks are being released alongside their visual components; Keonta shot the "Legendary" vignette, while JewDoesIt took care of the "Sit Down" shoot for 4ShoMag.
Street Knowledge – "Jacka Intro"
Essential new sights and sounds from talented Oakland rapper Street Knowledge. The Jacka is one of the greatest West Coast rappers to ever pick up a mic, and Street Knowledge pays proper homage on his latest visual and single, the fittingly-titled "Jacka Intro."
E-40, Payroll Giovanni, Peezy, Sada Baby – "I Come From the Game"
For the latest visual in support of his 29th studio album Practice Makes Paper, E-40 reconnects with Payroll Giovanni, Peezy and Sada Bavby to solidfy the Bay-to-the-D connection on "I Come From the Game." E-40's new vignette for "I Come From the Game" was filmed by Detroit super-director @JerryPHD/Jerry Production, while the song itself was produced by Detroit super-producer Helluva; Detroit's all-stars from all art forms showed up for this one. Besides this song's trio of collaborators, Practice Makes Paper also contains contributions from Quavo, A$AP Ferg, ScHoolboy Q, Rick Ross, Ty Dolla $ign, Boosie Badazz, OMB Peezy, Method Man, Redman, Scarface, Wiz Khalifa and more.
Nuk – "Howdie"
When it comes to the Midwest's contemporary street-rap scene, artists like Teejayx6, Sada Baby, Tee Grizzley might be receiving the majority of the spotlight, but fast-rising up-and-comer Nuk is proving that he has more than enough talent to be on plenty of "Artists to Watch" lists by year's end. For the latest entry in his ongoing hot streak, Nuk delivers a new music video and single, "Howdie."
State Trapper & Babyface Ray – "Door Swingin"
Babyface Ray is unstoppable right now, and even though his latest collaborator State Trapper might not have the critical and commercial recognition that he does, his verse on their new "Door Swingin" track should force-open plenty of eyes and ears. Filmed by @1FreshRich Visuals, State Trapper and Babyface Ray's new "Door Swingin" video gives viewers a great example of what Detroit street-rappers do best.
Sauce Walka – "I'm Workin On It"
Texas titan Sauce Walka is on an incredible hot-streak right now, and he's continuing that run with a new visual for his "I'm Workin On It" single. Regardless of the style of emceeing, the Sauce Factory leader knows how to hit lyrical home-runs with ease.