Best New Tracks: Drego & Beno, SOB X RBE, Freddie Gibbs, JPEGMAFIA & More
This week produced several new must-listen releases.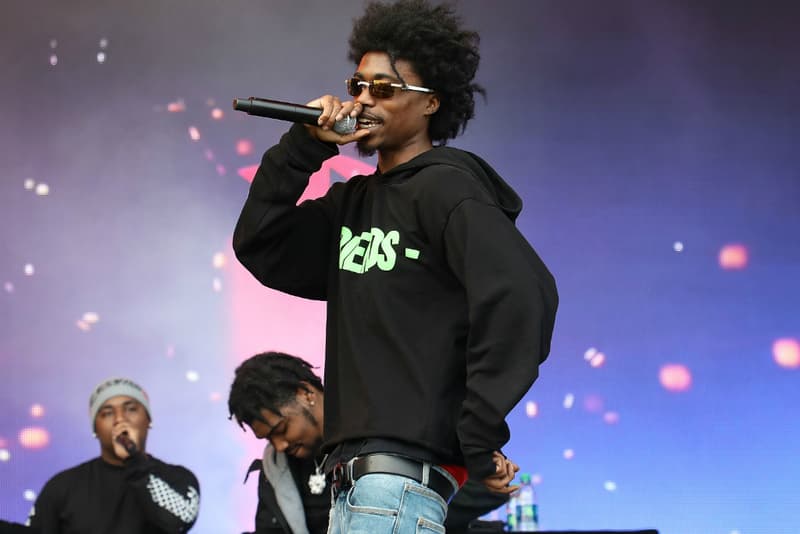 Drego & Beno – Meet Us Outer Space
Detroit duo Drego & Beno are following up this past January's impressive Sorry For the Get Off project with a second full-length release, Meet Us Outer Space. Clocking in at an expansive 15 tracks, Meet Us Outer Space features previously-unveiled singles like the Shoreline Mafia- and GT-assisted hit "Swear to God" and the "song of the year" (and early No. 1 title-holder for "posse cut of the year) contender "Slimed Out." Adding to the frenzy of sharp shit-talking and slick bars, fellow Motor City all-stars BandGang Masoe, ShredGang Mone, BandGang Lonnie Bands, DamJonBoi, DameDot, ShredGang Strap, BandGang Paid Will and other notable talents pop up for guest verses.
Rio Da Yung OG – "Crystal Clear" & "Jackie Moon"
Flint, Michigan's brightest new talent and one of the Midwest street-rap scene's next potential frontrunners continues his current and fast-expanding string of sonic homeruns with two new visuals and records. For "Crystal Clear," Rio Da Yung OG goes solo, while "Jackie Moon" pairs his skills with the bars of rising Detroit pair ShittyBoyz and RMC Mike. We need a freshly-released Rio Da Yung OG project as soon as humanly possible.
Nef the Pharaoh – "Needed You Most"
Nef the Pharaoh showcases his sentimental side for his latest music video, "Needed You Most." A highlight of his excellent recent studio project Mushrooms & Coloring Books, "Needed You Most" and its lovelorn narrative are brought to life as a visual by director Javari Jackson. Besides this solo offering, Nef's Mushrooms & Coloring Books LP also features collaborations with Sada Baby, Tyga, ALLBLACK, Slimmy B and others.
SOB X RBE "Sensei"
Continuing to climb the ranks of rap-stardom, SOB X RBE follow up their recent series of singles with another new track, "Sensei." This time around, the Vallejo hometown-heroes link up with producer X-Slapz to deliver more lyrical acrobatics.
Shootergang Kony, DaBoii, Nef the Pharaoh & Mike Sherm – "Charlie 2"
Revisiting his very impressive recent studio project Second Hand Smoke, Sacramento rapper Shootergang Kony reconnects with DaBoii, Nef the Pharaoh and Mike Sherm for the official music video in support of Second Hand Smoke's hard-hitting finale, "Charlie 2."
"We was on some old school shit on this one," Kony shared with us. "I just wanted muf*ckas to get that old cypher feel you know when rappers was actually gassin. When you used to only see the rappers on TV. With the track al I did was throw some heavy hitters on here that could wrestle with them fast paced beats. Either way the track remind me of a lyrical exercise."
JPEGMAFIA – All My Heroes Are Cornballs
JPEGMAFIA compiles 18 new records for his third studio album, All My Heroes Are Cornballs. Continuing to explore the experimental and artful fringes of modern hip-hop, the Baltimore representative delivers another thoughtful, clever full-length effort.
Gucci Mane, YoungBoy Never Broke Again & DaBaby – "Richer Than Errybody"
Gucci Mane is arguably one of the most influential and prolific southern rappers to ever earn a living off spitting rhymes over beats. Now, with his 101st studio project in the works, the Trap God is teaming up with YoungBoy Never Broke Again/NBA YoungBoy and DaBaby for a Lex Luger-produced single dubbed "Richer Than Errybody."
Lil Blood – "I'm Mobbin"
Bay Area legend Lil Blood is as active and talented as ever. For the latest entry in a series of impressive visuals and singles, the Oakland veteran links up with director Thakur_Taj for a video in support of his Ndugu cut "I'm Mobbin." Like many of his most introspective and reflective offerings, "I'm Mobbin" allows its creator to do some soul-searching and exorcise some demons. Over the years, mournful compositions like "I'm Mobbin" have transformed Lil Blood into the weary-eyed, seasoned sage at the spiritual center of northern California street-rap.
Freddie Gibbs & Madlib – "Half Manne Half Cocaine"
When it comes to the rollout and overall visual campaign for their latest collaborative magnum opus, Bandana, Freddie Gibbs and Madlib have cooked up their best videos yet. For the latest Bandana song to be turned into a mini-movie, Gibbs and Madlib link up with Eric Andre and director Nick Walker for a clip in support of "Half Manne Half Cocaine."
Conway the Machine – Look What I Became
When it comes hip-hop's classic, tried-and-true approach of hard-bars-over-hard-beats, Conway the Machine outdoes himself on the latest entry in Griselda Records' incredible catalog. Titled Look What I Became, Conway's new projects gives his devoted fanbase nine new records to digest. Concerning the LP's guest appearances, Jim Jones, Dave East, DJ Muggs, El Camino, Amber Simone and his Griselda cohorts Westside Gunn and Benny the Butcher all show up to flex their olympic-level abilities.
"Look What I Became… is a gift to all my day one fans and also my new fans to introduce them to this Griselda shit; and get them ready for the Shady debut God Don't Make Mistakes," Conway shares via a brief statement. Judging by the level of quality expressed on this week's project, God Don't Make Mistakes is going to bring some serious heat to speakers, earbuds and headphones across the globe.