#POLLS: What's the Best Sneaker Collaboration With an Animation Franchise?
With this weekend's release of 'SpongeBob' x Nike and 'One Piece' x PUMA, we take a trip down memory lane.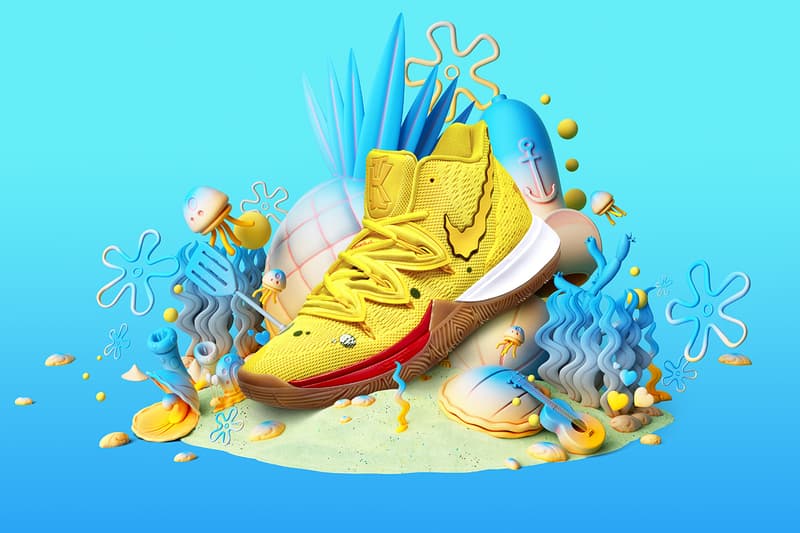 With this weekend's release of the long-awaited SpongeBob SquarePants x Nike Kyrie 5 collection as well as PUMA and One Piece's CELL Endura, we wanted to ask you, our readers and followers, where do these kicks stack up next to some of the best sneaker collaborations with an animation franchise?
To clarify, we consciously chose the verbiage of "animation franchise" as this list includes comics, cartoons, anime, stop-motion and even a couple live-action adaptations of the previously-mentioned mediums. Nevertheless, the sneaker world has had a growing affinity for these kind of creative partnerships, which have since inspired collaboration in other realms of entertainment, such as professional sports, gaming, technology and so much more.
Enjoy the trip down memory lane below, then be sure to participate in our poll at the very bottom. And if a favorite model of yours wasn't mentioned, be sure to chose "Other" and sound off in the comments below.
Marvel x A Bathing Ape BAPESTA
Release Year: 2005
Why So HYPED?: Well before all the Avengers hype and three years before Robert Downey donned the Iron Man suit, BAPE delivered an official Marvel Comics collaboration, in which the BAPESTA was outfitted in colorways inspired by the likes of Captain America, Thor, Cyclops, Spider-Man, Silver Surfer, Hulk and of course Iron Man. This may have been the pioneer of the sneaker x animation collaborative craze, making the entire pack a historical industry moment.
Where to Cop: There aren't many of these limited-edition beauties left to be discovered, but you can cop a size 10.5 of the "Cyclops" iteration for a hefty, but warranted, price tag of $1,500 USD at StockX.
Fantastic Four x Nike
Release Year: 2006
Why So HYPED?: The standouts within this pack were, and still are, the AM95 "Human Torch" and the AF1 "Invisible Women," which is, hands down, the best sneaker with a transparent upper to this day. Although these released in conjunction with the mid-2000's movie franchise, and after 2005's Marvel x BAPESTA range, this pack took what BAPE did and put in out on a global scale that only Nike could achieve.
Where to Cop: All pairs are currently listed on StockX, none of which exceed $300 USD.
The Simpsons x Vans
Release Year: 2007
Why So HYPED?: Vans collaborated with 12 artists on 14 sneakers, enlisting the likes of KAWS (Slide 4), Tony Munoz (Slide 3), Taka Hayashi, Stash (Slide 2), NECKFACE, Mr. Cartoon, FUTURA (Slide 1) and others. The pack only dropped at 10 retailers and each pair was just as limited — so limited that Sneaker News and Stadium Goods founder Yu-Ming is still looking for the final pair to complete his set.
Where to Cop: You'll be hard pressed to find the entire batch, but currently, the KAWS iteration is availisted lable on StockX.
Transformers x Nike
Release Year: 2007
Why So HYPED?: Just like the Fantastic Four pack above, this collection dropped alongside the first installment of Michael Bay's Transformers franchise, which at the time was one of the most anticipated films in recent memory. The sneakers took inspiration from lead characters like Optimus Prime and Megatron, and feature nostalgics details like Autobot and Decepticon tongue patches.
Where to Cop: The Air Trainer 3 "Optimus Prime" is available — in size 8 and 9.5 — on Flight Club.
A Bathing Ape BAPESTA "SpongeBob"
Release Year: 2008
Why So HYPED?: Eleven years before Nike and Kyrie, pop-culture buff NIGO proclaimed his love for SpongeBob with a simple pair of yellow BAPE BAPESTAS with a gum sole that match SB's shorts. The limited run sold out immediately, as did the accompanying pair of ROADSTAs.
Where to Cop: Unfortunately we can't find these anywhere, but the ROADSTAs are still listed on Flight Club, without any sizes available however.
Nike SB Dunk High "Coraline"
Release Year: 2009
Why So HYPED?: Again, maybe not exactly an animation collaboration, but this joint effort between Nike and 2009's award-winning film Coraline should not be forgotten. The first feature film out of Nike co-founder Phil Knight's production studio Laika, Coraline became an instant classic for viewers young and old. To celebrate its success, Nike produce around 1,000 pairs of these Dunks, and to make them even more coveted, the Swoosh created four variations of the model — one traditional pair that was sold at select skate shops, another with large buttons, one that came with movie props, and a limited-to-15 version that was packaged in a special wooden shoe box.
Where to Cop: You can scoop the third rarest version of this drop at both StockX and Flight Club, but for a hefty price that approaches $1,000 USD.
Nike Foamposite One "ParaNorman"
Release Year: 2012
Why So HYPED?: Another Nike collab with Phil Knight's product company Laika, the Foamposite "ParaNorman" stars volt-colored flames rising from the sole. These were also very limited, as only around 800 pairs were produced, a majority of which were given away to Twitter users, with a run of less than 100 then auctioned off on eBay. The Foams have been overdone with all of the unnecessary graphics over the last handful of years, but before then, the "ParaNormans" were among the most coveted.
Where to Cop: For a few thousand dollars, you can pick these up at StockX and Flight Club.
Toy Story x Vans
Release Year: 2016
Why So HYPED?: Vans nailed it here with the Buzz Lightyear and Woody Old Skools; seriously, could the skate brand have done a better job with the color blocking and material choice? The collection also features a couple of Sk8-His and Authentics with all-over graphics, but again, it's the Old Skools that stole the show here.
Where to Cop: All pairs can be purchased through StockX.
Dragon Ball Z x adidas Originals
Release Year: 2018
Why So HYPED?: With DBZ's global fandom at an all-time high, adidas dropped a collection of seven sneakers all sporting the signature colors of the anime's star characters, and best of all, no one sneaker model was repeated. By the end of 2018, one or all sneakers appeared on just about every best of list.
Where to Cop: All eight can be purchased at StockX.
Air Jordan 1 High "Spider-Man: Into the Spider-Verse"
Release Year: 2018
Why So HYPED?: In conjunction with the surprise hit animated film Spider-Man: Into the Spider-Verse, Jordan Brand released a special-edition Air Jordan 1, the same AJ1 that protagonist Miles Morales is seen wearing in the movie. What's more hyped than Spider-Man Air Jordan 1s?!
Where to Cop: Starting at $300 USD, you can scoop these at StockX.
Rick and Morty x Diadora #2
Release Year: 2019
Why So HYPED?: The second installment of their collaborative line, Diadora and Adult Swim's Rick and Morty dropped two cosmic sneakers that are wonderfully simple. No bells and wishes here, just an eye-grabbing color scheme and the duo's beloved spaceship.
Where to Cop: Both pairs are still available at Foot Locker.
Jojo's Bizarre Adventure x Vans
Release Year: 2019
Why So HYPED?: To celebrate the anime series' "Vento Aureo/Golden Wind" story arc, Vans delivered a two-part pack of kicks centered around the Giorno Giovanna and Bruno Bucciarati characters. Both the Slip-On and Era feature a unique laceless construction inspired by their respective fits, and because of the limited release in Japan, each pair is rare and highly collectible.
Where to Cop: Both pairs (Giorno & Bruno) are listed on StockX, but currently, there are no sizes available for purchase.
Mobile Suit Gundam x 361°
Release Year: 2019
Why So HYPED?: While Nike delivered an unofficial AM98 "Gundamn" in 2018, Chinese sneaker brand 361° took it a step further with an authorized collaboration. Only available in select Chinese retailers, each pair is certianly worth of the grail designation for Gundam fans and sneakerheads alike.
Where to Cop: Chinese eshop TMALL has some pairs left, but good luck getting them shipped to anywhere outside of China.
Poll
Best Sneaker Collaborations With An Animation Franchise
Jojo's Bizarre Adventure x Vans
Air Jordan 1 High "Into the Spider-Verse"
Marvel x A Bathing Ape BAPESTA
Fantastic 4 x Nike
The Simpsons x Vans
Transformers x Nike
A Bathing Ape BAPESTA "SpongeBob"
Nike SB Dunk High "Coraline"
Nike Foamposite One "ParaNorman"
Toy Story x Vans
Dragon Ball Z x adidas Originals
Rick and Morty x Diadora
Mobile Suit Gundam x 361°
SpongeBob SquarePants x Nike Kyrie 5
One Piece x PUMA
Other