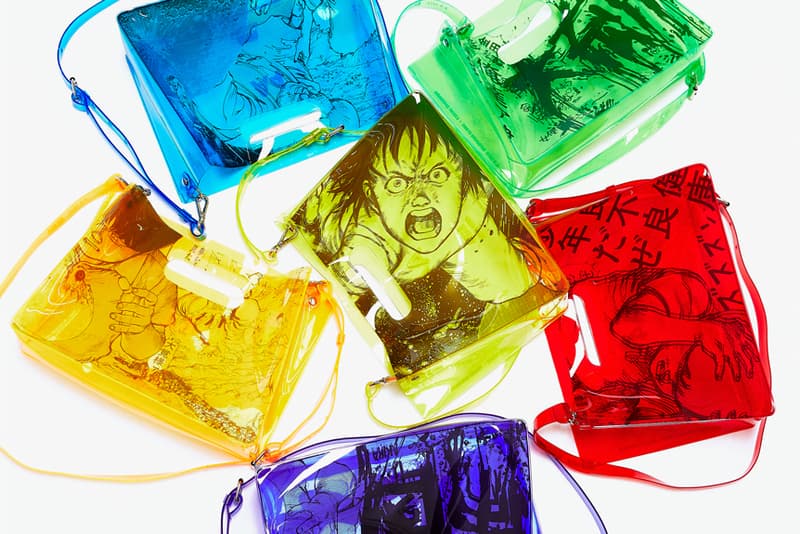 Best Art Drops: nana-nana x 'AKIRA' Bags, Erik Parker 'Toxic' Lithograph & More
Including archival prints of rappers by rising artist Rebecca Maria.
---
Every week we spotlight the best art drops by notable artists, galleries, museums and contemporary art platforms across the globe. Listed items typically encompass limited edition artworks, prints, collectible figures, collaborative merchandise and more.
For this week's installment: nana-nana to release handbags in partnership with AKIRA creator Katsuhiro Otomo and Japanese artist Kosuke Kawamura, Edition Copenhagen launches Toxic lithograph edition by Brooklyn-based artist Erik Parker, rising visual artist Rebecca Maria drops limited prints of iconic rappers including Lil Wayne, Print Them All teams up with famed muralist Faith47 on a lithograph release, and Avant Arte taps acclaimed activist-artist PEJAC on two charity editions.
View the full list below.
nana-nana Celebrates 12th Anniversary With "AKIRA ART WALL PROJECT" Merchandise
Release Date: July 6 to July 14 between 12PM and 5PM
Release Price: TBC
Tokyo-based bag label nana-nana will soon launch a collaborative exhibition with Akira creator Katsuhiro Otomo and Japanese collage artist Kosuke Kawamura to celebrate its 12th anniversary. Following the duo's HYPEFEST installment, Otomo and Kawamura will unveil an all-new "AKIRA ART WALL PROJECT" alongside partnered PVC handbags embellished with graphics from the cult manga series. The commemorative installment will also display works by Guillaume Berg and Cali Thornhill Dewitt.
"AKIRA ART WALL PROJECT" × nana-nana & Kosuke Kawamura Exhibition
Royale Projects Los Angeles,
432 Alameda Street,
Los Angeles,
CA 90013
Edition Copenhagen Releases 'Toxic' Lithograph Edition by Erik Parker
Release Date: Available now on Edition Copenhagen's website
Release Price: $1,513 USD
Contemporary art outlet Edition Copenhagen recently released a limited lithograph edition by acclaimed Brooklyn-based artist, Erik Parker. Entitled Toxic, the composition features Parker's signature psychedelic motifs in an array of colors and geometric patterning with the title of the work included in the figurative-meets-abstract visual. Arriving in an edition size of 80, the print measures 76 x56 centimeters with each piece numbered and signed by the artist.
Rebecca Maria Launches Archival Prints of Famed Rappers
Release Date: Available now on Rebecca Maria's website
Release Price: $22 USD
Interdisciplinary artist Rebecca Maria recently dropped a selection of archival prints inspired by her original artwork. The series portrays acrylic portraits of Lil Wayne, UGK, Kurt Cobain, Notorious B.I.G. and Diddy. Each print is limited to only 20 units with varying sizes. All pieces were printed on archival matte paper with each one signed and numbered by the artist.
Print Them All Collaborates with Faith47 on New Lithograph Edition
Release Date: Available July 2
Release Price: TBC
Internationally-celebrated muralist Faith47 is teaming up with contemporary art platform Print Them All on a lithograph edition called Liberté Egalité Fraternité I. Although assets are still pending for the print, the company took to Instagram to share the stone relief that features original artwork of a detailed horse by the artist. Stay tuned for details.
Avant Arte Taps PEJAC for a Charity Print Edition
Release Date: Available on Avant Arte's website
Release Price: $4,321 USD
PEJAC is widely-known for his figurative, politically-charged artworks that are observed on public walls across major cities. The artist is now partnering up with Avant Arte for a charity installment of 10 diptych editions called Yin-Yang to benefit the Save The Med Foundation — a non-profit organization that spearheads environmental initiatives to protect the Mediterranean Sea. The compositions feature two unique, monochromatic portrayals of a subject fishing on an ice cap. Sized at 97 x 71.5 centimeters each, each print arrives signed and numbered with a certificate of authenticity. 75% of all proceeds will go to Save The Med.