The Growing Race for London's Luxury Shoppers
How the push for "experiences" is grabbing customer's attention.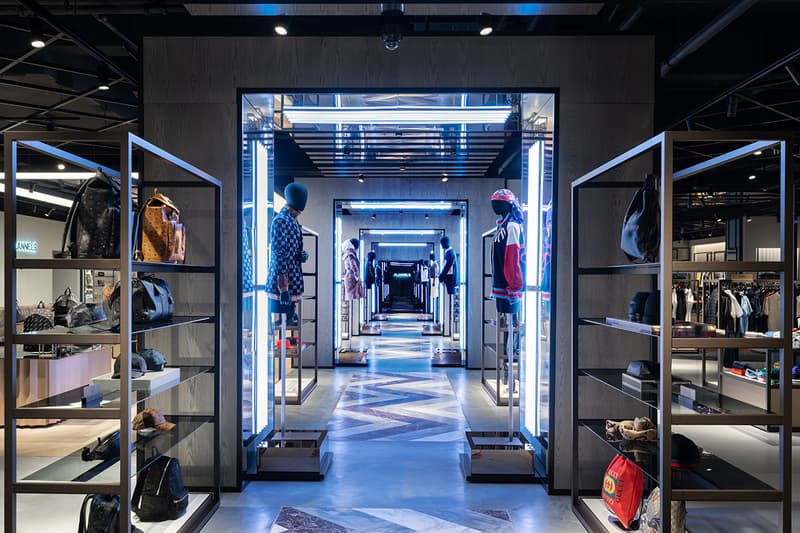 The luxury department store business is booming. While the overall retail sector is struggling, Selfridges has recorded five consecutive years of record results and in 2018 saw a £200 million GBP increase in gross transaction value, according to a GlobalData report. And the reason behind this push is not an increase in online sales as many might assume, but physical retail — specifically, the desire to give customers an "experience" that goes beyond simply offering clothing on racks.
While e-commerce is growing in the UK, online sales still only makes up 20.6% of the country's overall retail. So, with 80% of the market still on offer, it stands to reason that luxury retailers would focus on providing more with their retail experience, with a changing menswear landscape also adding impetus for change. "Men now want to shop," says Simon Longland, Head of Menswear at Harrods. There's also a shift in how younger customers shop. "It's no longer a chore or a task," Longland says. "Particularly with our younger customers who enjoy browsing with friends rather than alone or with a partner."
While physical stores are the key driver of sales, the experiences are usually optimized for social media. This has been boiled down to what retailers are calling "the experience." How this plays out varies from store to store, ranging from everything to skate bowls and in-store concerts to ice cream parlors and barbershops. 
The aim has been to make customers so engrossed in the sheer amount of content-ready parts of the store that they become an unwitting part of the marketing themselves.  "Being able to share an event on a social platform instantly means you reach a wider network than initially anticipated," says Ida Petersson, Menswear and Womenswear Buying Director at Browns when asked about customers becoming marketing tools. "You are able to showcase an activation or brand moment in a particularly unique way – through the eyes of those who are engaging rather than you as a brand yourself."
"The major change in the retail landscape for menswear is that men now want to shop, need to shop and enjoy shopping."
It's something that stores have taken note of. "We have found that Instagram is our customer's main resource in terms of how they engage with fashion and retail spaces now," says Petersson. And this discovery means that making events that sync with the platform is now more important than ever. "With any event we want to engage with whoever our audience may be so having it be 'instagrammable' is very important."
As Dean Cook, head of menswear buying at Browns Mens, says, "it's all about the merge of the physical experience with the digital world." It's a tactic that's worked so far in terms of getting customers to stores, as shown by the rising sales statistics. And, with the imminent arrival of FLANNELS in London, the focus on experiences is about to be super-sized.
Anyone in the UK will already be familiar with the name FLANNELS. Before its upcoming launch in London, the business had primarily focused everywhere except the capital, with over 40 stores throughout the rest of the country. It's also one of the biggest retailers for brands such as Off-White™, Gucci and Stone Island, with its volume outstripping other retailers many times over, according to FLANNELS.  
This power hasn't gone unnoticed by its rival department stores — such as Selfridges, Browns, Harrods, Harvey Nichols and Liberty — who took note of the store's plans to launch in London years before the space was publicly confirmed and were quietly planning ways to rival the store. FLANNELS invited HYPEBEAST to take a hard hat tour of the uncompleted Oxford Street store and, even in this state, it was easy to see why the retailer has struck fear in its rivals. 
"We wanted to be a landmark," says FLANNELS' Head of Elevation Mike Murray. And that  feat is achievable thanks to the London store's 20,000-square-foot building, whose exterior features one of Europe's largest screens to showcase a moving art collection from the likes of Ben Levy. For the retailer, the reason for opening in the city was simple. "London's a global city and we want to be a global luxury brand," Murray says. And, for FLANNELS, physical retail is a key part of the push for retail domination. 
FLANNELS plans to capitalize on the growth of shopping as a group activity in the menswear sector. Two of its four floors in London will include customization stations as well as a reseller section. FLANNELS will also refit the store on a regular basis, "We have a program manager who will bring new things into the store all the time so it gives people a reason to come back," says Murray. And the key driver for all these stores in getting customers back in store is Instagram. "When FLANNELS was first founded people's experience of luxury was reading a magazine or walking down Bond Street," says Murray. "Now they're getting fed content all the time through social media."
"Making events 'instagrammable' is very important."
It's a change that hasn't gone unnoticed by other luxury retailers. Selfridges has been the most pro-active, having run a host of in-store large-scale events, from an A$AP Rocky-led Bodega space to a Skepta performance as part of the Greatness launch. "The Designer Street room, in particular, is built on four key pillars that we believe have been important culturally for menswear over the last 50 years and are more relevant than ever," says Jack Cassidy, Selfridges menswear buying manager, referring to music, art, design and skateboarding. The latter explains why there's been a free-to-skate bowl in the store, which takes pride of place next to Europe's only KITH outpost.
American and Asian stores have been leading the way in experiential designs, according to Philip Handford, Creative Director at Campaign Design, a design agency focused on transforming store interiors. For Handford, the ultimate goal behind these activations is to build something bigger than a single purchase. "It's about how to win the customer's trust and build a community that likes what you as a shop like and stand for," he said. While selling product is still imperative, the key for Handford is that stores do so "without pressure," in order to coax the buyer into a lasting commitment with a store.
"It's all about engagement. Physical stores need to connect with their customers in a meaningful way."
FLANNELS is very certain of its ability to build that lasting commitment, down to planning for increasing the already huge size of the store in the near future. "In the next few years we'll have to double the size of the store," says Murray. "The luxury and hyped product trend has had an exponential growth, so I believe we'll outgrow the size of the store very quickly." With this in mind, rival stores will have to double down on their strategies to not be lost in the pack. 
The keyword department stores need to embrace now is, surprisingly, fun. "We say, 'Make stores playable,'" says Handford. "The first most important issue is to present people a place to play with product." The unstiffening of luxury retail is something that wasn't predicted but has been embraced. The reason for the change is simple — as Dean Cook says, "It's all about engagement."