How Sneaker Companies Are Creating Running Shoes for the Future
Inside ASICS's Institute of Sports Science.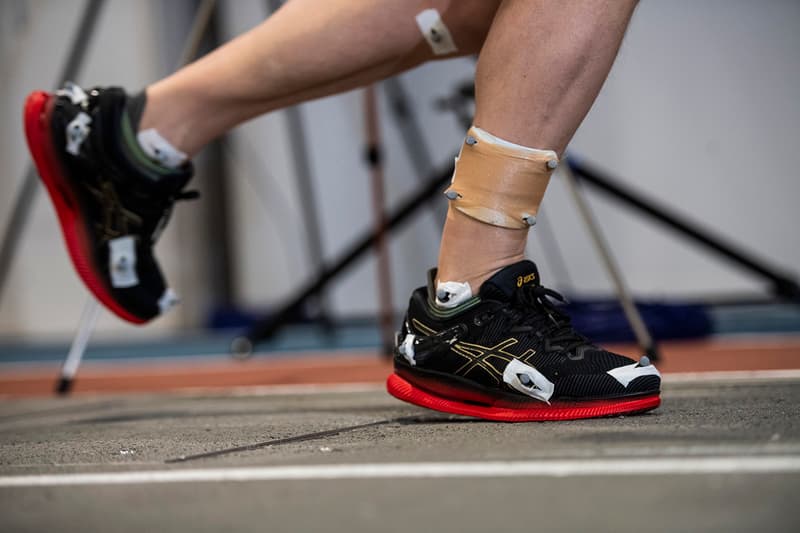 Running is more popular than ever. The amount of marathons hosted each year throughout the globe grew by 40.43% between 2008 and 2018, with races in Asia having grown by over 250%. And with this growth comes extra demands from runners — whether they're running around the block or competing in the Olympics — who need footwear that matches their needs. So how are companies keeping up?
The biggest innovations in sneakers have always been primarily driven by running shoes, with brands constantly one-upping each other with the latest technology. Whether it's Nike's Air Max bubble of the '90s or the race for the most cushioning humanly possible, running shoes have frequently led the way for new innovations.
It's for this reason that ASICS developed its Institute for Sports Science (ISS) in Kobe, Japan. Founded in 1985, the space — a mammoth building on the outskirts of the business-led city — provides a peek into the brand's creation process.
According to Kenichi Harano, Executive Officer and Senior General Manager at ISS, the institute was developed for the purpose of, "creating quality lifestyle through their specific ISS knowledge with technology." Harano would know, having worked at the institute for 27 years.
For Harano the institute's purpose was simple: to look at how people move in an in-depth manner. "The first step is to establish human motion analysis," Harano says. "After that, we develop and structure the design to maximize our concept." From there ASICS starts a vigorous testing process using machines that mimic human wear, motion capture as well as making its soles on-site as part of the testing process. The result is a shoe that keeps up with the industry's demand for increasingly lightweight footwear.
There are eight key points for creating a quality shoe at ISS: weight, durability, cushion, stability, grip, flex, fit, and placeability. While the development of technologies like 3D printing provide new methods of creation, the key aspects of a good running shoe remain the same.
One person who's seen these changes happen over time is renowned marathon runner Kenji Kimihara. The runner competed in the 1964, 1968 and 1972 Olympics as well as running several marathons in Boston and Tokyo. "When I started to wear running shoes, they were heavier than the running shoes today," he told HYPEBEAST. The older shoes led to a host of issues for runners. "We tended to get blisters on their feet," he says. "However, today, the running shoes are lighter, better fitted to the foot and have more technology than before."
For instance, Kimihara had a very simple checklist when it came to what he looked for in a running shoe. "I would always look for two key things: 1: Lightweight and 2: Better fitting." For ASICS, this search for better fit is what led them to develop the ISS. "Human-centric science is our philosophy," says Harano. The idea behind its latest shoe, the Metaride, for example is to "control ankle movement to save energy."
Of course, ASICS is not the only brand creating new innovations. One of the best places to see the latest technology is at ISPO Munich, the world's largest annual sporting goods trade fair and home to most of the world's newest inventions in the sports arena. According to Constanze Fuchs, community manager for sports, fashion, performance, health and fitness at ISPO Munich, the biggest trend they've noticed is one that's slightly beyond larger companies. "The individualization of products [is increasingly popular]. From the individual design of the running shoe to the personalized sole."
"Today, the running shoes are lighter, better fitted to the foot and have more technology than before."
Fuchs credits new technology such as 3D printing in the popularization of customization, which is already being used on shoes such as adidas' Futurecraft 4D. Advances in artificial intelligence have also allowed companies to manufacture equipment at faster rates and with further customizations. These changes aren't yet at the mass-market level, but Harano also names them as potential areas of future growth for ASICS.
When it comes to changes that have been made so far, Laurent Malisoux, scientist at the Sports Medicine Research Laboratory in Luxembourg's Institute of Health, notes the sheer amount of user choice available. "All kinds of combinations of shoe features are possible," he says. "It makes the customer's choice more complex yet it gives more chance to everyone to find the right match to their needs." While it's easy to get lost in the myriad of scientific details, Kimihara sums up what is most important."As a fun-runner — [the most important thing is] I would have to say price."
And while runners are the focus for many sneaker innovations, other communities also benefit from that research and development. "We develop shoes for older people as well, making it easier for them to walk in," Harano said. ASICS also works with medical researchers at ISS, although it's not allowed to create medical shoes due to legal limitations, "But we can apply the wisdom and knowledge in the medical arena into the shoes." But the brand has been working with local hospitals, collaborating with them for research and development in order to create shoes that aid walking and injury prevention for older people which, in turn, helps their mainline shoes.
While it's easy to get lost in the never-ending race for the new, what's most interesting is to see that these developments have a ripple effect. While it starts with the athlete, it often ends up with the person who has no interest in improving their trail running personal best. It turns out that the way companies are keeping up with the times is by planning for it — with a side of inadvertent altruism that makes sure the many benefit, instead of just the few.
The ASICS Metaride is available now for purchase from ASICS's webstore, costing £225.