Get Rich or Golf Trying: Tiger Hood and New York Nico
We visited New York's street golf legend in his natural habitat.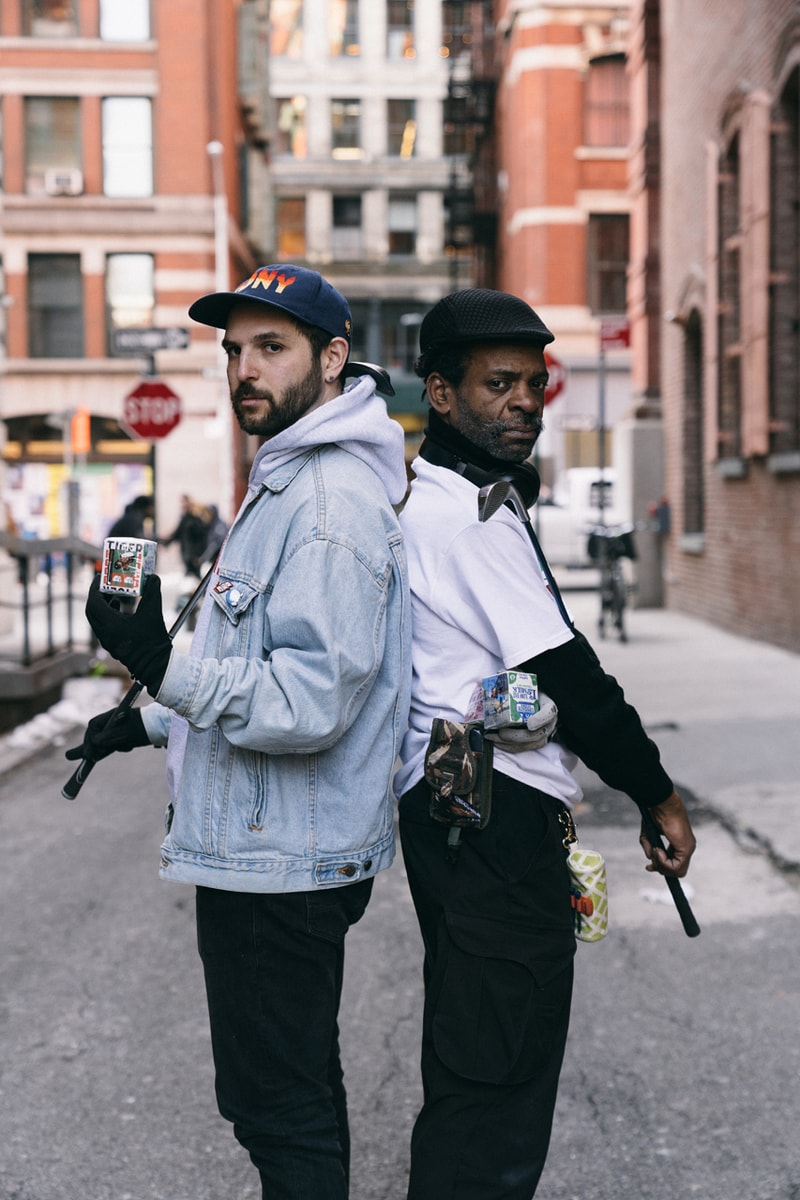 1 of 4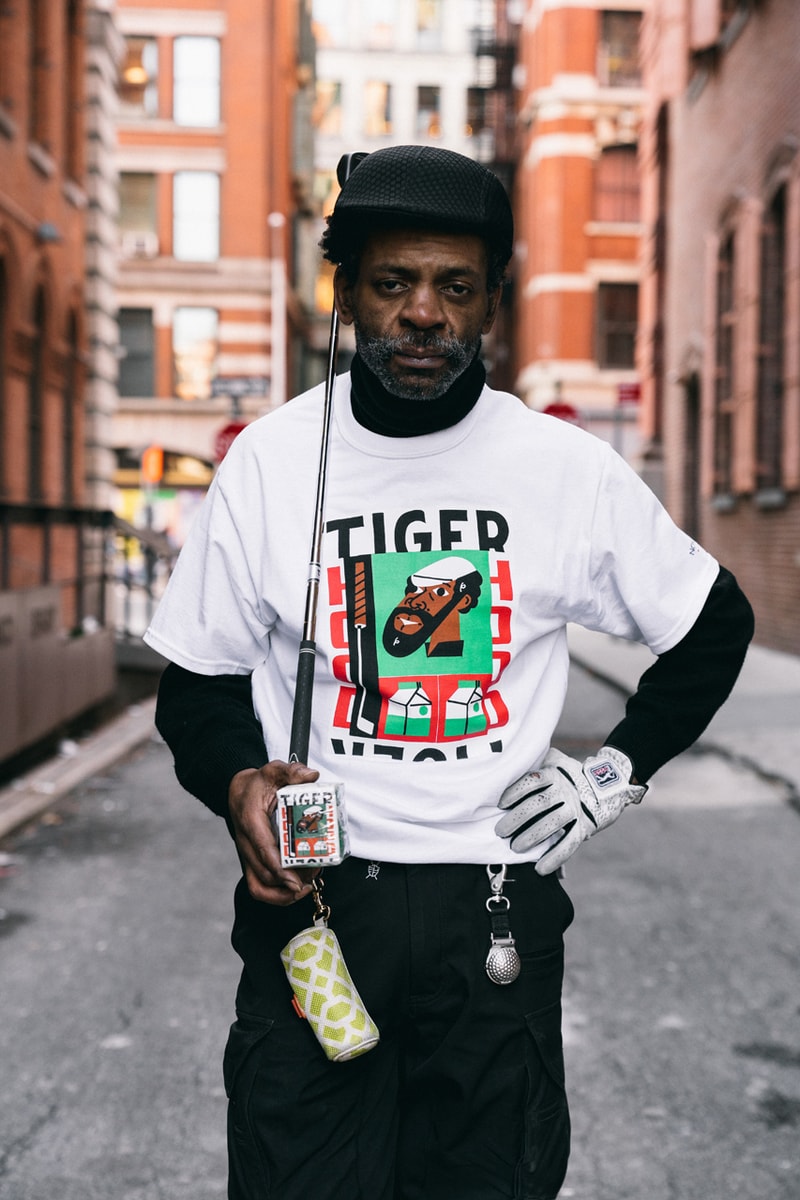 2 of 4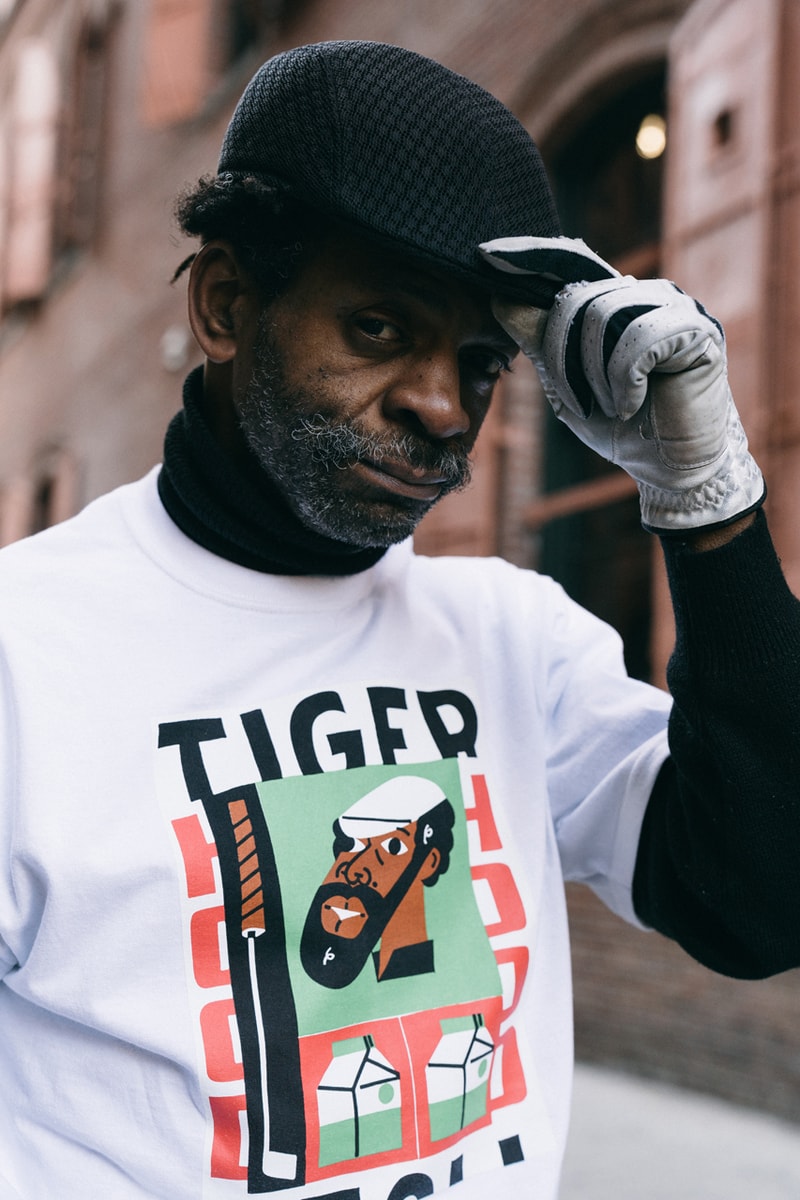 3 of 4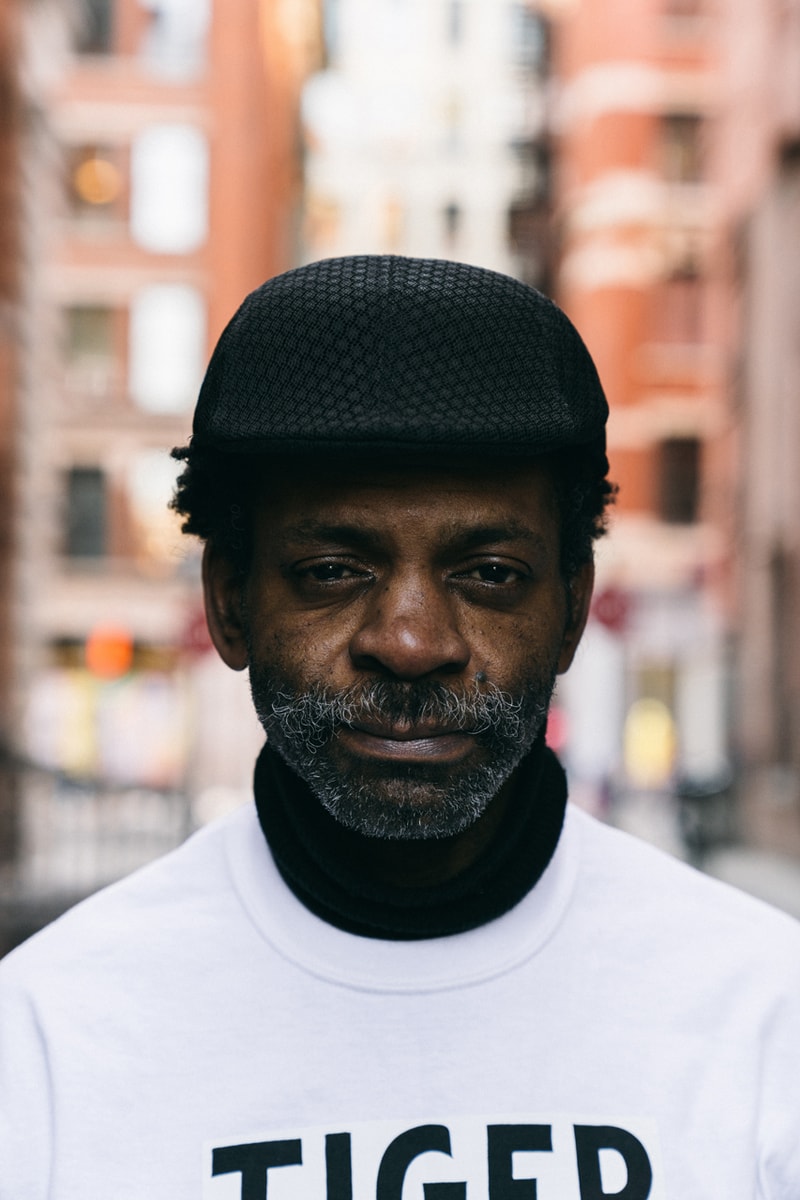 4 of 4
Get Rich or Golf Trying: Tiger Hood and New York Nico
We visited New York's street golf legend in his natural habitat.
Tiger Hood, real name Patrick Barr, has been holding impromptu street golf sessions in the alleyways of downtown New York for years, long before NOAH ever created T-shirts emblazoned with his visage. What began as a way for Hood to pass the time while selling his art has become his daily pastime, making it easy for his many friends and fans to say "Hi" simply by following the consistent THWACK of milk cartons being smacked with repurposed golf clubs.
"I guess [my] biggest handicap is just having to wait when I'm just getting into it," Hood says, after a passerby came up for a photo. "You know, as long as I keep swinging I'll stay warm. I'm out here all day, man, and here I can go real fast, unless I have to wait for people or cars." We're in a narrow alley across the street from Supreme New York's Lafayette store, with Hood's close friend Nicolas Heller, a.k.a. New York Nico, watching the street golfer set up his hundred-dollar bill mat to begin a golf session. "I've always believed you've gotta golf on the Benjamins to bring in the Benjamins," Hood explains. "Get rich or golf trying."
1 of 5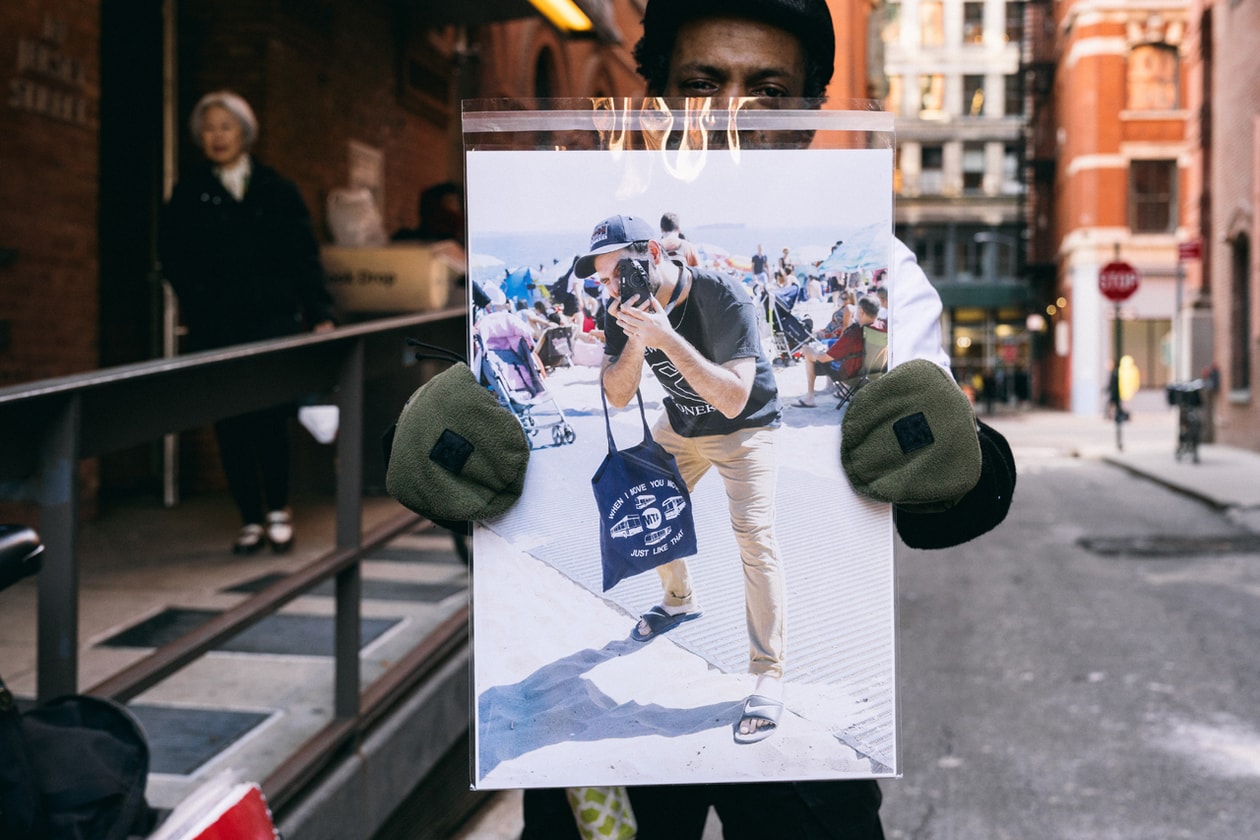 2 of 5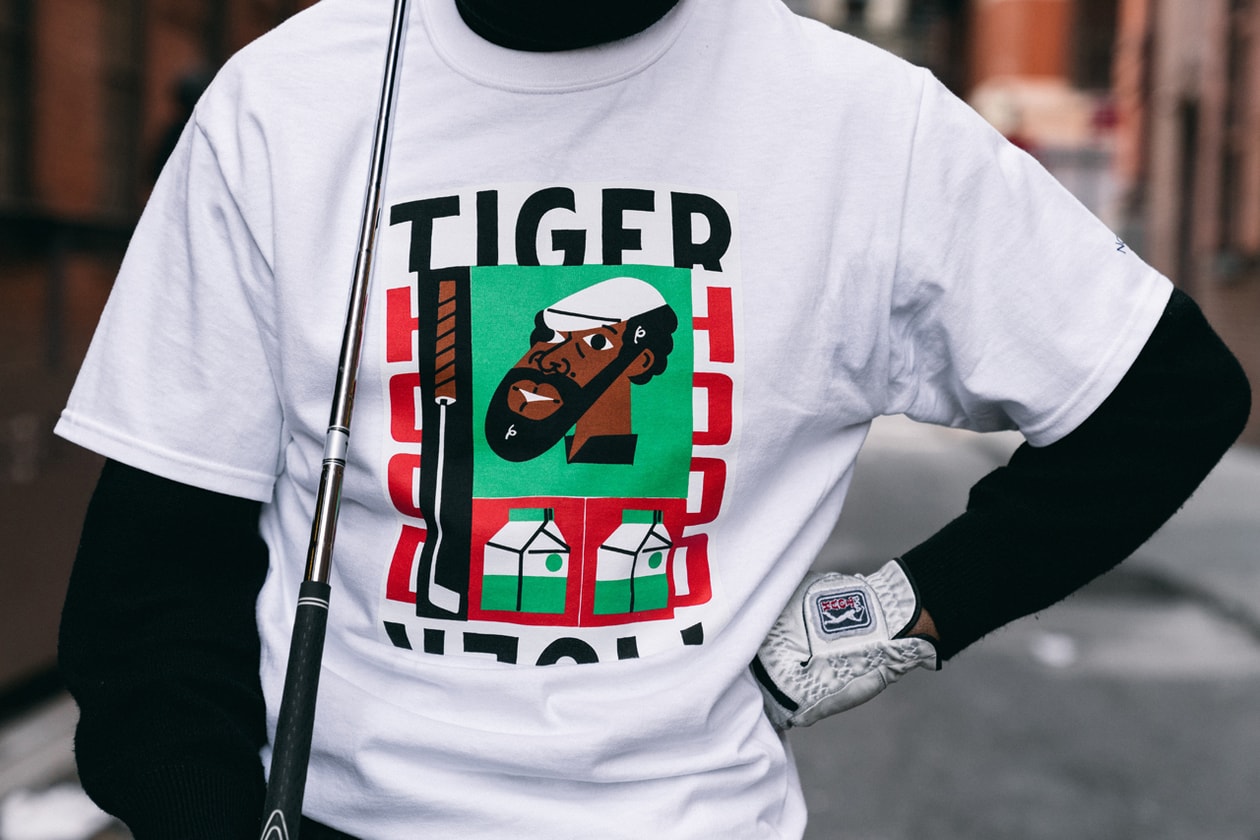 3 of 5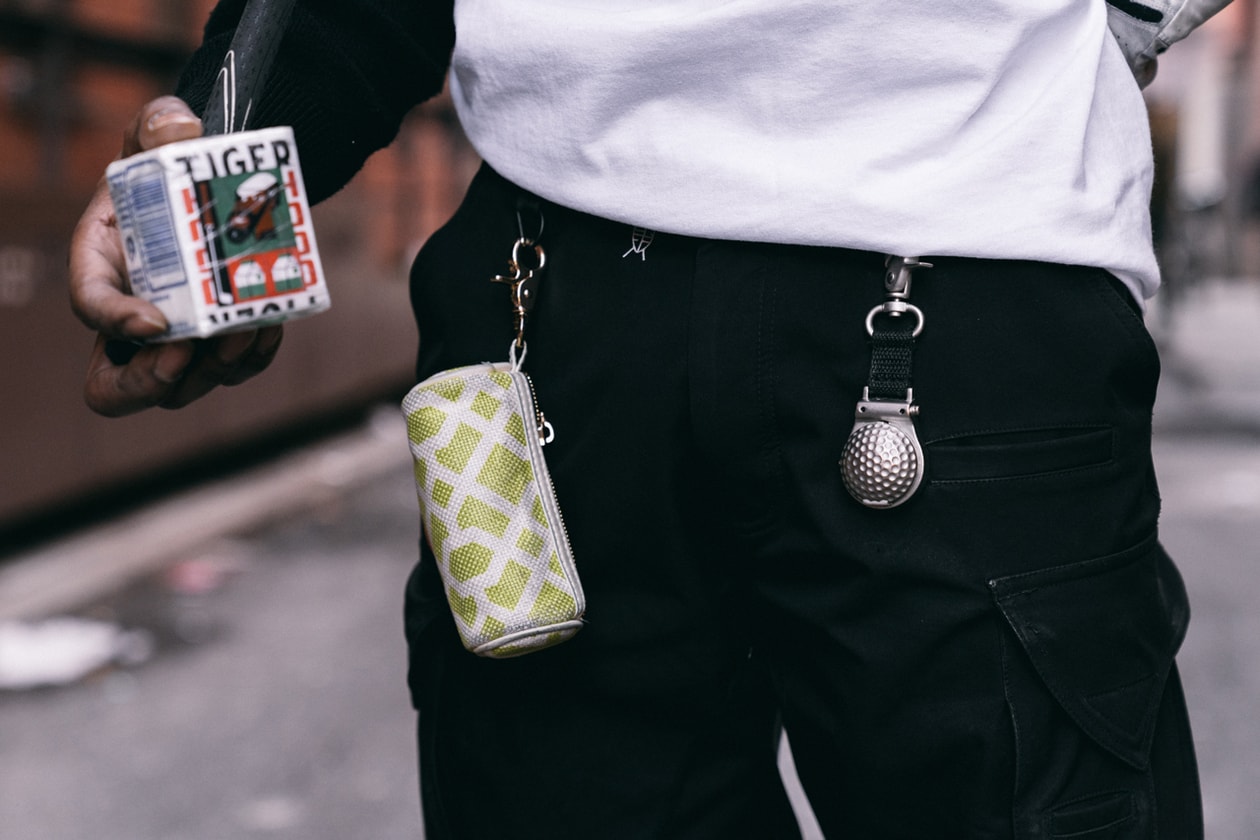 4 of 5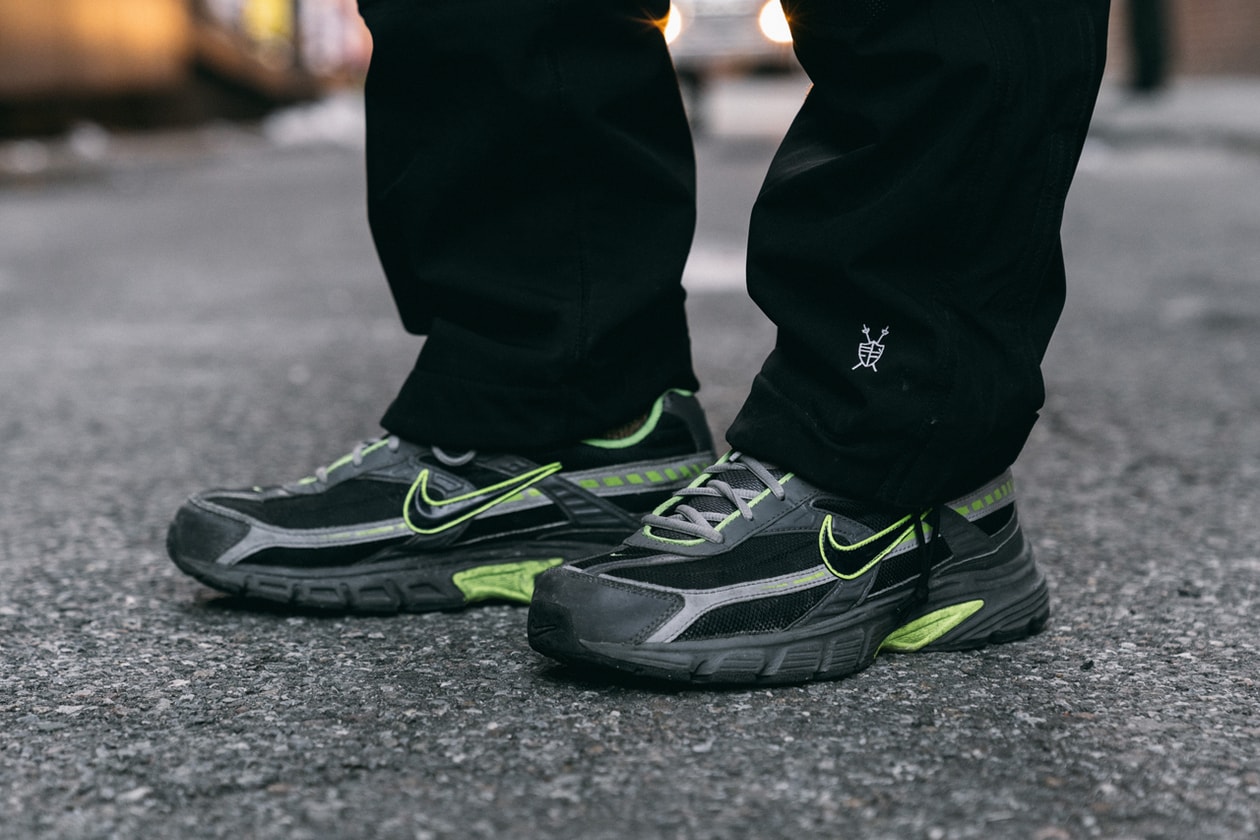 5 of 5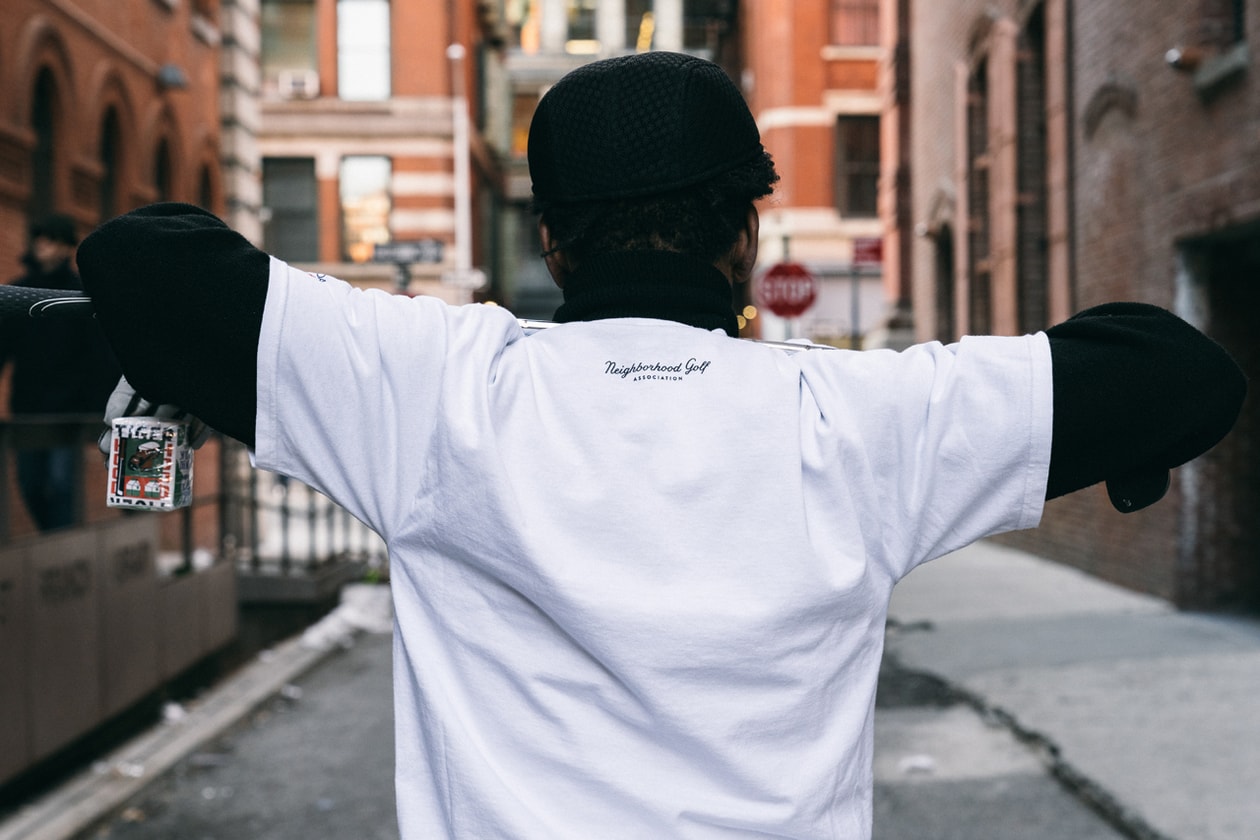 Instantly recognizable due to his newsboy hats and salt-and-pepper beard, Tiger Hood has an infectious personality that can't be captured by mere photographs. In the hour we spent with him, Hood pantomimed some of his favorite memories, pulled faces as he executed stretches and interrupted himself to dash across the alley and yell at a man illegally double-parking a minivan. "I did messenger work for years, riding my bike around the city," Hood tells us. "I always keep an eye on my surroundings." Spending time with Hood is like being around a big kid, someone who's exuberant to be alive and play outside.
"I was selling pictures on Elizabeth Street and I saw a golf club in a garbage can," Hood explains, breaking down his street golf beginnings. "I had a tennis ball on me. I always wanted to try my hand at golfing, but my ball got stuck on the scaffolding, like Plinko! I needed to find something else to hit, so I got some milk containers and started hitting them." Hood is unflappable, swooping between his bag of photographs and the small group of spectators who have gathered on the sidewalk ahead to see if he can nail a carton into the crate from the other side of the alley.
1 of 4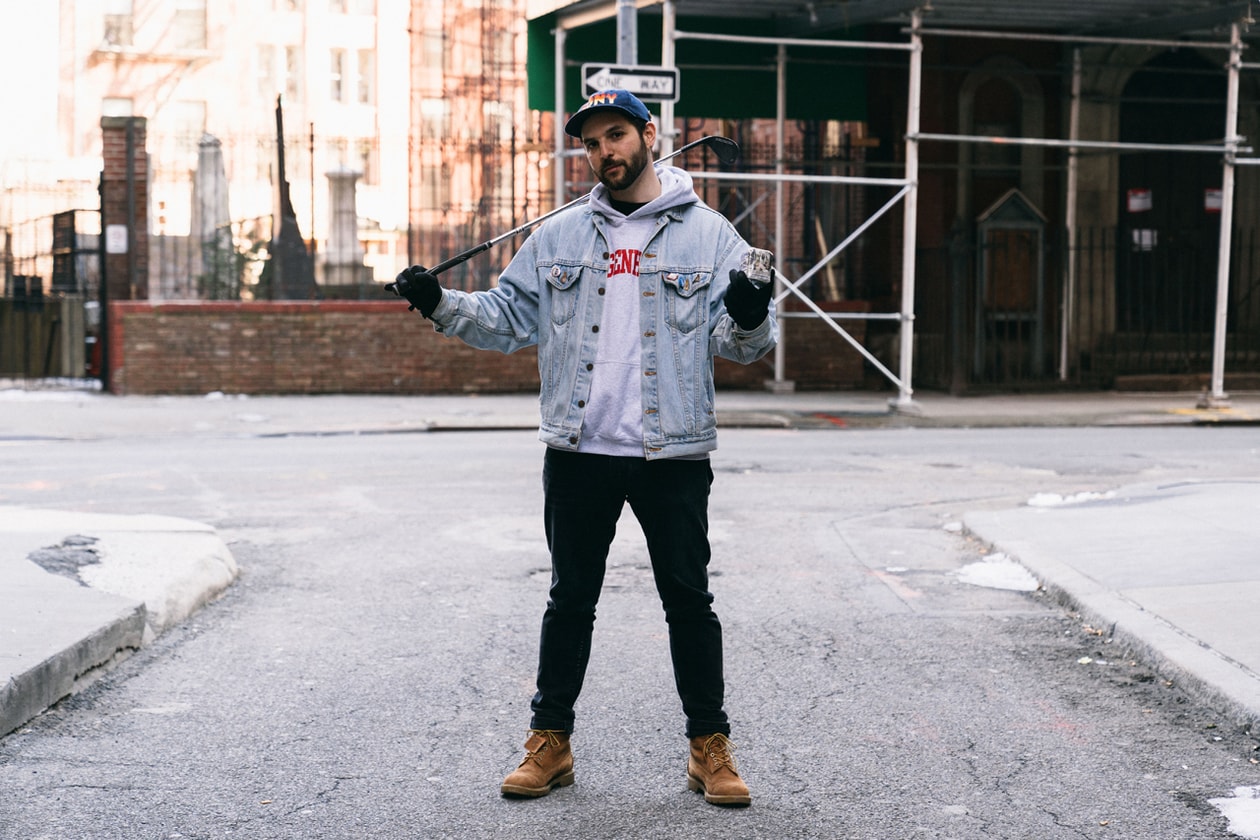 2 of 4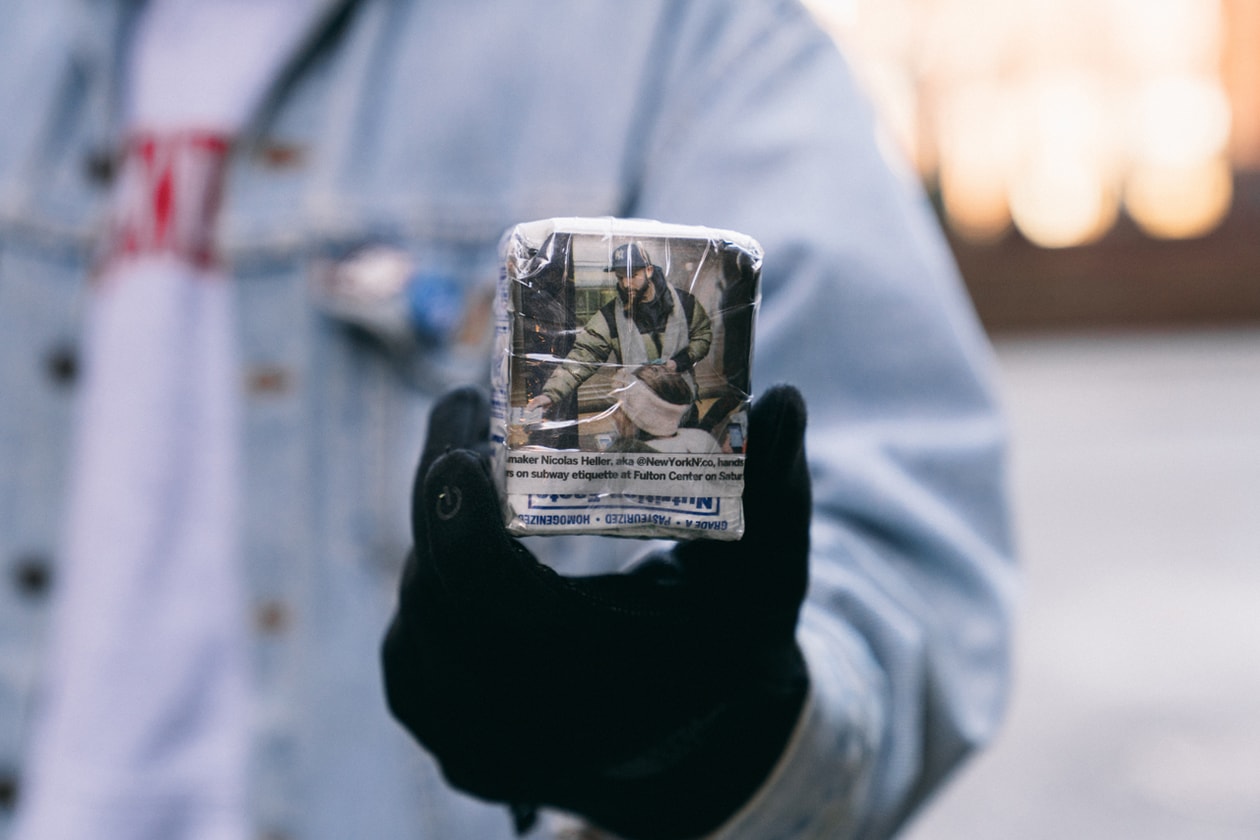 3 of 4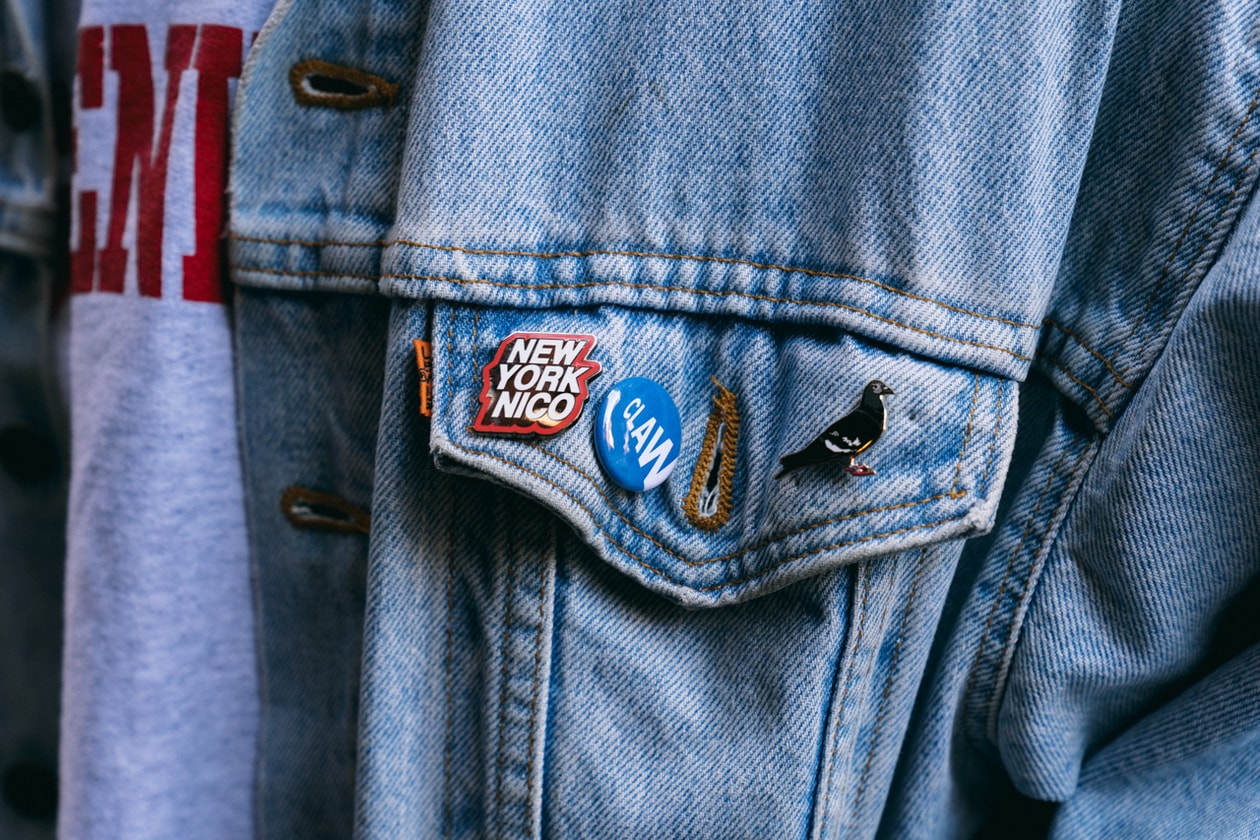 4 of 4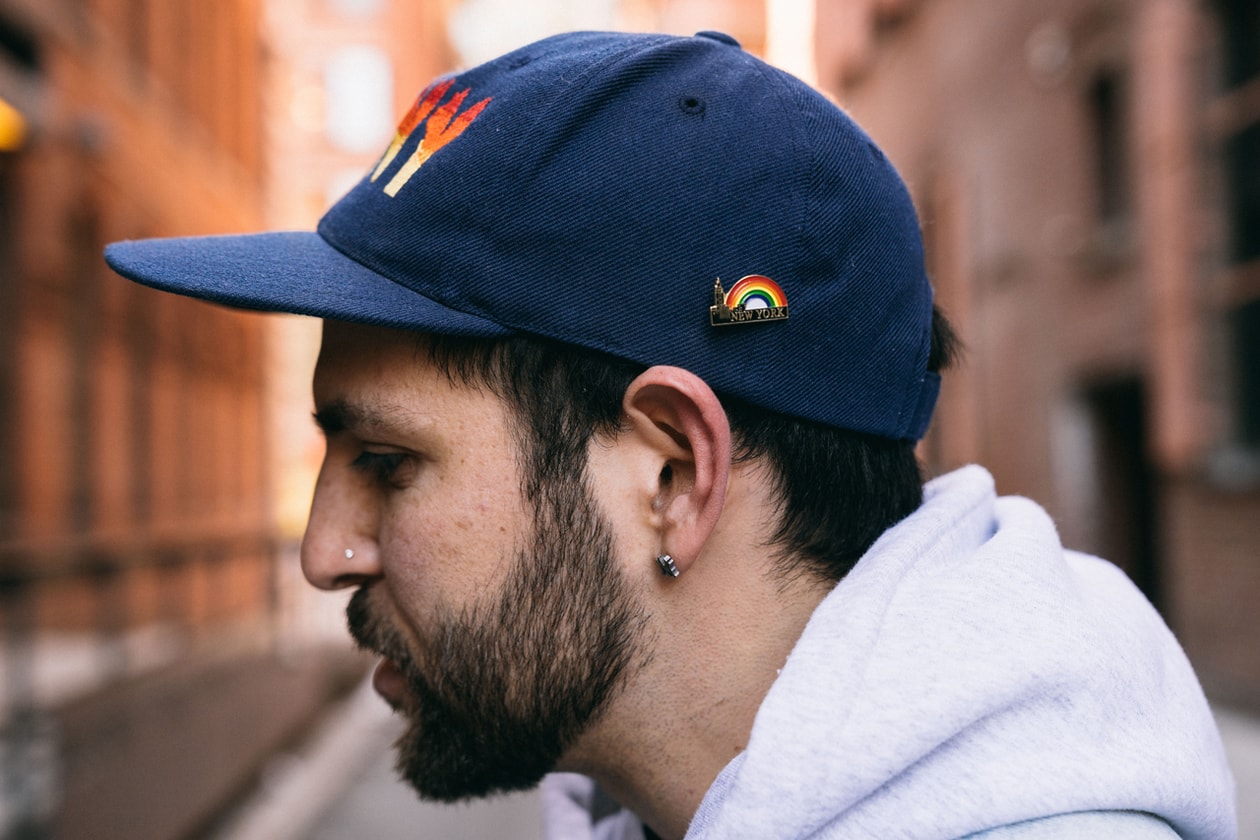 "He's been talking about him getting a carton-in-one for years but I never saw it," admits Nico, who works as a commercial director. "Every time he swings, I film so I don't miss it — I have hours of footage, maybe two thousand swings. But in this very alleyway, not too long ago, he got one in. And I could feel it coming. He had his "shot-tracker technology" going, which is when he like envisions where it's gonna go before he hits it and he was in the zone. He hit it up, and I was watching it go, go, go and then it just fell in. I'd never smiled so big in my life.
"So in the beginning, I saw this guy playing golf with milk containers in this alleyway on my friend's Instagram stores," recalls Nico, scratching his head. "Of course, I had to ask where to find this guy. Eventually, I found Tiger Hood and we've been buddies ever since." At this point, Hood is setting up his cartons for some action, bellowing retorts to every compliment Nico pays him ("He's maybe the funniest person I've ever met," says Nico as Hood roars back, "I paid him to say that!").
1 of 5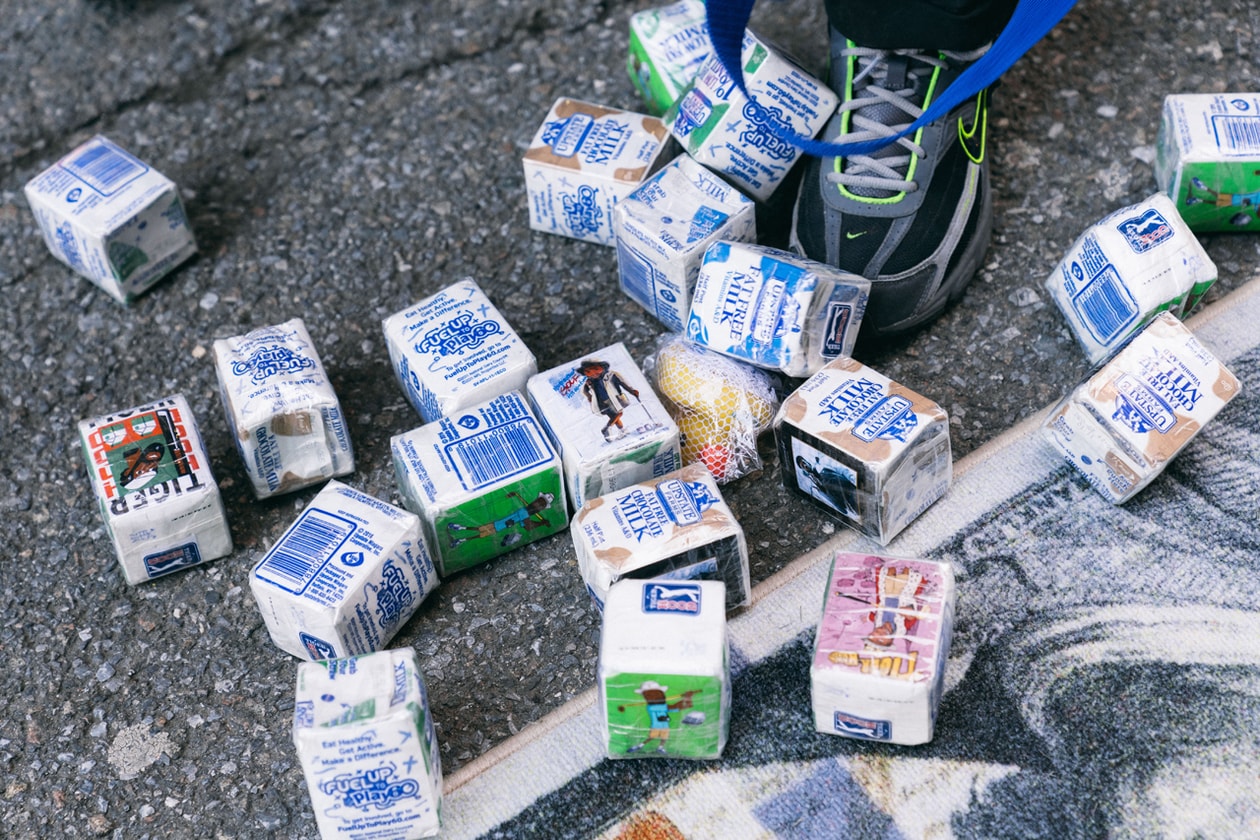 2 of 5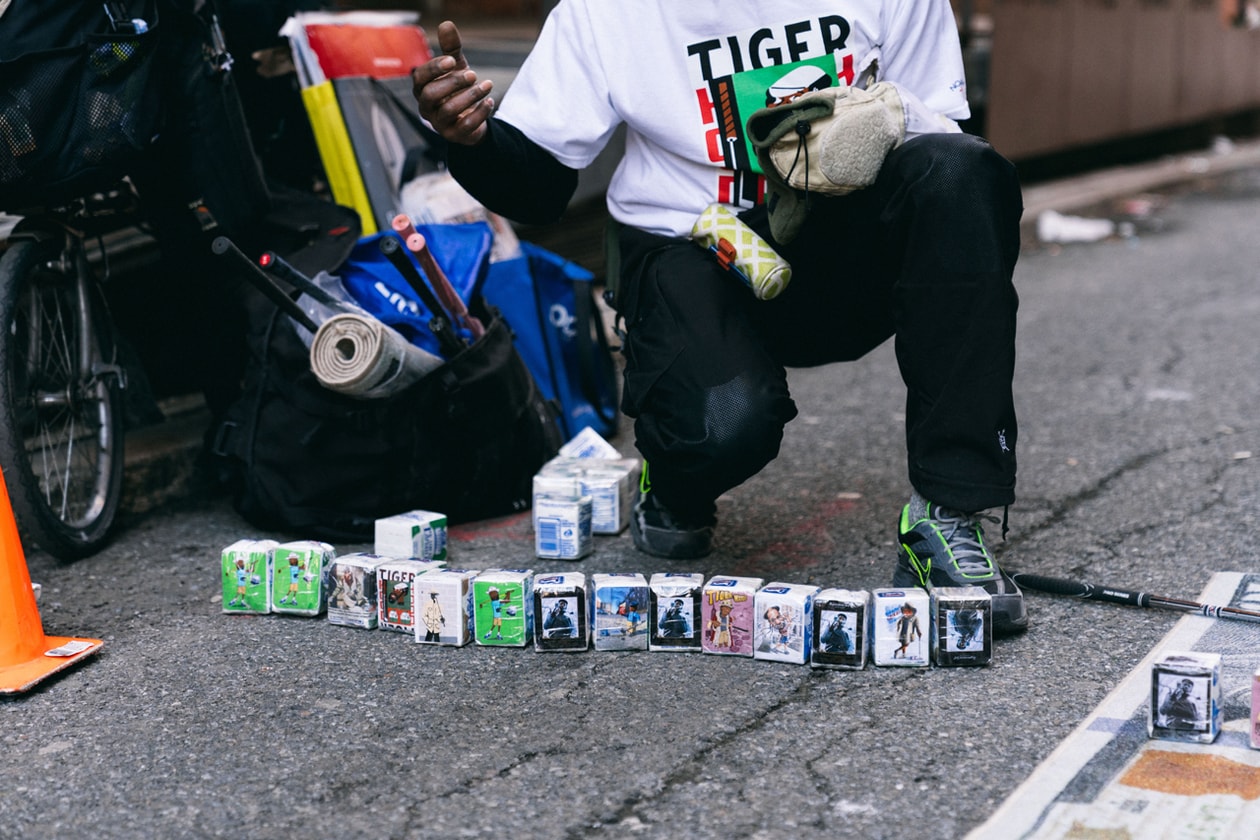 3 of 5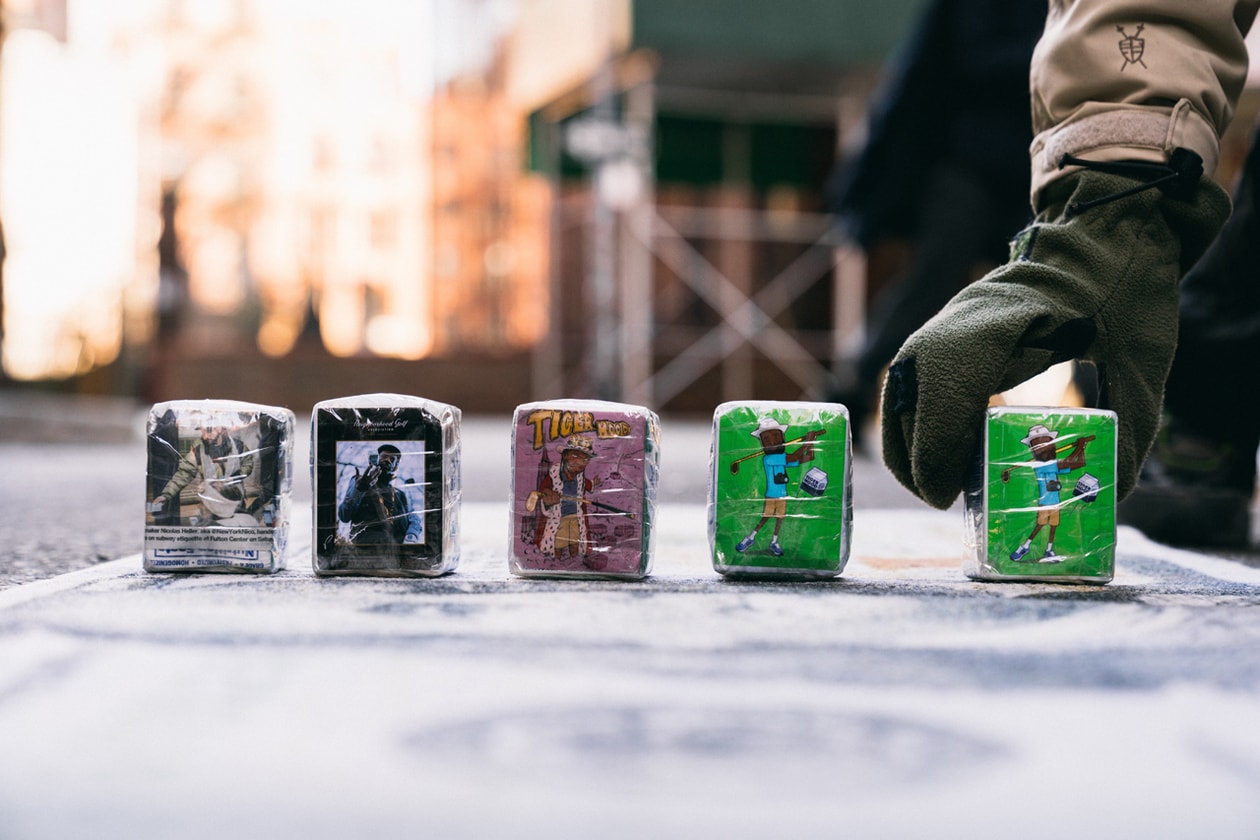 4 of 5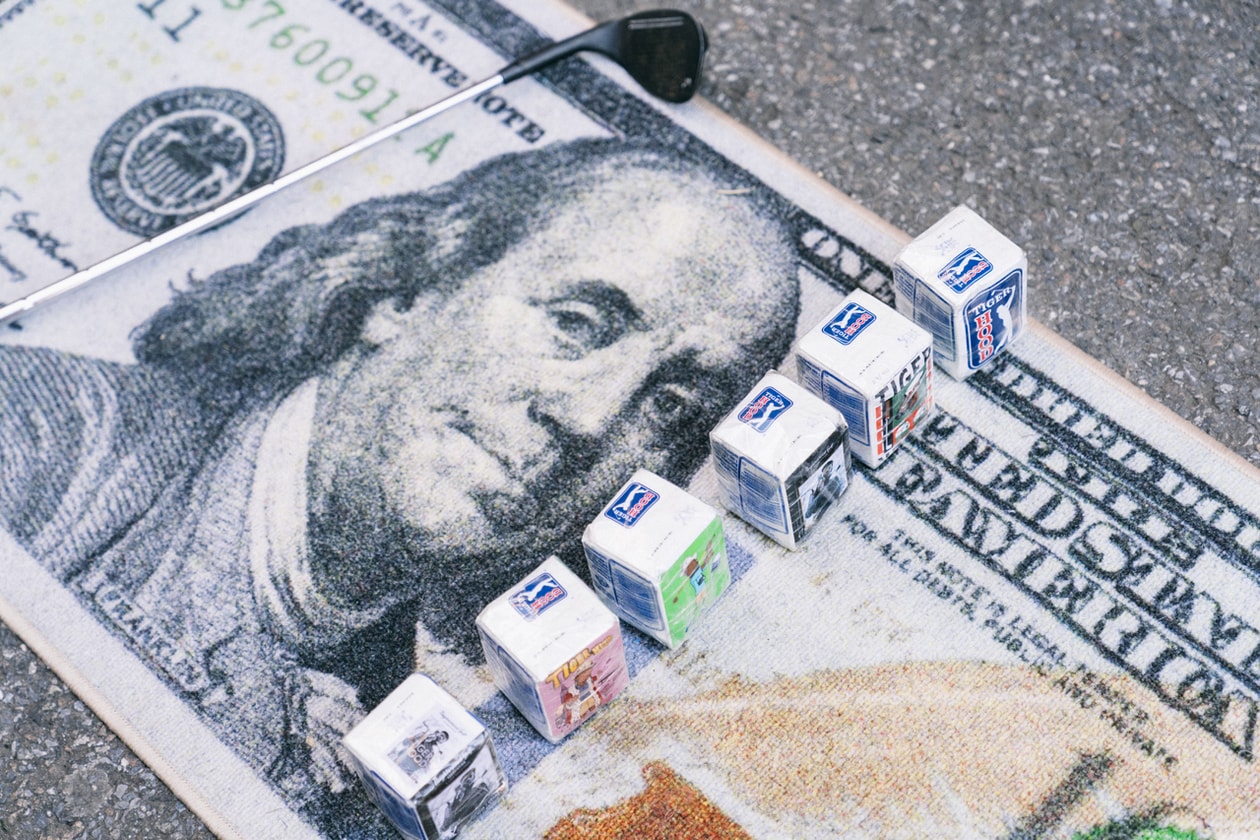 5 of 5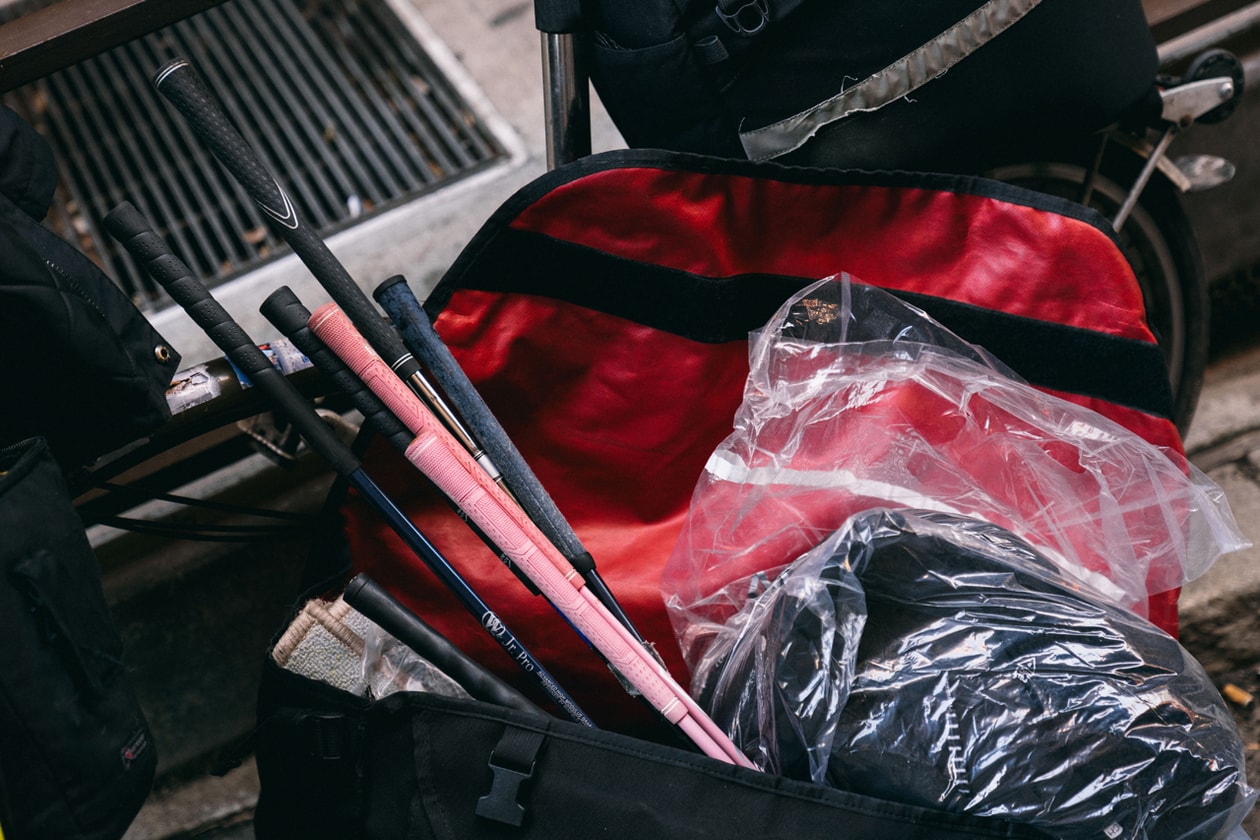 During the filming of Nico's documentary about Hood, Neighborhood Golf Association, Jeff Garlin of Curb Your Enthusiasm stepped in to play a game, but he's far from the only celebrity to join Tiger Hood in the alleys. "Usher got big respect for me," exclaims Hood. "His kid actually beat me. I was like 'Damn, okay!' He was really impressing me, man." In fact, Hood is aiming to get some celebrities to join him for a charitable game of street golf. "If I can just get a couple A-listers to play with me, they'll help me raise some money for the people I know who really need it. I wanna do things like this," Hood says, gesturing at our photographer. "Y'know, I wanna interview people. … [making clothes like NOAH] is what I want to do man, it's not even about money. I wanna do even more."
1 of 3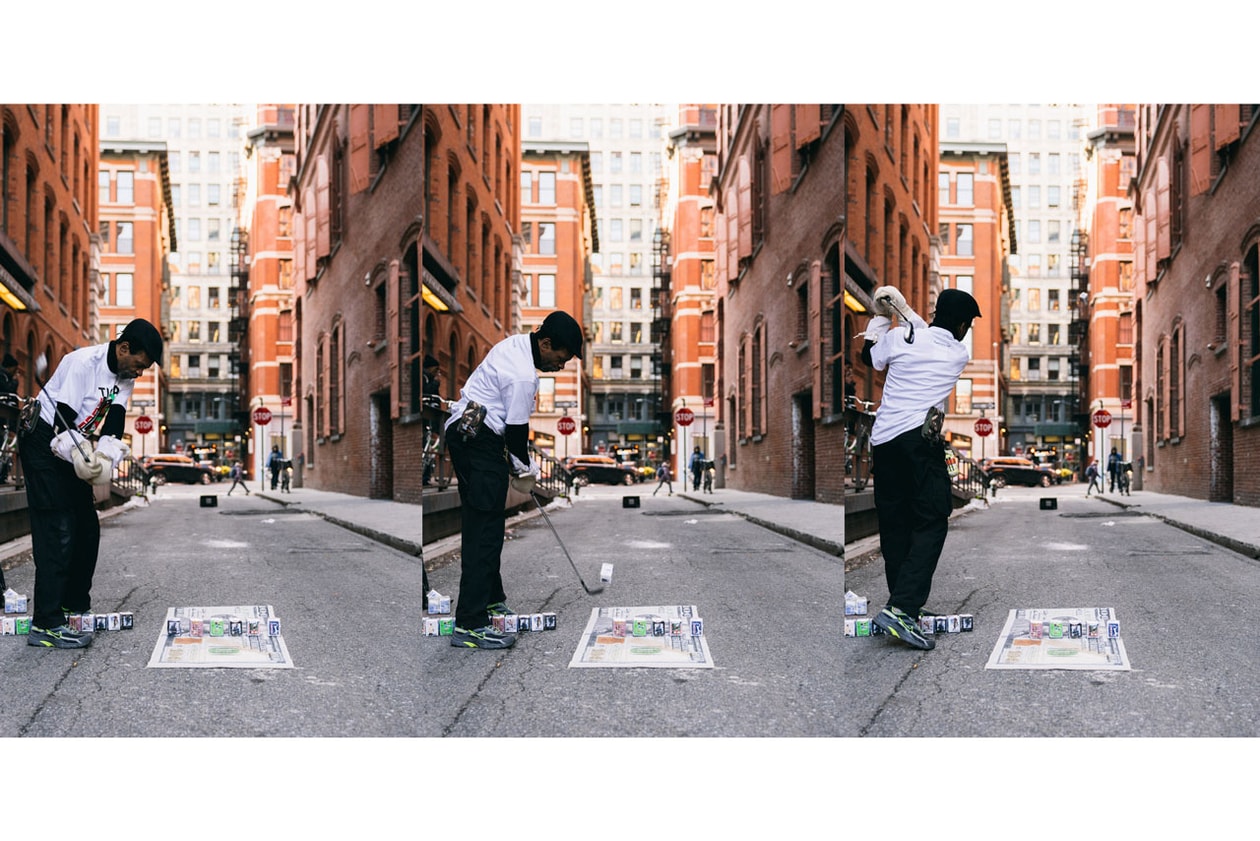 2 of 3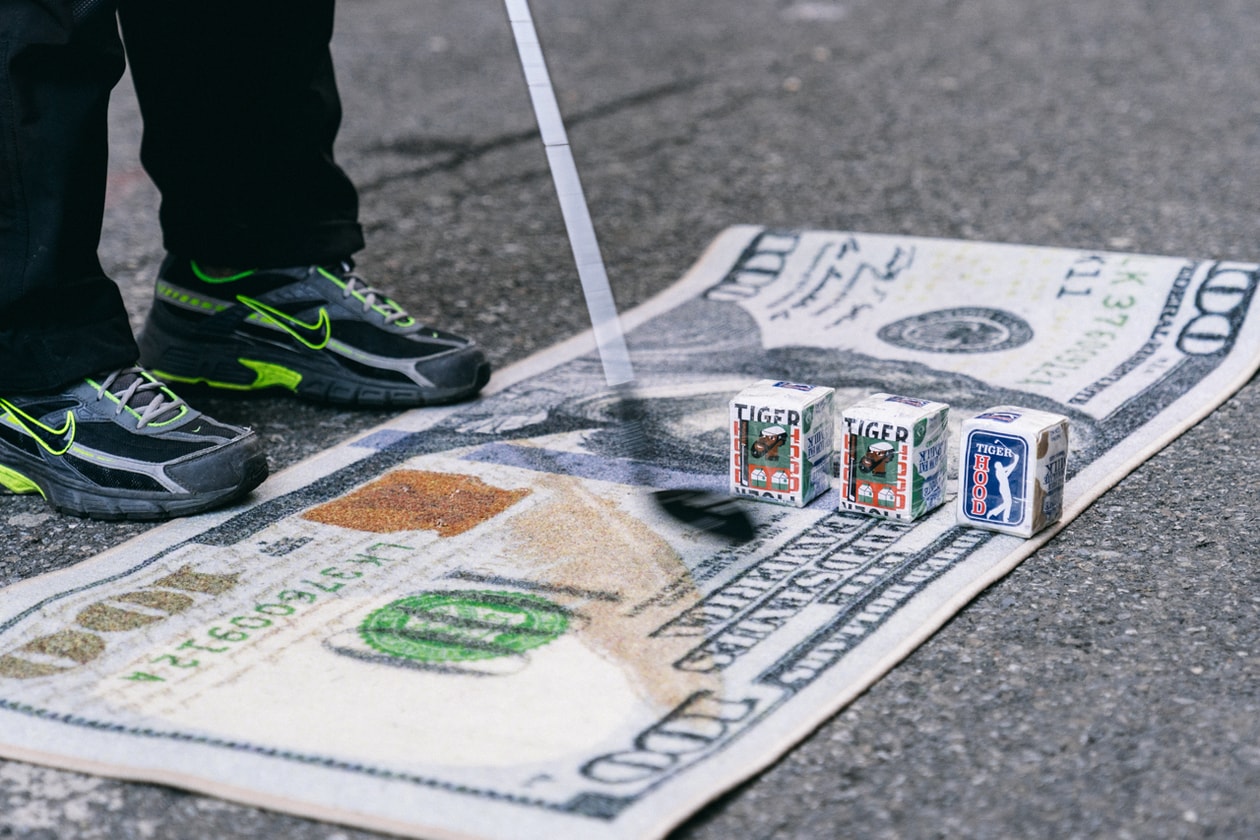 3 of 3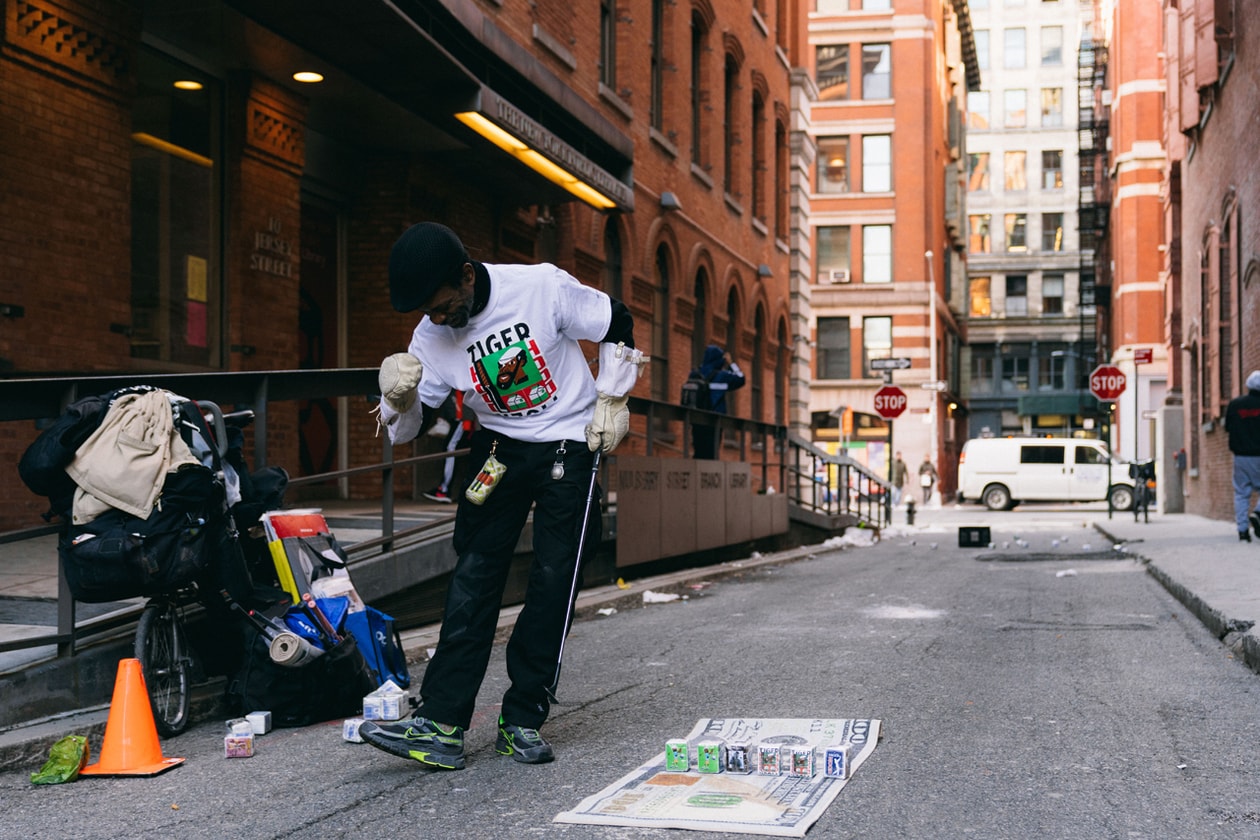 If anyone deserves a platform for self-expression, it's Hood. "I'm running for the President of the United States… of fun," Hood declares with mock fury and vigorous finger-pointing. "Nico has kindly accepted to be my Vice President." Here, Hood pauses. "Really, though, I couldn't have gotten this far without him, he's helped me out so much." Nico waved the accolade aside, rejoining his pal on the hundred-dollar bill mat. "We help each other out, like partners," avows Nico, holding up one of Hood's milk cartons, this one taped with a newspaper clipping of Nico himself. Then he sets it down in the row of cartons lined up on the mat as Tiger Hood prepares his swing. Slipping his bulky mittens off, Hood lines up his shot, says a quick affirmation — "Please let this be the one!" — and smacks the carton down the alley.
Watch Nico's full-length Tiger Hood documentary, Neighborhood Golf Association, below.