Why Supreme's Gilbert & George Collab Makes Total Sense
How the two entities work in perfect tandem.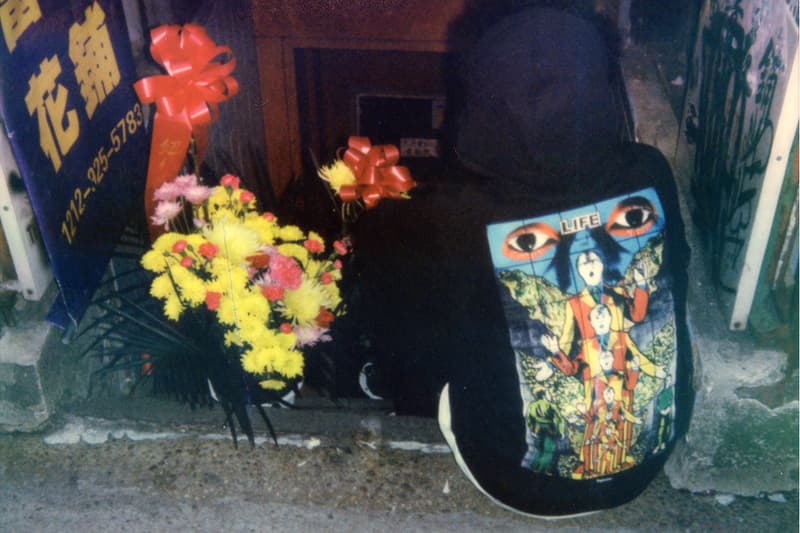 Supreme teaming up with British artists Gilbert & George is a pairing that doesn't make sense at first. While the stalwart label has worked with a variety of artists — in spring/summer '18 the brand worked with Richard Estes, Lee Quinones and Daniel Johnston – Gilbert Prousch and George Prousch are still a leftfield choice until you look through the duo's history.
Their personal style is one thing that sets them apart from the typical Supreme fan. The duo, who met in 1967, have a matching uniform of elegantly made three-button suits, a world away from the hoodies featured in this collab. But the connections between the streetwear brand and the artists is seen in their work and, specifically, the reaction to said work.
One of their most infamous pictures is Four Knights, which, at the time, was seen as being a romantic portrait of racist skinheads. When asked about that work years later in an interview with The Guardian, they simply said, "The world had skinheads and the world has skinheads," leaving interpretation up to the viewer. Time has come to perceive that work with more kindness than when it was originally released, with art critics such as Jonathan Jones saying the image now looked like "far-seeing images of a divided, desperate Britain" than an endorsement of the far right.
Their work is often referred to as being punk-influenced — a charge they themselves reject, although they said they were fans of the clubs "just because of the dirty nightlife."  They described what they aimed to do with their art in general while speaking to The Telegraph. "The centre of our art is a human being. We have a moral dimension: what is good and what is bad in people."
The exhibition that saw them gain notoriety was the 1977 Dirty Words Pictures show. Featuring 26 photographs of the pair alongside a variety of phrases such as "Cunt Scum" and "Are You Angry or Are You Boring?" and was notable both the provocative works and the duo's outspoken personalities. However their biggest and most expansive work came in 1984's The 1984 Pictures, which is what Supreme chose as the basis of this collaboration. The show focused on using photograph assemblages, using up to 27 individual images to create one series.
Supreme's love of Pop Art is well noted and Gilbert & George's work has earned consistent comparisons with Andy Warhol. And while there are clear visual consistencies between Warhol's Polaroid series and The 1984 pictures it's a charge the duo reject, dismissing the American artist as a commercialist.
Another link between Supreme and Gilbert and George is their anti-establishment stance. The aforementioned Dirty Words Pictures show was notable not only for its provocative works but also the duo's commentary and interviews, holding court and railing against the art establishment and its stuffy and antiquated ways. Their lack of reverence is clear in their attitude towards Warhol, as well as the time they called Picasso a "foreign dago wanker" in an interview with famed art critic Waldemar Januszczak — who responded by giving their work a scathing review.
But, the greatest link between the two entities is perhaps their view on the democratization of their respective worlds. While a host of British artists have railed against street art, the duo is for all for it. Speaking to The Telegraph, they showed a viewpoint that explained why they'd license this collaboration despite never wearing a hoodie a day in their lives. "All the world is an art gallery. We said that we wanted all of the world to become an art gallery in 1969. And it's happened."
If you're on the lookout for more art, feel free to take a look at this week's best art drops.