The Three Artists Who Influenced Supreme's SS18 Collection
What connects Richard Estes, Lee Quinones and Daniel Johnston?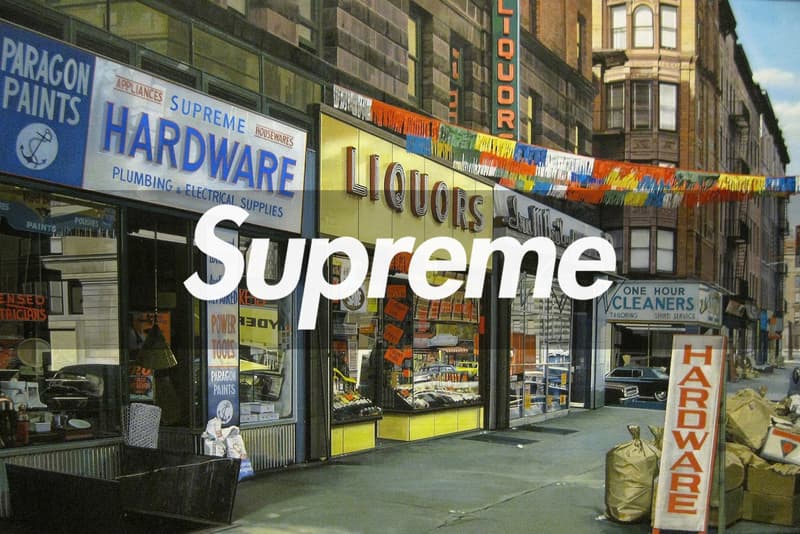 Supreme's 2018 spring/summer collection dropped in stores yesterday and it's already caused a ripple throughout the internet. Amongst the series of off-kilter accessories was a trio of artists whose work is prominently featured throughout the collection. While there's a host of in-house artwork, the licensed work primarily comes from three artists: Richard Estes, Lee Quinones and Daniel Johnston.
Artist collaborations have long been part of Supreme's DNA, with the roster ranging from Graffiti legends such as Rammellzee to photojournalists such as Martha Cooper. They've even collaborated with one of fashion's favorite artists Peter Saville, creating a bucket hat using a print from his iconic Joy Division work. Other artists have included the likes of pop artist Roy Lichtenstein, Kids director and photographer Larry Clark and KAWS. The following three artists include two new additions to Supreme's heavy art-collab roster alongside the return of an old favorite.
Richard Estes
Estes's work deals with the everyday, focusing on creating photorealistic paintings that are easily mistaken for photographs. The artist was born in Kewanee, Illionis back in 1932, but would eventually attend The School of the Art Institute of Chicago, where he often admired the works of iconic artist Ed Hopper.
Despite studying fine art, he ended up in a different career altogether. "I worked in advertising," he said in an interview with NPR in 2014. But it was this job that led to his chosen art form. "That's where I started using photographs to make illustrations. I saw all the other people were doing it, all the other illustrators. They didn't put a model in front of them and make a careful drawing."
This led to his painting work during the 1960s, choosing to mostly focus on the city of New York. By 1967, he began to hone in on store fronts, all the while rejecting the idea of attaching more meaning to his imagery. "It's just interesting to me visually," he said in an interview with ARTBOOK in 2014. "There's no psychoanalytical reason for it. I just look at things the way they really appear rather than picking out certain aspects of an image that might imply some specific meaning."
The image used by Supreme in this collection was "DRUGS," which was created in 1970 and took the facade of Weiner Drugstore. Estes spoke about how he approaches his work in that same interview with ARTBOOK, saying, "I use photos in a way that's similar to how a still life painter refers to the objects that he or she is painting."
Lee Quinones
Lee Quinones's artwork focuses constant evolution, having started out as a graffiti artist in the 1970s under the name LEE. Over the years his work has been embraced by the mainstream, being one of the first graffiti artists to find his way into galleries.
Quinones has always been interested in comic books, saying he was "highly inspired by the comics of Jack Kirby and Stan Lee" in an interview with the New York Observer in 2015. In addition he looked to "the advertisements of the time," saying that "there was comfort in the fantasy of it. Art is a huge part of social maintenance, it's the true word on the street."
The Times Square Show was a turning point for Quinones. Held in 1980, the event was a DIY art exhibition that was held in a former massage parlor in New York's old and decidedly dirtier version of Times Square. It was organized by a collective called Collaborative Projects and included everyone from Keith Haring, Jenny Holzer, Fab 5 Freddy and Kenny Scarf to Quinones. It's since become known as the first radical art show of the '80s. It was the first time his work had appeared in a gallery setting and led to his work being slowly embraced by the mainstream art scene.
The artist said that he loved to "sneak a message in disguise" with some of his work addressing things that weren't usually being discussed in the Graf scene. "I wanted to create storytelling on the subway," he said in an interview with Huffington Post, "Why not address the civil rights movement?"
Quinones also found humor in his mainstream embracement. "Ironically the corporate sector now is influenced by our work. Pop culture, as hip and swanky as it can be, has a slow pace for catching up on itself. It takes time for things to be digested. I always knew that this was something special."
Daniel Johnston
This is far from the first time Supreme has worked with Daniel Johnston, having collaborated with the seminal artist in 2012 and 2015. Both collaborations have been standalone capsule collections with the artist, who's equally renowned as an illustrator and musician.
Like Quinones, Johnston was also a fan of Jack Kirby's work, while also listing John Lennon among his influences in the musical arena. A polymath, he created the artworks for his albums, including his most popular album, the 1983 Hi How Are You. The cover of this eventually found its way onto T-shirts, which was worn by the likes of Kurt Cobain.
Influencing icons aside, the artist also suffered from manic depression which frequently derailed his career. His struggles with it were chronicled in 2005's The Devil and Daniel Johnston, a documentary that took an in-depth look at both his work and struggles and how each affected each other. The film, while critically acclaimed, wasn't Johnston's favorite moment. In an interview with The Guardian he said that "I guess [the most embarrassing moment in my life] was baring my life to everybody in the movie." The film remains an enduring piece of art which subtly shows how Johnston's condition affected his life.
We recently captured fans buying Supreme's latest 2018 Spring/Summer drop in New York, where customers queued and wore the collection in droves.