Pokémon 'Sword' and 'Shield' Introduces New Gigantamax Sandaconda, Centiskorch & More
Along with version exclusive Gym Leaders.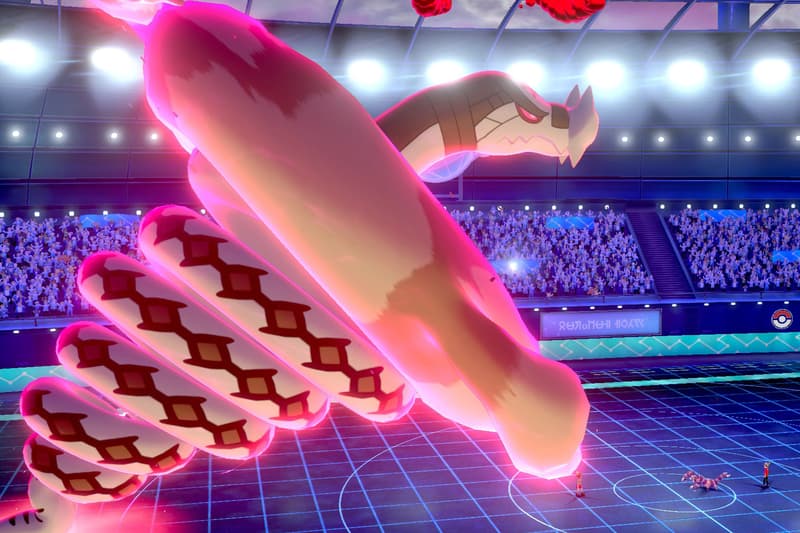 Following the news of Gigantamax Snorlax making its way into Pokémon Sword and Shield this December, The Pokémon Company International and Nintendo has just announced players can look forward to more mega-sized Pokémon including Sandaconda, Centiskorch, and many more.
From now until January 9, 2020, players can discover the aforementioned Gigantamax Pokémon more frequently than normal during Max Raid Battles. Even if you've already completed the main story in Pokémon Sword or Shield, this should give you another reason to keep on discovering the Galar region. In Pokémon Sword, players will be more likely to encounter Gigantamax Sandaconda, while Pokémon Shield owners will be more likely to find Gigantamax Centiskorch.
Gigantamax Sandaconda is a Ground-type Pokémon that uses the special move G-Max Sandblast which traps the opposing Pokémon and damages them on "every turn for four to five turns." The move will also stop the opposing Pokémon from being switched out or fleeing during battle. Gigantamax Centiskorch on the other-hand is a Fire- and Bug-type Pokémon that can use G-Max Centiferno. Similar to Sandblast, the move traps the opposing Pokémon and damages them four to five turns and prevents them from leaving the battle.
Along with the new Gigantamax Sandaconda and Centiskorch, Gigantamax Snorlax, Gigantamax Butterfree, Gigantamax Drednawwill, and Gigantamax Corviknight will also appear more frequently, in addition to version exclusive Gym Leaders Gordie and Melony.
On top of those monsters, you can get a couple of Gigantamax Pokémon for free in Sword and Shield. If you have saved data of Let's Go Pikachu or Eevee on your Switch, you'll receive a Gigantamax-capable Pikachu or Eevee in your game. Additionally everyone who purchases a copy by January 15 will get a free Gigantamax-capable Meowth via Mystery Gift.
For more gaming hews, here are our choices for the top 10 videos games of 2019.
Melony is Gordie's mother and the only Gym Leader able to boast that she's never once lost to Raihan.

Think you've got what it takes to face her?

⚔️?️ https://t.co/e7ShsXXpYF pic.twitter.com/xIG9IgA9iW

— Galar region Pokémon (@Pokemon) December 11, 2019