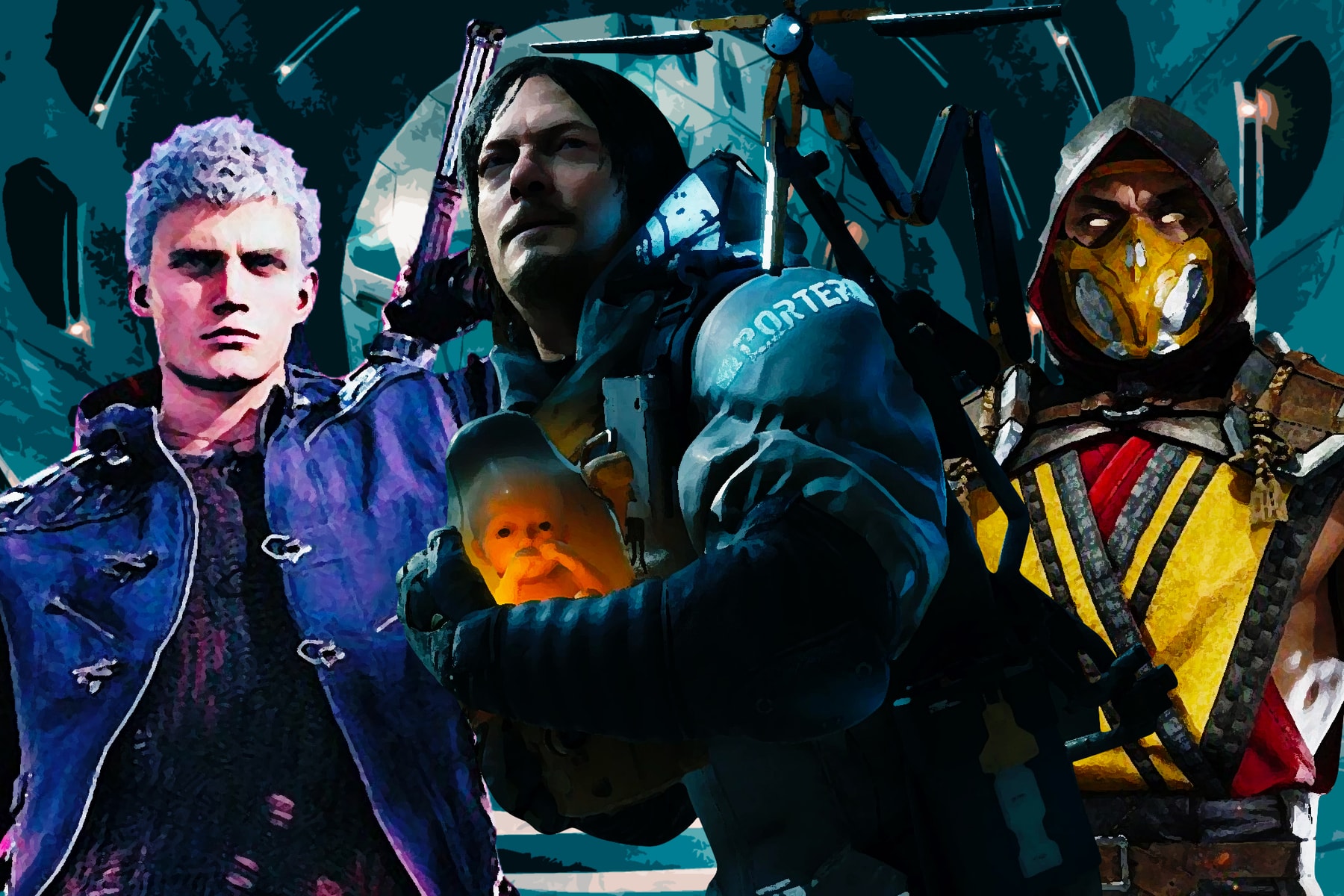 Top 10 Video Games of 2019
This year in gaming saw the answer to many a fan's prayer. In 2019, we finally got Kingdom Hearts 3 after a 14-year wait; we saw Capcom revert the Devil May Cry franchise back to its roots; and we even got a complete HD remake of Resident Evil 2. To top it off, this year also saw the release of Hideo Kojima's highly-anticipated Death Stranding, while crowdfunding meant Shenmue got the completed trilogy he deserves.
But how many of these hotly anticipated titles made the cut for best game of the year? Below, we at HYPEBEAST curated the best gaming titles released in 2019.
Resident Evil 2
The arrival of
Resident Evil 2
was a blessing for many a Capcom fan. Ever since the original 1996 game was completely overhauled in a 2002 HD remake for the
GameCube
, fans have been clamoring for the acclaimed second-entry to get the same treatment. We had to wait well over a decade to get it, but it was well worth the wait. This entry in the beloved franchise took the pixelated 3D fixed camera game and updated it to look more like contemporary installments of the series. However, it kept the same moody atmosphere and story that people loved, with a few caveats and supplemental content here and there. In an age of survival horror games all inspired by the
Amnesia: The Dark Descent
template,
Resident Evil 2
was both a breath of fresh air and a to return classic
Resident Evil
form.
Devil May Cry 5
Capcom continued to deliver games fans have been asking for for years by releasing the true next installment in the
Devil May Cry franchise, following its 2009 reboot
.
Devil May Cry 5
saw the return of Dante in his classic incarnation, as well as the return of Nero from
Devil May Cry 4
and newcomer V, who ends up being a more familiar character than we're initially led to believe. The game's hack-and-slash mechanics rewards players for thoughtful combo attacks and they feel gratifying to pull off. It also puts a nice bow on the
DmC
story as we know it, although it leaves room for a sequel.
Apex Legends
Apex Legends
threatened
Fortnite
for its Battle Royale crown this year, and proved that there is a space left to occupy in the market. Respawn's free-to-play title joined the fray of competitive eSports shooters out of nowhere during February,
hosting a $200,000 USD cash prize
Twitch
tournament with pro gamers like
Ninja
in its first week of going live. It also upheld its realistic take on the campy battle royale shooter by introducing squad-based matches to the genre. The game features intuitive controls, an outstanding comms system and a remarkable rogue's gallery. Its second season also introduced new Legends to play as, and far more rewards and a better reward structure in its Battle Pass.
Sekiro: Shadows Die Twice
Sekiro: Shadows Die Twice
is the most fulfilling From Software title we've ever played, as it marries slick combat with the trial-and-error processes of a Dark Souls game. The story is simple and the gameplay only adds to the narrative of an accursed shinobi taking revenge on a samurai clan that attacked him and kidnapped his lord.
Sekiro
's level design and mechanics also allows the game to be played swiftly, tactically, and with a level of mastery once players grow accustomed to the gameplay and locations. Where games heralded for their difficulty can become frustrating to complete,
Sekiro
rewards in an insurmountable amount of catharsis, which is what keeps us coming back.
Fire Emblem: Three Houses
Fire Emblem: Three Houses
seamlessly blends tactical role-playing mechanics with social simulation gameplay that all ties together with the game's mature narrative of a land involved in a morally grey war. The cast of characters players will interact with also gives the game a charm that makes the title's infamous permadeath and social interactions that much more meaningful. The best part of this RPG is that due to the game's many different outcomes and activities it has high replayability, practically begging players to beat the game over and over again.
Call of Duty: Modern Warfare
Infinity Ward
has rebooted its acclaimed
Modern Warfare
subseries and updated the once-revolutionary title's take on realism. Gameplay has been updated for players to mount weapons behind corners and on top of obstacles before firing, guns are highly customizable, and its Ground Wars mode offers a take on the battle royale genre without losing the core identity of the franchise. It even cashed in on
Call of Duty: Modern Warfare 4
's most nostalgic factors, including characters like Captain Price and recreating The Mile High Club objective for Special Ops missions.
Mortal Kombat 11
Mortal Kombat 11
ends the "Time-Travel Era" of the franchise that began in the reboot title
Mortal Kombat
(2011), However,
MK11
utilizes the time-hopping structure to pair off current timeline characters with their classic counterparts from years ago. That combination leads to not only great character interactions, but also high customization options for outfits, abilities, and character arcs.
Mortal Kombat 11
is a great end to the trilogy of new age
MK
games that began at the turn of the decade. That said,
MKX
— NetherRealm's most successful title of all time — remains ever so slightly superior.
Death Stranding
Hideo Kojima's first game following his split with Konami is a divisive one for sure. With an eclectic cast of Hollywood stars as its focus and an unconventional gameplay scheme,
Death Stranding
stands apart this year's releases as more of a visionary art than an actual video game product. The gameplay mechanics and story were shrouded in mystery for half a decade, and even when they were finally revealed they just left viewers with even more questions. Now that it's finally here, those questions lasted until the very end of the title. Kojima uses the simple premise of package delivery as a guise to force players to make strategic choices within its in-depth system of traversal mechanics and given set of circumstances. It also offers something different in the current market of action-oriented games with its storyline, which leaves food for thought when compared to our current political landscape.
Pokémon: Sword and Shield
This mainline entry of
Pokémon
is the first to arrive on a flagship Nintendo console, and as such, many fans wanted to see what they've come to expect from such a title lived up to its fullest potential on a home system. What we got instead was an entry-level game for folks who didn't find the
Let's Go
title from last year a fulfilling enough experience. Although this is a mainline Pokémon game, many hallmarks — including standard routes to traverse, every Pokémon being available and more — were replaced to introduce new mechanics to keep the formula fresh for old fans but offer more content than previous installments. What we got was an inevitably good entry in the stellar series that never fully satisfies either audiences the game wants to cater to.
Star Wars Jedi: Fallen Order
Another title from developer Respawn to make the list,
Jedi: Fallen Order
is a unique mix of
Tomb Raider
puzzle-solving,
Sekiro: Shadows Die Twice
(also on this list) battle mechanics, with a bit of Metroidvania backtracking for good measure. It offers a fair amount of customization options for wardrobe, lightsabers, and the like, but it also uses its abundance of influences to amazing effect. The posture mechanic for combat also makes the title tactical and from being another mindless hack-and-slash with no substance. It also offers several beastly boss battles that take everything in your Padawan character's arsenal to defeat, which is gratifying to pull off once you figure out its attack patterns.