Here Are the Rings, Bracelets & Necklaces You Need to Elevate Your Look
From Gucci and Dior to Ellie Mercer, Goodhood, Le Gramme and many more.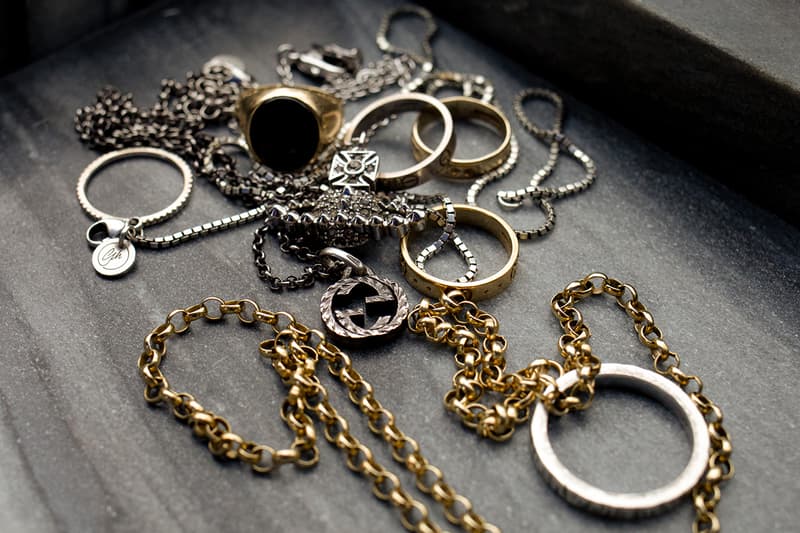 2019 was a year where accessorizing thrived, and there's no better way to change up and elevate your look with some signature jewelry. Rings, necklaces and bracelets are, generically, timeless pieces that will forever stay in-trend, as you can't go wrong with a clean and classy decorative accent.
When it comes to choosing jewelry the options are endless. Silver or gold? Designer or fine? Custom or off-the-shelf? A statement ring, necklace or bracelet? To cut out the costume pieces and introduce you to a world of standout signature signets, silvers and showstopping bracelets, HYPEBEAST has curated a list of the fifteen best pieces to cop for you or a loved one — broken down into each category. Keep on reading to find your next precious purchase.
Rings
Ellie Mercer Resin-Inlaid Sterling-Silver Signet Ring
London-based jewelry designer Ellie Mercer creates fluid, minimalistic rings and necklaces under her eponymous label. Her brand was recently spotted by MATCHESFASHION.COM, which now stocks limited quantities of her sought-after pieces, such as this Resin-Inlaid Sterling-Silver Signet Ring. Each piece features an organic cut-out section filled with either clear or black resin, contrasting yet harmoniously blending into the luxurious metals. Opt for Ellie Mercer for a unique, hand-made statement piece.
Dover Street Market x Tiffany & Co. Makers Tumbled Slice Ring
Legendary jeweler Tiffany & Co. recently partnered with Dover Street Market on an exclusive capsule collection of contemporary rings, bracelets and necklaces. The most affordable from the partnership is also one of the best, with that being the Makers Tumbled Slice Ring. It's made from sterling silver that's been treated to a worn finish and sports a flat top that's ideal for engraving — making this the perfect ring to gift this Christmas. Tiffany & Co. stamped its maker's symbol on the ring too, giving a nod to the Tiffany Holloware shop and its legacy of fine craftsmanship.
MAPLE Jacks Ring 14K Gold With Red Garnet
Canadian label MAPLE offers an eclectic range of jewelry, each inspired by different eras, historic design trends and always promises to be unique. Its Jacks Ring is made from .925 silver and is then dipped in 14K gold, and is designed to draw all the attention to the central Red Garnet stone. MAPLE has drawn inspiration from jewelry from the 1970s with this design, meaning its a timeless piece that's going to be completely unique each time, as all of the stones will vary.
Tom Wood Sterling-Silver Tiger Eye Ring
Norwegian stalwart Tom Wood is a jeweler for those in the know. The designs are contemporary yet classic, showcase-worthy yet sophisticated and subdued. For Tom Wood, the focus is put onto the unique semi-precious stones that take center stage in the hand-made ring. The brand was founded by Mona Jensen in Oslo in 2013 and has since come on leaps and bounds as a desirable, affordable jewelry brand that creates its pieces from both .925 sterling silver or 9K gold. Most notably, no two pieces are alike as the stones are locally sourced and are then either soldered or individually set.
Gucci Sterling-Silver & Green "Gucci Garden" Ring
For something bolder, opt for Gucci's Sterling-Silver & Green "Gucci Garden" Ring. The Alessandro Michele-designed piece draws from many icons synonymous with the house, such as its three-dimensional Kingsnakes, the interlocking "GG" emblem on the green resin stone, and its all-around engraved arabesque pattern. On the underside of the ring you'll find Gucci's iconic Tiger head symbol, while twisted rope, stars and notched engravings around the stone offer eye-catching elements.
Necklaces
Hatton Labs Sterling-Silver Merc Diamond Pendant Necklace
Conceptual Hatton Garden-based jewelers Hatton Labs takes inspiration from London subcultures. The brand flies under the radar with its unique, tongue-in-cheek motifs and designs used for its streetwear-indebted pieces. The Merc Diamond Pendant Necklace is the perfect example of this, owing its design to the likes of the Beastie Boys and Mike D who used to wear Volkswagen and Mercedes-Benz badges on super-long chains in the late '80s. In the center of the Merc necklace's tripoint is a small diamond for added bragging rights.
Georgia Kemball Gold Cupid Necklace
Royal College of Art graduate Georgia Kemball creates all of her jewelry by hand in East London, crafting necklaces, rings, earrings and more from wax to master the unique and intricate ethereal designs. Like all of her pieces, the Gold Cupid Necklace is dipped in London's prestigious Hatton Garden district before being suspended on a slim curb-link chain. This necklace recreates a folklore tradition and sets it in place in 9K gold, making for a true talking point piece.
All Blue DNA Sterling-Silver Necklace
Stockholm-based label All Blues brings craftsmanship to the forefront with all of its designs, with its DNA Sterling-Silver Necklace showcasing this just so. All Blues champions artisanal craft, so you can be sure that its DNA necklace has been meticulously designed and created by experts in a third-generation goldsmith studio. This intriguing piece elevates the traditional chain loop necklace with the addition of beads littered throughout its design and the use of a clean T-bar clasp. From afar, the necklace looks just like DNA strands, but those who get to see the statement up close will be able to see all of the intricate details in all their glory.
Pearls Before Swine Raw Diamond Sterling-Silver Necklace
Himo Martin's label Pearls Before Swine is a true one-of-a-kind, producing stunning statement jewelry looks such as this Raw Diamond Sterling-Silver Necklace. The core mantra of the brand is to repurpose and celebrate the stones deemed imperfect by the jewelry industry, which leaves its wearers with truly unique pieces inspired by nature. The necklace is perfectly imperfect, complete with an antique-effect chain made from .925 sterling silver. Contrasting the unpolished colors is a high-shine claw holding the raw diamond pendant, which still ties into the design thanks to its organic finish.
Goods by Goodood Venetian Chain
Goods by Goodhood is the London-based store's very-own line, and its chains are one of its signature offerings. This Venetian Chain is made from 9K yellow gold and is 1.3mm thick by 50cm long, making for a timeless look that can be worn casually or formally depending on your outfit. This necklace is the cleanest on the market, destined to be worn against a clean white T-shirt for a throwback look to the '90s. Opt for the Goods by Goodhood Venetian Chain in Gold for an easy everyday addition.
Bracelets
Shaun Leane Rose Thorn Gold-Vermeil Bracelet
British jeweler Shaun Leane has mastered his distinctively dark style that's evidently seen in this Rose Thorn Gold-Vermeil Bracelet. Having collaborated with Lee Alexander McQueen in the '90s, Leane developed his eponymous label in 1999 and aimed to deviate from his tradition Hatton Garden training to explore historic jewelry making combined with his signature aesthetic. The Rose Thorn Gold-Vermeil Bracelet updates the clean, classic gold bangle with small spikes, and makes for the perfect statement-making piece.
Saint Laurent Silver-Tone Razor Bracelet
Saint Laurent's Silver-Tone Razor Bracelet is iconic. It's a design that is heavily associated with the French label and thrived during the house's Hedi Slimane era, and continues to be an affordable jewelry statement to this day. It's made from 100% brass and is finished with an oxidized silver tone, which encompasses the thin chain as well as the razor blade-shaped, moniker-engraved showcase. Pick up Saint Laurent's offering and make a bold statement for the years to come.
Le Gramme Le 9 Sterling-Silver Cable Bracelet
Le Gramme proves that designs don't need to be bold to be seen, and its message is more than enough to entice you to pick up one of its pieces. Each Le Gramme accessory is named after its metric weight, with its Le 9 Sterling-Silver Cable Bracelet standing out from the roster of minimalist offerings thanks to its enticingly dark finish. Le Gramme has modeled this bracelet after a cable, indebting the design in on-trend industrial themes, and then furthers this with its brushed sterling-silver matte finish. Like all of its pieces, the Le 9 is made in France and sports its weight engraved on the signature closure system.
1017 ALYX 9SM River Link Bracelet
The rollercoaster buckle is synonymous with Matthew M. Williams' luxe-streetwear imprint 1017 ALYX 9SM, and now you can get this look in a chunky River Link Bracelet. It's crafted from 100% brass that's finished in a shiny gold tone, elevating your wrist game to new heights thanks to its traditional, overly chunky interlocking design. The signature rollercoaster buckle is finished in its signature matte black hue complete with etchings noting the brand's moniker and its kilonewton resistance
Dior CD Bracelet
Fresh from the Kim Jones-helmed menswear department at Dior is the CD Bracelet, which pays homage to the house's history and its iconic "CD" logo. Styled on the classic curb chain, the bracelet sports a large central emblem that's magnetic in order to fasten the piece together and is made from a high-shine silver-toned brass. The piece is heavyweight and bold, serving as a clean, oversized statement that's going to stand the test of time and trends.