A$AP Rocky Talks Making Prison Uniforms for Swedish Inmates, Babushkas, Sexuality, & More
In the Summit Ideas Conference "Culture, Clothes, and Cultivating Creative Legacy" interview.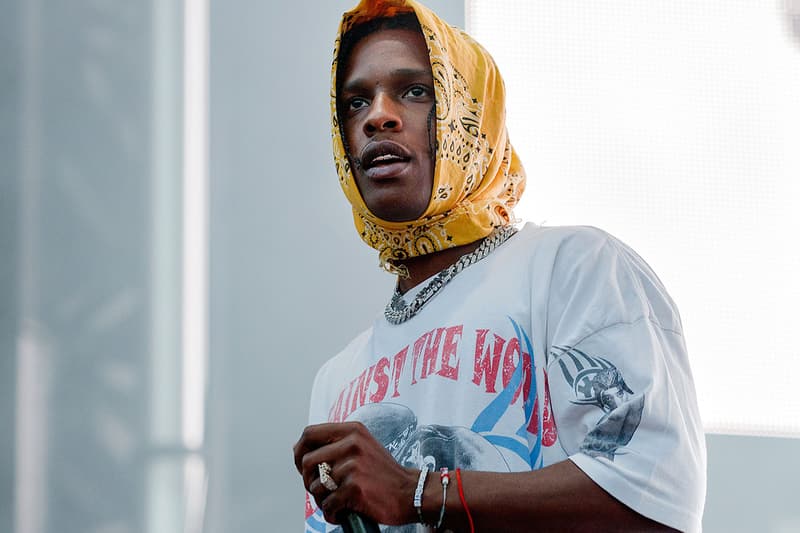 A$AP Rocky has spoken publically for the first time since his arrest in Sweden earlier this summer at the Summit Ideas Conference in Los Angeles. The Harlem native addressed the Orpheum Theatre in a TED Talk-style interview with Summit founder Jeff Rosenthal in a conversation titled "Culture, Clothes, and Cultivating Creative Legacy."
As reported by Forbes, the rapper spoke to a room of almost 1000 people and opened up about his life experiences. He discussed everything from his time in Sweden to creating new prison uniforms for Swedish inmates, as well as his sexuality and his use of psychedelics.
On the horizon of his return to Sweden in December, Rocky proclaimed in the conversation that he had connected with his fellow inmates during his month-long stint inside. The rapper said, "When I was going through my whole situation, the whole time I used to look on television and see Swedish fans showing me so much love and I want to give it back… Most of the proceeds [from performances in Sweden] will go to inmates and prison reformation."
Rocky has designed new uniforms for the inmates to wear, adding "I'm trying to do what I can with what I can, I just want to keep creating and encouraging whoever is after me to do it better." The uniforms will be worn by those in the same facility he was in.
The conversation led to his personal style and music, with references to the release of his recent track "Babushka Boi." Rocky said, "I had an unfortunate accident and I scarred my face so I started wearing a babushka to cover it up until the swelling went down from the surgery and I think it became a trend and I liked how it looked."
For A$AP Rocky, fashion has always been an intrinsic part of his career. From early collaboration with Virgil Abloh to recent work with Calvin Klein, fashion has always been a way for Rocky to connect. Speaking further on authenticity, Rocky says, "The most important thing missing from music today is that emotional connection and I think a lot of people are lacking that."
Furthermore, the rapper was able to shed some light on his experiences with drugs and sexuality. Speaking on psychedelics, Rocky notes that they "changed my life for the better, they opened my third eye and made me more attuned… it was a way to love more, it helped me open up my heart." As for sexuality, he simply concluded that it's a person's right to choose, remarking "do what the fuck you want. At this point, is it still a discussion? I don't even understand how it's still a discussion."
In other news, read what happened when HYPEBEAST sat down with MANILA GREY.