Supreme x Nike SB Collabs: From Dunk Lows to Gatos
A rundown of every model in the archive.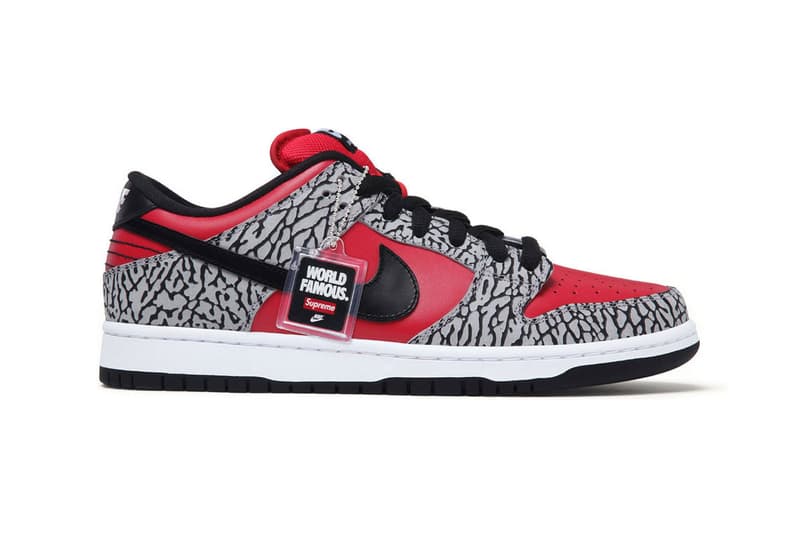 In light of this week's Supreme Fall/Winter 2018 collection drop and its flagship piece — the Supreme x Nike SB Gato — we decided to take a look back at the history of models from the Supreme x Nike SB archive. We're leaving it to you, our readers, to choose the finest of the bunch. The models are presented in chronological order to show the evolution of the long-standing partnership, but also, to help you decide if Supreme really was better back in the day or if it's only getting better.
For many, the prestige would most likely go to the original Dunk SB Low in Black/Red (or even rarer, White/Blue) or the beyond-flashy star-clad Dunk Highs, but sneakerheads globally may place the mid-top Blazers as the king of the crop for its amazing execution of quilted leather and "Gucci"-esque rear detail. The low-key favorite Bruins may also garner a bit of fanfare for its ease of wearability, while more flashy "semi-grails" like the Air Trainer 2s and SB Supreme 94s — an original model created by Supreme — still demand an extremely high resale value to this day.
See our chronicle of Supreme x Nike SB models from 2002 to 2018 and head down to the poll below to argue your case.
2002: Nike Dunk Low Pro SB Supreme (Black Cement)
Original Release Date: September 1, 2002
The Nike SB Dunk Low Pro in "Black Cement" is probably the pair that put Supreme and the brand's relationship with Nike's Skateboarding initiative on the map. Nike SB then was just starting to get extremely popular amongst the footwear crowd for its impressive collabs in the skate/non-skate world. When Supreme got involved, it was a match made in hype heaven. One of the more memorable moments of the pair was a video surfacing of Supreme skater and NYC-legend Harold Hunter taking them for a ride — executing tricks and just not giving any care to the pair's resale value. Classic Hunter.
2003: Nike Dunk High Pro SB Supreme
Original Release Date: August 8, 2003
Decorating the Dunk Highs with stars and crafting them with premium leather was a bold move by Supreme. It gave the pair a more luxe look releasing in three different colors. Many still consider the pack one of Supreme's most memorable sneaker releases. For those looking to relive their early 2003 days, these models go for as much as $2,000 USD now in the resell market.
2004: Nike Delta Force 3/4 SB Supreme
Original Release Date: 2004
The Delta Force was a departure from the collaborative duo's previous Dunk iterations in the SB realm. Going with the mid-top Delta Force as an option — instead of the more "obvious" Air Force 1 silhouette — perhaps confused the consumer base, but ultimately left a lasting impression that Supreme is anything but predictable. The sneaker prominently featured a mix of smooth and suede leather, while the absence of Supreme branding kept the sneaker extremely low-key. Pairs are quite hard to find nowadays in any condition, especially deadstock.
2006: Nike Blazer SB Supreme
Original Release Date: April 21, 2006
Supreme flexed its New York City flair by giving the Blazer, a quintessential skate model, an unexpected luxury spin. Channeling inner city opulence, the model featured quilted leather uppers, faux crocodile skin Swooshes, gold metallic lace tips and a gold heel ring that's attached to a Gucci-inspired green and red pull tab.
2007: Nike Air Trainer 2 TW SB Supreme
Original Release Date: November 8, 2007
Supreme's Nike Air Trainer TWII was the first time the circa 1989 Air Trainer silhouette was reissued through Nike SB. Supreme's take on the '80s model came in four colorways — black, white, red and blue — all of which feature net mesh panels and Supreme's logo peeping through an icy outsole. The model was released alongside three Nike Baseball wool varsity jackets as a nod to the Air Trainer's OG spokesperson, Bo Jackson.
2009: Nike Bruin Low SB Supreme
Original Release Date: April 16, 2009
Supreme's flashy take on the Nike Bruin, one of the first low-top court silhouettes introduced in 1972, features a simple, tonal nubuck upper accented by a metallic leather Swoosh and matching custom insole. Supreme's signature "World Famous" slogan appears across the heel counters, while an embossed box logo midsole accent and a herringbone outsole keep to a more low-key design.
2011: Nike SB Supreme 94
Original Release Date: November 11, 2010
The Supreme Nike SB 94 was an all-new, mid-top skate shoe designed by Supreme and engineered by the Swoosh — the first time the two imprints collaborated on such a level. The suede and leather upper was inspired by vintage basketball models, making a reference to when court shoes were appropriated for skating, while Foamposite and Zoom Air technology gave the model a functional edge.
2012: Nike Dunk Low Pro SB Supreme
Original Release Date: July 19, 2012
In the summer of 2012, Supreme linked up with Nike SB to celebrate the 10-year anniversary of the first Supreme Dunk Low in "Black Cement"/"White Cement." The 2012 version features the same iconic "Cement Grey" elephant print, this time, upgraded with the famous Supreme red, officially dubbed "Fire Red." Other details include custom insoles and the company's "World Famous" hang tag.
2013: Nike SB Tennis Classic Supreme
Original Release Date: April 25, 2013
The Supreme Nike SB Tennis Classic was another Supreme-designed and Nike-engineered model. The collaborative shoe was a new take on the OG silhouette, which was originally called the Wimbledon when it debuted in 1975. Offered in four colorways including a tennis ball-inspired neon yellow, this low-top features a premium textured leather upper, reflective 3M accents, felt heel tab and Air Zoom technology.
2015: Nike GTS SB Supreme
Original Release Date: July 16, 2015
The Nike GTS, aka "Great Tennis Shoe," was appropriated from an on- and off-court model to a skateboarding classic. The Supreme x Nike GTS launched as a new version of the silhouette, which featured a herringbone cotton canvas upper, cursive script Supreme embroidered in metallic gold at the heel, and a small red tag showing Supreme's box logo. Five colorways were offered — white, black, red, yellow and an indigo denim wash.
2016: Nike SB Blazer Low GT Supreme
Original Release Date: September 15, 2016
Shifting gears from its flamboyant 2006 SB Blazer high-top, Supreme returned to the classic Blazer model ten years later, opting for a new low-top silhouette and an ultra-minimal design. The 2016 Supreme Blazer Low GT came in three pastel hues, all featuring a tonal suede upper, gum cup sole, embossed gold foil mini box logo at the rear, and "FTW" ("F*ck The World") printed in gold at the leather heel pull tab.
2017: Nike SB Air Force 2
Original Release Date: September 7, 2017
Staying true to its tradition of choosing overlooked models, Supreme tapped the Nike SB Air Force 2 for its Winter 2017 release. The new version of the mid-top silhouette dropped in four bold colorways of yellow, orange, aqua blue and black, perhaps leading to mixed reviews. The shoe features a premium leather upper with perforated patent detailing, contrast white Swoosh and "World Famous" branding at the heel.
2018: Nike SB Gato
Original Release Date: August 30, 2018
Supreme's latest link up with Nike SB brings us a new version of the classic football silhouette, the Gato. The Fall/Winter 2018 silhouette features a slim, stitched calfskin leather upper with "quilted" reinforcement, shutter-style quarter paneling with contrast hues, a white Swoosh at the side, a classic gum outsole and "World Famous" embossed in each colorway's respective contrast hue at the heel counter.
Poll
Your Favorite Supreme x Nike SB Sneaker
2017: Nike SB Air Force 2
2002: Nike Dunk Low Pro SB Supreme
2006: Nike Blazer SB Supreme
2012: Nike Dunk Low Pro SB Supreme
2004: Nike Delta Force 3/4 Supreme
2003: Nike Dunk High Pro SB Supreme
2007: Nike Air Trainer 2 TW SB Supreme
2009: Nike Bruin Low SB Supreme
2011: Nike SB Supreme 94
2013: Nike SB Tennis Classic Supreme
2015: Nike GTS SB Supreme
2016: Nike SB Blazer Low GT Supreme
2018: Nike SB Gato