8 Drops You Don't Want to Miss This Week
Featuring Supreme, Palace, Stray Rats and PLEASURES' "Cowboys on Acid" capsule.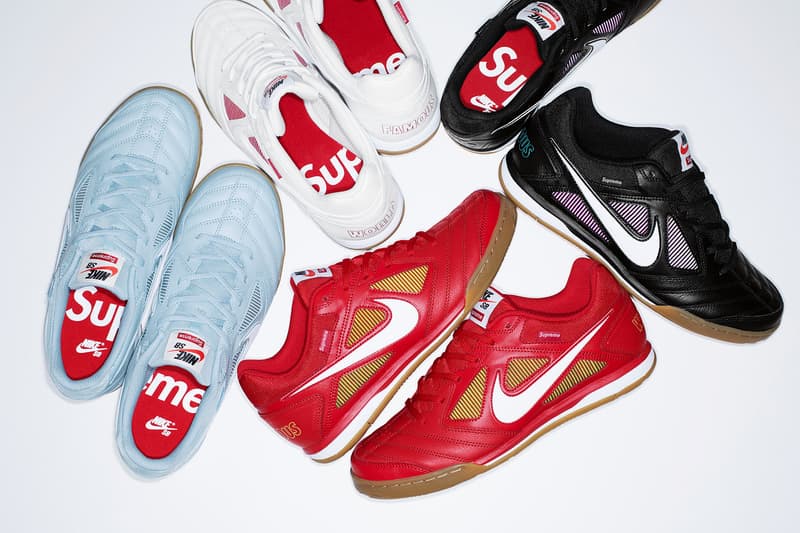 This week's list of product drops takes us to the crossroads where the summer season meets fall. Right off the bat, it's Stray Rats' final Summer release, promoting the last few weeks of sweltering temperatures via a bevy of tees featuring bold and eccentric graphics. While on the topic of bold graphics, PLEASURES also adds to the mix with its "Cowboys on Acid" capsule, a collection of stimulating imagery that's combined with large text slogans and a bit of cynicism thrown in for good measure. Elsewhere, Palace and Supreme load up on the staple hoodie, long-sleeve tee and baseball cap, but it's Supreme that sets the tone for fall with a heavy dose of outerwear pieces.
Key items this week include Palace's Koi Fish Bowling Shirt, the Supreme x Nike SB Gato, the Supreme x Lucano step ladder, the Stray Rats Jesus tapestry (featuring the artwork of Andrew Barnes), PLEASURES' "Somewhere Between Utopia and Dystopia" striped shirt, and finally, Hyein Seo's military-inspired Khaki Cross Bag.
Hyein Seo Fall/Winter 2018 Releases
Antwerp-based South Korean designer Hyein Seo is back again with a militaristic take on fashion. For the Fall/Winter 2018 season, Seo moved away from the macabre theme of her previous release, focussing in on tactical detailing, a pure black color palette and evocative graphical prints. Familiar silhouettes, such as hoodies, cargo pants, denim trucker jackets, turtlenecks and corduroy jackets, are remixed with beaded embroidery, patchwork, cropped lengths, utility pockets and metal hardware. Other notable pieces include a fur coat, corduroy berets, military cross body bags and a protective sleeve.
When: Now
Where: /017
Palace Autumn 2018 Collection Drop 4
UK streetwear imprint Palace is set to launch Drop 4 of its Fall 2018 collection. This release sees a standard mix of wardrobe staples and graphical highlights. Notable mentions include the koi fish-printed silk bowling shirts, retro "Palais Danse" crewneck sweaters, pullover anoraks, matching corduroy button-downs and trousers, and a handful of accessories, such as buckle-strap waist packs and headwear in various hues.
When: August 31
Where: Palace's web store and London/NY flagships
Supreme Fall/Winter 2018 Second Drop
Ramping its Fall/Winter 2018 release, Supreme unveiled its second drop of the season with an array of body-branded pieces and a hyped Nike SB collaboration. Leading the garment side of things is the Water Arc Hooded Sweatshirt, Vampire Hooded Sweatshirt, Velour Track Suit Set, Split Logo Short-Sleeve T-shirt and the Global 5-Panel Hat. This time around, Supreme teamed up with Lucano to put together a signature red Step Ladder, the lone lifestyle item of the second drop. But undeniably it will be the Nike SB Gato collaboration releasing in red, light blue, black and white that stands out as the star of the release.
When: August 30 and September 1
Where: Supreme Retail Stores in NY, Brooklyn, London, France, and Japan
PLEASURES "Cowboys on Acid" Capsule
Moving into the Fall/Winter 2018 season, PLEASURES is gearing up to release another expansive expression of streetwear. Titled "Cowboys on Acid," the upcoming range touches on a diverse cross-section of menswear codes in a mashup of '90s sportswear vibes, punk/thrasher accents, rugged workwear and upscale casual with western cowboy flair thrown in for good measure. Notable items include the "Somewhere Between Utopia and Dystopia" striped shirt and the black & white zip jacket, spotlighting portrait imagery of past pop culture icons.
When: September 1
Where: HBX and Nubian Harajuku
Stray Rats End of Summer 2018 Releases
Returning with the second delivery of its warm weather releases, Stray Rats recently dropped its End of Summer 2018 collection. Maintaining its uniquely Floridian cult aesthetic, Stray Rats' latest seasonal range sees prints, iconography and logos that tap an array of obscure cultural references. Some additional standout pieces from the second delivery include the cartoon-inspired rat girl T-shirt, rat sound flyer T-shirt and repeating collegiate logo shorts.
When: Now
Where: Stray Rats
The North Face Japan Custom "ING COACH JACKET" Collection
The North Face Japan is set to launch its "ING COACH JACKET" collection, a range of customizable graphic outerwear silhouettes. The black coach jackets feature classic TNF branding at the chest, adjustable drawstring detailing, snap button closure and welt pockets. The highlight feature is found at the back of the jacket, which sees the company's "NEVER STOP EXPLORING" slogan edited to read, "NEVER STOP ____ING," encouraging wearers to write their own commitments in the blank space.
When: August 31
Where: The North Face Japan's web store
GEO "Hyper-Graphical Studio HK" Capsule Collection
To accompany the release of the latest "Collection Three," G E O  teamed up with HBX on an exclusive Hong Kong set capsule. Titled "Hyper-Graphical Studio HK," the special range is comprised of a spread of parkas, denim jackets, sweatshirts, long-sleeves, T-shirts and bags alongside a set of utility-inspired accessories all build around an investigation of interactions between physical geography and humans. Standout pieces include the G E O Globe Belt Bag featuring a half-cropped image of Earth, the G E Ometric Short Sleeve T-Shirt with 3D-shaped graphic-logo; while the Hanzi Poncho is emblazoned with Chinese characters at the back that read "Geography". Spotlighting another piece, the G E O Layers Long Sleeve features a diagram breaking down the anatomy of the Earth overlayed atop a grid. Other pieces like a PVC tote bag, pins, socks and hats round out the assemblage.
When: Now
Where: HBX
Oi Polloi x Carhartt WIP Sweatshirts
Carhartt WIP has linked up with UK-based retailer Oi Polloi on a collection of co-branded sweatshirts. The collaboration offers two versions of the cozy pullover, heather grey and Hamilton brown, both of which feature Carhartt's famous typeface embroidered across the chest in Oi Polloi's signature multicolor logo. The rest of the design is kept minimal with ribbed collars and cuffs for a classic look.
When: Now
Where: Oi Polloi's web store and physical stores