These Are the Must-See Movies and TV Shows Premiering in September
New month means new entertainment.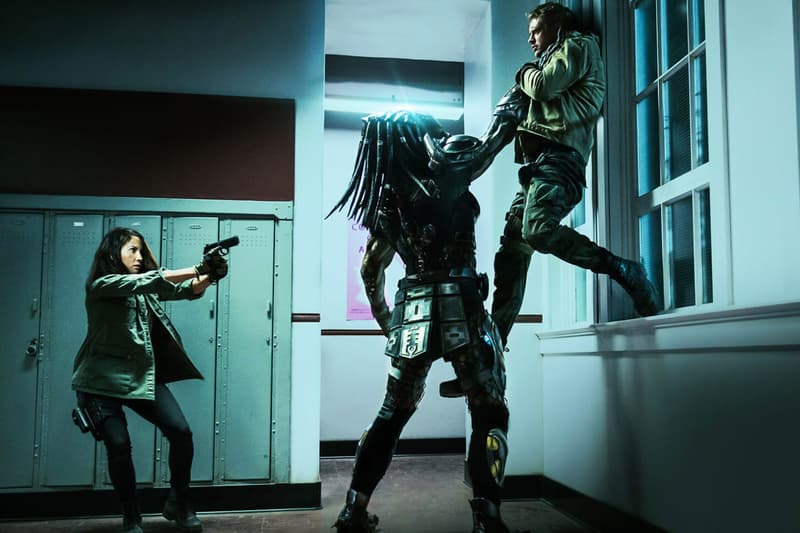 September's right around the corner which means there'll be more television shows and movies to explore. This month in movies sees the return of Bill Duke's nightmare, The Predator, now in tow with a new hunter hybrid that's sort of (but not really) the same creature introduced in AvP. We've also got the second Western comedy to hit theaters this year, The Sisters Brothers, which looks so Coen Brothers-esque that French director Jacques Audiard can't escape the comparisons, especially since it's his first English language film.
On the television side, we've got a few long-standing series making their return, as well as the introduction of some new ones like Maniac. Starring Jonah Hill and Emma Stone from Superbad, one can only hope Hill drunkenly falls and blackens Stone's eye as a callback to the films' Seth and Jules characters. Check out the list below which ranges from must-see releases to the more under-the-radar films and TV shows to look forward to.
Films
Sierra Burgess is a Loser (TBA)
The story follows the titular high schooler (Shannon Purser) going through teenage insecurities as the popular girls make fun of her for her body type. Suddenly, she gets a text from her high school crush confusing her with one of the popular girls Veronica. Both of them team up to keep the catfishing charade up, become friends, and bloom a romance neither of them expected.
Why it's worth your time: This is #JusticeForBarb manifested, as the season one Stranger Things actress became a meme following the show's uber success. It appears to have a typical teenaged premise, but it looks it will crush stereotypes and lend a voice for others dealing with similar issues the lead character has.
The Nun (September 7)
The Nun is the next The Conjuring spin-off, this time focused on the death of a nun in Romania, a priest with a haunted past, and his novitiate tagging along to investigate her death. They soon uncover unholy secrets as they confront an evil force in the form of the demonic nun featured in The Conjuring 2. The cloistered abbey soon becomes a battlefield between the living and the damned.
Why it's worth your time:  Directed by Corin Hardy and set before the Annabelle franchise, The Nun will set the origins for James Wan's horror universe. She's one of this universe's scariest figures, and given the traction its YouTube ads spurred, it's possible the flick is now on your radar more than ever.
The Predator (September 14)
Shane Black's The Predator will reintroduce the alien hunter as it returns to Earth, where a group of ex-soldiers, alongside a science teacher, will defend against it for the sake of the world. We also know a smarter, stronger and deadlier genetically-enhanced species the hunters have been experimenting with will be introduced as well.
Why it's worth your time:  Acclaimed writer Shane Black (Leathal Weapon franchise) started as an actor in the original film starring Arnold Schwarzenegger, and as such, has insight into what made the classic 80s film so great. The franchise as a whole has a lot of stinkers, but maybe this is the one to finally break the momentum of releasing bad films with Black at the helm.
Mandy (September 14)
Couple Red Miller (Nicolas Cage) and Mandy Bloom (Andrea Riseborough) become the victims of a home invasion as the thieves kidnap Mandy for a cult sacrifice. Red then follows after her, seeking revenge with fire and fury. The footage highlights crazy gore, hints of occultism, and possibly having to defeat a big evil.
Why it's worth your time: The flick looks absolutely bonkers and is a breath of fresh air in the realm of horror flicks as of late. It definitely has a gory fun factor similar to the original Evil Dead, plus it has Cage to ham up those elements even further.
Fahrenheit 11/9 (September 21)
Filmmaker Michael Moore (Bowling for Columbine) prophesied that Donald Trump would become the 45th president of the United States. Traveling across the country, Moore surveys several Americans to get an understanding of the social, economic and political influence of Trump's triumph.
Why it's worth your time: Who doesn't love a good documentary to get them stirred up over their political and social beliefs? What makes this one different is that it was created by a widely acclaimed filmmaker responsible for the highest grossing documentary of all time in this films predecessor, Fahrenheit 9/11.
The Sisters Brothers (September 21)
Joaquin Phoenix and John C. Reilly play Charlie (Phoenix) and Eli (Reilly) Sisters—cowboys traversing 1850's Oregon. They're hired to murder a chemist (Riz Ahmed) in San Francisco who stole from their boss. They also work with a prospector (Jake Gyllenhaal) in order to track their target down.
Why it's worth your time: Following another Western comedy that premiered this year, this flick looks like it'll have some genuine laughs and powerful acting talents behind it. It also looks like it'll have some visceral cowboy action that'll set up gamers for the world of Red Dead Redemption 2 a month later.
Assassination Nation (September 21)
The movie follows Lily, Sarah, Bex, and Em as high school girls living in the small town of Salem whose secret lives are exposed online alongside the entire town. As such, the town falls into chaos and when Lily is accused of being the hacker who exposed everyone, the town becomes a lynch mob ready to attack the students, leaving the collective to retaliate and turn the tables on their persecutors.
Why it's worth your time:  It made a lot of noise at the Sundance Film Festival for its metaphoric usage of the term witch hunt and the social climate of the #MeToo movement as conveying themes in its plot. The film deals with themes of hypocrisy, lack of empathy, and a willingness to jump to extreme behaviors in America. It also touches on toxic masculinity in society, as well as conformity.
Smallfoot (September 28)
The film follows a Yeti monster named Migo (Channing Tatum) who shockingly discovers the myth of a small-footed creature called a human (James Cordon), who survives a plane crash near his snowy village. Migo's compadres don't believe him until a group of other Yetis approach Migo, telling them they've found evidence of the creatures, and possibly even a bigger world outside of their village.
Why it's worth your time: Starring Channing Tatum, Zendaya, Common, and James Corden, this animated flick looks like a cut above the rest of the animated films that don't come from Disney. The trailer made us laugh more than we thought it would, so if you've got a #hypekid by your side, this is a great one to check out.
TV
The Purge  (September 4, USA)
During a 12-hour period when all crimes and degrees of murder are legal, a group of apparently unrelated characters crosses paths in their small town in an altered America. While the clock winds down, some will fight, some will hide, and others will embrace what it means to purge to its fullest extent. Catch it when it premieres at 10 pm ET.
Why it's worth your time: This may prove that the premise of the films may actually play out better on televisions. Also, the fact that the series may be part of the cinematic franchise's universe is also thrilling. Couple the fact that folks are saying the show will be morally ambiguous, and you may have an installment of the franchise that isn't so hamfisted with its themes and parallels.
It's Always Sunny In Philadelphia: Season 13 (September 5, FXX)
The Gang returns to their duplicitous, scheming ways at Paddy's Pub, while Dennis (Glenn Howerton) takes on the new role of a father in North Dakota. This means his character will only be in a number of episodes, following the reveal of his sexual orientation in the last season.
Why it's worth your time:  It's Always Sunny remains one of the most consistent comedy shows around now, due to its brutality. In a time of uber sensitivity, It's Always Sunny has managed to keep its formula as irreverent as it always was, and these days, it's pretty refreshing.
Shameless: Season 9 (September 9, Showtime)
In season nine, political fervor hits the South Side of Chicago and the Gallaghers take justice into their own hands. This includes patriarch Frank (William H. Macy) finding financial opportunity in campaigning, and Fiona (Emmy Rossum) trying to build on her success with her apartment building with an expensive gamble. Catch it on Showtime at 9 pm ET.
Why it's worth your time:  If you've been following the Gallaghers since day one, you already know the deal. But for any newcomers whose been waiting to binge this series, it will hit its 100th episode this season so hurry up. It's a show grounded in lower-class struggle and family dysfunction, which makes it relatable and downright hilarious to watch. There are also so many characters that you're bound to find someone to relate to. Shout out to Lip.
The Deuce: Season 2 (September 9, HBO)
The Deuce's pimps and hoes from season one make a return but early '70s Times Square has evolved, as has the cultural dynamics as the series jumps ahead five years. The Mafia gets involved with the now booming industry of porn, then the West Coast gets into the fold when the courts declare it as legal. At the center of it all is disco and punk at its height of popularity.
Why it's worth your time:  Series creator David Simon and co-creator George Pelecanos (both of whom worked on The Wire) has said each season will involve a time skip in order to explore each era around this time. This is bound to keep the plot and character fresh as they're expected to crucially evolve season to season, defining an industry and decade along the way. Catch it at 9 pm ET on HBO.
The First: Season 1 (September 14, Hulu)
The series stars Sean Penn as a member of a team of colonizers ready to embark for Mars and terraform it while their families struggle to try and cope that they may never see their loved ones again. The astronaut alternatively must deal with the pressures of their personal sacrifices as well as being the first humans to make it to Mars.
Why it's worth your time: It looks similar to Netflix's Lost in Space, but with more starring power, as the show also stars Natascha McElhone and Oded Fehr. Also, the series creator of House of Cards will be behind this show, so we're expecting a great execution when it finally drops.
Maniac (September 21, Netflix)
Superbad alum Jonah Hill and Emma Stone reunite in this 10-episode series exploring experimental quick fixes to various addictions and traumas. Annie Landsberg (Stone) and Owen Milgrim (Hill) both meet as participants lured by the promise of a permanent cure to their various hang-ups. Dr. James Mantleray (Justin Theroux) promises his patients that "the mind can be solved" as the two enter a test chamber that goes haywire, sending the two through various lives and universes as a couple.
Why it's worth your time: This dark comedy will see the two interact through many settings that include a Game of Thrones-style world and a 1980s Wall Street lifestyle, so there will be tons of variety for these now seasoned actors to display their comedy chops once again. And given their chemistry, we're expecting a big hit from this one.
Manifest (September 24, NBC)
This serialized mystery in the vein of Lost centers on a plane that suddenly reappears after mysteriously disappearing without a trace five years earlier. The series follows the lives of many of the passengers upon their return home as it's gone to change significantly since no time has passed for any of the flight attendees.
Why it's worth your time:  It looks like it has the potential to be the next Lost, and a lot of the different plot points deal with what you'd want to see in a story of this magnitude: missing the passing of a loved one, a relationship deteriorated, regrets for moving on, a cure exists for an illness that didn't exist before. We can't wait. Catch it on NBC at 10 pm ET.
This is Us: Season 3 (September 25, NBC)
The weepie family drama sensation returns this season after the wild ride the Pearson family endured last year. Although Jack's passed, he will still be along for the ride this season. Which means, start expecting more flash-forwards to the future along with flashbacks of the past to see everyone's character arc come into focus.
Why it's worth your time: Its consistent tear-jerking quality remains to be one of the core reasons this show has continued to live on so strongly. It's hopeful, it's relatable, and it's got finely crafted storytelling and acting.