Inside 'Annabelle: Creation' and the Inner Workings of Hollywood Horror
Cinematographer Maxime Alexandre critiques the movies and scenes that scare the crap out of him.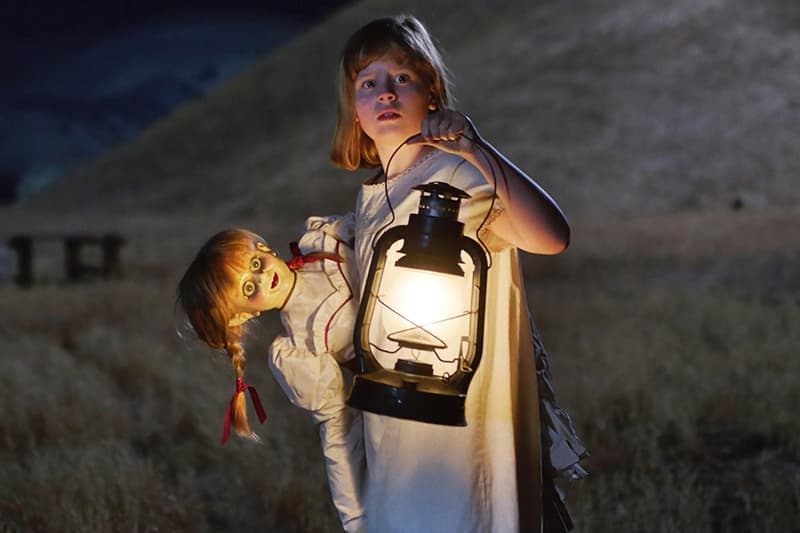 Cinema is like a machine. It has moving parts and gears that function in unison to produce a product. The same is such with directors, screenwriters, production designers and all the other individuals collaborating together to bring a vision to fruition. A key component in producing a film is the cinematographer, who is responsible for the artistic and technical aspects of framing a scene, as well as making sure the visuals hold significance to the overall plot of the movie. In horror films, cinematography takes on a whole other level of importance, as it can make or break the difference in scaring an audience.
Cinematographer Maxime Alexandre originates from East Flanders, Belgium and grew up in Rome before going to Paris to begin his career in film as a camera assistant and later a camera operator. His works include The Hills Have Eyes (2008), The Crazies (2010) and the upcoming Annabelle: Creation. The newest film is set to explain the phenomenon of the possessed doll that made her debut in 2013's The Conjuring.
Already slated as chief of photography for 2018's The Nun film, his relationship with James Wan, producer of both Annabelle: Creation and The Nun, mirrors his collaborative relationship with The Hills Have Eyes director Alexandre Aja. Both creators focus on character perspective in their work, a key factor in gripping the audience to produce scares.
In this interview, Alexandre talks his favorite horror scenes, his approach to cinematography and the climate of the horror movie genre.
Can you talk about growing up in Belgium, France, and Italy and how it's crafted some of your talents?
You're surrounded by art everywhere, you don't realize it, but it becomes part of your DNA, discretely. While I working on photography I realized how growing up in these countries has given me information on these places, having never studied anything about them. I would [also] use other movies as referential. A lot of my light concepts and approach to every single movie come through paintings, I have an enormous passion for painting.
What are some of your favorite horror movies and horror movie scenes that effectively play off cinematography? 
I was never a big horror movie fan until I met director Alexandre Aja, whom I worked on the movie High Tension with. My first experience with horror movies was with the film Profondo rosso (Deep Red) — the Dario Argento movie — and that piece of cinema got stuck into my head.
The Shining focuses on perspective in every single shot which turns every scene into a different movie in its own. The depth of field and creating a claustrophobic perspective are key factors of scaring people. When you do something that's very tight, where you only see your actor's expression and their perspective, you create the dimension that makes you uncomfortable.
One shot on Annabelle: Creation that the director and I really liked a lot is a shot when a character is being dragged into the dark. You have the perfect perspective of the corridor, but the end of it is being totally transformed into a black hole. That black hole comes forward and not only is it part of the storytelling but as an audience member, you definitely lose control of the space.
You've recreated the 1950's for Annabelle: Creation, but you've had experience in that for The Hills Have Eyes in the culdesac scene. Did you bring those same experiences for this new film?
You're the first person to ask me this. There's something very fascinating about The Hills Have Eyes, which was scaring an audience in daylight. That's tricky! But the color pallet was an experience, which is a coincidence. The stone desert was shot in Morroco and was just emotive as a backdrop. Although in Annabelle, the color pallet outside is warmer and the depth of field in the wide landscapes, the few we have in the movie, do remind me of The Hills Have Eyes. I've never told anyone that, well, nobody asked me really. If you watch them both together, the frames, some of them can be compared.
How do you approach scenes as a cinematographer? Do you work better when given a bit of freedom or from a structure presented by the director?
First, everything is the vision of the director. Through the vision of the director the production work of what is the intention of the director for the cinematography, then the production designer and everybody. It's teamwork. Now, of course, I love those kinds of movies where I'm basically sitting in a little corner looking at the blocking with the cast, going "alright this is what we're going to do" because we've spoken to the director. And then when the blocking is done, having a little chat with the director and then having me basically build the whole scene. That's my favorite way to work.
And that's basically what happened on the set of Annabelle with David F. Sandberg (director of the film.) He had a pretty precise concept for everything and loved to participate in the more technical aspects of [certain] scenes. It depends on what director you work with, but sometimes it becomes a more diplomatic way of work. Sometimes they want to work the biggest way, the fastest way, or different way and becomes a diplomatic debate that consumes too much energy and not useful towards the result.
What's your opinion of this new wave of horror films like The Conjuring, The Witch and It Follows? How much cinematography plays a part in these contemporary movies?
I'm extremely shy of my work. The cinematography in my point of view has to be part of the movie, not a singular key of a film. When an audience steps out the cinema you want to hear "what a good movie" not "what good cinematography."
Now talking about the language of cinematography in the modern horror movie, I don't think we classify modern horror. I think year by year the language of cinema changes, so does the expectation of the audience. Now the audience is much more difficult to impress. For example, in the movie Mirrors there's a scene of someone approaching a mirror, opening a mirror and then when closing it the audience is expecting something to happen, but it doesn't. It's more about grabbing the audience in their desperation and when you've basically cooked your audience, break them in two with an animalistic shot.
When you go back to the 70s, you could make a horror movie by playing with the state of mind of your killer or subject of your study and you would be very impressed and scared. But today, doing a movie like this is extremely complicated because of the general audience, which is different from a fan of horror movies, it isn't as accepted it. You need something extremely violent to grab the general audience's attention. Annabelle is like doing a movie from 20 years back, you have long scenes, we're not cutting anymore. I don't have a precise concept to explain it, [it's the] James Wan mood, it brings a different genre of horror movie.