Frenzy Friday Feature: Rye Decker; Creating Unisex Garments With Sustainability in Mind
Worn by Miguel, Joey Bada$$ and Offset.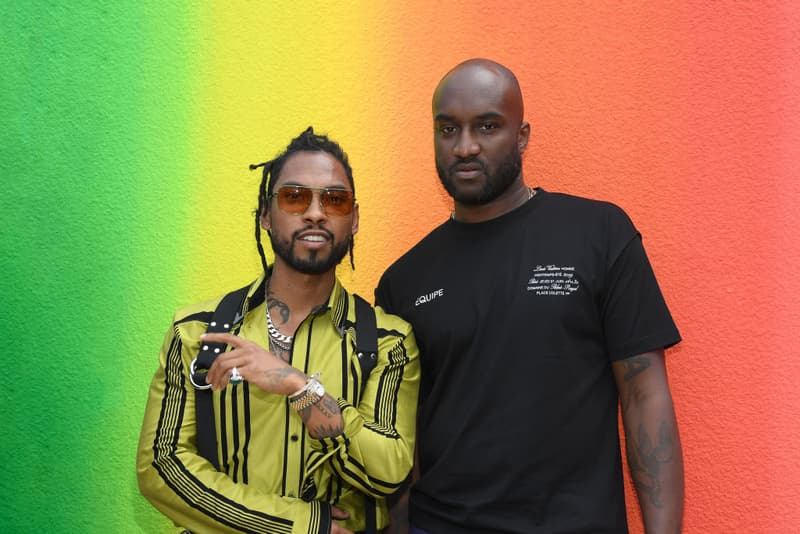 In continuation of the Frenzy Friday Feature, Rye Decker is spotlighted as the latest designer to deliver an exclusive drop on Shopify's Frenzy app. Designing since the age of 10, Rye has been fashioning environmentally conscious pieces that have a unisex appeal, even though he creates with women in mind. Worn by the likes of Miguel, Joey Bada$$ and Offset, his pieces possess goth and punk aesthetics, stemming from his exposure and interest in the two cultures.
Catching up with the 20-year-old, Rye Decker delves into his fashion background and why he feels the industry needs more sustainability.
How did you find your way into fashion?
I started my first clothing brand when I was 10. I used to draw graphics on Photoshop and upload them onto T-shirts. I'm not sure what exactly made me want to do that, but I just always knew that I wanted to be a designer. It made me really happy to see all my friends wearing my clothes and that was one of the main things that sustained my interest in making clothes.
What goes on in your mind when designing?
Usually, when I'm trying to think of something to make, I can't get a complete idea out right away. It takes a bit of subconscious thinking and revising to get to where I think something is ready to show. I draw a lot and carry my sketchbook with me wherever I go.
Looking at the evolution of your first collection, Sport, to your latest, Goth Princess, there is a connective thread that binds the two capsules. Why is it important to create collections that cohesively tie into each other?
It's really important to find a unique design style that you are comfortable working in. Different brands have their staple silhouettes, colors, themes, etc. that help people recognize pieces as being part of a certain brand. It took me a while to pinpoint my own style and "Sport" is a good example of that exploration. When you create and try enough, the cohesiveness kind of comes naturally. There are always certain design elements that I will never fully abandon but I'm always looking to build and improve on past ideas.
I really like the idea that something I make can be enjoyed by anyone.
Speaking more towards your latest collections, there are these motifs that seem to be inspired by goth and punk, alongside a tinge of fetish-wear. What inspires you most about these cultures and fashion niches?
Exposing yourself to as many different scenes and cultures as you can is really important for any artist. Through personal experience, I'm able to give my interpretation of what sparks my interests. My favorite color is black and I rarely stray from it. That's definitely what led me in the direction of "goth" clothing. I really like the destroyed, safety-pinned look that a lot of traditional punk clothes carry and I try to incorporate those elements into my work.
Rye Decker began as a contemporary women's brand; however, your offerings — like many haute designers and labels — have a touch of gender fluidity. How much consideration do you put into creating unisex pieces, and do you want to explore genderless clothing more in the future?
Designing womenswear is a lot more fun for me because I feel that there are a lot fewer limitations in comparison to designing menswear. With that being said, most of my clothes can be worn by men and women, and my customer base is pretty 50/50. I really like the idea that something I make can be enjoyed by anyone. I definitely want to explore more gender neutral clothing but I will always have a certain customer in mind when working on any piece.
You seem to deviate from the fashion norms and trends of the time. What purpose do fads serve you when designing?
I try not to pay too much attention to what is popular or considered cool. I don't like when everyone tries to dress the same and stay on trend. It's too temporary and can become obsolete overnight. I just remain true to what I love and hope that people agree and see value in what I'm doing.
I think people need to change their perspectives on consumerism altogether and start buying less.
You've commented in an interview that you've implemented sustainable practices within your label. How do you think the fashion industry should move forward in becoming more environmentally conscious?
This is super important to me. The fashion industry, as many people know, is one of the top polluting industries in the world. I think people need to change their perspectives on consumerism altogether and start buying less. Quality over quantity. At a higher level, companies need to place the same importance on their stakeholders as their shareholders. If someone needs a T-shirt and they go to H&M and buy one for $12, it's going to fall apart and end up in a landfill by the end of the year. Odds are, that the same person would have bought enough $12 T-shirts to be able to buy one ethically made T-shirt that could last them years.
Overall, I would say buy less and shop smarter. Don't shop fast-fashion. There are so many alternatives at this point and companies who can't adapt to sustainability need to be left behind. We only have one planet and if we destroy it then there is no going back.
With your upcoming release on the Frenzy app, what can people come to anticipate?
I'm really excited about this release. It's a revamped version of the Spider Harness that I made into a backpack. It's up for pre-order so the quantities are going to be really limited. It's all made in New York City as well. The Frenzy app is really cool because it allows me to release things to people in specific places, and it has a drop countdown. I definitely plan on using it for some future releases.
As you look towards your future within the industry, how do you want to push forward with Rye Decker?
I'm super thankful to have come this far. I want to keep it going as far as I can and hopefully never do anything else. I'm just going to keep working and following my dreams. I would really like to have my own store one day too.
---
For more information on Rye Decker, head over to its website, and download the Frenzy app to shop the brand's latest drop here.