Los Angeles Lakers Unveil New Nike Jerseys
Showtime is back in LA.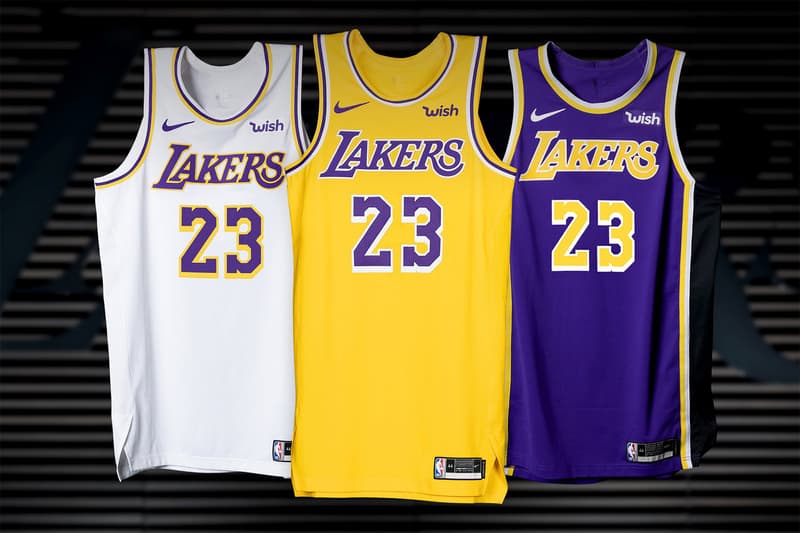 Ahead of this year's NBA season, the Los Angeles Lakers have revealed some new threads. This marks the second season of Nike being the league's official outfitter. Now, the Swoosh alongside the Lakers organization have decided to bridge the gap between the team's past and present by bringing back its classic vertical drop shadow. This effect pays homage to the Lakers' 1980s showtime era with a little sprinkle of what's to come for the franchise. The 2018-2019 designs also see updated numbers and rounded neckline as well.
The team's "Icon" jersey sees a gold base with purple numbering and white trim. The "Statement" edition welcomes a purple base with gold numbering, white trim and newly added black side stripe. Finally, the "Association" iteration is dipped in white with purple numbers and gold trim. Take a look at the Lakers' new Nike jerseys for the forthcoming season and stay tuned for the Swoosh to reveal the team's "City" edition as well. You can purchase the new designs via the Lakers Store, Nike.com and the NBA Store.
When the lights go down.
The show comes on.@nikebasketball | #LakeShow pic.twitter.com/JaYsjPFwm5

— Los Angeles Lakers (@Lakers) July 31, 2018
An ICONic look.

?: https://t.co/jkt227nswb pic.twitter.com/cD3ARA184u

— Los Angeles Lakers (@Lakers) July 31, 2018
Make a STATEMENT.

?: https://t.co/AiHqfXNcRI pic.twitter.com/CTNF92QYGH

— Los Angeles Lakers (@Lakers) July 31, 2018
Put on in the ASSOCIATION.

?: https://t.co/cW50Xvof7G pic.twitter.com/MHQzl0zFos

— Los Angeles Lakers (@Lakers) July 31, 2018