8 Drops You Don't Want to Miss This Week
Supreme/Tivoli speakers to Nike ACG SS18 collection.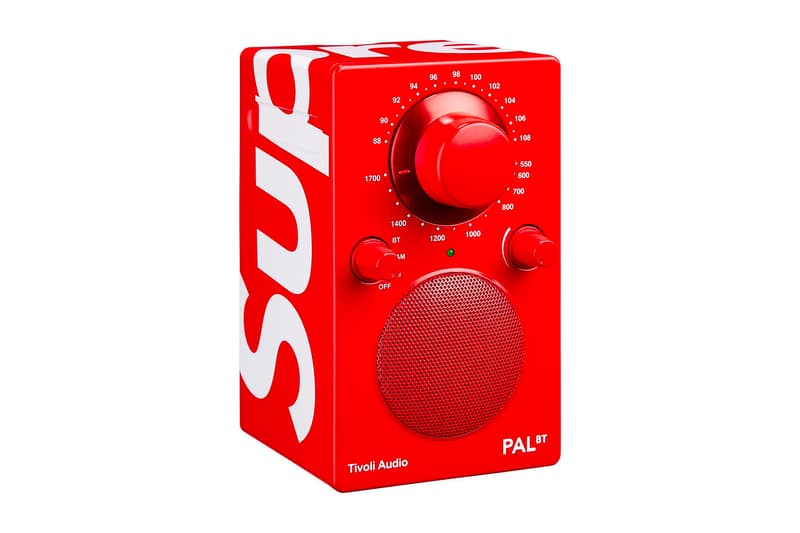 This week's drops roundup is keeping it short and sweet with goods from Supreme, Palace, BAPE, Nike ACG and more.
Supreme takes it easy for week 15 by skipping out on the usual weekly collab with only mainline Spring/Summer 2018 collection pieces. But that doesn't mean demand will dip. The biggest highlight is undoubtedly the Supreme/Tivoli Pal BT speaker, which is not only emblazoned with the famous red Box Logo branding, but offers superior wireless bluetooth radio and sound quality, making it one of the most useful accessories from this season. Other notable pieces include the Landscape hoodie and sweatshorts, the Playboy soccer jersey and a never-before-seen MLK T-shirt.
The rest of this week's releases is a slew of streetwear staples. There's a parade of new graphic T-shirts and hoodies courtesy of Palace, Parra, Hebru Brantley x BAPE, PLEASURES and Amnesty International x Everypress 50/50 collection, which collaborates with the likes of Liam Hodges, Octavian, Deter Navy and more. For those looking for sportswear gear, we have old classics from the retro Nike ACG SS18 collection and new designs from Skepta's upcoming Mains collection.
Supreme Spring/Summer 2018 Drop 15
No special collab drops from Supreme this week; only mainline SS18 collection pieces. But there's still a handful of gems up for grabs. First and foremost is the Supreme box logo Tivoli Pal BT speakers, which is one of the most useful Bogo accessories this season, offering portable bluetooth radio and great sound quality. Then we have clothing highlights such as the watercolor print Landscape hoodie and sweatshorts, the split anorak (offered in pink, blue/green, beige, black), and the Playboy soccer jersey. For big statement pieces, there's the Martin Luther King zip-up flannel shirt and the "People = Shit" shorts, and for something more under-the-radar, there's a never-before-seen MLK "Don't Let the Dream Die" T-shirt that will be releasing.
When: May 31, 11:00 am GMT (for London), 11:00 am EST (for NYC); June 2 for Japan
Where: Supreme NYC, LA, Japan, European locations and online at Supreme's web store
Palace Summer 2018 Collection Drop 5
Palace's Summer 2018 collection is now at Drop 5 and it's another round of solid streetwear staples. Perhaps the tamest range we've seen yet, this week offers highlights such as the Munchy and Palazzo graphic T-shirts, the crink runner anorak jackets and shorts, and the classic crewneck sweater and multi-color hoodie. The accessories range also pulls through with a "Palace Mean Couture" denim hat, flat sack bags and a wave-print towel.
When: June 1 (Japan 11:00 a.m. JST; London 11:00 a.m. GMT; New York 11:00 a.m. EST)
Where: Palace's web store, Japan online store, London flagship and New York store.
Parra Spring/Summer 2018 Drop 4
Parra continues his Spring/Summer 2018 releases with another round of colorful wear perfect for the warmer season. Following up on the previous drop, which featured anoraks and striped polo shirts, this time, the Dutch artist and designer dives straight into the summer essentials with swim trunks and waist packs — covered in Parra's signature print — as well as a slew of caps. As always, a handful of new graphic print T-shirts and hoodies featuring original artwork is up for grabs.
When: Now
Where: Parra's web store
Skepta's Mains Collection
Expanding on his latest Nike Sk Air collaboration, Skepta recently unveiled the latest range from his Mains line. The sportswear-inspired collection continues the color schemes found on the Nike collab, expressing alternate blue and red stripes on the side of pure white tracksuits. Additionally, AMBUSH® founder — and Dior Homme jewelry designer — Yoon Ahn created a special padlock accessory to accent the road-ready drop.
When: June 1
Where: Mains web store
Hebru Brantley x BAPE Collection
BAPE continues its streak of collaborative releases with a new range in partnership with Chicago-based artist Hebru Brantley. The main graphics include a mash-up of Brantley's Flyboy and Lil MaMa characters with BAPE's BABY MILO and APE HEAD motifs for a playful new range. Different variations of these graphics dominate the range, appearing on a range of T-shirts, while BAPE's signature Shark Hoodie is reworked to feature "FLYBOY" pilot goggles on the full-zip hood.
When: June 2
Where: BAPE Los Angeles store and Social Status store
Nike ACG Spring/Summer 2018 Collection
Nike taps into ACG's past with a truly '90s-inspired Spring/Summer collection. Following up on a well-received teaser lookbook, we now get a full look at each of the individual pieces. The collection is comprised of pullovers, tees, shorts, caps, crewnecks, jacket, and hiking boot-inspired footwear, all of which bear the original triangle ACG branding and come in a plethora of bright colors.
When: June 1
Where: BEAMS web store
PLEASURES Summer 2018 Collection
PLEASURES recently returned to release its most detailed and comprehensive range yet. Titled "Always Someone," the expansive Summer 2018 collection is built around an exploration of the life cycle of everything. Comprised of jackets, hoodies, button-up shirts, T-shirts, pants, shorts and caps, each piece in the range represents a phase of life. Some notable pieces include the Garage Shirt Jacket, Fake Flowers Camp Shirt, Woke T-shirt and Violence Hat.
When: Now
Where: PLEASURES web store
Amnesty International x Everpress "50/50" Artist Collab T-Shirt Collection
Down for a good cause, Everpress and Amnesty International join to bring together 50 artists as part of its charity T-shirt collection. The charity collection sees the likes of Liam Hodges, COPSON's Maria Falbo, ASSID and BRICK Magazine, and Octavian, to name but a few, and is based around the theme of censorship. The entire collection will be made available over at London's Protein Studios for a price of £25 GBP, with proceeds going to the human rights organization. With 50 designs in total, there is something for everyone.
When: May 31
Where: Everpress's web store