There's a $1 Million USD GoFundMe to Build a LeBron James Statue in Akron
To honor the King.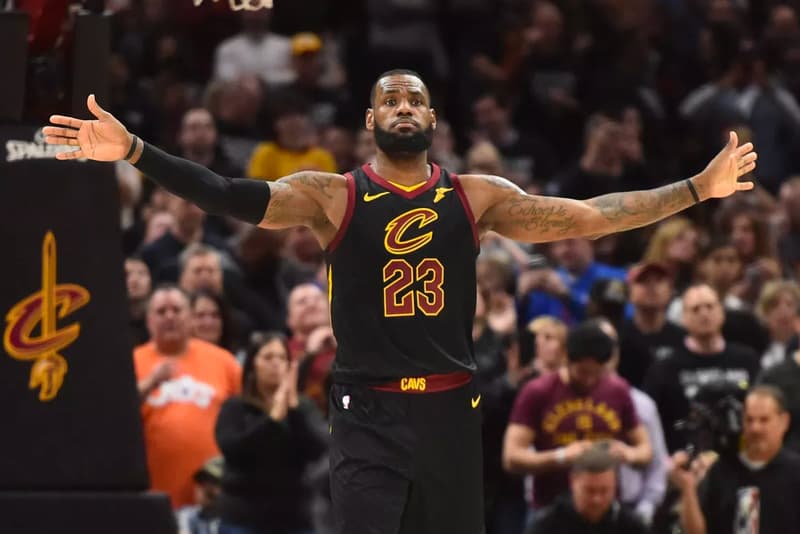 LeBron James, the King of basketball, could potentially see his own statue being constructed in his hometown of Akron thanks to a current GoFundMe campaign. Set up by Aaron Carey, a fellow St. Vincent–St. Mary high school alumnus, the account has a goal of $1 million USD in order to erect the life-size statue of LeBron.
According to the GoFundMe page, Carey has already enlisted the help of renowned sculptor Omri Amrany who has created statues for Michael Jordan, Shaquille O'Neal, Magic Johnson (which can be seen below), among others. LeBron was asked about the GoFundMe before Game 4 against the Boston Celtics. "First of all, thank you. It would be cool, not only for myself, but for my family and all the people that had anything to do with this journey thus far. So, just appreciative even of the thought, and that means a lot," he said.
Carey's GoFundMe page states:
"LeBron James is the King and we need a movement in North East Ohio and throughout the world to show our gratitude and appreciation for all of the love, passion, hard work and effort King James has shown us. LeBron has been the most unifying force to revitalize downtown Cleveland, bringing the Cavaliers their first NBA championship. As true fans, we believe it is time we show our appreciation by placing a statue in his beloved hometown of Akron, Ohio. LeBron James has carried the basketball world on an amazing journey at the highest levels of success. He is big enough to entertain the world, but humble enough to compassionately give back. We are all in this together and we want your support no matter how small or large, to show our appreciation to LeBron James."
For more on the King, read our interview: "LeBron James Reminisces on His Journey to Becoming the Face of the NBA."
LeBron James appreciates the efforts of an Akron-area man who's looking to raise $1 million for a LeBron statue in Akron. #Cavs pic.twitter.com/k5LhIFp1nD

— clevelanddotcom Cavs (@PDcavsinsider) May 21, 2018