Christopher Shannon Talks Boycotting Fashion Week & Collaborating With Hi-Tec
The British designer talks us through his Fall/Winter 2018 collection.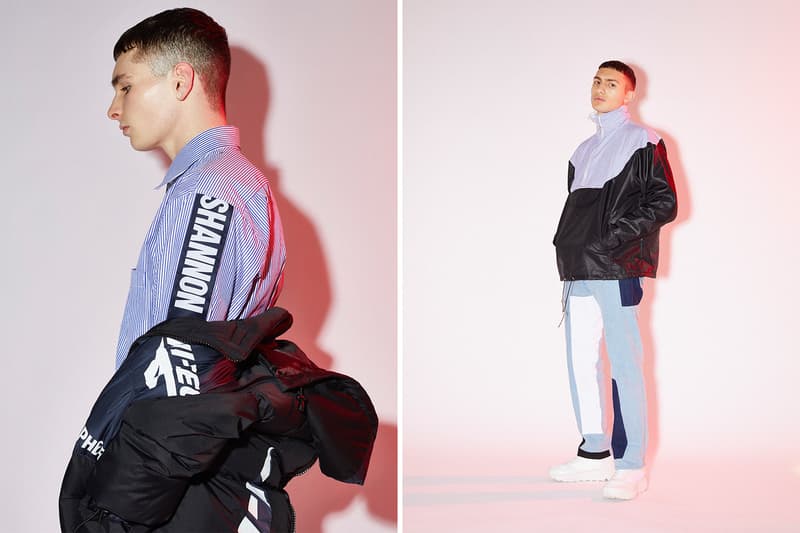 In early 2017, Liverpool-born designer Christopher Shannon unveiled his Fall/Winter 2017 collection with a show at London Fashion Week: Men's. The show — which featured masks designed by Rottingdean Bazaar — was arguably best known for its reappropriation of classic logos, with the Calvin Klein Jeans emblem being reworked to say "Constant Stress." After that show, Shannon decided to take a step back from the conventional fashion week system, with his next collection being displayed at an East London studio.
"Boredom" is the reason that Shannon gives for his decision. "I started to feel like being at school. You know the way that school has a routine that's ingrained in you? I started to feel that and I started to hate it," he says. For Shannon, fashion weeks are just one part of a broken system, with seasonal shows and wholesale markets working together to ruin designers. These shows give designers two points to focus on throughout the year, while also forcing them away from the day-to-day running of their business. "The catwalk is almost beneficial for an event," Shannon adds, "but it really doesn't have anything to do with the clothes you want to make or the clothes you want to sell."
Aside from boredom, Shannon's decision to step back from the traditional system stemmed from bigger considerations. "I don't want to support a system that I think is fundamentally corrupt," he explains. Shannon believes the current system that puts designers on a conveyer belt has moved the industry to a point where creativity is largely amiss. "That isn't why I went to art college, that isn't why I like the books I like, that isn't the way I look at things, that isn't why I listen to music," says Shannon on the creativity he aims to preserve.
"I don't want to support a system that I think is fundamentally corrupt."
Shannon's new approach to the industry is reflected in his design work, with him wanting to go back to his old way of working: "Making work with no expectation, the way you make work because you want to, because that's what you do and that's the person you are." In the intervening years, Shannon had lost sight of this as the pressures and issues of the industry mounted. "Suddenly you have a company and a brand and all these expected outcomes," Shannon tells us. "You think you have to do that because that'll work on Instagram or because that'll work for that, and I don't want to think like that. I want to make the work because that's who I am."
Rather than the typical shows-and-wholesale system, Shannon has opted to channel his energy into his web store — something that he sees as one of the most exciting aspects of what he does. "It's the spontaneity that you don't get to get of working on a seasonal calendar," he explains. As well as giving him a new freedom, this new method has put Shannon in closer contact with his customers, learning what they do and don't like — a task that proves difficult under the traditional fashion system. " [With the traditional system] you don't know who buys it, what they buy, what doesn't sell, what does sell. You only know that when you're in control of what you're own output is," he says.
Shannon's view of the fashion industry — and his desire to return to expectation-free designing — is explicitly referenced in his upcoming Fall/Winter 2018 collection, with the phrase "No One Cares" appearing on shirts and sweaters. The slogan is inspired by both his carefree approach and the fact that "everyone is so self-absorbed, more so than than they've ever been." Another motif that runs throughout the collection also shows one of Shannon's criticisms of the industry, with the phrase "Emotive Text" featuring throughout. "People are so funny about writing heavy, emotional words on T-shirts like it gives them some gravitas, like that's what makes a piece have some value," he explains of the text. "To me it doesn't, it always makes a piece look really stupid."
As well as these pieces, the Fall/Winter 2018 also features a wide-ranging collaboration with Hi-Tec. The joint pieces include everything from footwear to outerwear and tracksuits, including a coat made from a repurposed sleeping bag — a nod to Hi-Tec's camping and outdoors legacy. "Hi-Tec at the minute is kind of a black canvas," Shannon explains, looking at how the brand is perceived. "If you're working with someone bigger, you have all this heritage around you and what people have done and it can be annoying. But with Hi-Tec, this is what I want to make. They didn't say no to me once, and who doesn't want that?" he adds.
"I want to make the work because that's who I am. So you have to not care, there has to be a sense of not caring."
Along with the freedom Hi-Tec gave him, Shannon points to how a combination the brand's expertise and his naivety also drove the collaboration. "When other people are involved and other people are specialists, you can really elevate," he explains. "I have no limit on my thinking. When it comes to a collaboration, I just throw anything at it."
Take a look through the lookbook for Christopher Shannon's Fall/Winter 2018 collection above, and head to the designer's web store to get your hands on his Spring/Summer 2018 release.