The Five Best Collections From New York Fashion Week Fall/Winter 2018
From drug-referencing knitwear to American gothic suiting.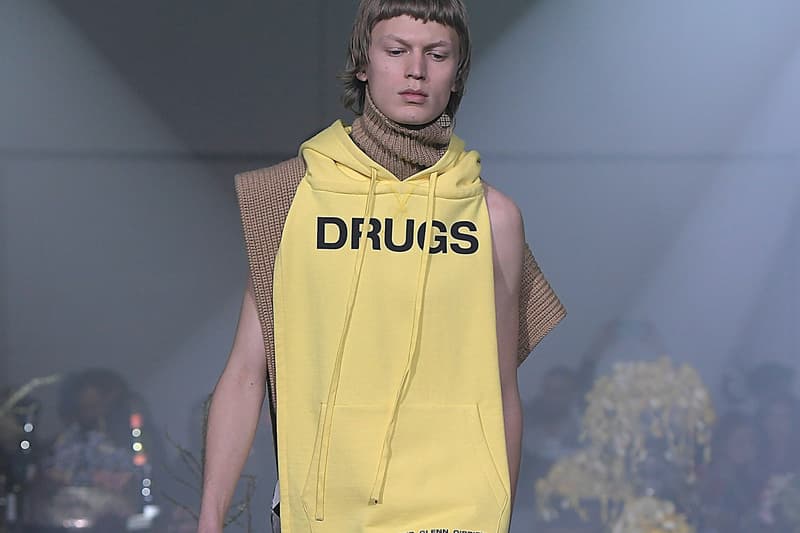 New York Fashion Week is going through some tough times. The American fashion capital has struggled to maintain the same relevancy, prestige and attendance of its European counterparts for years now, and despite an attempt to amass a more global crowd by merging both its men's and women's events – resulting in a whopping 10-day-long lineup – the Big Apple can't seem to shake off its lackluster reputation. Soon joining the likes of ex-NYFW highlights Thom Browne, Proenza Schouler and Altuzarra are Alexander Wang and Victoria Beckham, both of whom presented their last respective collections here this season, making New York's roster of must-see shows even smaller.
It takes more than expensive fabrics and decent needlecraft to really capture an audience's attention; the formula for a well-regarded line comes down to a cohesive edit, an innovative concept and a narrative that sparks dialogue which expands beyond just the clothing. But it's not all forlorn. While New York Fashion Week teeters heavily on the safe side with dull, commercially applicable designers, a light handful keep the city's creative pulse beating.
Here are our five favorite collections from New York Fashion Week Fall/Winter 2018.
Raf Simons
This season marked Raf's one-year anniversary in New York, holding a spot as the week's biggest headliner. The designer has managed to amp up NYFW's spirits if even just a smidgen –  the words "I'm only excited to see Raf" are usually uttered multiple times throughout the week – and with three lauded seasons under his belt, it's clear to see why.
Instead of a harshly-lit runway in a stale studio space, the designer transformed a palatial warehouse into a Last Super-meets-rave party scenario complete with heaping mounds of food and drink, pulsating techno and flickering laser lights. Guests were encouraged to consume the spread (very few did), making the experiential factor all the more impressive.
Placing everything into context, the collection, dubbed "Youth In Motion," took cues from Uli Edel's cult 1981 film Christiane F., which chronicles teenage drug abuse during Cold War-era Germany, and Cookie Mueller and Glenn O'Brien's mid-1980s tragic-comic play Drugs. The outerwear, tartan suiting, satin cargo pants and latex evening gloves were a particular highlight, and while the literal references presented via the graphic pieces – "Drugs," "XTC," "LSD," "GHB," "2C-B" – were controversial, they weren't done in vain. Raf always seeks to raise a dialogue about the things that inspire him, how you react to them afterwards only supplement the story he's trying to tell.
Calvin Klein 205W39NYC
Raf's third runway show at the helm of Calvin Klein was his most accomplished to date. Instead of showing at his usual locale – CK's headquarters in midtown Manhattan – the designer invited guests to the American Stock Exchange, which he converted into a dreamy farm scene decorated by popcorn, dangling Sterling Ruby sculptures and barns covered in Andy Warhol photographs.
Signature CK by Raf touchstones such as Western shirting, side-stripe trousers, cowboy boots and boxy overcoats formed the collection's crux, but the designer's Americana narrative this season felt far more conceptual. Scratching on the surface of Raf's moodboard were the days of early Western pioneers (patchwork chiffon gowns, plaid 19th-century dresses, prairie skirts), the '60s Space Race (astro gloves, futuristic googles, metallic leathers), rescue workers (firemen chore coats, balaclavas, rubber hazmat boots) and pop culture (Looney Tunes and New Hollywood channeled via collegiate knitwear and a Simon & Garfunkel soundtrack that echoed Mike Nichols's cult 1967 film The Graduate).
Raf is clearly coming into his own here in the States, looking beyond postcard tropes and delving deeper into the nation's rich albeit complicated history.
Coach 1941
It seems like the wisest move for heritage American houses looking to revive their youth cred is to hire a European creative lead. British-bred Stuart Vevers's millennial take on contemporary ready-to-wear has placed Coach 1941 on the radar for a whole new demographic, proving that commercial can be cool.
For its Fall/Winter 2018 show, the label turned a spacious indoor basketball court into a spooky Blair Witch-type forest decorated by glittery foliage, static television sets, fog and barren trees. The collection's primary theme centered around Southwestern American gothic, marked by black leather trenches, distressed cowboy boots, studded Western shirts and oxblood cords. The hooded logo puffers, furry overcoats and flat-top sneakers added an ever-subtle streetwear touch, which was supplemented by a booming soundtrack consisting of heavy hip-hop cuts.
Abasi Rosborough
A runway debut is never an easy feat, especially for a young label, but Abasi Rosborough's impressive execution made them seem like seasoned veterans. The design duo have been a fixture in the menswear community since their first collection back in 2013. Lauded for their ethical production techniques and use of sustainable fabrics, Abdul Abasi and Greg Rosborough's steady progression ranks them above just another mention in a "brands to watch" listicle.
Hosted in the Cadillac House event space, alt-R&B star Kelela and famed guitarist Tosin Abasi, brother of Abdul, provided a live, ethereal prog-rock soundtrack while models donning holographic geometrical cut-outs on their faces marched out in a series of conceptual sportswear. "We're referencing technology like cryptocurrency, self-driving cars, face-recognizing phones and we want to know: where is that all taking society?," Greg Rosborough told us. "The collection starts with suiting with Eastern influences — in line with our past designs — with the zen influences getting more dystopian, with more color and less dark stuff."
Designers new to fashion week sometimes fall victim to delivering collections that are either overtly commercial or art school reject fodder, but Abasi Rosborough's well-edited mix proved that abstract designs can be both wearable and edgy.
John Elliott
This season welcomed refreshing new territory for LA-based designer John Elliott. A sophisticated departure from his traditional elevated gymwear, Elliott's Fall/Winter 2018 collection churned out a rotation of accessible-yet-adventurous looks combining lush fabrics and bold patterns with loose cuts and warm colors.
In addition to presenting a debut womenswear line, the show presented a slew of statement footwear including Creepers, Dr. Martens derbies and a series of Nike sneakers, such as the Air Humara, Vandals  and the cult classic Air Monarchs. Grey mohair topcoats, a cracked leather biker, a mocha alpaca bomber and a mustard corduroy work jacket made up the selection's outerwear highlights, while iridescent leathers, multi-colored tartan wool and silky nylon gave traditional sartorial staples a punk-ish edge.
Recap everything that happened this season by checking out Fashion Week Fall/Winter 2018.