What Fashion Insiders Thought About Raf Simons's Fall/Winter 2018 Show
"Depressed Raf sure as hell makes cool clothing."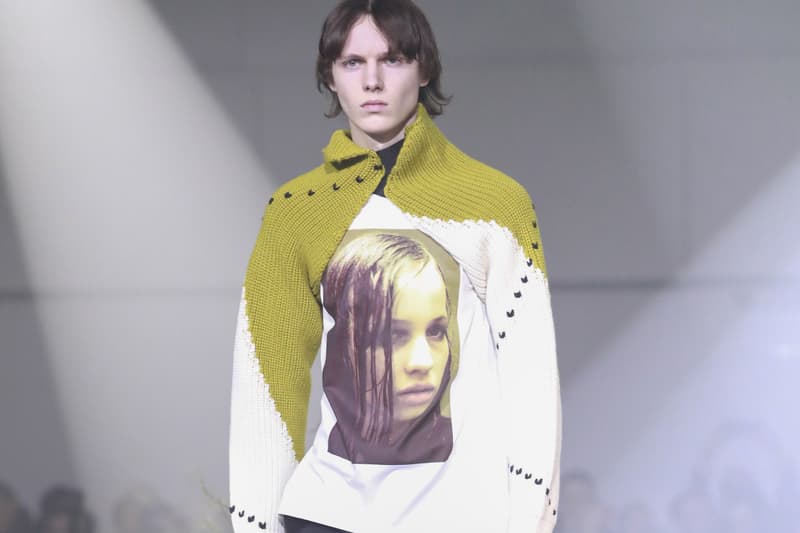 Last night, menswear darling Raf Simons debuted a loaded Fall/Winter 2018 collection to a full house of industry glitterati. The show marked Simons's one-year anniversary since being tacked on the New York Fashion Week: Men's lineup, where the designer has become the event's biggest — if not only — highlight.
The collection, dubbed "Youth In Motion," drew inspiration from Uli Edel's 1981 film Christiane F., which chronicles teenage drug abuse during Cold War-era Germany, and Cookie Mueller and Glenn O'Brien's mid-1980s play, Drugs. Models marched along a maze-like catwalk decorated by heaping mounds of food and drink while a searing techno soundtrack and multi-colored laser lights echoed a setting akin to an underground warehouse rave party. Unsurprisingly, the spectacle elicited considerable dialogue and polarized reactions, with many questioning Raf's commentary on drugs and addiction.
We asked a few industry insiders to weigh in on Raf's show, its controversial subject matter and whether the designer is making a substantial impact on New York's dwindling fashion week.
Lawrence Schlossman, Grailed Brand Director
I mean, Raf gonna Raf. I thought the outerwear, as always, was totally in a league of its own, though all those Dickies for me are a complete miss. I already know I'm going to regret seeing them all over SoHo and Instagram, hanging limply off of pasty teenage necks. The drug reference bonanza was a bit too on the nose for me since that's like the most obvious Raf shit ever, but I can get behind the cautionary tale that informed the entire collection and the soon-to-come financial support for addiction programs.

In terms of the bigger picture, living and working in America is clearly bumming Raf the fuck out, and while I can't speak to how he is handling that personally, depressed Raf sure as hell makes cool clothing. Is that aforementioned cool clothing moving the needle for NYFW as a whole? Based on what I saw this week, absolutely not. We still have a sad, unfortunate mess on our hands.
Gregk Foley, Journalist
This collection was a big improvement for me. I love the asymmetrical pieces and the disruptive styling, particularly the bunched-up sleeves with long, leather gloves – for some reason I get this strange cyborg/android vibe from it.

Regarding the drug references, at first glance it seems a bit crude, but in the light of the collection's inspiration points, it makes more sense; placing these bold, disruptive panels with different drug names on them. There's a quote I read about the filmmaker Gaspar Noé wanting people to acknowledge that characters like the ones in his films actually exist in real life. I think something similar is going on here. Acknowledge drugs as a reality.
I loved the set design. There was this collision between hedonism and industrialism which really tapped into that conflict of drugs, and club culture as escapism in the best and worst senses. Living in Berlin, you meet a lot of people in clubs that leave you wondering whether they're really living for the weekend, or if they're just running from the rest of the week. Again, it's a depiction of the reality; good and bad, high and low, constantly colliding.

As for Raf Simons's impact on New York Fashion Week in general, I think he's definitely drawn more attention to the week, which has been a bit lackluster for a few seasons. Fashion weeks are like festivals. You need big names to get the attention, and Raf Simons is undoubtedly their headline act right now. Whether he'll stay there longer, perhaps with Calvin Klein, but the entire fashion industry is shifting around faster and faster every year and it's difficult to know how long anything is going to last.
Alex Kasavin, Idol Brooklyn Co-Founder
Raf Simons is one of the rare auteurs in men's fashion. With each show and collection, he is expanding on a highly personalized body of work. As many previous presentations, the Fall/Winter 2018 "Youth in Motion" show was held in a dark, raw warehouse space that had the feel and ambiance of an illegal rave party. With lasers dancing overhead, the models walked to a soundtrack of techno trance music in clothes boldly adorned with drug-inspired prints: scenes from the cult film Christiane F. and graphics inspired by an obscure long-lost play called Drugs written by downtown NYC icons Cookie Mueller and Glenn O'Brien in the mid-80s.

Beyond the graphics were some of the most interesting tailoring and design I've seen from Raf Simons to date. Highlights include the coats with multi-pocket linings, anatomical jointed trousers and deconstructed bib-style turtlenecks and hoodies. There were standout accessories as well: long gloves, a massive silver bracelet on a watch-strap, fabric sling bags, and the signature bunny boots. While fashion likes to flirt with the art world I feel Raf Simons can be genuinely regarded as an artist in his own right. His sincere and singular vision is a welcome antidote and counterbalance to the more commercial tendencies of NYFW and the fashion industry itself.
Ashley Simpson, Journalist
Raf Simons was at his most authentic last night. The fetishization of drug culture, Bowie's 1970's Berlin, Christiane F. and a set that came forth as a physical representation of a night's aftermath — this collection felt less performative or observational than a direct line to something very personal.

The use of neon, sexed-up elbow gloves, the "Drugs" knits and slouchy pants reading "LSD" and "XTC" on the knee caps — these clothes were about, yes, drug culture, but also survival, subculture and the things we latch onto to create community when we're at our most isolated. He said it was about the opioid crisis. The idea of spoiled teens wearing those "Drugs" hoodies thinking they're cool when they're just as much about our pharmaceutical epidemic as Simons's obsessions growing up — this is a bleak offering. Fucked up but that's the point. He didn't go overboard. It felt restrained enough.

Is he invigorating New York Fashion Week: Men's? It would take more than this. The week never had it to begin with. I'd like to see more brands that align with the city, that are born here, show here. Maybe that would do it.
Julien Boudet, Photographer 
Once again, Raf didn't disappoint his fans. The set was fabulous, it seemed like we walked right inside a Caravaggio painting. The contrast with the loud EDM playing in the space was on point. The collection itself was super strong, I particularly loved the new version of his boots and the long-sleeve gloves. One extra point for the drinkable/edible set – the waffles were super good, but were we really supposed to eat them?
Keep up to date with the latest collections by following Fashion Week Fall/Winter 2018.