An Air Jordan 1 Billboard Pops up in Los Angeles
Did MJ really pay $5000 USD a game for wearing these?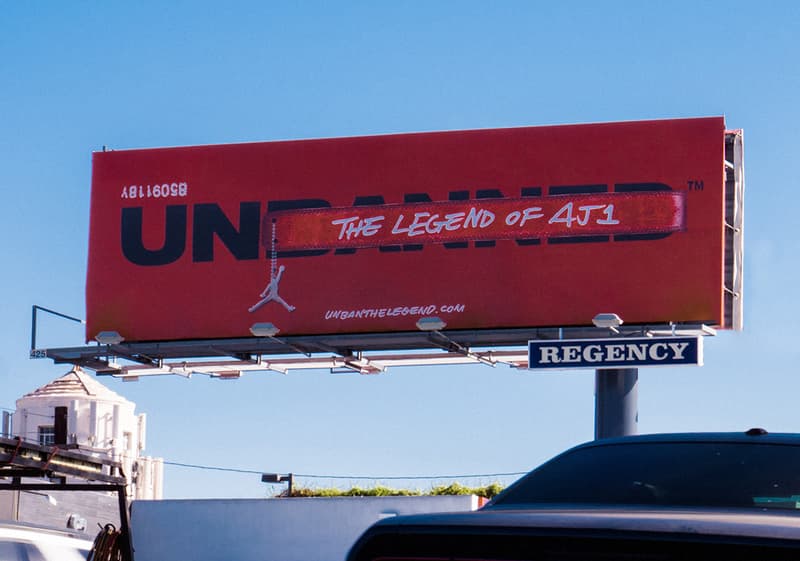 Adding fuel to the recent heavy news releases from Jordan Brand, it appears a billboard has gone up today in Los Angeles, promoting an upcoming documentary on the legendary Air Jordan 1 model. On the billboard we can see the word "UNBANNED" covered by a strip of red that reads "The Legend of AJ1" — all in the infamous "Banned" colors of red and black.
The hype surrounding this documentary will most likely play into the nostalgia of Michael Jordan, because as early as 1985, he was considered one of the more rebellious players in the NBA, breaking the uniform rule which led to the alleged payment of $5000 USD per game for rocking these AJ1.
Fans of His Airness will be excited to learn that the documentary's site is up and running, with a countdown timer putting its release in June. While we have you on retros and legendary pro-models, Nike has just confirmed the return of the Nike Zoom Kobe 1.
? Documentary about the shoe that changed the world. Available for purchase, Summer 2018 https://t.co/KqnqCWaXCg

h/t @kustoo pic.twitter.com/RthKWi56gi

— J23 iPhone App (@J23app) February 7, 2018