8 Drops You Don't Want to Miss This Week
Featuring Chrome Hearts, A-COLD-WALL*, Off-White™ and Supreme.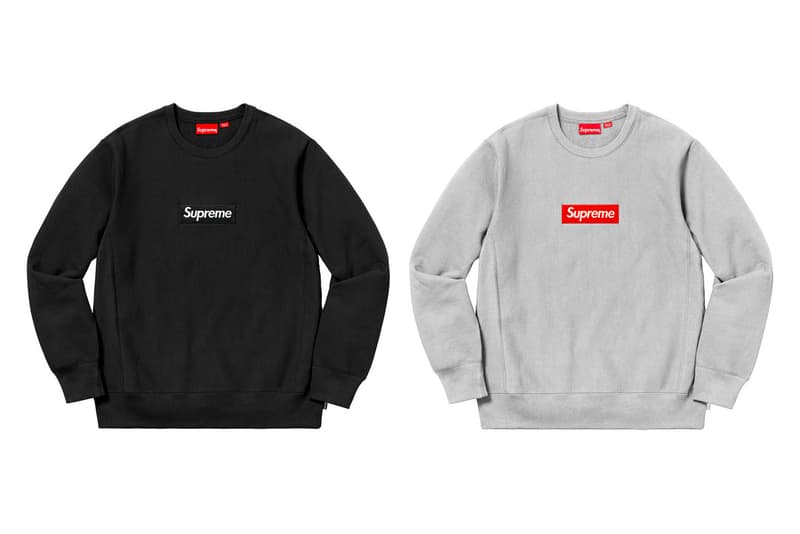 Marking this week's list of notable weekly product drops, Supreme is set to deliver its week 17 pieces lead by the release of its highly anticipated Box Logo Crewneck. Palace, on the other hand, is continuing the launch of its Ultimo 2018 collection with the third set of the expansive range.
Collaborations this week come from Off-White™'s latest team up with Italian retailer Rinascente and some special items from Chrome Hearts and Off-White™ and COMME des GARÇONS. Other standout releases include Fall/Winter 2018 wares from Blackmeans and staple pieces from Fear of God ESSENTIALS. Rounding things up is an archive reissue from Yohji Yamamoto's emerging S'yte label and yet another capsule release from A-COLD-WALL*.
Key items this week include the S'yte Hameauze jacquard knit graphic crewneck, Blackmeans' reversible mouton leather vest and Palace's nostalgic "Now That's What I Call Palace" T-shirt. Finally, from Supreme, we have some less obvious items like the vampire waffle thermal, Jesus and Mary hoodie and matching sweatpants.
Supreme FW18 Collection Drop 16
Taking a break from collaborations, this week, Supreme is releasing a set of crewnecks decorated with its famed box logo motif. Available in nine colors, the classic grey look and monochromatic black take are set to be the most coveted colorway.
Some items that will gather some more attention include the reflective camo down jacket, Polartec® hooded raglan jacket and matching Polartec® balaclava. Unfortunately, we don't see any boldly branded accessory drop this week.
When: December 6
Where: Supreme Online & Retail Stores in NY, Brooklyn, London, France & Japan
Off-White™ c/o Rinascente Capsule
Virgil Abloh's Off-White™ label recently teamed up with high-end Italian retailer Rinascente for a new capsule collection.
Dubbed Off-White™ c/o Rinascente, the capsule is comprised of a hoodie, t-shirt, cap and belt expressing dueling tones of black and metallic silver. Leaning on the minimalist side, the monochromatic items in the capsule are simply dressed with freehand renditions of Off-White™'s signature arrow motif.
When: Now
Where: Off-White™ Web Store
Blackmeans FW18 Outerwear
Gearing up for the colder days ahead, Blackmeans recently dropped an array of outerwear from its FW18 collection.
Building on the brand's established punk/biker aesthetic, the release features double rider leather jackets in various renditions — from the more classic leather silhouette to a paneled version and even one with a shearling collar. Another notable piece is the multicolor fur jacket constructed of synthetic fur patches expressed a mix of burgundy, white, black, yellow, and pink tones.
When: Now
Where: NUBIAN
Chrome Hearts Art Basel 2018 Capsule
To celebrate this year's Art Basel Miami, Chrome Hearts put together an exclusive capsule for the annual event.
Tapping Off-White™ and COMME des GARÇONS, the special range is comprised of graphic-heavy hoodies, long- and short-sleeved T-shirts, and sweatpants along with CH branded accessories such as bags and sunglasses. Rounding up the capsule are additional team-ups with Baccarat, Matt DiGiacomo and The Elder Statesman.
When: December 6
Where: Chrome Hearts Miami Design District Location
Palace Ultimo 2018 Drop 3
Following up last weeks release, Palace is back with Drop Three of its highly anticipated Ultimo 2018 collection.
This time around, the set of winter-ready wears is comprised of jackets, hoodies, knitwear, T-shirts, caps, beanies and pouches that feature an array of references. Leading this weeks drop is the three-in-one "Converti Certi" jacket, "Frosty Pal" ice hoodie and "Now That's What I Call Palace" T-shirt.
When: December 7
Where: Palace
Fear of God ESSENTIALS "California Winter 2019" Collection
Turning focus to his recently-launched diffusion label, Fear of God ESSENTIALS, designer Jerry Lorenzo put together a collection of everyday staples.
Dubbed "California Winter 2019," the latest range is comprised of uniquely cut denim jackets, hoodies, sweaters, T-shirts and sweatpants dressed simply with the "ESSENTIALS" logo. Accompanying the capsule is also a release of the FoG x Shaniqwa Jarvis "Postcard" capsule of t-shirts and hoodies.
When: December 7
Where: Fear of God and Select Retailers
S'yte Yohji Yamamoto Knitwear Reissue
The latest selection from Yohji Yamamoto's emerging S'yte diffusion recalls some of the Japanese designer's famed presentations.
Paying homage to his Spring/Summer 2004 and Fall/Winter 1995 collections, the six new jacquard knit goods are decorated with a series of collaged imagery directly taken from those older collections. Available in red/black iterations, the winter-ready wears feature evocative motifs of flowers, geishas, oni, manga characters and skulls in top hats.
When: December 7
Where: Yohji Yamamoto Web Store
A-COLD-WALL* "GLARE" Capsule
Continuing to deliver seasonal releases, A-COLD-WALL* recently dropped its latest capsule collection.
Titled "GLARE," the range features new materials and a new color palette centered around the label's industrial design aesthetic. Textiles used include metallic Tyvek and technical nylons in a range of tones, from classic black and browns, to deep purple, "Burnt Moss" and "Polished Stone." Accenting details come in the form of an embossed diamond metal ACW patch, 3M piping slices, translucent nylon buckles and tri-gliders.
When: December 9
Where: A-COLD-WALL* Web Store