8 Drops You Don't Want to Miss This Week
Featuring Palace x Ralph Lauren, Supreme, BAPE, and visvim.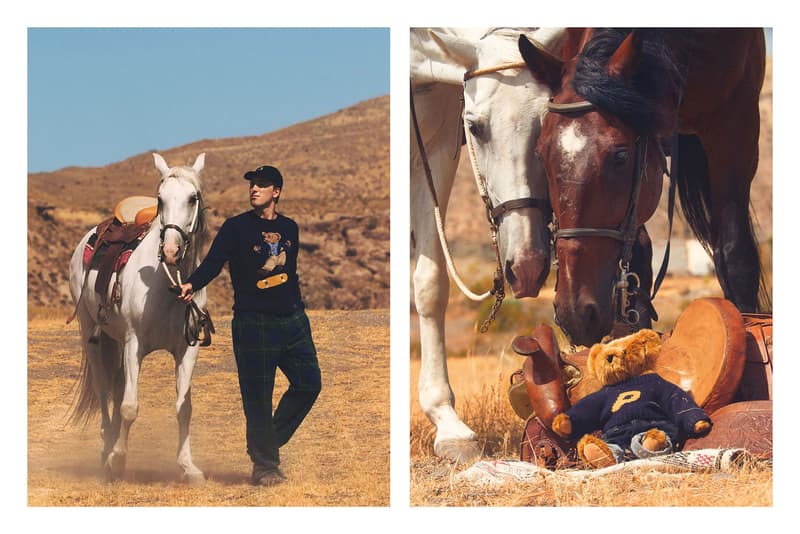 This week's list of weekly product drops sees a number of exclusive items mixed in with pre-season offerings. While names like visvim and A-COLD-WALL* team up with online retailers MR PORTER and Matches Fashion, respectively, BAPE and NOAH have released a special batch of items celebrating both an 8-year anniversary, and the opening of Dover Street Market Los Angeles.
Arguably the two biggest names in street fashion right now, Palace and Supreme, are also releasing a number of items that are sure to sell out immediately. First up, Palace continues to push its boundaries by teaming up with one of the world's most recognizable heritage brands, Ralph Lauren, for a sizable collection. In this collection we see the name Palace joined with Ralph Lauren's iconic Polo logo; placed on everything from jackets, caps, shirts, rugby tops, house slippers, all the way to skate decks. Supreme matches Palace's big release with a number of bold and bright items including a collaboration with Nike and COMME des GARÇONS SHIRT, as well as a small release of hoodies and tees with British visual artist, Chris Cunningham.
Key items this week include the Palace x Ralph Lauren Kickflip Bear knitted top, the Palace x Ralph Lauren Polo skate decks, BAPE China's anniversary Skark Hoodie Mask, visvim's Yukata Oversized Wool-Trimmed Quilted Nylon Down Coat for MR PORTER, and Supreme's Casino-Print jacket and its SOG KeyTron folding knife.
Supreme FW18 Collection Drop 12
With the Supreme x COMME des GARÇONS Shirt x Nike AF1 dropping this weekend, the New York streetwear stalwart kept it a bit more quiet on the apparel collab side for good measure. This Thursday will see the recently announced Chris Cunningham pieces arrive alongside the casino-themed goods, Obama repeat-print tees and SOG® KeyTron folding knife.
When: November 8
Where: Supreme Online and Retail Stores in NY, Brooklyn, London, France, and Japan
Palace x Ralph Lauren FW18 Collection
Palace and Polo Ralph Lauren will launch their collaboration this week. Bringing two worlds together, both
imprints lay down a heavy dual-branded drop that sees an assortment of graphic-heavy looks. Mixing skate with heritage, we see trousers, rugby shirts, jackets and coats, corduroy caps, a stuffed bear, and even skate decks. We also cannot forget the sure-to-sell-out kickflip polo bear knit.
When: November 9
Where: Palace's Web Store and London/NY/TYO Flagships
visvim x MR PORTER Capsule
Adding to its series of high profile exclusive capsule releases, MR PORTER recently tapped visvim for a limited release 28-piece collection. Inspired by the outdoors, the special range focuses on California National Parks and the counter-cultural style of the Yosemite Valley Camp 4 rock climbers in the '50s and '60s. Aside from the 24 ready-to-wear pieces, is a rugged one carry option and three different footwear styles. Other notable items include a distressed denim jacket, a navy shirt made from custom moleskin, and a light blue uneven-dye Selmer long cardigan complete with California bear emblem.
When: Now
Where: Exclusively at MR PORTER
Midnight Studios "I REMEMBER NOTHING" Collection
Coming back for Fall/Winter 2018, Midnight Studios recently released its latest range of seasonal releases. Dubbed "I REMEMBER NOTHING," designer Shane Gonzales touched on military and sporting-style codes, reflective detailing and oversized silhouettes through an established subculture-informed lens. Some notable pieces from the collection include the 3M reflective tracksuit, tactical cargo pants and bondage chest holster.
When: Now
Where: Midnight Studios
YMC Pre-Spring "PANIC" Collection
UK-based label YMC gives its first look of the pre-Spring collection. Titled the "Panic" capsule, YMC features a number of reworked pieces from the label's archive and wider Fall/Winter 2018. The range features tailored fits and muted colors. While most outerwear pieces remain slightly mature, but casual, shirting and sweaters see a pop of vibrant colors.
When: Now
Where: YMC Web Store
BAPE China 8th Anniversary Exclusive Capsule
Shortly after celebrating BAPE's 25th anniversary, the Japanese imprint's China division is also gearing up to commemorate its 8th anniversary. BAPE China put together a special range centered around the populous nation in East Asia. Flight jackets, long- and short-sleeved shirts, T-shirts, and Shark Hoodie masks, included in the series all come decorated with Chinese characters along with festive red, yellow, and white camo prints.
When: November 10
Where: Online & BAPE Locations
NOAH Dover Street Market LA Exclusives
Joining other brands that are helping launch Dover Street Market Los Angeles, NOAH delivered its seasonal offerings along with two exclusive T-shirts. Both of the commemorative T-shirts serve representations of the New York Streetwear label's idea of the California city. The leading T-shirt features St. Michael's "City of Angels" character, while the other sports a "Fight Smog, Jog" slogan with a running sneaker print.
When: Now
Where: Dover Street Market Los Angeles
A-COLD-WALL* x Matches Fashion Capsule
A-Cold-Wall* has teamed up with retail giant Matchesfashion.com for an exclusive capsule of experimental knitwear and overdyed nylon. The 14-piece collection explores designer Samuel Ross's interest in deconstruction and industrial influences, offering pieces with unique detailing such as removable graphics and detachable pockets. The range's theme is further expressed via a color palette of black, "Burnt Orange," "Slate" and "Taupe" hues. Prices range from £55 to £1,410 GBP (about $70 to $1,850 USD).
When: Now
Where: Matchesfashion.com