Face Masks Return as Fashion Week's Biggest Trend
Will runway's new star accessory take to the streets?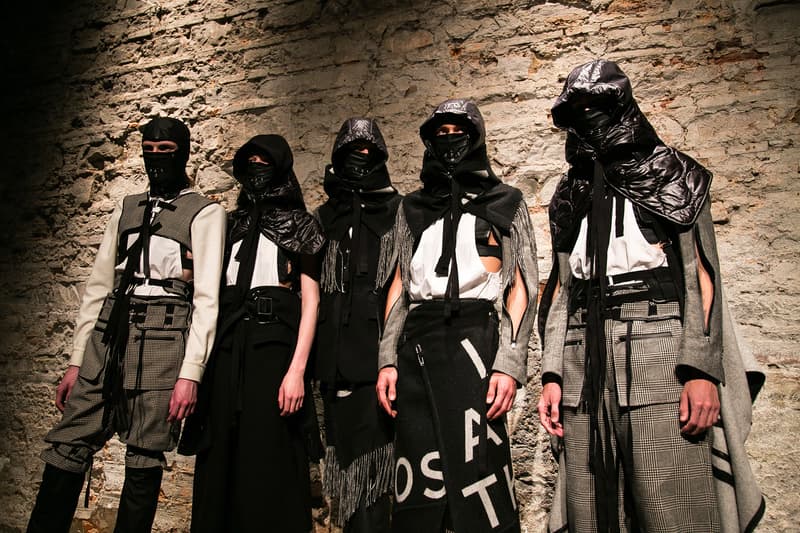 Fashion Week Fall/Winter 2018 has cycled through London, Milan, Pitti and Paris, and amidst the loud styling themes that carried on from past seasons — exaggerated proportions, clunky footwear and maximalist patterns — another in-your-face trend stood out on the runways with fierce insurgence: face masks.
This season, designers embraced a new wave of face gear that ranged from OG surgical masks and balaclavas to more elaborate designs such as detachable hoods and sculptural headwear. Themes of tech wear anarchy (as seen in Takahiro Miyashita's TheSoloist army), harlequin villains (Astrid Andersen and Alex Mullins's rococo/tie-dye ski masks) and medieval punks (Moschino and Palm Angels' metal-clad, leather skins) weaved together an apocalyptic attitude that took fashion's penchant for nonconformity to another, more literal level. Other designers such as COMME des GARÇONS HOMME Plus and Julien David took the theme one step further, presenting straight-up theatrical animal masks that channeled sinister childhood terrors.
While the visage may be relatively untapped territory in traditional fashion, face masks have had a long run in cult streetwear domains. In Asia, surgical masks began as a healthcare aide for pollution and disease, first dominating the streets during SARS and the bird flu epidemic, and persisting as a daily necessity in lieu of worsening air quality in densely populated cities. K-Pop stars and denizens of Harajuku and Shibuya eventually wore masks more frequently in stylish settings, primarily as aesthetic solutions to accentuate features and face shape, or to hide plastic surgery recovery.
Notable stepping stones that took the face mask from a health care tool to a fashion statement include Korean fashion labels D.GNAK and 99%IS-, who embraced the face mask on the runway and sold ripped versions that rejected the accessory's sole function; BAPE, whose long archive of face masks and full-zip hoodies gave meaning to the term BAPEhead; and Beijing creative Zhijun Wang, whose sneaker-masks started as a reaction to China's acute air pollution but found viral success among the streetwear-sneakerhead cult.
Face masks were similarly borne-of-necessity in the tech wear category. They started as a functional accessory for cold climates and military gear, then moved to the urban setting when cityscape photographers and graffiti artists utilized them to trespass prohibited areas and conduct large-scale vandalizations. Anonymous street artists such as Shin of Sk8thing and Kidult wore masks to conceal identity and overcome obvious legal implications, but also as an inadvertent way to build on artist persona.
It was perhaps the intersection of pop culture and luxury fashion, however, that gave the face mask trend the largest global, mainstream stage. Recent hallmark moments include Kanye's jeweled Maison Martin Margiela masks, Rihanna's head-to-toe glitter Gucci suit and that time A$AP Rocky wore a ski mask to a Y-3 runway show. Of course, notable precursors such as MF DOOM, Daft Punk and even Sia must also be credited for using masks as a central element of their character. They, much like street artists, used the covert accessory to focus public attention on their art, but also to draw in more fascination.
Face masks may be embraced by Asian culture for its health aide and aesthetic solutions, celebrities for their striking stage presence, and artists for its ability to conceal identity and build persona, it's still unclear whether the current generation of the face mask trend — which has evolved from a stealthy utility accessory to a more elaborate statement piece — is practical enough for the everyday fashion enthusiast to wear on the streets. Nonetheless, the Fall/Winter 2018 runways are reason to believe that designers are setting their eyes on face masks as the next statement trend.