The 5 Best Collections from New York Fashion Week Spring/Summer 2018
From horror film-inspired tailoring to rave-meets-motocross streetwear.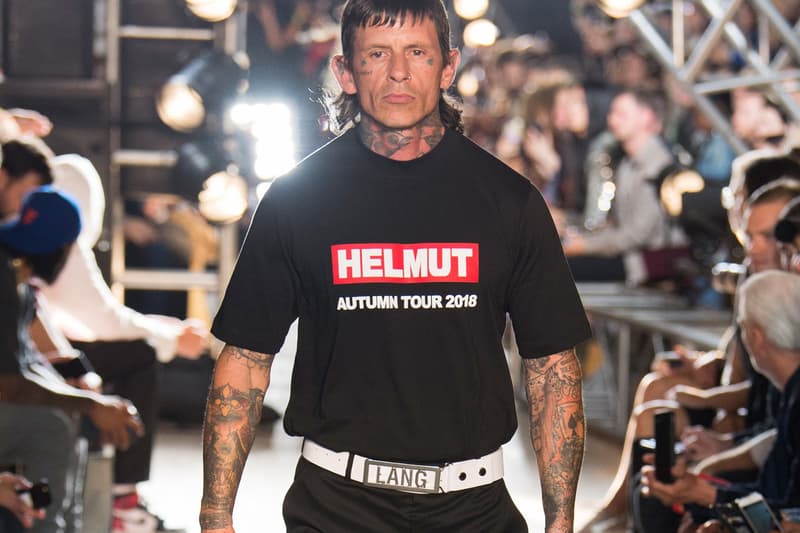 After eight long days of rigorous show-hopping, New York Fashion Week's Spring/Summer 2018 sartorial parade is done and dusted. As usual, the Big Apple kicked off fashion month with a bang, attracting hordes of esteemed industry veterans, celebrities and fans from all over the world.
Though the relevance and creative merit of New York Fashion Week has recently entered hot debate, this season was met with a modest but applaudable range of collections that stepped out of the week's typically lackluster gamut.
From horror film-inspired tailoring to rave-meets-motocross streetwear, here are the five best collections from New York Fashion Week Spring/Summer 2018.
Calvin Klein
For his sophomore Calvin Klein collection, Raf Simons flipped the page of his Americana narrative to a more horror-themed chapter. Employing similar staples that dominated his Fall/Winter 2017 debut – including Western shirts, cowboy boots and form-fitted tailoring – the designer took a macabre direction by peppering motifs inspired by old school American slasher films.
Bags sported dangling cheerleader pom-pom tassels, long leather trenches were violently splattered with paint, footwear was crafted from white hockey masks (a cheeky nod to Friday the 13th's iconic villain, Jason Voorhees) and opera gloves were cut from shiny skintight rubber. Placing everything into context was the show's eerie, synth-driven soundtrack, which featured score samples from films like A Nightmare On Elm Street (1984) and The Exorcist (1973).
Helmut Lang
Arguably one of the week's buzziest affairs, Helmut Lang's debut collection at Shayne Oliver's design helm, and direction under the house's editor-in-residence, Isabella Burley, was a must-see for all NYFW attendees (hence the madness that occupied the show's front door check-in). Soundtracked by longtime Hood By Air collaborator, Total Freedom, a diverse cast marched down the runway to a mix of industrial/ballroom beats and Whitney Houston reworks in a series of Matrix-tinged leatherwear and dismantled tailoring.
Overt homages to the label's former designer came by way of sleek metallic leathers, razor sharp silhouettes and fetishistic embellishments. However, the collection's kink streetwear-inspired pieces were all Shayne's doing — albeit a more mature demonstration.
Fenty PUMA
There's a reason why Rihanna's Instagram handle is @badgalriri. For her fourth PUMA-collaborated collection, the singer brought the show back to New York Fashion Week, transforming the Park Avenue Armory into a pink sand dune motocross apocalypse. Kicking off the high-octane event were professional motorcycle stuntmen, who soared mid-air and performed 360-degree tricks over the runway as models strutted in a series of colorful X Games, raver and surfing-inspired streetwear.
Though motocross graphics have been trending for a minute now, RiRi, as demonstrated with every Fenty PUMA collection to date, isn't one to relay her style interests subtly, making everything she does that much more of a vibe. After all, it's Rihanna's world and we're just living in it.
Eckhaus Latta
Perhaps you can recall low-key downtown NYC label Eckhaus Latta from its steamy campaign that went viral a few months back. Though not without sex appeal, Mike Eckhaus and Zoe Latta's Spring/Summer 2018 collection unveiled the duo's more polished side, merging the imprint's trademark quirky flair with delicate tailoring and experimental knits.
Hosted inside a spacious Bushwick locale (right across from Alexander Wang's grand-scale affair) on a balmy Saturday morning, the show was a refreshingly calm breath of fresh air that displayed the buzzy label's most accomplished and versatile collection to date.
Coach 1941
Coach's millennial take on contemporary ready-to-wear makes it one of the more progressive commercial American houses to dominate NYFW's calendar. For the passed few seasons, the heritage label has seamlessly reworked youth culture trends in a way that doesn't feel forged or out of place. The brand understands its consumer yet refuses to turn a blind eye to an ever wavering style climate, making its current fan base happy while accruing interest from a new consumer market.
Set inside a glittery replica of a New York City alleyway, Coach's Spring/Summer 2018 collection took cues from the city's vibrant creative past, paying homage to iconic downtown graffiti artist Keith Haring on a range of T-shirts, bomber jackets and sweaters. An assortment of Western shirts, varsity knits and leather biker trousers preserved creative director Stuart Vevers's ongoing love of Americana, while Hawaiian shirts, zip-closed dress pants and raw denim marked new territory for the brand.
Be sure to recap all of our New York Fashion Week Spring/Summer 2018 coverage.