Supreme's Banner Has Allegedly Been Stolen From Its NYC Store
Protest for the cancellation of the Supreme x Louis Vuitton New York pop-up possibly.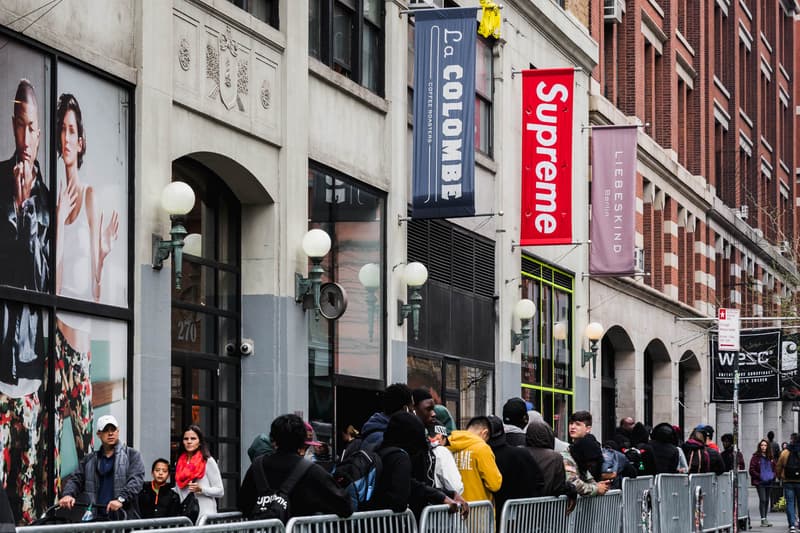 An image of what may be the Supreme NYC banner made its way onto a Facebook group over the weekend. Allegedly stolen from the Lafayette storefront, an account by the name of Zoe Godz posted the image of the banner for sale for $666 USD on the Facebook group "Buying and Selling BBC, Bape, Supreme (NYC)." There was also another image of someone, presumably Zoe, draped in the banner along a waterfront.
The exact post from Zoe Godz reads, "WE GOT THE BANNER TO NYC SUPREME STORE IF U HAVENT NOTICE ITS GONE ITS CUZ I GOT IT !!!!!!!!!!!!!!!!!!!!! HMU FOR OFFERS SILK MATERIAL LMAO ZOE GOD SHIT." It wouldn't be out of the question for someone to actually steal the banner from Supreme considering resellers waited nearly a week outside of the supposed Supreme x Louis Vuitton pop-up last week only to have the drop cancelled.
Whether or not this is true, the post has since been deleted but Supreme does currently have scaffolding up at the location and could have removed its banner due to construction. In other Supreme-related news, check out the key investment items from the Sup x LV collab and the teaser for a possible upcoming Jim Carroll-inspired drop.