The Five Labels Bringing New Life to NYFW: Men's
The Big Apple's finest.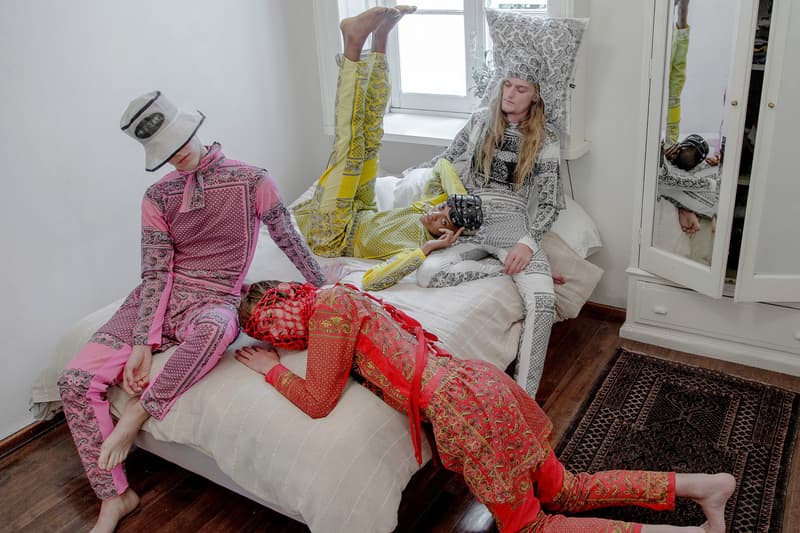 While New York Fashion Week once held a prime spot on the fashion month calendar, the men's edition of the week-long event currently stands vulnerable to the trend of major labels shifting to mixed gender shows. As the seasons pass, the calendar seems to grow thinner and thinner, with Raf Simons being one of few major shows left standing.
Offering a glimpse of hope for the future of NYFW: Men's is an influx of fresh faces. These noteworthy labels proved their place amongst the larger names at the semi-annual event, reminding us that in the always turning fashion cycle, a new herd of designers are ready to step in where their predecessors left off. Below, we uncover the noteworthy labels from this year's New York Fashion Week Men's 208 spring summer, positioned to reinvigorate the once iconic week.
Raun LaRose, '80s-Inspired Progressive Looks
About the Designer, Raun LaRose
Brooklyn born and raised designer Raun LaRose's obsession with fashion began at an early age. Growing up, the budding designer watched his seamstress mother design high-end womenswear to learn the ins and outs of tailoring. Gaining invaluable knowledge regarding fashion, fabrics, and designing from his mother, LaRose decided to turn his obsession into a career, enrolling at New York's Fashion Institute of Technology to study menswear and spending time at the Art Institute of NYC in their womenswear program.
Latest Collection
Following up its CFDA sponsored 2017 fall/winter debut at New York Fashion Week Men's, Raun Larose once again took to the showcase to unveil the retro-futuristic garments of its 2018 spring/summer collection. Titled "System Down," the latest range builds upon the label's avant-garde aesthetic to offer garments informed by the birth of the Silicon Valley and the opulence of Wall Street. Altogether, the dawn of the computer age-inspired range is an oversized take on the signature '80s tech industry look. The label utilizes prints and technical textiles to construct reimagined "Wall Street power suits," jackets, shirts, pants and shorts found in the line. Additionally, the logos featured throughout the collection were designed by Portuguese artist José Cunha and are meant to replicate the screen of a CRT computer when it shuts down.
Instagram: @raunlarose
Shop the brand's current selections at the official site.
Deveaux, Striking Minimalist Classics
About the Designers, Matt Breen, Patrick Doss & Andrea Tsao
In 2013, Matt Breen closed down his SoHo menswear boutique Carson Street Clothiers and shifted his focus to designing clothes. Teaming up with designers Andrea Tsao and Patrick Doss in 2015, the trio launched Deveaux looking to break into the luxury menswear market. After earning critical acclaim for their inaugural 2016 fall/winter collection, the designers have built a name for themselves with their distinct modern and sophisticated American designs.
Latest Collection
The complex yet beautifully simple works of Japanese architect Tadao Ando served as the main inspiration of Deveaux's latest 2018 spring/summer collection. Utilizing the same calculated and meticulous detail found in Ando's work, the collection experiments with depth and visibility. The fluid silhouettes of the range serve as a canvas for lights and shadows to play with the muted rich textile, while the understated detailing and subtle color palette express distinct minimalist design focus.
Instagram: @deveauxnewyork
Shop the brand's current selections at the official site.
Sánchez-Kane, Detailed Outlandish Silhouettes
About the Designer, Barbara Sanchez-Kane
After completing her Industrial Engineering degree at Universidad Anahuac, Mexican born designer Barbara Sánchez-Kane decided to enroll at Polimoda in Florence to pursue a career in fashion. Upon graduating, Sánchez-Kane presented her "Catch as a Catch can" collection at Pitti Uomo which was met with critical acclaim. Recognized by Vogue as an emerging designer to watch, the young designer decided to launch her own eponymous label in 2015. Today, Sánchez-Kane is known for her impassioned menswear focused collections that are deeply informed by her Mexican heritage.
Latest Collection
For her 2018 spring/summer collection, Sánchez-Kane once again channeled the feelings that arise from stereotypes and societal standards directed at minorities. Displayed as more of an art project than a clothing range, the label translated the plight of immigrants into powerful details to embellish garments found in the range. Building upon the label's signature aesthetic language, appendages, wires and wraps were used to construct the constricting designs that graced the runway. Meanwhile, outlandish reinterpretations of staple silhouettes served as a subtle reference to streetwear.
Instagram: @sanchez_kane
Shop the brand's current selections at the official site.
HELIOT EMIL, Battlefield Ready Streetwear
About the Designers, Julius Juul & Victor Juul
Following careers in various creative fields, young Copenhagen born and raised brothers Julius Juul and Victor Juul decided to put their talents toward a ready-to-wear label in 2014. Using their great-grandfather's name Heliot Emil as a starting point, the brothers worked to create an aesthetic that references their own personal taste. The brother duo's first full collection appeared at Milan Fashion Week's 2017 spring/summer exhibition. Today, the brothers are known for their unisex ranges, which feature strong attention to detail and a unique raw aesthetic informed by street culture.
Latest Collection
Staying true to its brand roots, HELIOT EMIL's latest 2018 spring/summer collection draws inspiration from military uniforms and the current trending mixture of streetwear and high-fashion. Titled "Post-Traumatic Combat Stress," the range features a clear combat-seasoned soldier aesthetic in its usage of tactical buckle hardware and parachute cord to express yet another thought-provoking theme. In addition to the customized trimmings, the garments found in HELIOT EMIL's latest collection are constructed of textiles sourced from all around the world—adding an extra layer of complexity to the already impeccable designs.
Instagram: @heliot_emil
Shop the brand's current selections at the official site.
Feng Chen Wang, Defiant Technical Garments
About the Designer, Feng Chen Wang
Graduating from the prestigious Royal College of Art with a Master's degree in Fashion Menswear, emerging designer Feng Chen Wang has dazzled international audiences with her range of minimal to boldly conceptual garment offerings. Wang's collections are often recognzed for their progressive technical outerwear that is designed to seamlessly complement her other garments. Since her runway debut at VFILES in 2016, Wang has proved her place in the future of fashion earning a nomination for the LVMH Prize.
Latest Collection
Feng Chen Wang's 2018 spring/summer collection serves as a defiant stance against the connotations associated with items made in China. Establishing the strength of the message, the latest collection is entirely produced in China and is displayed proudly. With an intense focus on craftsmanship, the garments found in the latest range feature a bold "Made in China" tag, shaking up the concept of mass production associated with the phrase. Feng implemented hues of red and pink to accent the clothing's strong statement, meanwhile drawing attention to the technical tailoring the label is known for.
Instagram: @fengchenwang
Shop the brand's current selections at the official site.
Also, make sure to check out the five buzzing labels from this year's Berlin Fashion Week you should know about.