Grailed Partners With Idol Brooklyn on yet Another Impressive Influencer Sale
Users can now shop store founders Alex Kasavin, Daniel Franco and Wei Du's carefully curated archive.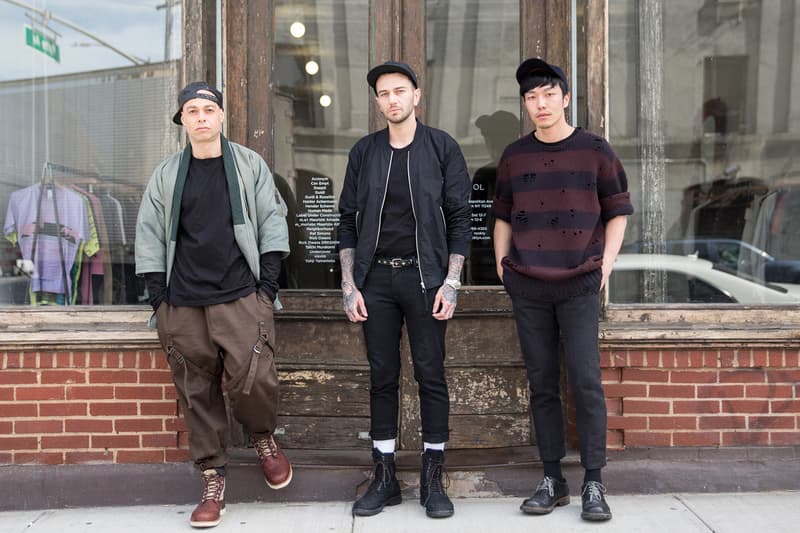 Grailed has been on a tear. The secondhand menswear marketplace has blossomed into a one-stop shop for those dying to get their hands on a rare piece or a pair of shoes from seasons past, as well as partnering with influencers and industry insiders on sales of personal archives. The latest sale comes by way of Williamburg's Idol Brooklyn. The store's owners — Alex Kasavin, Daniel Franco and Wei Du — pride themselves on their taste and the collection on sale is definitive proof of that: vintage visvim sits alongside pieces from TAKAHIROMIYASHITATheSoloIst., and MA+, all at discount prices. Don't sleep—scoop something up before it's all gone forever.
Scroll down for some select quotes from Grailed's sit-down with Kasavin, Franco and Du, below.
Grailed: How did you guys meet? I'm sure there's a long backstory. How did that come about?
Daniel Franco: We can make it short [laughs]. I worked in fashion print publishing and these two guys had a store called GRAYMARKET, which was a block away.
Alex Kasavin: It was an archive. I call it "the pop-up before pop-ups." It was a permanent space. It was documented on like WWD and The New York Times. That's what opened the door to do this.
Daniel Franco: I moved to the neighborhood—I already had relationships with Alex and Wei—and we just started to kind of shoot the shit.
Did you shop at GRAYMARKET?
D: I did. We kind of all wanted to do a full retail concept. We all had different ideas about how that retail concept would play out, what it would look like, what brands we would carry, and you know it goes right back to that, cause everyone kind of had a different thing they were passionate about, but we all had kind of the same general interest in opening a full retail store, and this neighborhood was still like the wild west, there was nothing out here.
What happened with GRAYMARKET?
A: We ran out of inventory. We literally sold everything, And by design, we didn't think about it, but it was impossible to replenish and bring it back to its initial glory.
Was it a trial by fire?
A: It was that, but we learned retail from it and realized that our perspective was much more than what we could do with that specific concept. So we felt that were ready, between the three of us, we had tons of ideas, no one was doing it, the neighborhood was there, and we just felt like we had to do it, so we retired GRAYMARKET.
W: We closed it. GRAYMARKET was also more niche, more specific, so I mean, in terms of our understanding of fashion, that also changed and evolved into Idol, which again is more of a bigger conversation.
A: There was some crossover with Idol, but GRAYMARKET was limited, it was niche, it was very much like a project. We set out to do it for fun. There was nothing like it at the time. Or since, for that matter.
It was a unique moment in time.
A: It was a moment in time, but it was very specific. It was the store where you could buy the Givenchy Jesus shirt and Rick Owens Dunks. And all of it was brand new. There was no way to repeat that kind of splendor.
What are some of the things, the tenets, that you have made sure to bring from GRAYMARKET? Idol is obviously a different thing. This is a more traditional retail shop. What are some lessons from back then that you make sure to bring to this endeavor?
W: I think because that store was so specific and driven by our interest and our knowledge of the pieces and of the designers that we carried, we're bringing that to an even bigger conversation about fashion, in terms of our brand knowledge and how we approach every brand in terms of buying, merchandising and presenting them.
A: I would say that what GRAYMARKET and Idol have in common is that they were, to put it bluntly, stores predicated on people knowing their shit a little.
With that said, what's the teaching element like when people walk into Idol? Do you often you find yourselves explaining more about the brands to the average consumer?
A: Yeah, but the store—while we obviously welcome anyone—but the store still, just by its landscape and the proximity of these things next to each other as you can see, it's kind of made for people who know their shit.
W: It works best for somebody who already understands the nature of the brands.
D: That's not to say people haven't come in here completely blind.
A: Everyone learns somehow. And I think, frankly, the best way to learn is in a retail store. That's harder now with so much online. We all learned the old fashioned way. We love when someone comes in and they find something they didn't even know existed.
Image Credit

Christopher Fenimore/Grailed
Join Our Discussions on Discord
The HYPEBEAST Discord Server is a community where conversations on cultural topics can be taken further.