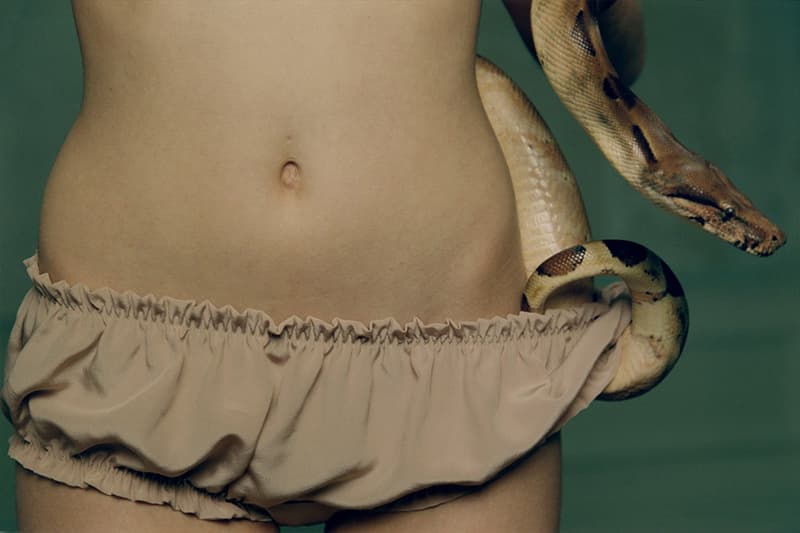 Cutting-Edge Exhibits, Installations & NSFW Artwork You Should Check Out
Michelangelo, Anish Kapoor, Kosuke Kawamura and more.
---
A gallery with white walls, fine paintings, and people in suits are presumably what comes to mind when you think of the art industry as a whole. The stereotypes of perusing high-end art, however, are slowly deteriorating especially with collectives, gallerists, and artists themselves raising the level of how their pieces should be observed, analyzed and experienced. Yes, technological inventions such as virtual reality and 3D modeling software are cutting-edge tools that many artists are taking advantage of today. However, it's refreshing to see all of the ingenious methods creative folks are undertaking to make masterful experiences without the use of modern technology.
From Michelangelo to Anish Kapoor, here's a list of must-see exhibits, installations as well NSFW artwork that will push the limits of your perception.
"NSFW Female Gaze" Exhibition at the Museum of Sex in NYC
The Museum of Sex in New York City is currently hosting a new exhibition entitled "NSFW: Female Gaze." The showcase, which is co-curated by Creators of Vice Media, has displayed pieces from over 20 female artists that reflect on lust, sexuality, and the female gaze as a whole. "There has long been a conventional approach to exploring sexuality," Lissa Rivera, an artist, and co-curator of the exhibit told the Cut. "And we really wanted to show a wide variety of reflections on self-discovery and different types of sexual expression, ones that are maybe unusual or not thought as often."
Head over to the Museum of Sex's official website to learn more.
Museum of Sex
233 5th Ave
New York, NY
10016
Anish Kapoor's "Destierro" Exhibition at Parque de la Memoria in Argentina
Artist and owner of the world's blackest black pigment, Anish Kapoor, has launched an impressive new exhibition at Parque de la Memoria in Argentina. Dubbed "Destierro" (which translates into "unearth"), the presentation marks the acclaimed British artist's first solo show in the country. The exhibit is a continuation of Kapoor's pigment works, with the artist having completely filled a spacious room with a bright red material.
"Destierro" is currently on view up until August 27. Head over to Parque de la Memoria's official website to find more information.
Kosuke Kawamura's "Consume" Exhibition at SO1 in Tokyo
Japanese artist Kosuke Kawamura is widely known for creating striking collages using a variety of tools such as photocopiers, scissors, and shredders. Kawamura currently has a new exhibition in Tokyo's SO1 museum called "Consume." The presentation made in collaboration with photographer Hitoshi Sano will see new works including a massive $100 USD collage. The exhibit aims to explore the value of individual objects and mass production.
The exhibit is currently open to the public until July 2. Head over to SO1's official Facebook page to learn more.
SO1
Jingumae, Shibuya-ku
Tokyo 6-14-15
Will Martyr's "Wanderlust" Exhibition at Unit London
London-based artist Will Martyr has opened his first major solo exhibition at Unit London. Dubbed "Wanderlust," the exhibit features new large-scale paintings from Martyr with hyper-realistic portrayals of infinity pools, picturesque mountains, and high-end establishments. All in all, the works question "how today's mass-consumption of imagery affects our perception of reality and the notion of personal experience and memory," said the gallery in a statement.
"Wanderlust" is open to the public until July 29. Visit Unit London's official website to learn more.
Unit London
147 Wardour St.
Soho, London
W1F 8WD
UK
"Up Close: Michelangelo's Sistine Chapel" Exhibition At The Oculus in NYC
You don't need to visit Vatican City to have a look at Michelangelo's world famous frescos at the Sistine Chapel. An immersive new installation in New York City's Oculus will allow you to peruse over 34 reproductions of the legendary artist's most significant pieces. Titled "Up Close: Michelangelo's Sistine Chapel," the showcase is currently available for viewing at the Westfield World Trade Center mall in Oculus.
The exhibit will be open to the public until July 23. Head over to the Westfield World Trade Center's official website to find more information.
Oculus
33-69 Vesey St.
New York, NY
10007