KAWS on Why His Air Jordan 4 Collaboration Is the Biggest Sneaker Release Ever
"It's a piece of history, sneaker history"
The KAWS x Air Jordan 4 limited sneaker release last week triggered a whirlwind of emotions amongst many fans. You either managed to cop a pair at the Brooklyn Museum in New York, decided to pass on, or succumbed to the pitfalls of faulty drop dates of when the co-branded AJ4 was going to hit the artist's website. A majority of us fall into the latter. We're still anticipating the online release with careful eyes, rapid hearts and of course, an always opened tab to KAWSONE.com.
What's fueling all of this excitement? Senior Director of Special Projects, Gemo Wong, told us that "it's a piece of sneaker history. Some of my friends said that this is the biggest sneaker release ever" and he's probably right. It's the first collaborative model between the New Jersey-born artist and Jordan Brand. Two acclaimed entities who have kept their fingers on the pulse of creative innovation and hype culture. Regarding The Goat himself, KAWS professed: "Michael Jordan is one of those athletes that goes outside of the parameters of the sport. He becomes this person or thing that you just want to watch."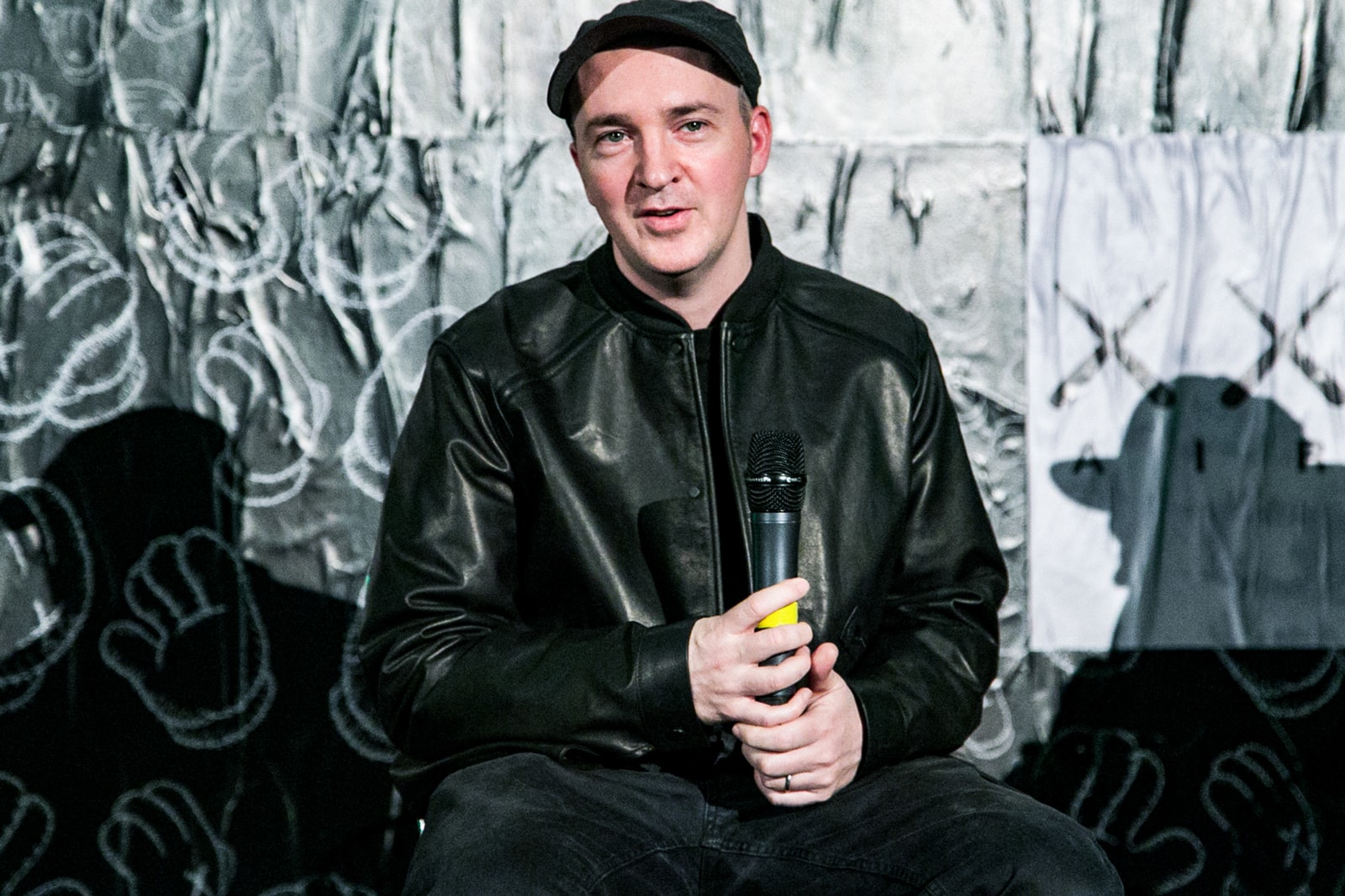 Not to mention, it's a damn good looking shoe for how simple and pared-back the construction is. It may not be as over-the-top as KAWS' past collaborations, but it does have several loud qualities. From the artist's Mickey Mouse-esque hands stitched across the premium gray suede upper with the custom footbeds and glow-in-the-dark sole, this new iteration strikes a perfect balance between simplicity and playfulness.
Watch the video above and find select quotes from KAWS below.
What was it like working with the Jordan brand? Gemo?
I wanted to make a shoe that I can wear. The other ones were more pop, but that was ten years ago. If you would've approached me on a different week, we would've had a very pop sneaker. When I first spoke to Gemo about doing this project, I was thinking about like making a good object.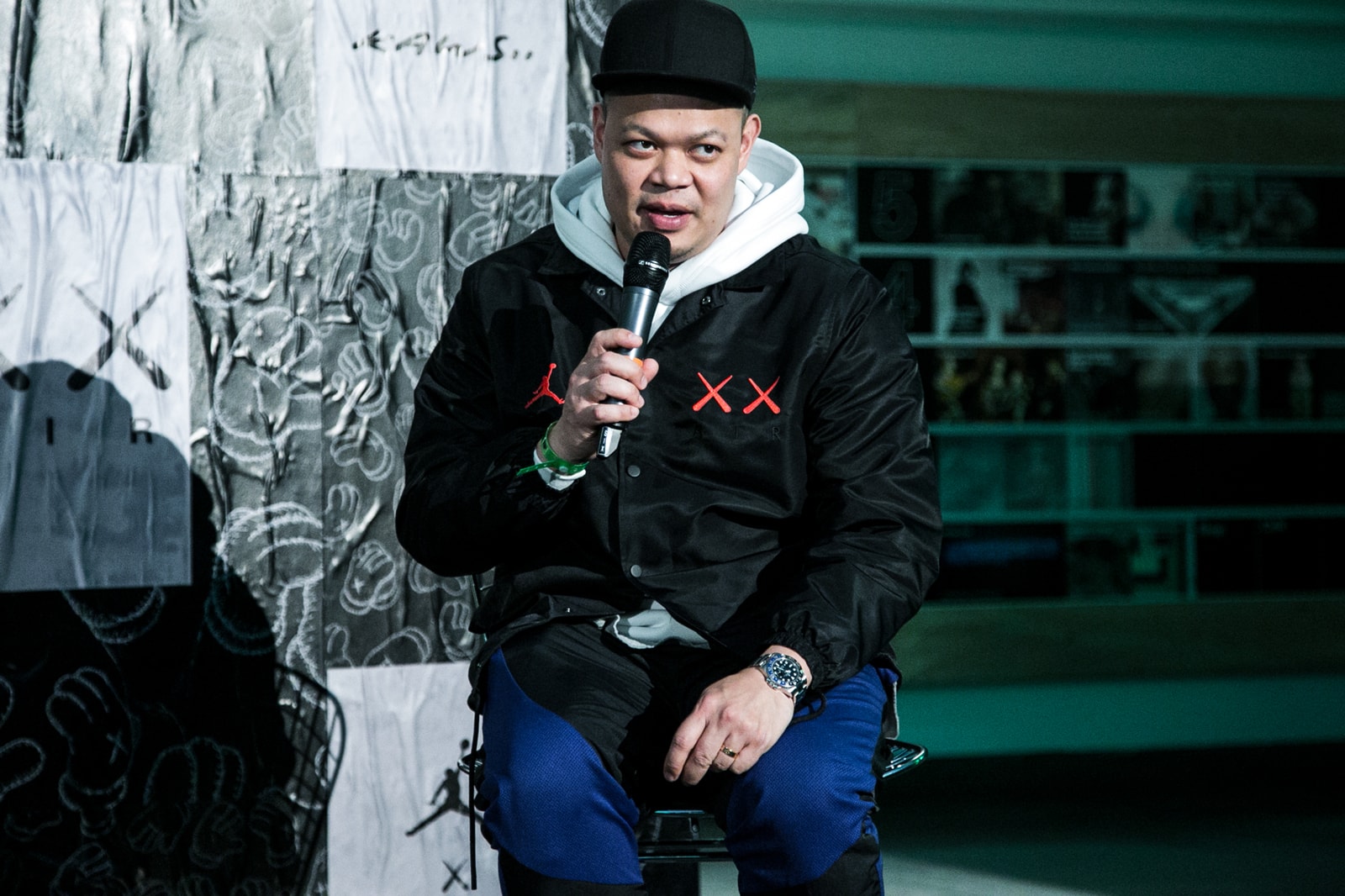 How do you juggle multiple projects without losing your mind?
It's fun for me to be able to sort of float between different worlds in different sort of ways that my work could disseminate to people and I like the challenge of keeping something and rejuvenating it. I try to not get stuck on anything and I think I've worked with everybody in every kind of level of company. I think it's great when people reach out of their comfort zones and bring new things to the table. You know, make people angry and then three years later, it's the norm.
Did you ever go full HYPEBEAST for something? A pair of shoes or artwork?
A [HYPEBEAST] is no different than the guy who's collecting cars or collecting art. You have these worlds that exist and coexist. It's kind of funny, but these different things exist and they're good. For me, I like to have a lot of art around me.