XX Marks the Spot: A Complete Timeline of KAWS' Footwear Collaborations
Air Jordan, BAPESTA, visvim and more.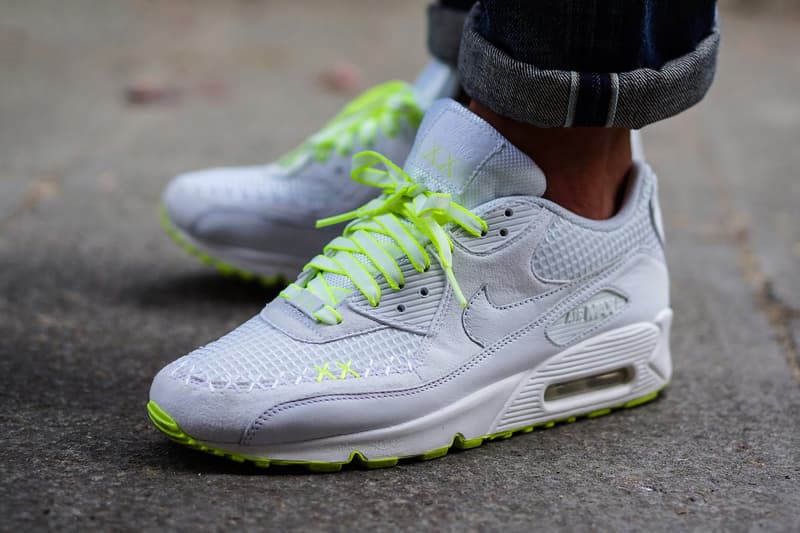 KAWS' seemingly endless output of creative works never fails to boggle the masses. The New Jersey native's signature "XX" motif and pop culture cartoon characters has seized almost every medium imaginable—having relentlessly created artwork, vinyl toys, apparel, skateboard decks, album covers and even footwear to name a few. Since the late '90s, the painter-cap-clad phenom has launched collaborations with the likes of BAPE, UNDERCOVER, Real Mad Hectic, Supreme and UNIQLO UT as well as having created his own imprint OriginalFake in 2006 up until it was disbanded in 2013.
There will never be a shortage of KAWS co-branded products, especially with his recent announcement of a forthcoming Air Jordan 4 silhouette that has surely got fans in an absolute frenzy. To celebrate his first ever partnership with Jordan Brand, we ventured deep into the content mines to bring you a complete history of KAWS' sneaker collaborations. From the anticipated KAWS x Air Jordan 4 to the artist's first foray into footwear with DC Shoes, take a look at the timeline below and let us know which ones are your favorite.
KAWS x Air Jordan 4 – 2017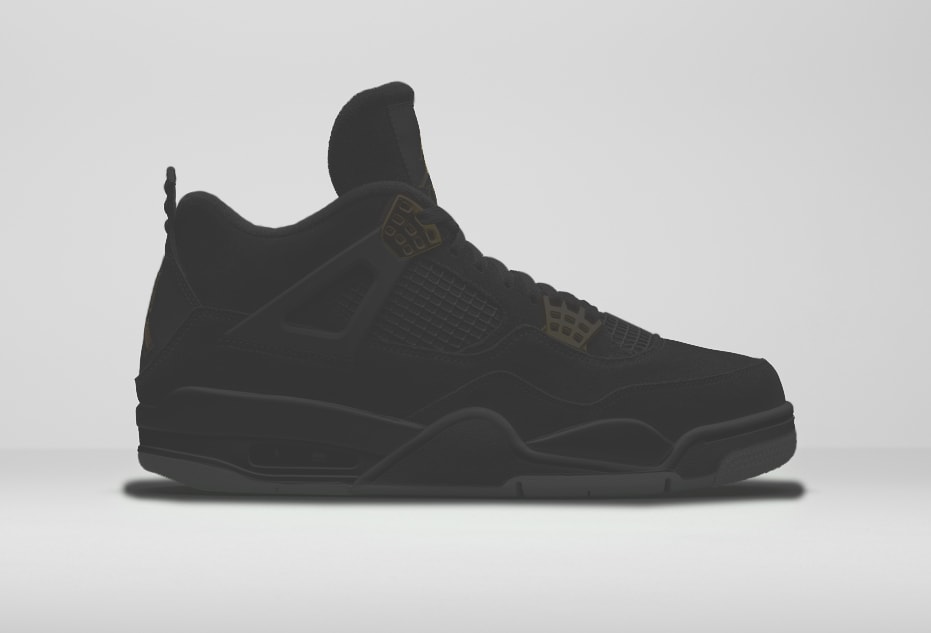 Not long ago, KAWS took to his Instagram account to unveil an impending partnership with Jordan Brand. The collaboration will allegedly feature the coveted Air Jordan 4 silhouette in "Cool Grey/White" with a black suede upper alongside gold accents. Not to mention, the collaborative shoe will feature a glow-in-the-dark outsole emblazoned with KAWS' iconic "X" on the bottom. The KAWS x Air Jordan 4 is slated for release this March 1 — until then, we'll have to wait for official imagery.
KAWS x Uniqlo UT Room Shoes – 2016
1 of 2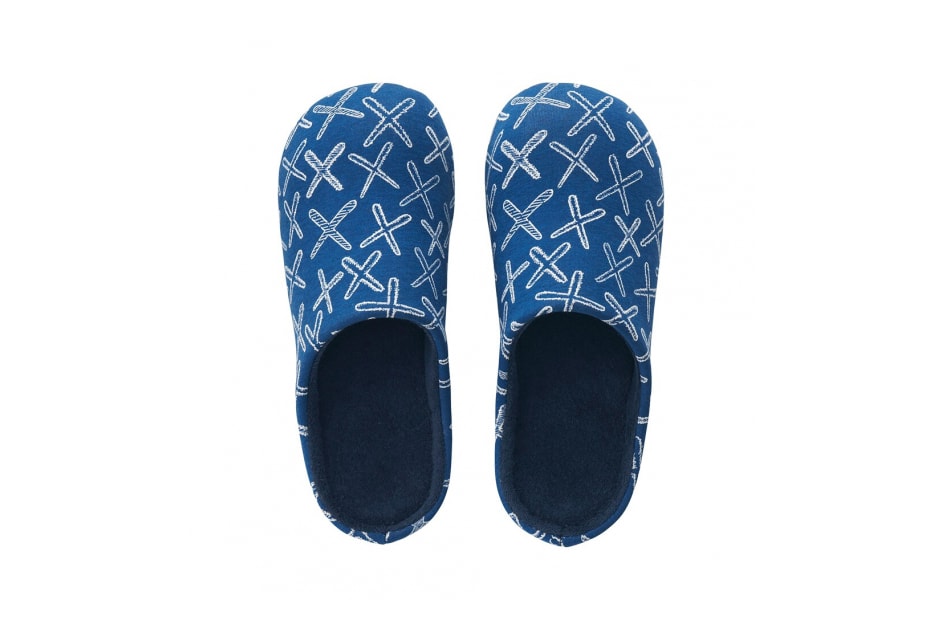 2 of 2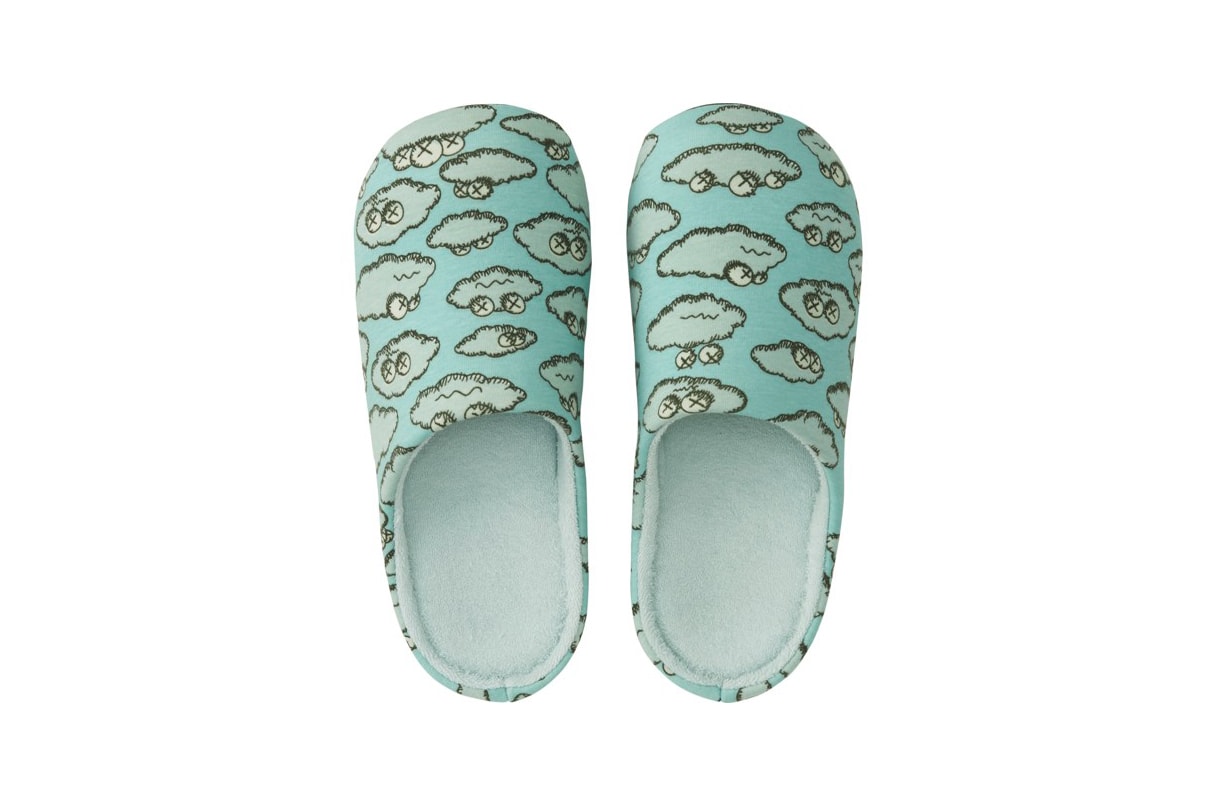 Last April, KAWS joined forces with good friend and longstanding collaborator, NIGO, on a special edition series for Uniqlo's LifeWear UT division. The artist and UT creative director initially launched a slew of graphic soft goods boasting KAWS' ubiquitous "Companion" character with several drops that followed—consisting of more T-shirt styles alongside tote bags and room shoes. Of all the items offered, the footwear was perhaps the most coveted and thus, fastest to sell out.
KAWS x Marc Jacobs Mouse Flats – 2008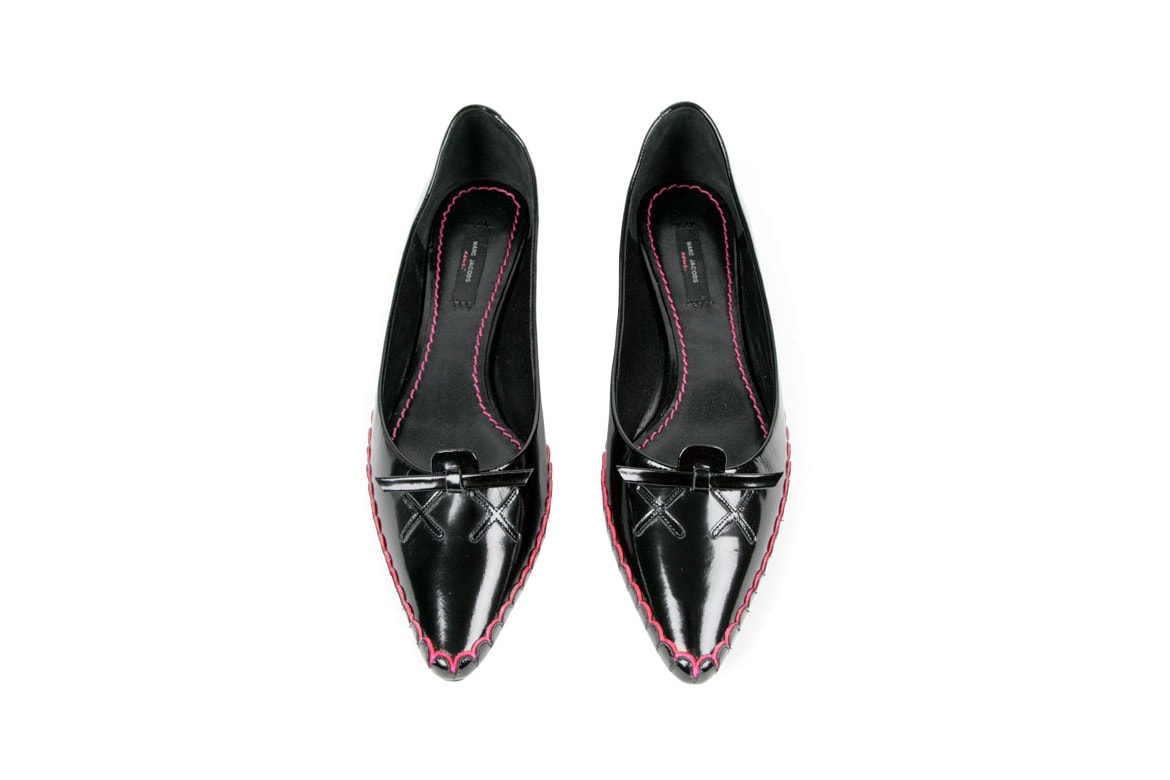 In September 2008, KAWS surprised fans with a Marc Jacobs collaboration made especially for women. The partnered range was an homage to the 10th anniversary of the high end label's signature Mouse Flats with the artist embellishing his "XX" and "Chompers" motif on the luxe footwear piece. Only 150 pairs were made available to select retailers worldwide.
KAWS x Nike Air Force 1 Low Supreme – 2008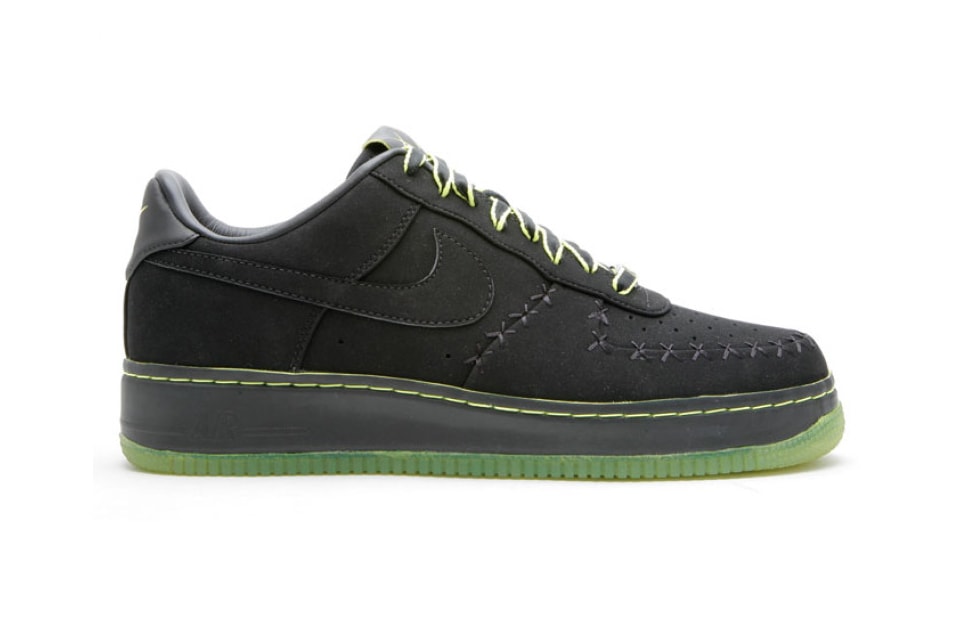 The Nike 1World collection which launched in 2008 has culled striking iterations of the Air Force 1 from a multitude of leading figures in the creative industry. The KAWS x Nike Air Force 1 Low Supreme was undeniably one of the most sought-after pairs yet. The makeup touted a premium black suede upper with his signature "XX" rendered in shock-yellow stitching on the left toe box. Moreover, the pair was topped off with a translucent neon outsole. It's an ultra rare silhouette that may cost around $2,600 USD at a reseller's price.
KAWS x Nike Sportswear Air Max 90 Pack – 2008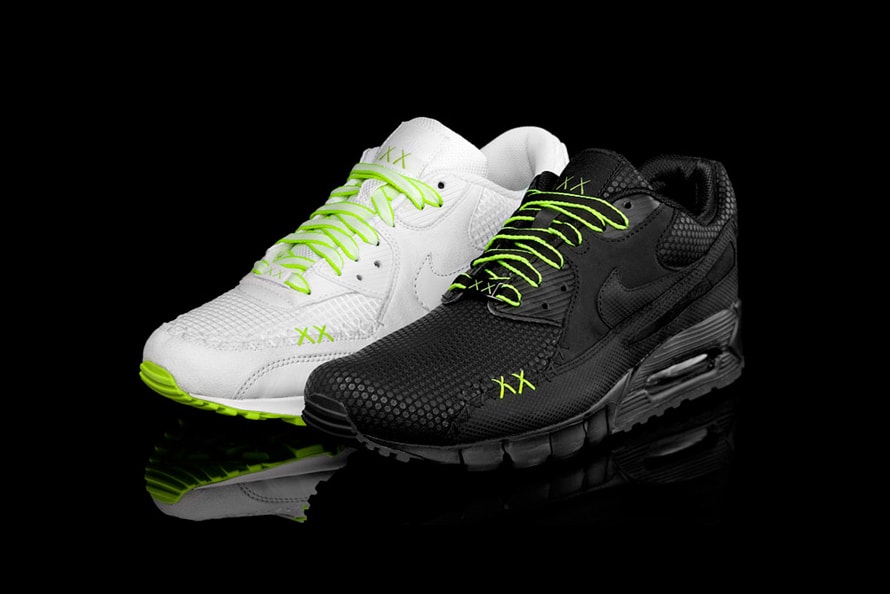 Just a few months after KAWS unleashed the aforesaid Air Force 1, the artist presented the masses with another Swoosh collaboration that tackled the Air Max 90—the original silhouette swathed in crisp white and the Current model wrapped in deep black. The classic runner received a Free-type outsole alongside a revamped upper for a more modern look. Of course, his famed "XX" motif was embellished on both shoes.
OriginalFake x visvim Logan Low – 2008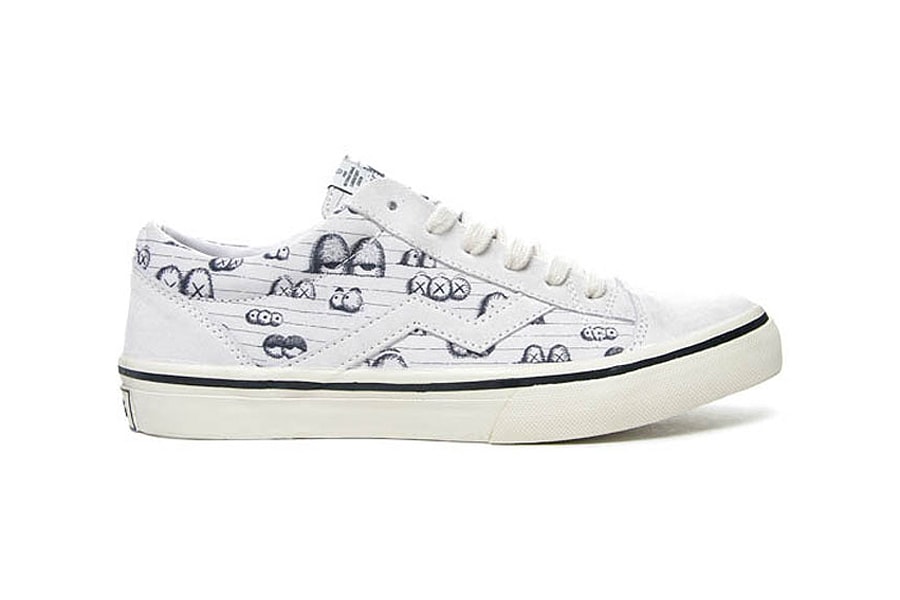 KAWS not only worked with the Goddess of Victory in 2008, but also joined forces with visvim, putting his creative touches on the popular Logan Low silhouette. The casual sneaker was wrapped in a suede/canvas upper with an off-white color scheme. The artist's "Eyes" motif which is synonymous with his OriginalFake label is observed on the side panels. It's an instant classic and definitely one of the must-have pairs for any die-hard fan.
KAWS x Vans Chukka Boot LX "The Simpsons" – 2007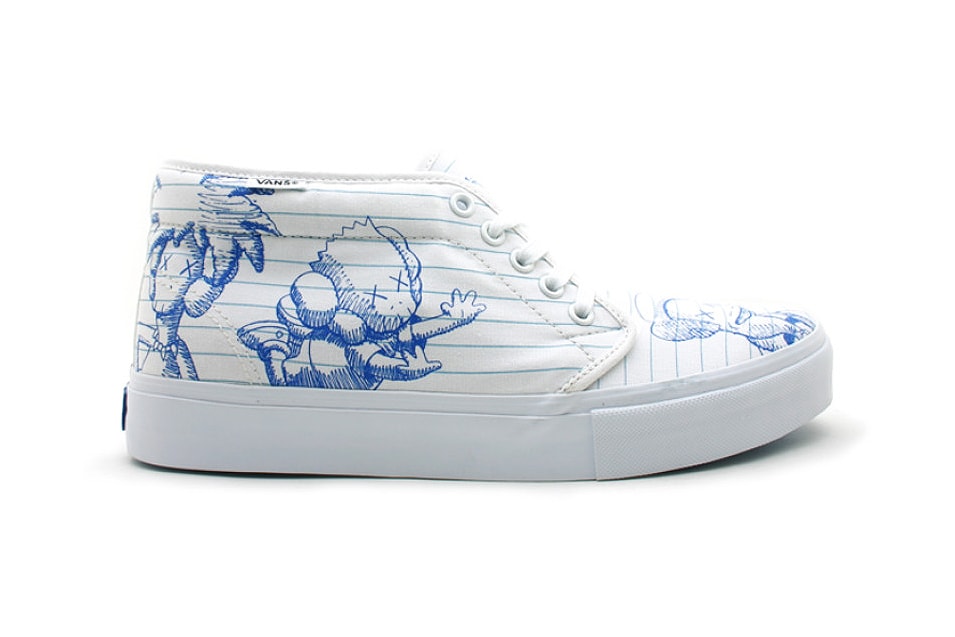 One of the most unforgettable collaborations definitely goes to KAWS' partnership with Vans. In July 2007, the artist was enlisted by the Californian footwear mainstay to put his artistic imprint on the Vans Chukka Boot LX model as part of the label's collaborative series with The Simpsons. The artist, alongside both Neckface and Stash, decorated the "True White/Snorkel Blue" pair with his notorious "Kimpsons" figures. The sneaker originally retailed for approximately $100 USD.
KAWS x visvim Skagway Suede Slip-On – 2007
Before there was buzz surrounding the aforementioned Logan Lows, sneaker enthusiasts were hyped about a pair of co-branded Skagway Suede Slip-ons released by KAWS and the Japanese imprint. The limited edition shoe predominantly featured a jacquard black makeup with KAWS' signature crosses embellished on the top portion of the silhouette. The KAWS x visvim Skagway Suede Slip-On was originally released sometime in January 2007 but is almost impossible to find 10 years later.
KAWS x BAPESTA "Chompers" – 2006
1 of 4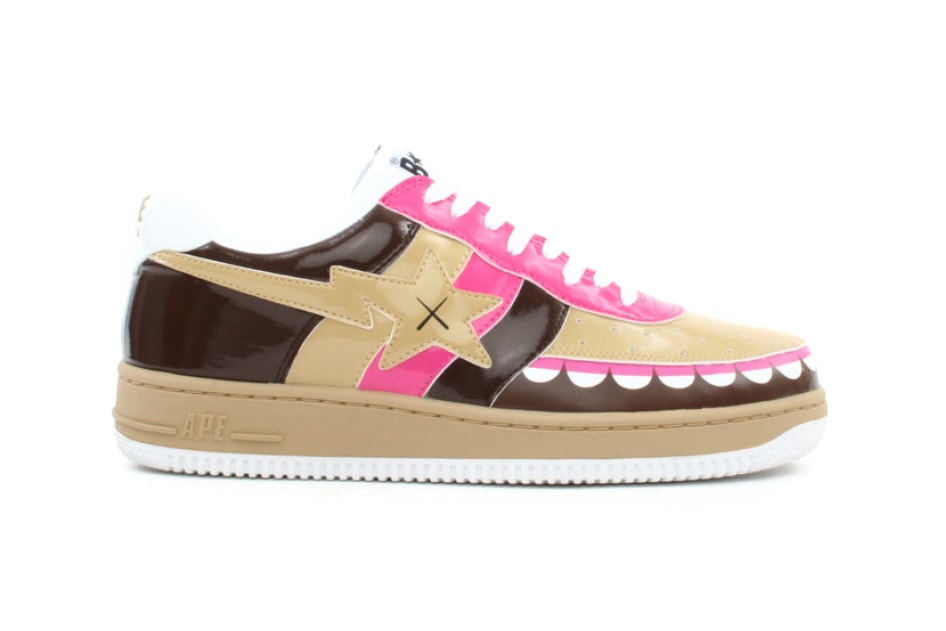 2 of 4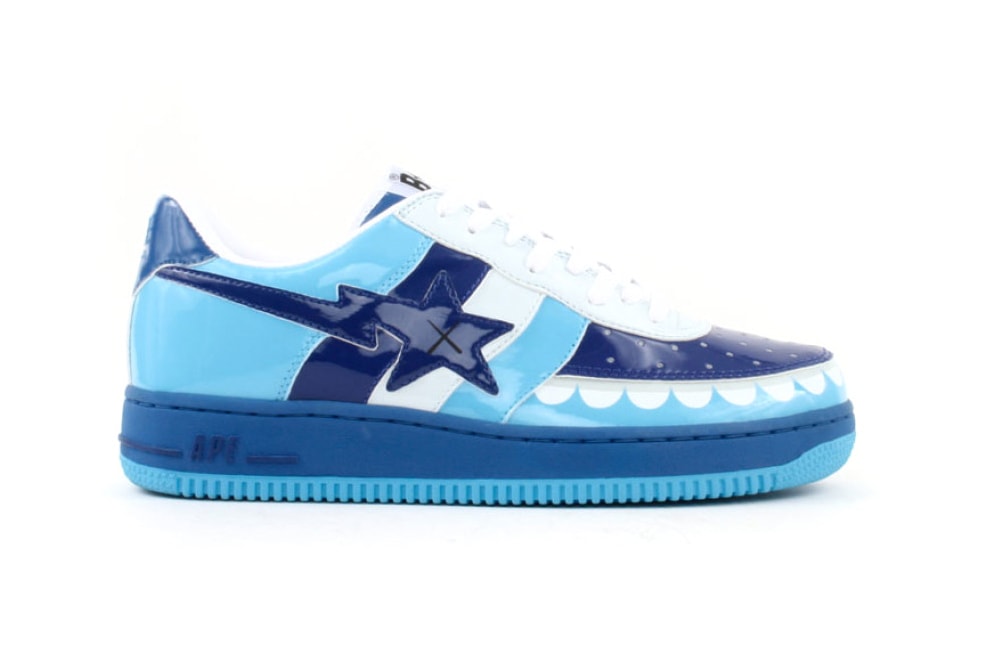 3 of 4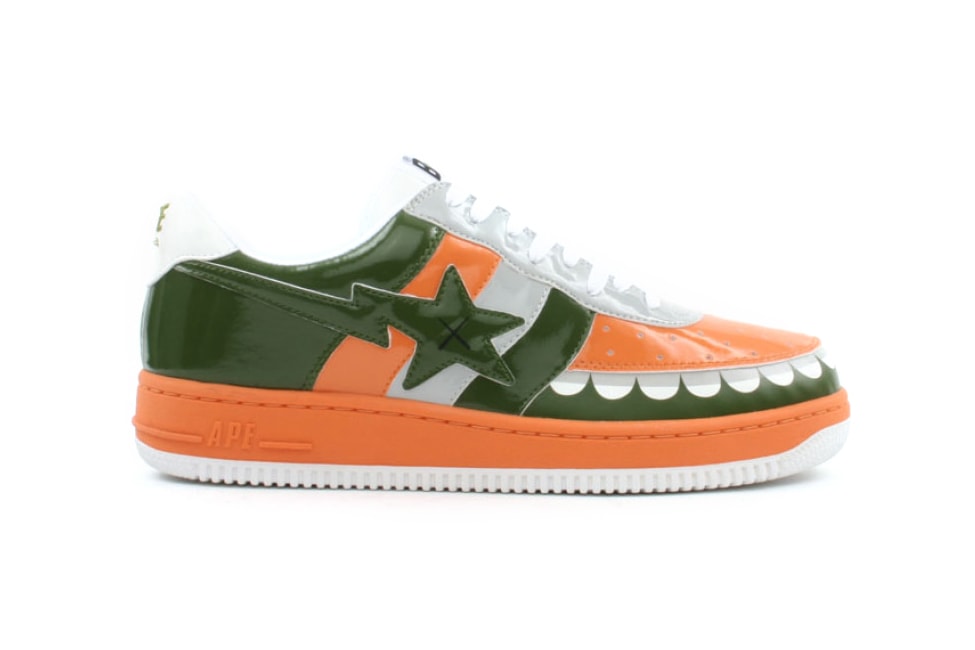 4 of 4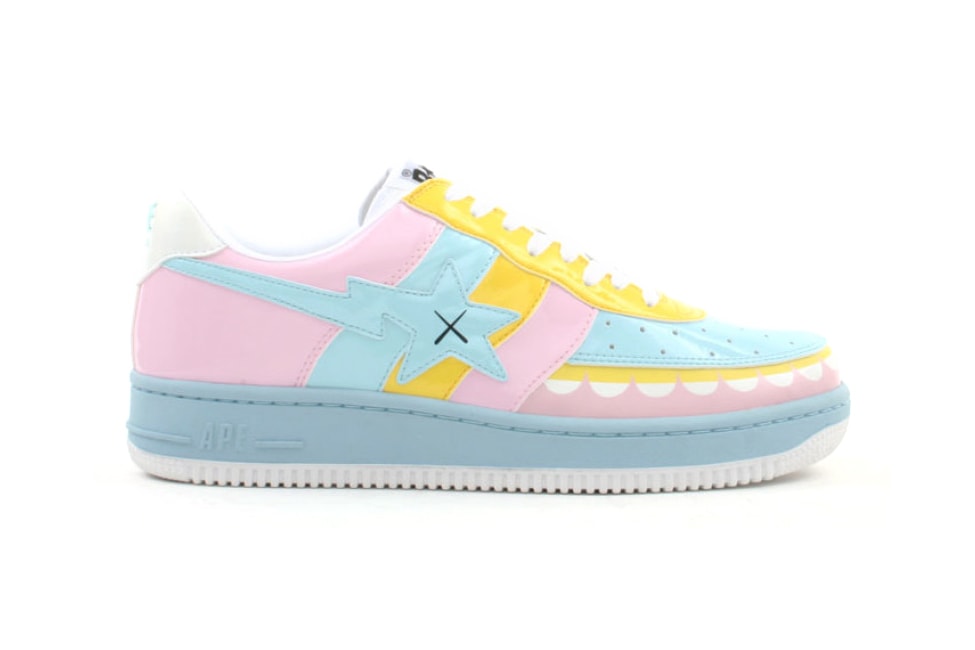 Throughout 2006, KAWS and NIGO of BAPE launched a ridiculous amount of BAPESTA iterations that centered upon the Brooklyn-based artist's "Chompers" motif. The rollout was so heavy that many folks took to popular streetwear forums and inquired legit checks to see if the ones they purchased were the real deal. All in all, a multitude of makeups featured a patent leather upper and a white rubber outsole. Notable color schemes include the crazy palettes of rainbow hues, but the most memorable would be BAPE's original set of BAPESTA colorways, seen above.
KAWS x BAPE "APESTA" – 2005
1 of 3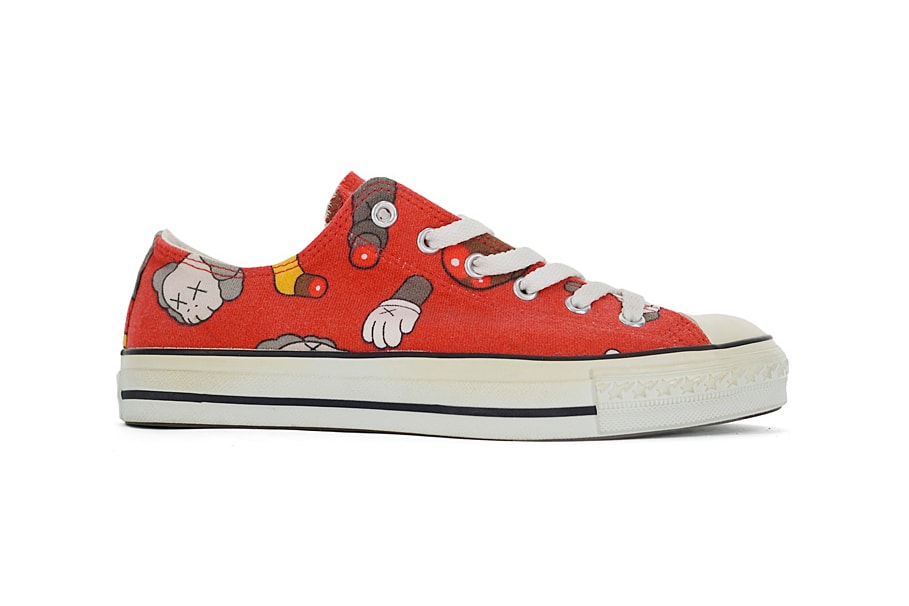 2 of 3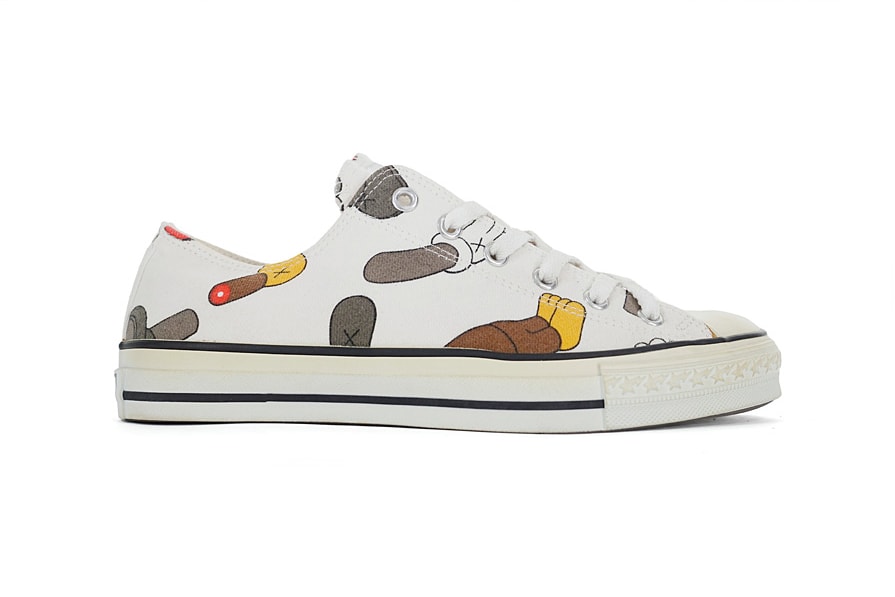 3 of 3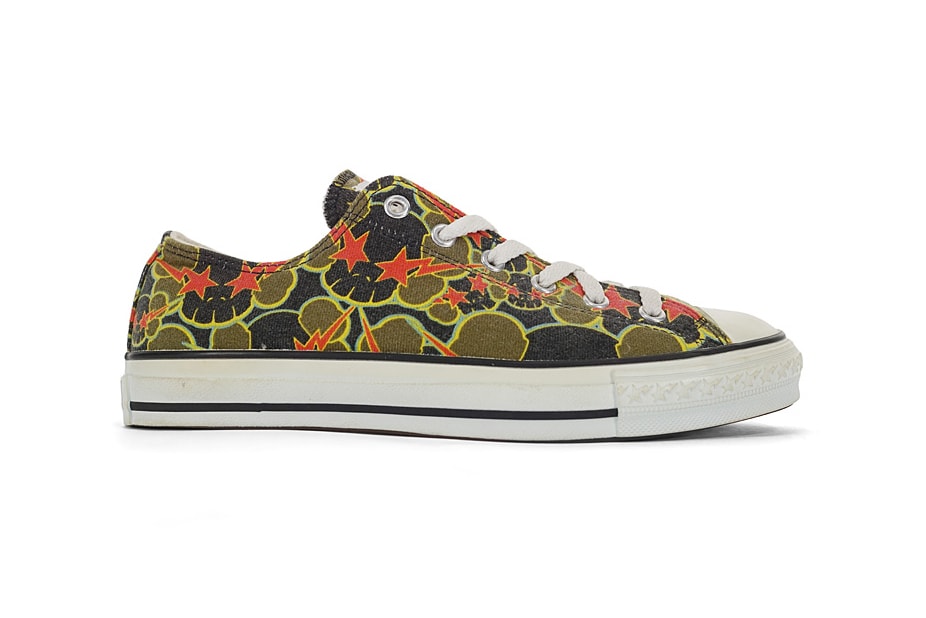 Although officially dubbed as the "APESTA"s, any BAPE fan in the early 2000s pegged the low-top canvas shoe as the "CHUCKSTA." The canvas sneaker which seemingly draws its design cues from the Converse Chuck Taylor low (hence the nickname) also received a graphic-heavy rendition from KAWS. The silhouette released in a slew of colorways spanning dark green, bright red and crisp white to name a few. As far as the motif goes, the "Companion" got his limbs severed and were whimsically sprawled out across the upper. Additional designs saw the light of day as well, with all-over skull patterns being of the more popular variety.
KAWS x BAPE Camo "SKULLSTA" – 2005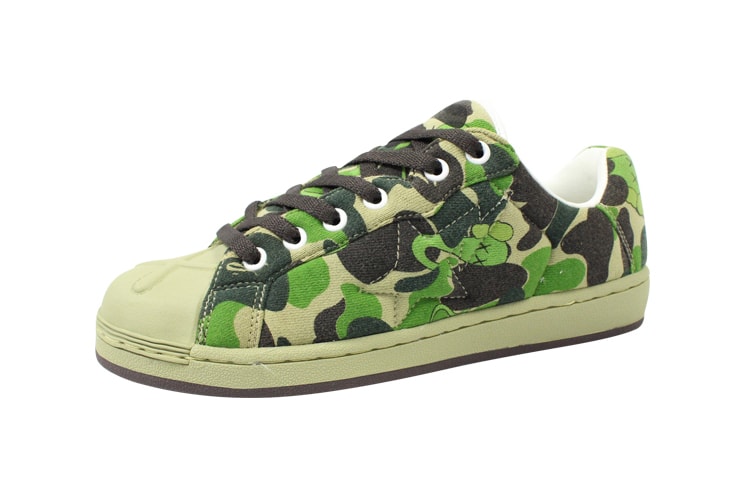 Next up is the KAWS x BAPE Camo "SKULLSTA" collaboration that was released in 2005. The footwear assemblage possessed a wide array of colorways — pink, blue and green — and swathed in the Japanese outfit's 1st camo pattern. The low-top sneaker culls its moniker from the label's skull-inspired toecap design however, for this partnership, KAWS embellished his "XX" emblem on the silhouette. As you may have already observed, the shoe draws heavy design traits from adidas' iconic Superstar model, but drew its own cult following.
KAWS x BAPESTA – 2005
KAWS and NIGO's inaugural BAPESTA collaboration in 2005 was undeniably a time before things got too graphic-heavy and colorful in their partnerships. It's not to say that the iterations weren't swathed in vibrant hues, but they were ushered in more minimal portions. In fact, the series saw more neutral and pared-back renditions such as wolf-grey and all-white. The artist's detailing was more or less limited to the star-swoosh logo and the rear quarter panel of the shoe. Apparently, several OG iterations can resell up to approximately $1350 USD nowadays.
"KAWS Chum" x DC Shoes – 2002
1 of 2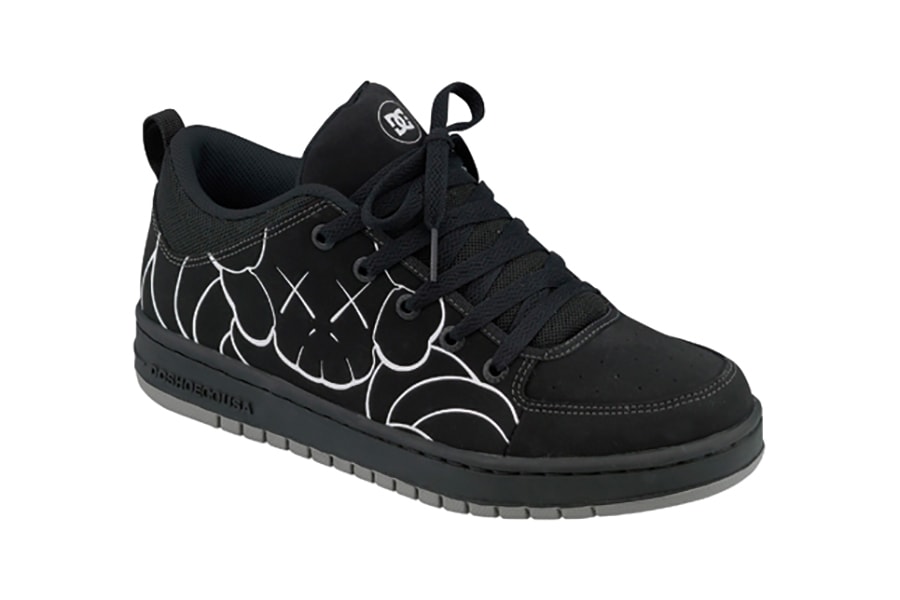 2 of 2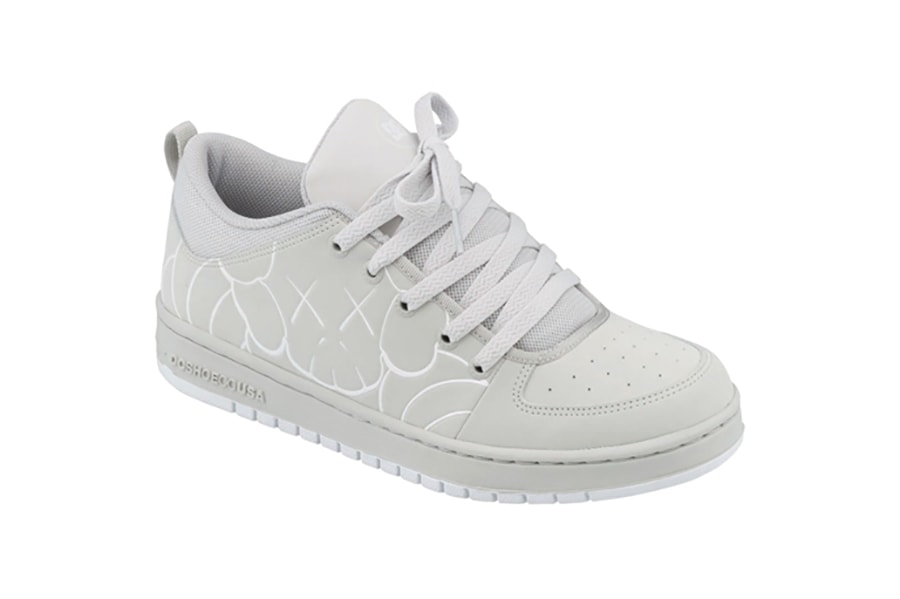 Feast on your eyes on the first ever sneaker collaboration from KAWS above. The artist joined forces with skatewear stalwart DC Shoes back in 2002. The low-top silhouette featured the artist's "Running Chum" figure on the side panels set against an all-black colorway. Only 300 pairs were made available for purchase globally and came with a matching KAWS keychain, making this release one of the rarest collaborations in KAWS' history.