Takashi Murakami Keeps up With Kanye, Wants His Characters on the Louis Vuitton x Supreme Collaboration
Also spotlights career achievements in art and fashion.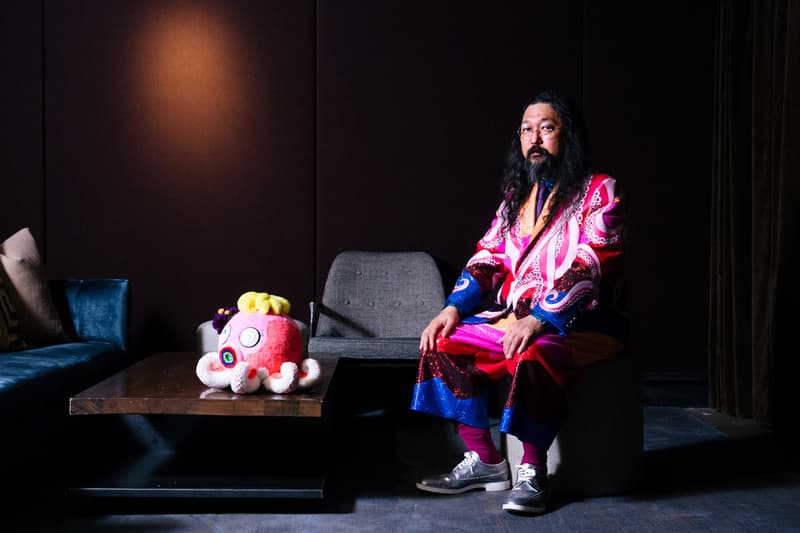 After presenting his long-awaited retrospective at the Museum of Contemporary Art Chicago called The Octopus Eats Its Own Leg, Takashi Murakami is perhaps meticulously preparing a whole new striking series of artwork, producing a range of exhibitions with his fellow Kaikai Kiki artists or unsurprisingly, both. "The Japanese Andy Warhol" is never not working in his Tokyo studio, but recently, he had some down time to talk career highlights spanning both art and fashion in an exclusive interview with GQ Style. The SUPERFLAT phenom divulged personal information regarding his past collaborations with Pharrell Williams and Kanye West alongside brands such as Supreme, Louis Vuitton and Vans.
In 2002, Murakami helmed an extensive collaboration with LV that saw a series of leather accessories and coveted accessories emblazoned with his signature "jellyfish eye" graphics and anime-rendered flora. If the high-end goods didn't catch your attention, perhaps the artist's cheeky Supreme skateboard decks, co-produced paintings with KAWS and Damien Hirst, as well as music videos for West and Pharrell had you overwhelmed with fascination.
Accompanying the discussions surrounding career achievements, Murakami also relayed his thoughts on today's sneaker subculture, his outlandish outfits and the recent Supreme x Louis Vuitton collaboration. Take a look at select excerpts below and head over here to read the entire interview.
As the most prolific collaborator with Louis Vuitton, do you feel you laid the groundwork for the Supreme x Louis Vuitton line?

I don't think it was me, I think it was Marc Jacobs doing a collaboration with Steven Sprouse. That's when the gate opened for these kinds of collaborations.

You mentioned that your collaboration with Louis Vuitton [under Marc Jacobs's creative direction] came about by coincidence.

Right, just around that time I was doing a show in Paris at the Cartier Foundation, so Marc Jacobs saw the show and then contacted me. Probably it wasn't that he was thinking about me for a long time and then approached me, but just that he was thinking about a broad idea and then saw the show in Paris, and that's probably why he contacted me.

I'm curious if you still keep in touch with Marc, Kanye, and Pharrell.

Yes, the relationship is maintained in its own way in each case. With Pharrell we've been working together for a long time, just last year in November I worked with him on Complexcon, and then also aside from my relationship Pharrell has been working with [my gallery] Kaikai Kiki artist Mister, and that's been a continuous collaborative project. As for Kanye, if I have a show somewhere he will go see it and then have a one-line message saying, "Oh this is fresh!"

I read somewhere that your Vans collab came around because you mentioned you wanted to do it in an interview. What do you want your next fashion collaboration to be?

I tend to be a little bit passive in terms of doing these kinds of projects, so I don't actually have active desire or idea right now, but I love the collaboration between Louis Vuitton and Supreme, so I want to put my own character or something on that bag. Or I just want to have that bag.

What do you find so interesting about the sneakerhead subculture?

One of the key moments was when A Bathing Ape opened a store in New York, and it was really explosively well-received, which was interesting because it wasn't doing really well in Japan, it was just so-so. They released a sneaker and there was a long line to buy the sneaker, and it was a very shocking phenomenon, that kind of reaction. And I think one of the achievements of BAPE was that they created fashion in more of a toy concept, something more approachable, it had nothing to do with the Paris mode and that kind of high fashion. But then if you just look at the past five years or so, there's a real focus on sneakers more than what you're wearing on the rest of your body, this is not particularly coming from Japan but rather from young people in Hong Kong, Los Angeles, which maybe has something to do with skateboard culture. It's really a surprising focus, but that's just how the fashion trend is going.

And when I collaborated with Vans two years ago I was really surprised by the strong reaction I got, and it was around that time in Paris that Kanye had released adidas YEEZY collaboration, and it was during men's fashion week, and Instagram posts for both my Vans shoes and his YEEZY shoes were competing and competing. The focus within fashion is of course constantly changing, and right now it's the sneaker, and for some reason I ended up getting involved in that, and I'm still wondering what that means. It's not like I'm strategically involved in it with some vision of what I want to do, it's just more like I'm involved in it by default. I'm continuing to communicate with the kids and the audience for sneakers, and I'm inspired by them.