Someone Stole Tom Brady's Super Bowl Jersey From His Locker
Was it the equipment manager? Was it Goodell? Was it Putin?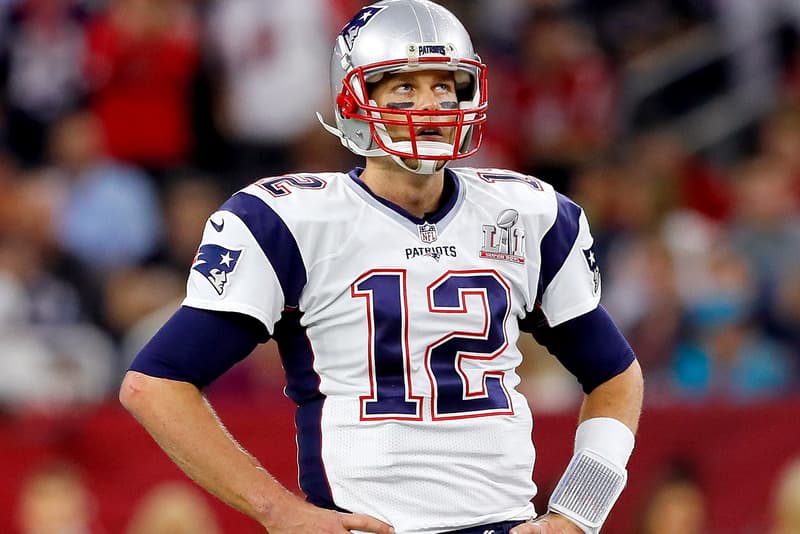 Moments after his legendary comeback to win Super Bowl LI, Tom Brady looked "flustered" as he "frantically" searched the locker room for his game-worn jersey, according to USA Today. "It was right here. I know exactly where I put it," Brady said as he called the security staff and team equipment managers to assist in the search. Minutes later Brady was caught on camera receiving a cigar and a kiss from Patriots team owner Robert Kraft, where he told his boss "Someone stole my game jersey. I just put it up there," gesturing to his locker.
This morning, in his post-game news conference, Brady told the press that his jersey is still missing. "I put it in my bag and then I came out and it wasn't there any more. It's unfortunate 'cause that's a nice piece of memorabilia. So if it shows up on eBay somewhere, someone let me know so we can try to track it down." However he added shortly after "What can you do? I'll take the ring, and that's good enough for me."
If you do in fact see it on eBay, it should be for a hefty price. The Bloomberg reported this morning that Brady's Super Bowl LI game-worn jersey "could fetch as much as $500,000 USD." Even if we're only talking a few thousand dollars, that would mean the culprit could be charged with felony grand larceny (anything over $1,500 USD is a felony in Texas), according to TMZ.
No official report has been filed with the local police department as of yet, however Texas Lt. Governor, Dan Patrick, announced Monday that the Texas Rangers have joined the Houston Police Department in their investigation into the missing jersey. "It is important that history does not record that it was stolen in Texas," said Patrick.
So what exactly happened to TB12's jersey, one that should be hanging in the Hall of Fame? Did an overzealous equipment manager snag it? Did Goodell burn it in his hotel room? Or maybe Vladimir Putin had some stealthy spies in NRG stadium. He did hilariously swipe Robert Kraft's 2005 Super Bowl ring.