What Not To Miss During the 2017 NBA All-Star Weekend
From Durant and Westbrook sharing the floor, to Swaggy P's three-point shootout sneakers.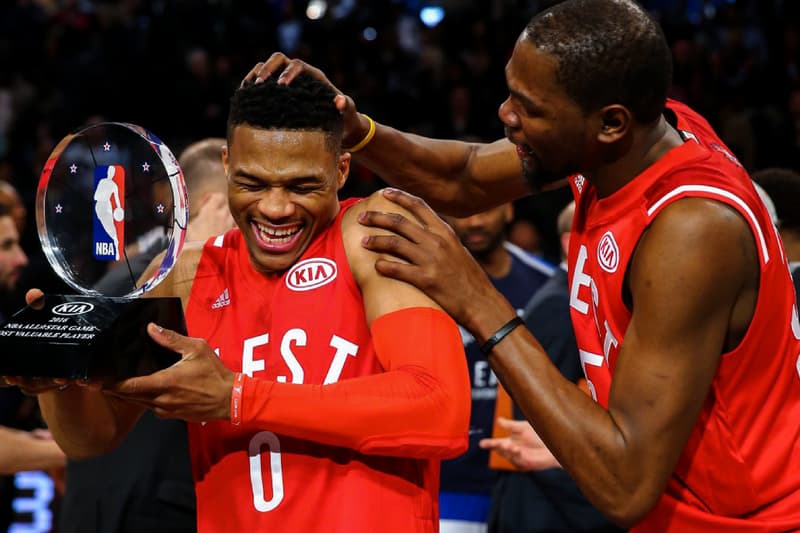 Look at how happy those two look up there. That's what brotherly love looks like. Here, Kevin Durant is congratulating his then teammate Russell Westrbrook for winning the 2016 All-Star MVP, his second in a row. Russell's smile and Durant's embrace is exactly what it looks like when a little brother finally wins something to earn the approval of his older brother, and in this case, the older brother has won everything from the Naismith College Player of the Year to the NBA MVP (he won the All-Star Game MVP only once). But a lot has changed since this picture was taken in Toronto 12 months ago, including blowing a 3-1 lead over the Warriors in the Conference Finals, and Durant departing his brother to join a new family in Golden State.
This season, both Durant and Westbrook have propelled their respective superstar status even further, despite their heartbreaking breakup. Durant is having one of his most efficient years to date, and winning a ton of games on the best team in the NBA; while Westrbrook has blossomed into a triple-double machine, unlike anything we've seen in the modern era of basketball. They've squared off three times already this year, with all three wins going to GSW. Each game came with its own drama, so to speak: Westbrook trolled his buddy before game one by wearing an "Official Photographer" vest, Kanter and Durant started jawing at one another in game two, then Durant and Westbrook exchanged some words during the Thunder's late comeback in game three. Is the love even there any more?
They're both fierce competitors on the floor, and locked in during the season with their eyes solely on that gold Larry O'Brien Trophy, so it makes sense if they're not bro-hugging it all out during their games or praising the other when asked questions by the media. However this weekend, all of the walls get torn down, albeit briefly. Durant and Westbrook will become teammates once again, as they have both been selected to the Western Conference All-Star team. We'll finally get to see if they still have that brotherly love, or we may just get another "Whose man is this?" meme from Russ. Will Westbrook blatantly ignore all Warriors on fast-breaks and take his super-team disapproval out on the rim, or will we be reminded of just how beautiful it was to watch the Thunder play the last eight seasons? Everyone's eyes will be glued to those two and their interactions all weekend.
But that's not the only thing you need to pay attention to this weekend! There's some fun things to watch during the 2017 NBA All-Star weekend in New Orleans, and we broke it down for you below.
A Taste of Melo on the Cavaliers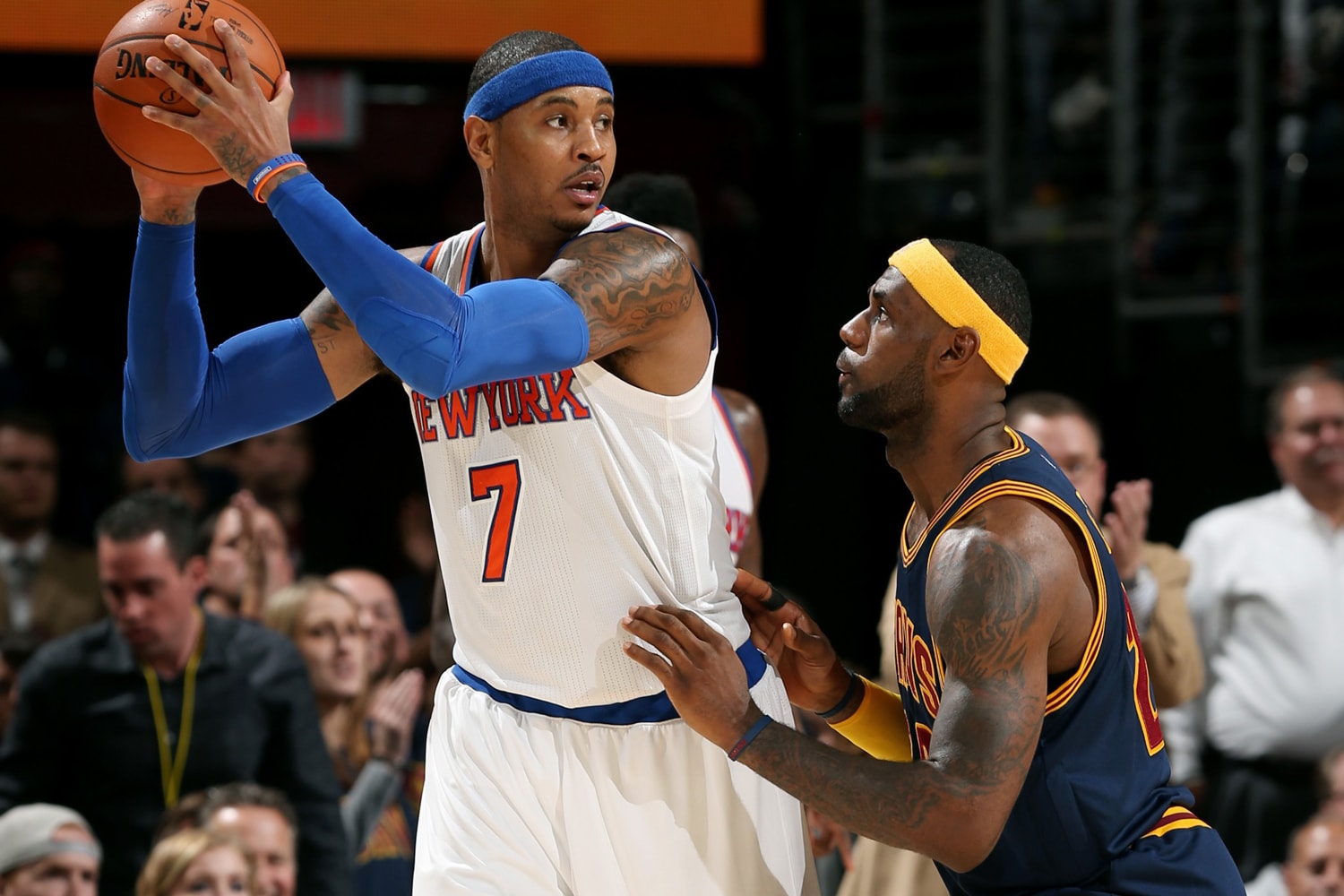 Cleveland Cavaliers forward Kevin Love was voted into to his fourth All-Star Game this year, but just recently backed out due to having minor knee surgery, an injury that'll keep him sidelined for just six weeks. As a result, Carmelo Anthony was selected as his replacement, marking his tenth All-Star appearance. What's funny about this is that the Knicks have been actively seeking a proper trade to get Melo out of New York, with Kevin Love and the Cavs being one of their primary targets. With Love out, and Bron and Melo being close friends, we'll definitely see those two in addition to Kyrie sharing the floor together. Could this be foreshadowing the future? We can imagine Kevin won't be too thrilled to see Melo sharing laughs and highlights with his teammates. Get well soon, Kev.
Russ Becomes the First Player to Win Three Consecutive All-Star MVP Awards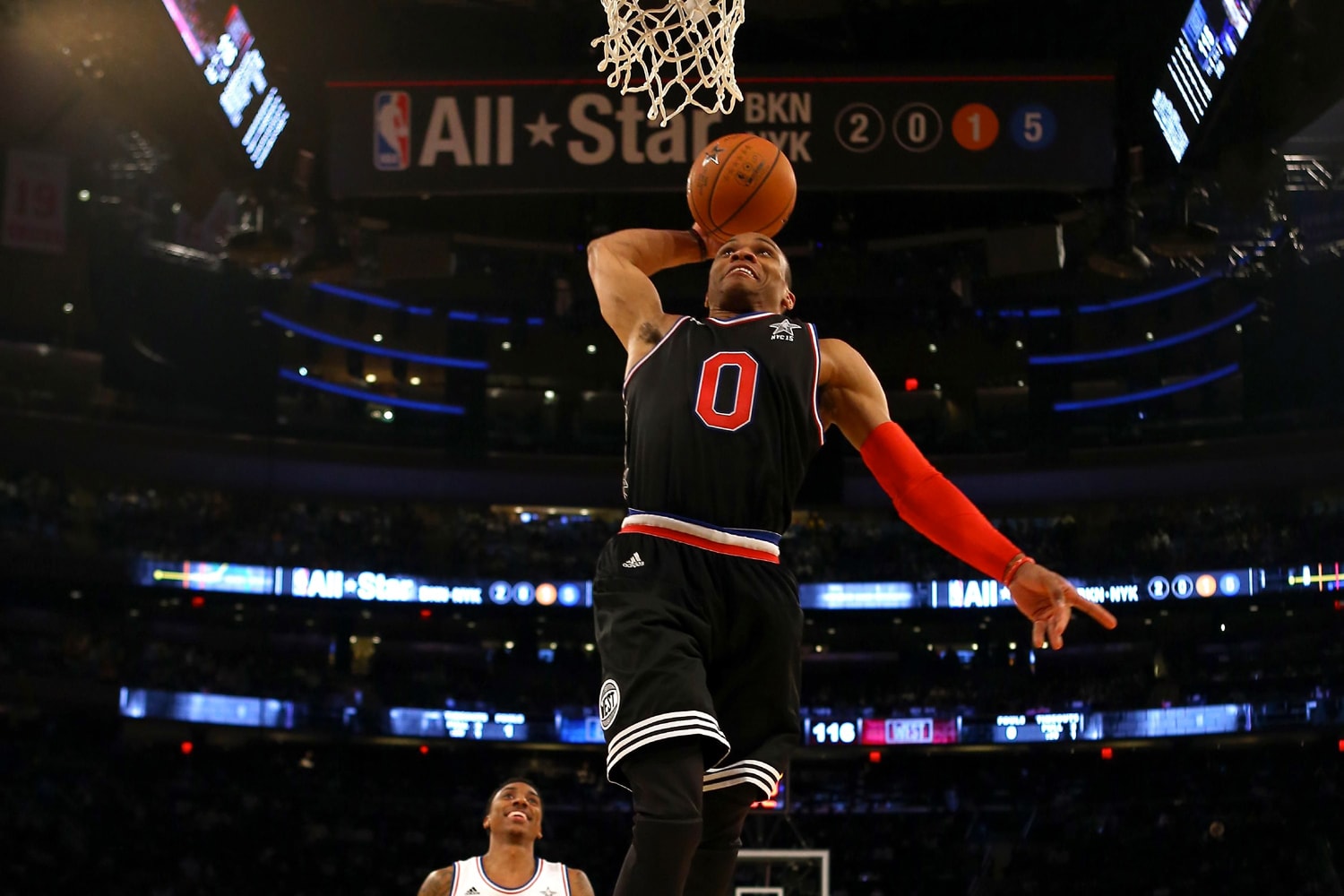 As mentioned above, Russell Westbrook has won the last two NBA All-Star MVP Awards. Bob Pettit is the only other player to have win the award in consecutive years, winning in '58 and '59. Although Pettit and Kobe Bryant hold the record for most All-Star Game MVP awards with four, Russ can become the first player to win it three years in a row. Considering the way he's been balling this season, he has a pretty good shot at it, with the betting odds in his favor.
Will Kerr Put All Four Warriors out on the Floor at Once? And Who's Their Fifth?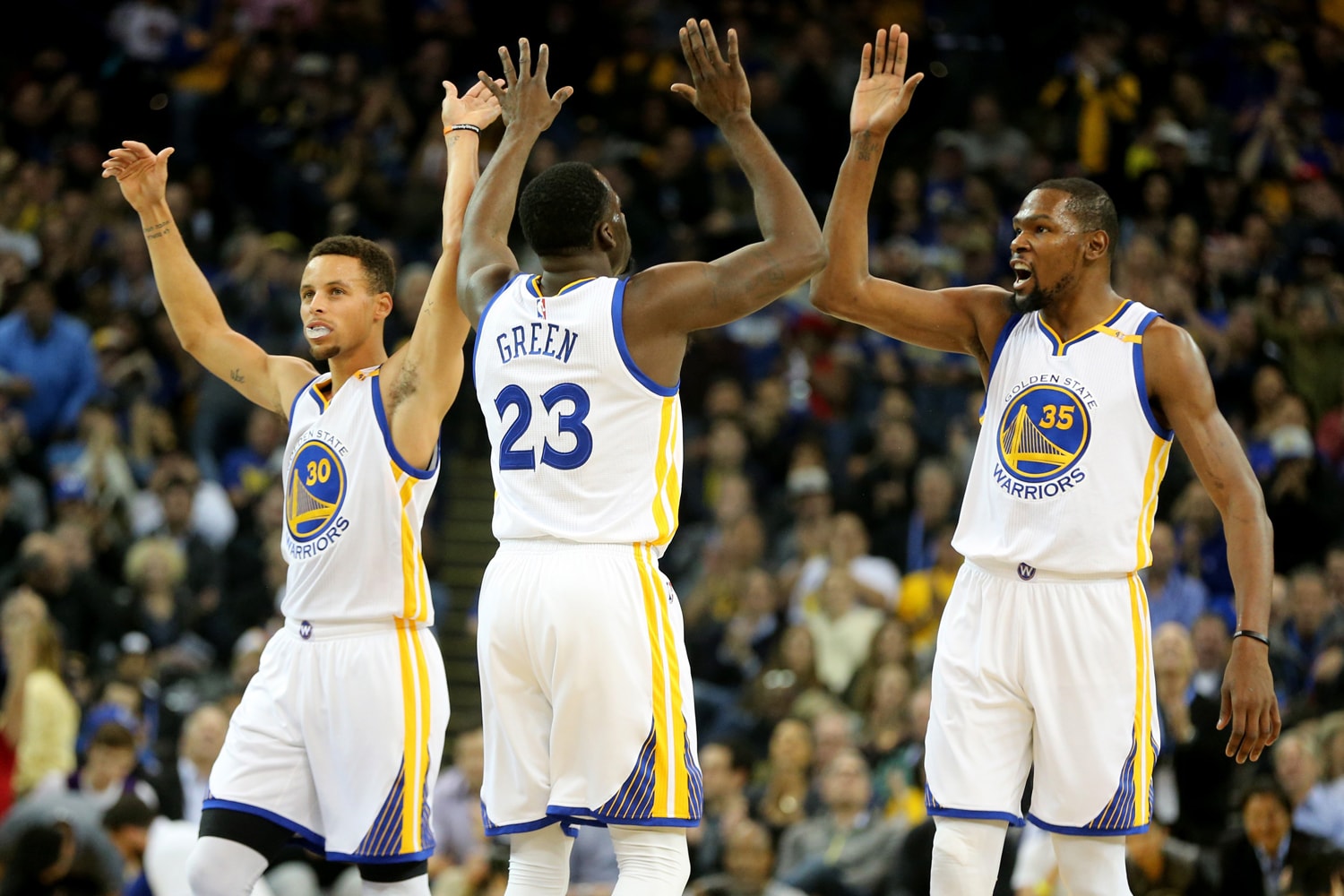 Four players from the Golden State Warriors were selected to this year's All-Star Game, marking the eighth time in NBA history that four teammates were chosen together. The last time we saw this was just two years ago when Horford, Korver, Millsap and Teague of the Hawks were selected to the Eastern Conference team (Korver replaced Wade because of an injury). The Western Conference Head Coach is Steve Kerr, who as you know also coaches the Warriors. He has stated that he plans on having all four Warriors on the floor together at least for a few minutes during the game, so it'll be interesting to see who he decides as the fifth. Will he throw Russ into the mix, or will we get to see just how nasty the Warriors can be with an All-Star center, be it DeMarcus Cousins, Marc Gasol or DeAndre Jordan? Sorry Bogut.
Slam Dunk Contest
There's only three ways to watch this clip: with your jaw on the floor, peaking through your fingers as they cover your eyes, or with a Patrick Bateman-like ear-to-ear grin. We bet you had to stand up at some point during the video just to collect your thoughts. Unfortunately, we won't be seeing these two duel it out again this year, as Zach LaVine passed on the opportunity a few weeks ago, and then karma tore his ACL. That was a joke, Zach. Get well soon!
Twenty-one-year-old Aaron Gordon will return to the Slam Dunk Contest this year however, hoping to claim the title that LaVine snatched away with a final dunk in 2016. Gordan, the favorite, will compete against 6'11" DeAndre Jordan, Glenn Robinson III of the Pacers, and former D-Leager Derrick Jones Jr. DeAndre will attempt to recall the days of a young Dwight Howard competing in the contest, while Robinson will do his best not to be forgotten. Jones will likely be the one to face Gordon in the finals, and seeing how he's only notched a handful of minutes in the NBA this year (he played the majority of the season in the D-League) everything he throws down will be a pleasant surprise.
Bigs Versus Littles in the Skills Challenge
The best part of this video is at the 1:30 mark, when Curry throws his hands on his head in disbelieve and Lowry asks Isaiah "What the fuck?!" Last year, the NBA revamped its Skills Challenge to pit guards against centers in the final round, and with the way bigs play in the league nowadays, it's surefire entertainment. We're a little sad to see Joel Embiid won't be competing this time around due to an injury, but we have all the faith in the world that DeMarcus Cousins will be just as fun to watch.
Swaggy P's 3-Point Shootout Footwear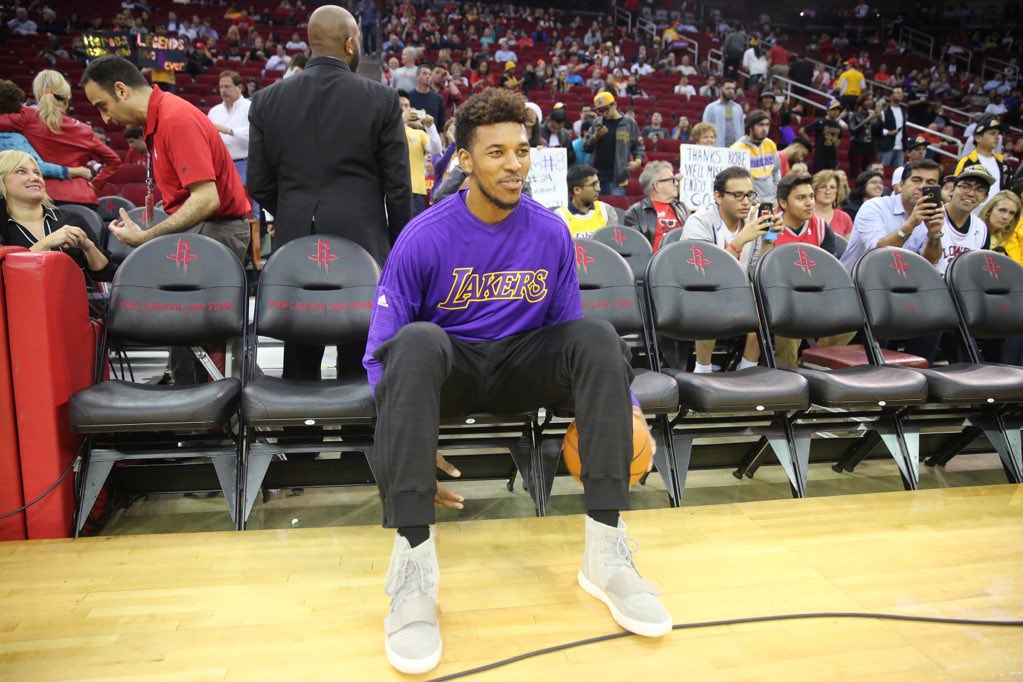 Nick "Swaggy P" Young will be competing in the 3-Point Contest this year, and rightfully so: he's made 147 three-pointers this year, while shooting a career best .413 from beyond the arc. Nick will have to go-up against sharpshooters like Kyrie Irving, C. J. McCollum, and Kyle Lowry, however it's Klay Thompson, who is attempting to become the first repeat champion since Jason Kapono did so in 2007 and 2008, that will be his biggest challenge. Whether or not the Lakers guard comes away with a trophy, he'll surely have the best footwear in the challenge. For a guy that wore a pair of Yeezy 750s on the floor during a regular season game, we're betting he breaks out some heat to help him catch fire in the shootout.
The Greek Freak Balls Out and Wins MVP
In just his fourth season, 22-year-old Giannis Antetokounmpo will start in his first ever NBA All-Star Game. He's been putting up phenomenal numbers all season, and his high-flying antics and gazelle-like sprint on fast-breaks have made him one of the league's newest must-see attractions. This type of game is perfect for him: he runs the floor exceptionally well, he can jump out of the gym, he crashes the offensive boards, and he prides himself on protecting the rim. With the other forwards on the team (LeBron, Millsap and Melo) in their 30s, and no true center on the roster, the Greek Freak should get ample amount of time on the floor. If his jumper gets hot at any point, he can easily snatch away the All-Star MVP.
List of Events and Times
Celebrity Game: February 17 @ 7:00 p.m. ET on ESPN
Rising Stars Challenge: February 17 @ 9:00 p.m. ET on TNT
Skills Challenge/Three-Point Contest/Slam Dunk Contest: February 18 @ 8 p.m. ET on TNT
All-Star Game: February 19 @ 8 p.m. ET on TNT