Here Are Taylor Swift's Kanye West Shots From Her 'Reputation' Album
"Friends don't try to trick you, get you on the phone and mind-twist you."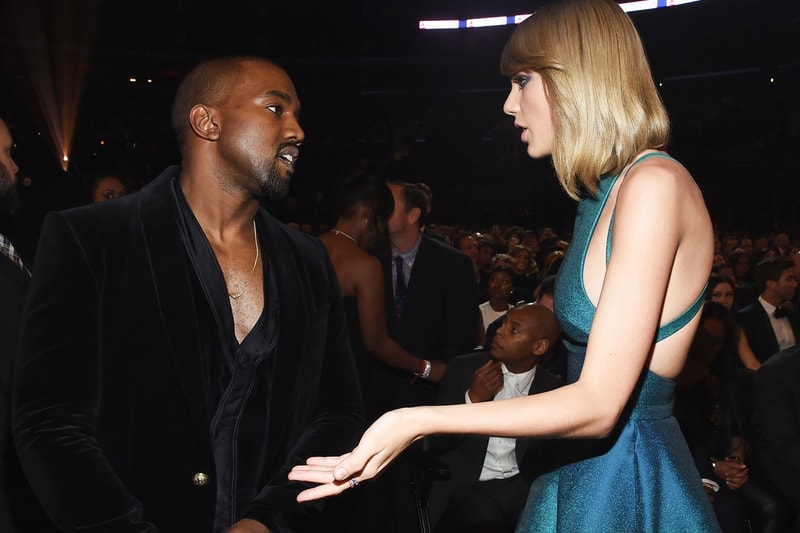 Taylor Swift's Reputation album dropped on Friday, and as everyone expected, the album is laced with Kanye West and Kim Kardashian disses. A feud which initially started back during the now infamous incident at the 2009 MTV VMAs when West stormed the stage after Swift was crowned Best Female Video, has long run its course till this day.
With that, lyrical dissectors have wasted little time linking Reputation passages to Swift's multi-chaptered Kanye West rivalry. This comes as no surprise as her lead single "Look What You Made Me Do," contains the lyric "I don't like your tilted stage," a clear jab at Ye's stage design for last year's 'Saint Pablo' Tour. On Swift's other track "This Is Why We Can't Have Nice Things," fans are convinced she is firing off on her public quarrel with West.
See Taylor's lyrics below and judge for yourself:
"So why'd you have to rain on my parade?
I'm shaking my head, I'm locking the gates

It was so nice being friends again
There I was, giving you a second chance
But then you stabbed in the back while shaking my hand
And therein lies the issue
Friends don't try to trick you
Get you on the phone and mind-twist you
And so I took an axe to a mended fence

But I'm not the only friend you've lost lately
If only you weren't so shady

Here's a toast to my real friends
They don't care about that he-said-she-said
And here's to my baby
He ain't reading what they call me lately
And here's to my momma
Had to listen to all this drama
And here's to you
'Cause forgiveness is a nice thing to do
Haha, I can't even say it with a straight face"
Elsewhere, as noted by Genius Friday, Swift maybe makes another reference to the phone call on "I Did Something Bad":
"They're burning all the witches, even if you aren't one
They got their pitchforks and proof, their receipts and reasons
They're burning all the witches, even if you aren't one"
Also be sure to check out the Internet's reaction to the debacle.
Taylor Swift just made the worst album of her career imo, focused on how mean Kanye is the majority of the time. Hot garbage tbh #imisstheoldtaylor

— Brandon Dillashaw (@brandonillashaw) November 9, 2017
Taylor really did drop a Kanye diss on Donda's 10 year death anniversary yeeeet

— Craig Bro Dude (@CraigSJ) November 10, 2017
Kanye West: Made an album about his mom and constantly talks about his mom Taylor Swift: has no albums about her mom, possibly anti-moms.

— Coltrane (@ctrane123) November 10, 2017
Taylor Swift's still singing about Kanye West as if the rest of us are all out here still discussing the War of 1812

— Abby Hamblin (@abbyhamblin) November 10, 2017
OH MY GOD YALL I JUST REALIZED KANYE SAID "I FEEL LIKE TAYLOR STILL OWES ME SEX"

TAYLOR HIT BACK WITH "IF A MAN TALKS SHIT THEN I OWE HIM NOTHING"

SHE ???? DID ?? THAT ??????

— Sienna? (@sienknox) November 10, 2017
This is why we can't have nice things, slapped Kanye in his face lmaoooo #Repuation pic.twitter.com/LkhGlnXOYD

— Reta,Swizzle? (@tayswizle13) November 10, 2017