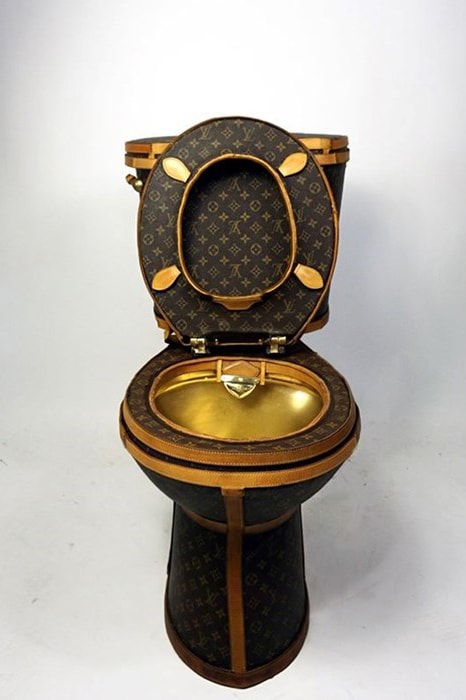 $20,000 USD of Louis Vuitton Bags Were Used to Make a Toilet
Flushing money down the drain.
---
Nearly $20,000 USD of Louis Vuitton bags were cut, torn, reshaped and rearranged by artist Illma Gore to create the world's most luxurious toilet. The fully-functioning throne has been painted gold, suiting its luxurious origins.
With every square inch, either covered in Louis leather or gold paint, describing the toilet as unique is an understatement. Everything from the bowl to the tank is fully lined in monogrammed leather. No sign of the bags' hardware, but at least the toilet is ready to be used, right out of the box. LA-resale site Tradesy commissioned the piece from Gore, along with a few others.
Currently, the golden commode is available on Tradesy for an eye-watering $100,000 USD, nearly 5 times more expensive than the bags themselves. If that's too rich for you, Gore has provided a $10,000 USD Gucci-decorated missile and an Abraham Lincoln bust also featuring the LV leather. If you'd rather scratch that Louis Vuitton itch by donating to a good cause, the label has donated a Supreme-collaboration Pudsey Bear to a charity auction.