This New Look at Disneyland's 'Star Wars Land' Will Make Fanboys Rejoice
Does this concept art hint at a fully functioning X-Wing?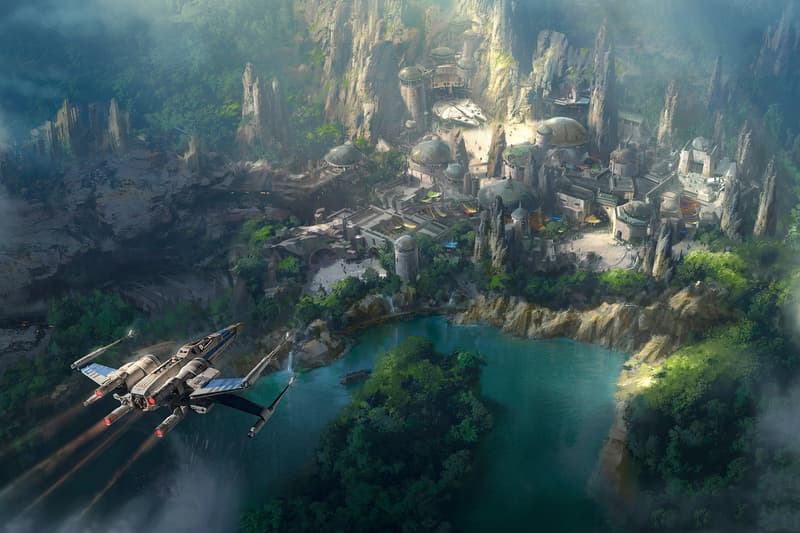 Anyone planning a trip to Disneyland soon is in luck as new visitors will now be able to catch a glimpse of what's in store for the highly-anticipated Star Wars Land. Posted on the fence surrounding the now-closed Big Thunder Trail in Forontierland is the concept art for the movie franchise's attraction.
In this highly-detailed teaser, we see an expansive rebel fort built from rock formations surrounded by lush greens and a body of water. While the passing X-Wing is enough to get any fan excited, upon closer inspection you'll detect a docked Millennium Falcon. Speaking of which, for those that didn't get the memo, one of the rides will in fact consist of a virtual reality version of Han Solo and Chewy's ride. As for size, Star Wars Land will encompass a 14-acre section of the amusement park, making it the largest-ever single-themed expansion at the resort. It should definitely be large enough to house a wide array of droids and aliens we'd all be excited to meet.
While the attraction isn't set to open for a couple more years, you can take a more detailed look of what's to come by clicking on a higher-res version of the artwork here. Sound off in the comments section now on what you'd ideally like to see and experience at Star Wars Land.