Why Nike Wants Kevin Durant out of OKC
Is it time for Durantula to reinvent himself?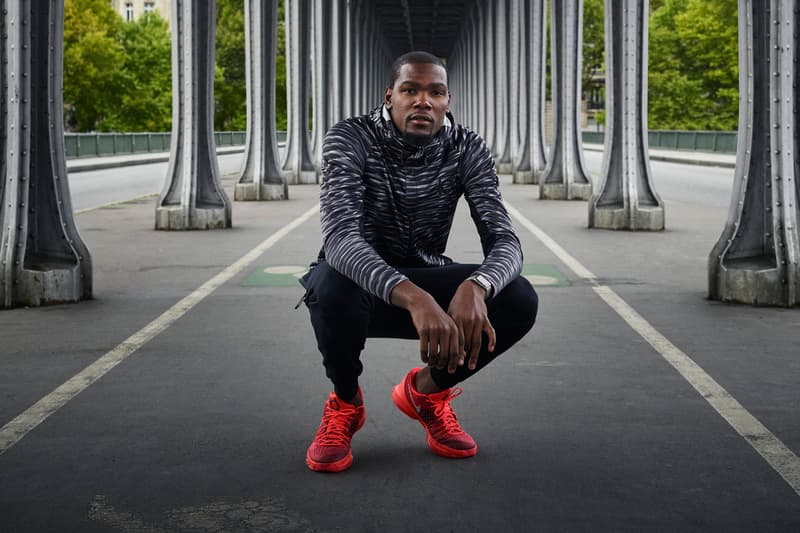 2014 was a big year for Nike Basketball. Durant was coming off a career year with an MVP trophy in tote and an inspiring tear-jerking speech to complement his likeable image. Two months later, LeBron announced he would take his talents back to Cleveland for the forthcoming season in search of his city's first pro sports championship since 1964. Nike couldn't have been more ecstatic. Its top two signature athletes were at the forefront of the league, and best of all, the sneaker industry.
Back in early 2014, Forbes reported sales for Durant's signature sneakers jumped 400% from $35 million USD to $175 million USD in the USA, putting him right behind (sort of) LeBron, who racked in $300 million USD. As a result of Durant's growing stardom, Nike beat out Under Armour and resigned the sharpshooting seven-footer to a lucrative ten-year, $300 million USD endorsement deal later that summer, assuring his allegiance to the Swoosh for the foreseeable future.
At the time, finance and sports journalists alike brushed it off as a no-brainer for both parties, and then the 2014-15 season happened, or rather, didn't happen.
We all know how it went down: Durant suffered foot injuries all season, playing in just 27 games, thus unleashing the monster that is Russell Westbrook, while the unstoppable Stephen Curry and his Under Armour sneakers, ironically enough, became the most exciting athlete on the planet. And of course, LeBron remained LeBron, on the throne of performance basketball sneakers.
Even after a stellar, career-year this past season, Durant's return was still overshadowed by Stephen Curry, Kobe Bryant's farewell tour, the Warriors' 73-9 season, the rollercoaster ride that is the Cavaliers, and more Curry. Durant is no longer in the best-of conversation. We don't even know if he's the best player on his team.
And sneaker sales tell the same story. As we reported back in March of this year, Curry was hot on the heels of LeBron with a $160 million USD projection in footwear sales for the USA alone, to Durant's $82 million USD. That's a big hit, and no one is feeling it more than Nike.
So what does that mean?
As Bill Simmons mentioned in this weekend's "The KD Conundrum" feature story, Nike may be pushing for Durant to leave Oklahoma City. Simmons states,
If you surf around, you can't find Durant in any story about top-selling NBA sneakers. His representatives at Roc Nation know it; so does Nike. And if you think they haven't mentioned this to him, repeatedly, you're bonkers. It helps their cause that Durant doesn't just want to be one of the greatest; he wants to be THE greatest.
The Ringer founder later relates Durant's predicament to LeBron's 2014 homecoming. The self-proclaimed King sort of reinvented himself and his image with a return to Cleveland, prompting Nike to throw insane marketing budgets behind its marquee player. "There's something to be said for a fresh start — it's a selling point, a fresh narrative that everyone can pound into the ground," said Simmons.
If Durant opts to stay with the Thunder, it won't do much for Nike in the battle against Under Armour, unless he's able to bring a title to OKC. You would be getting the same Durant with the same sneakers. However, Durant building an Eastern Conference contender in Miami, Boston or Washington, or grabbing the torch from Kobe in Los Angeles would surely regain the basketball world's attention, and thus increase sneaker sales. It's doubtful Nike has much say in Durant's decision however, but we can imagine it's whispering in his ear.
Come July 1, all eyes will be on Kevin: the Decision Part 2, if you will. So what do you think, can Nike persuade Durant to leave OKC or will Kevin run-it-back with Westbrook and the Thunder?