BILL by Warren Lotas' Founder Describes His Inspiration for Young Entrepreneurs
Wise words from the 20-year old designer who created Wiz Khalifa's "cool pants."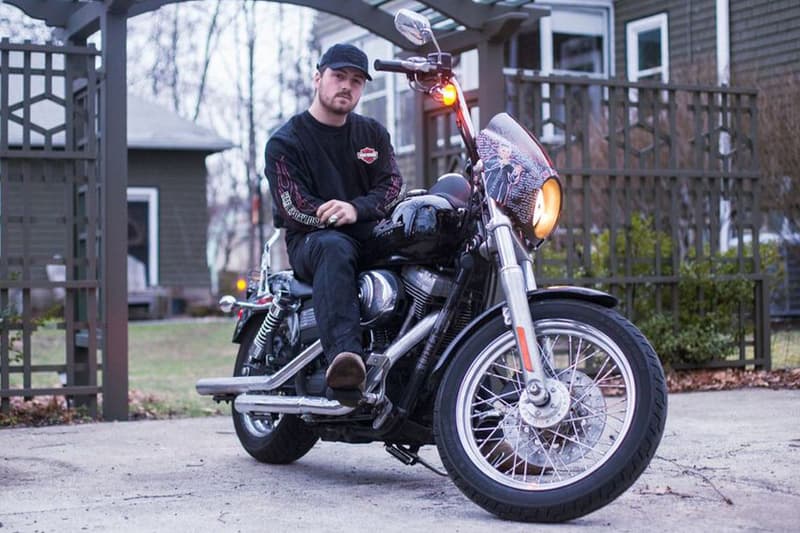 1 of 10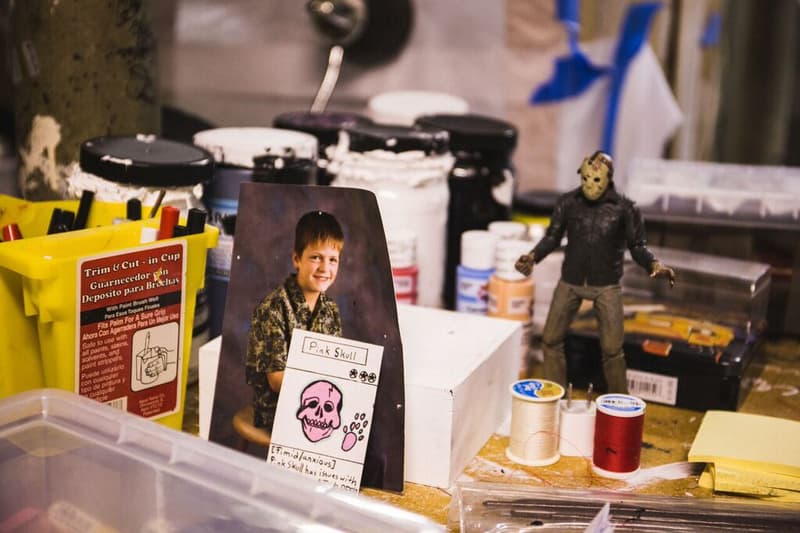 2 of 10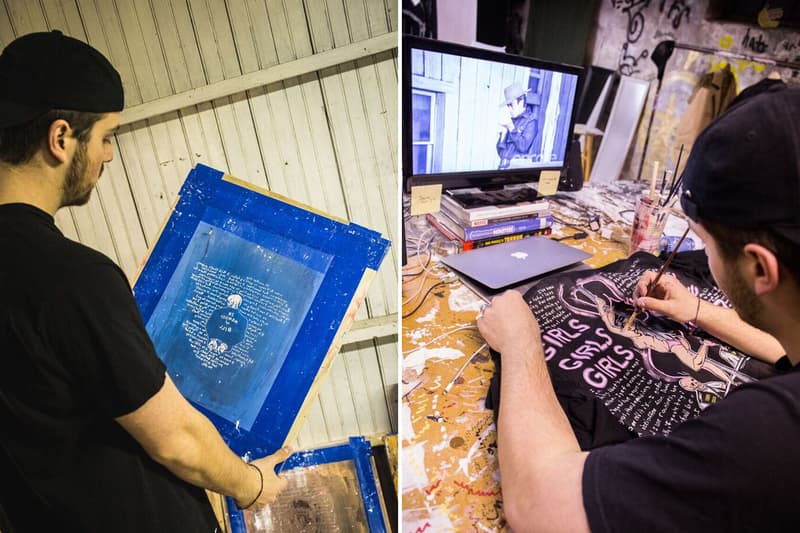 3 of 10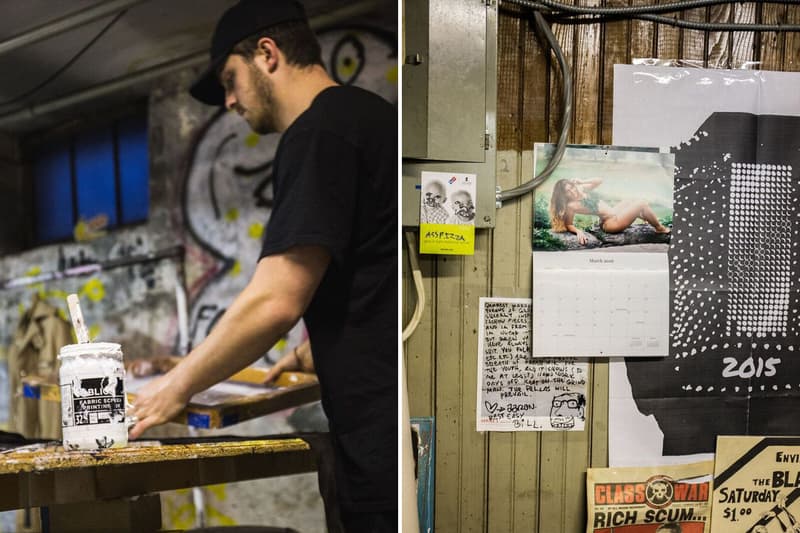 4 of 10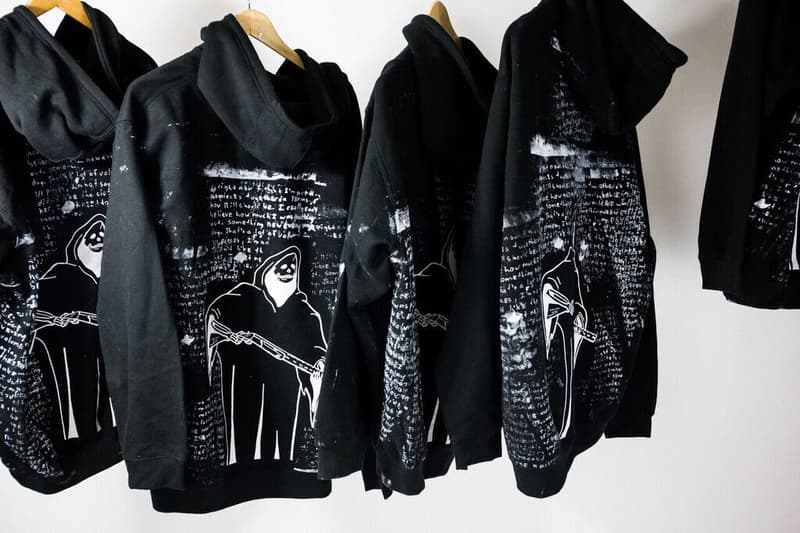 5 of 10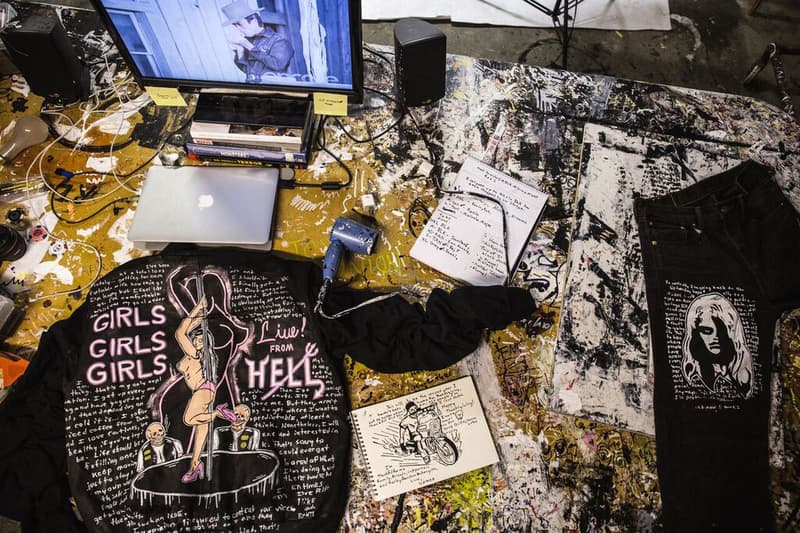 6 of 10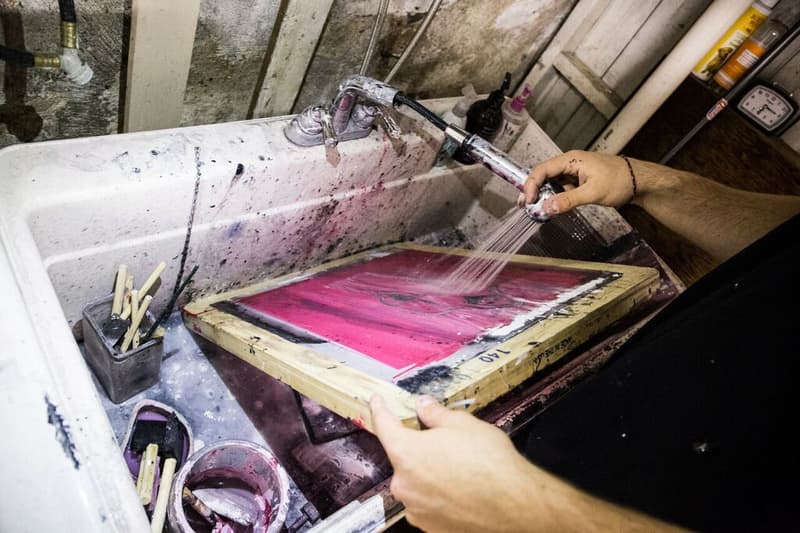 7 of 10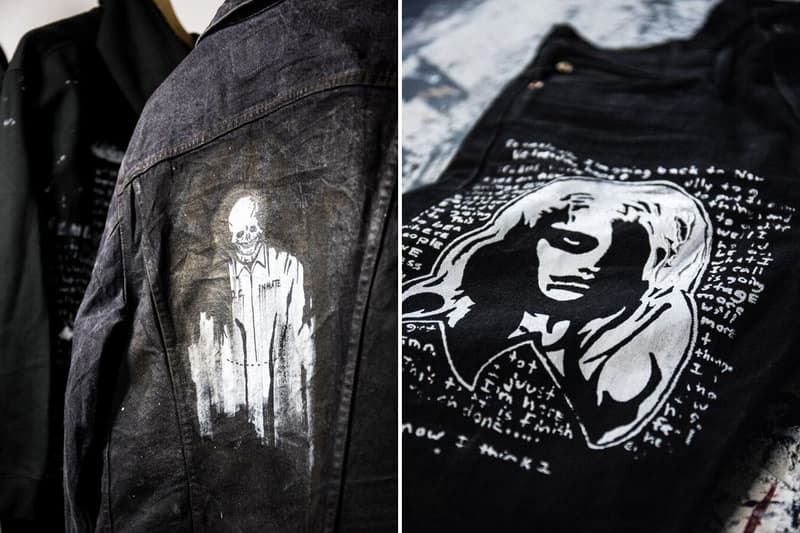 8 of 10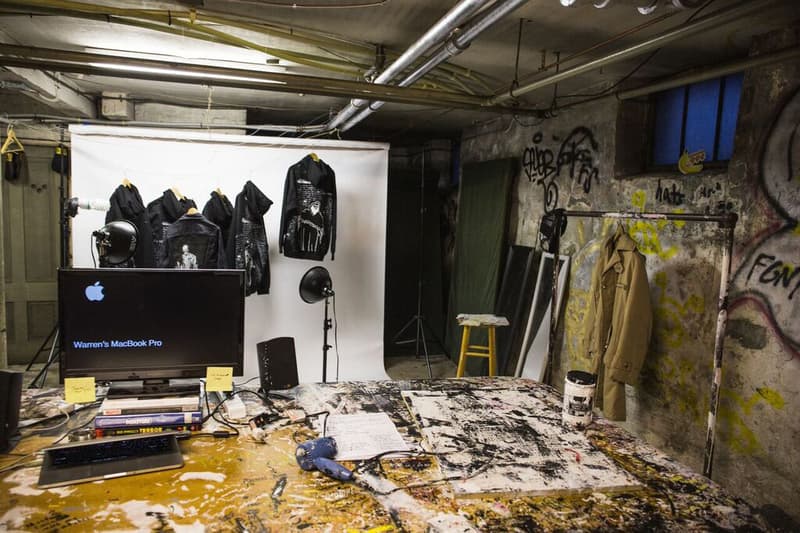 9 of 10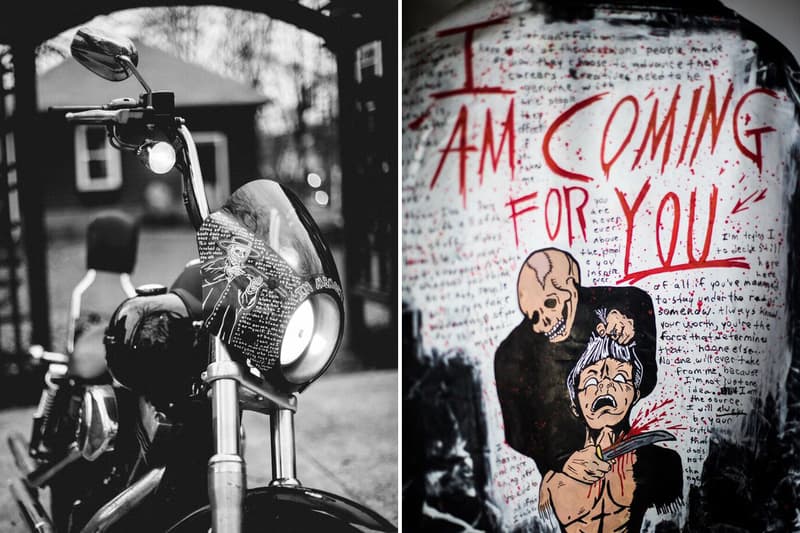 10 of 10
BILL by Warren Lotas may be a relatively new addition to the fashion sphere, but the eponymous label already boasts an impressive track record and has its sights set even higher. The brand was founded by creative, Warren Lotas, in his college dorm room, after becoming fascinated with DIY punk style. Ironically, the resulting garments are special in the sense that Lotas himself is the only one capable of producing them. While reappropriated leather jackets, flannels and denim jeans can be ubiquitous, in Lotas's case, the pieces are a canvas for his hand-drawn illustrations and calligraphy. Today, slashed and distressed wardrobe staples bearing Lotas' signature scythe-wielding grim reapers or .44 Magnum Revolver-holding skeletons, can be found on the likes of Wiz Khalifa, Justine Skye and Vic Mensa. To coincide with BILL by Warren Lotas's debut on HBX, we caught up with Lotas himself to talk about the label's source of inspiration, tips on being a young entrepreneur, and that one time he spearheaded a viral cough drop campaign starring Waka Flocka.
I asked him, "You wanna make some of that cough drop money?" to which he responded, "Whatchu mean?" The rest is history.
How did your clothing line, BILL by Warren Lotas first get started? What was your first piece?
I've gone through a lot of phases in terms of how I dress, like most awkward kids… I thought vintage, heavy duty flannels were awesome, especially when oversized and worn as a shell. The only issue was, aside from the pattern, the flannel lacked character. I really wanted to have a picture of Satan on the back of mine, so I found an image, cut it out, and sewed it on the back with a sewing machine. I used to intern at a nightclub in Boston, The Middle East, and I remember seeing an employee do the same thing with a skull image. I used to pick his brain about his clothes, which probably annoyed him because he didn't see them as anything significant, but I was fascinated by the DIY punk style. That was two years ago. It wasn't until I got stocked at VFiles that I realized I could really market my work. I reached out to Danielle Greco a long time ago and she was generous to give me a chance, I can't thank her enough, as well as everyone else at VFiles, like Rox and Julianne.
The label's name is a tribute to your late uncle, in what other ways does BILL by Warren Lotas pay homage to Bill?
Bill Sams died of ALS when I was a young kid. Let me just provide a brief rundown of ALS: it's an incurable disease that breaks down your nerves cells to the point where your muscles can't function. I watched Bill's spirit leave his body, every ounce of personality drained from his physical being. Bill had such a strong, youthful spirit, something that always resonated with me when we spent time together. He and my aunt Lizzy had a house on the beach in Norfolk, Virginia. The place was decorated like Pee-wee's playhouse, I mean they even had a working Skee ball machine, among other nostalgic oddities. Bill was crazy. He wanted to go skydiving while he was essentially paralyzed, although I'm not sure he ever did… He gave me my first Playboy(s?). He taught me some great curse words too. Even while he was in a wheelchair, communicating with low-pitched, painfully long moans (that sometimes became words), he managed to say something funny. Bill exuded every characteristic that made him special until the day he died, a feat I could only hope to accomplish through my work and ultimately, my existence.
You were one of the creative minds spearheading the viral Waka Flocka "Pine Brothers" advertising campaigns. How was that experience and how does the process of directing an ad campaign differ from the creative process in your clothing?
I had to create, organize and execute a marketing campaign that would make cough drops cool, which seemed impossible until I met Waka at the nightclub I interned for. I asked him, "You wanna make some of that cough drop money?" to which he responded, "Whatchu mean?" The rest is history. Realizing the campaign was stressful let alone the balance between work and school. I can't stress this enough: if you TRULY believe in your ideas, never stop pushing them. Launching the Waka campaign required an unrelenting ambition to create, regardless of the constant skepticism I was faced with (for good reason, it was a risky direction for an old company) or self-doubt. This applies to clothing as well, as I will never stop experimenting and taking risks. You won't get anywhere that matters if you're not challenging yourself to excel.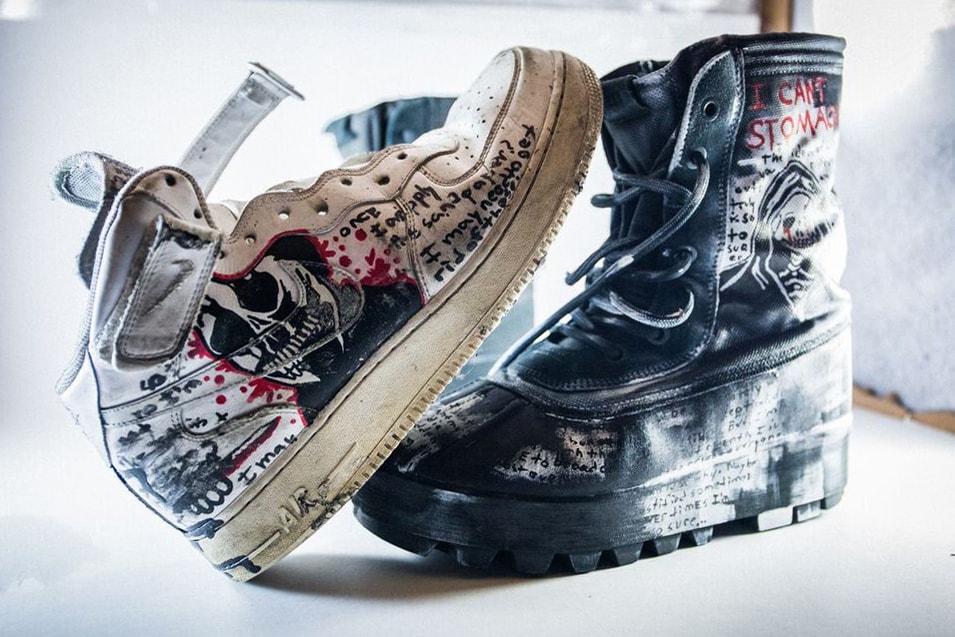 Part of what makes a piece distinctly BILL by Warren Lotas are the illustrations (the Grim Reaper, the nude women, the skeletons), were you always into illustrations? Where do you look to for inspiration?
I just think all of that stuff is badass. I draw what I want to see. That's why I love painting on clothes because you can modify almost anything, like "Hmm… this jacket would look a better with a skeleton impaling someone with the hot barrel of a .44 Magnum Revolver… let me just paint it on." I love that. My inspiration comes from personal experiences, Harleys, Spaghetti Westerns, Clint Eastwood and comic books.
The signature text written on the clothing pieces read like diary entries, how do you decide what and how much you're going to share with the public?
I'll write almost anything on my clothes. Sometimes it's a confession, other times it's describing the lunch I cooked for myself that day.
BILL by Warren Lotas was created in your dorm room during your freshman year of college, do you have any advice for other young entrepreneurs like yourself?
I'll be brutally honest, if you want to be like me, IF you have an idea that you truly believe in, don't go to college or leave (especially if you're taking out loans). For me, I can't accept life in any other way besides working for myself, so why am I working for a degree? Which implies the possibility of working for someone else. That cannot be a possibility for me, I must be successful and I will do anything in my power to meet my standard of success.
Other advice (if you want to be like me): don't drink, don't do drugs, don't allow relationships (romantic and friendships) jeopardize your potential to be great. I started this when I was 18, I'm 20 now. A lot of people in my age group will tell you that your youth is a time to make mistakes and as you navigate through life, you'll find a lot of people buy into that philosophy. GREAT. It's for that reason that you have to work HARD when you're young… because everyone else is experimenting, making mistakes and wasting time. I'd rather deny myself a social life while I'm young, be set for the rest of my life, and then figure it out, as opposed to waiting until everyone else is scrambling for work after college. I didn't grow up with a lot of money and while my parents provided me with everything I needed, money was always an issue. It's for that reason I need to be successful, I need to be great, so I can give back to my parents and provide financial security to my own family.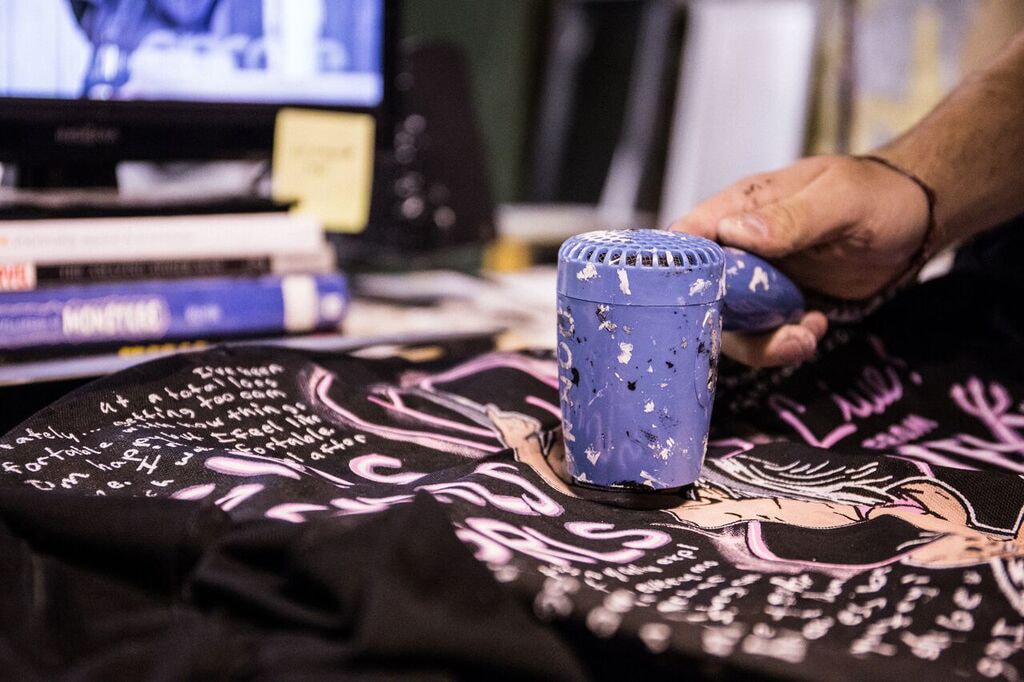 In the past, you've called out people on social media for blatantly copying the pieces you create. Why is imitation not "flattering" to you as the saying goes?
I remember the first time I saw someone directly copy a piece I made and try to list it for sale… that's one of the only times I've blasted a biter on social media and probably the last. If someone needs YOU for ideas, you will always be ahead, no matter who they are. You ARE the resource. Once you realize that, it doesn't matter who copies you, just be confident in knowing you're the one with ability to innovate. It makes me happy when kids let me know my work has inspired something they made. I love knowing I've catalyzed someone else's creative process. But when you don't tell me and try to sell it… expect an email from Silou Group.
How does it feel to count cool pants wearing Wiz Khalifa (as dubbed by Kanye West) as a fan of BILL by Warren Lotas jeans?
It's a good feeling. I remember my friends Austin and Steve were up here in Boston and Austin was just like, "You want to get clothes on Wiz?" and it happened just like that. I really appreciate celebrity placement as a business move, but the validation I find most satisfying comes from the people who support me. I make clothes that I want to see, so when I see people paying to get them and supporting me, that means a lot. I love seeing how my customers rock the pieces they buy, from BILL to SAM. It's an incredible feeling and I can't thank them enough.
What are the difficulties of creating a brand on Instagram when it's so over saturated with other streetwear brands? Opportunities?
It's hard. It gets harder every year, especially with the modifications Facebook will eventually make to the platform… unless they never charge users to communicate with their entire following, then we'll be fine. That's why Instagram is so great, your picture WILL be your followers' feed; it's unfiltered.
Yes, there are so many depressing Instagram brands that flood the DMs of anyone with a decent following, BUT, I truly believe if your product is good, someone will like it. You can communicate with almost anybody on Instagram, there's your opportunity. If you think you have something worth sending to a celebrity you follow, DM THEM, even if they have millions of followers. You'd be surprised how many people with large followings check their DMs.
What's next for your label BILL by Warren Lotas and Warren Lotas, yourself?
I want BILL and its subsidiaries to be inescapable. I want people to know the stories behind everything I do, for my brand to have its own lore. I can't stop until anyone who can be labeled a competitor is unanimously deemed inferior. As for me? Besides another company, a fragrance line, owning a diner in my hometown, a chain of nightclubs, parking garages in every major city in the U.S., and selling cheap smartphones in Cuba with my friends… buying that 2016 HARLEY DAVIDSON CVO ROAD GLIDE!!!!!!